What You Need to Know Before Traveling to Costa Rica
June 17, 2020 | by Riana | Posted in Americas, Places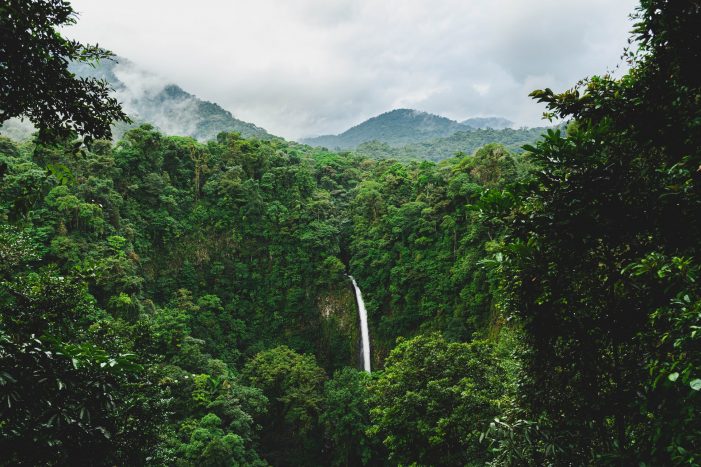 Costa Rica has been a well-loved vacation destination for years. Many are attracted to its beautiful nature and biodiversity, inspiring sustainability practices and close proximity to the US. Is Costa Rica calling your name? If so, here's what you need to know before traveling to Costa Rica.
Where is Costa Rica?
Let's start with the basics. Where is Costa Rica? Costa Rica is located in Central America, between the Caribbean and Pacific oceans. It is part of the group of countries linking North America's Mexico to South America's Colombia.
How do I get to Costa Rica?
Most visitors to Costa Rica fly into Juan Santamaría International Airport (SJO), just outside the capital of San José. Another international airport gaining in popularity is Daniel Oduber Quiros (LIR), near Liberia.
Many airlines offer direct flights to SJO and LIR out of major American ports like New York, Los Angeles, Houston, Washington DC, Minneapolis, Atlanta, Miami and Phoenix. Flight times are short too – a flight from New York takes 5 hours, six hours from Los Angeles and under three from Miami – making Costa Rica a great vacation option.
When is the best time of year to travel to Costa Rica?
Costa Rica has two seasons: a rainy season and a dry season. The dry season runs from December to April and is when Costa Rica sees its highest numbers of tourists. If you want perfect weather, that's the time to go, but it will cost you. Since it's high season, expect big crowds and higher prices.
The rainy season in Costa Rica runs from May to November, with a slight dip in the summer months of July and August. If you don't mind putting up with the rain, you'll enjoy smaller crowds, lower prices and lush vegetation.
Of course, Costa Rica's weather also varies significantly from place to place. Each coast has its own distinct weather, as do regions of rainforest and mountains. Humidity and high temperatures are also factors to consider.
Our advice? Aim for shoulder season. The shoulder months of May and November should afford you the best of both worlds: medium-sized crowds and decent weather.
Is Costa Rica dangerous?
Like every country, Costa Rica does have a level of crime. But as a whole, the country is not dangerous and shouldn't be avoided by travelers. Costa Rica is safe for visitors.
In order to stay safe, you'll want to take some precautions. Avoid dangerous areas with high crime levels or isolated areas, ensure you're only using authorized taxis and always stay alert. A lot of the crime that travelers experience, like petty theft, can be avoided by not wearing flashy items, not leaving bags unattended, being aware when using ATMs, etc.
In other safety concerns, Costa Rica currently has no Zika outbreak, but you may want to monitor this if you're concerned and still protect against mosquito bites. No additional vaccines or immunizations are required to travel through Costa Rica. And the tap water is potable and safe for drinking, except in the most rural parts of the country (where few travelers venture).
What is Costa Rica known for?
Costa Rica is known for its biodiversity and for being a nature lover's paradise. This is only enhanced by the country's strong sustainability and eco-protection practices. 25% of Costa Rica is protected park lands and they have 5% of the world's biodiversity.
Costa Rica is on their way to being one of the world's only carbon-neutral countries and they have their own Certificate of Sustainable Tourism, ranking companies from one to five. Thanks to this, many flock to Costa Rica for the incredible wildlife, natural habitats and feel good, eco-tourism opportunities.
In addition, Costa Rica is known for its people and its food. "Pura vida" (pure life) is a common saying amongst locals, said with a smile. Sit down with friendly Costa Ricans to taste their famous local cuisine including world-famous chocolate and coffee.
What is there to do in Costa Rica?
Most people travel to Costa Rica for the nature that awaits them there. Add to that plenty of options for exploring small towns, getting to know locals, enjoying adventure activities and giving back, and it's no wonder people flock to Costa Rica.
Here are some of the top activities and places to explore:
Wildlife
Wildlife lovers will certainly enjoy a trip to Costa Rica. Here you'll be able to see sloths all over the country. Monkeys are also easy to spot, often stealing food from tourists. You'll find lizards, geckos and iguanas of all sizes, as well as over 800 different species of birds.
If you want to see turtles, head to Tortuguero National Park. This remote, wet area of Costa Rica is on the Caribbean coast and only accessible by plane or boat. With a guide, you can visit one of the turtle nesting areas where hundreds and thousands of green and leatherback sea turtles lay their eggs. While in the park, you'll also spot monkeys, sloths, snakes and sharks.
Beaches
The most visited area in Costa Rica, Manuel Antonio National Park, is known for one thing: beautiful beaches. Enjoy the main oceanfront beach before heading into the park to discover more beaches, forests and wildlife.
Surfing is a popular sport in Costa Rica and many travelers like to try their hand at it. Dominical Beach is one of the best areas in the country for surfing, and offers a chill backpacker town as well as luxury bed and breakfasts to boot. Other great spots for surfing and enjoying the beach are the fishing village of Tamarindo, the trendy beach towns along the Nicoya Peninsula, the big city convenience of Jaco, and the remote Osa Peninsula (also great for diving, snorkeling and fishing).
Parks & rainforests
Start your exploring of Costa Rica's rainforests at popular Monteverde where cloud forests promise lush greenery and the chance to spot monkeys, frogs and even jaguars. The cloud covered forest means lots of rain and cooler temperatures, so dress accordingly.
Just outside the capital is Braulio Carrillo National Park, the perfect place to explore waterfalls, lowlands, rainforests and volcanoes. The diverse landscapes make this park home to a variety of animals. Hike through La Paz Waterfall Gardens to enjoy the epic 120 foot waterfall and lots of wildlife. If you really want to get off the beaten path, visit remote Corcovado National Park. This park is the perfect place to spot elusive wildlife, as long as you don't mind a little rain!
Volcanoes
One of the reasons why Costa Rica is so lush is thanks to its volcanoes, which provide the fertile soil. The most famous is Arenal Volcano. Ever since a massive eruption in 1968, the volcano continues to be active, offering visitors the chance to see ash clouds or lava flow, depending on the day. Take in the view from the Arenal Observatory Lodge or Arenal Lake, get your adrenaline pumping with a zipline or white water rafting tour, or enjoy a hike around the Arenal Volcano National Park.
Irazu Volcano is Costa Rica's tallest, active volcano. If you're up for the challenge, hike to the summit for ocean views and check out the craters in the national park, which contain lakes and volcanic rock. Rincón de la Vieja National Park is not to be missed by volcano seekers. The six mile hike to the summit passes through diverse ecosystems and ends with a view all the way to Nicaragua on clear days. You can also enjoy waterfalls and hot springs.
Where should I stay in Costa Rica?
Well, that depends what you want to do! We suggest basing yourself next to your activities, and then moving on when you're ready to explore a new area and do something new. Some common bases in Costa Rica are:
San Jose
This is the capital city of Costa Rica and where most travelers fly into. While you certainly shouldn't spend your entire Costa Rican trip in San Jose, it can be nice to spend a couple of days here to learn more about the country's culture and history.
Arenal
If you're looking for adventure, base yourself in Arenal, just a three hour drive from San Jose. Here you'll be able to explore the famous Arenal Volcano, head out on hikes over hanging bridges, take in the view and relax in hot springs and waterfalls. You can also enjoy adventure activities like a sky walk or rafting.
Monteverde
If you're all about nature, you could base yourself in Monteverde to best enjoy the cloud forests. This is the place to immerse yourself totally in greenery as you spend your days hiking under the canopy of trees and spotting wildlife. From San Jose, it's about three hours to Monteverde.
Manuel Antonio
Also three hours from San Jose, Manuel Antonio National Park is the place to stay if you really want to see wildlife. Spend your days hiking and relaxing on the beach as you spot monkeys, sloths, birds and more in their natural habitat.
Tamarindo or Dominical
If you're looking for a beach vacation and a chance to surf, stay in Tamarindo (4.5 hours from San Jose) or Dominical (3.5 hours from San Jose). Both beach towns are great for surfing and days in the waves, but can get popular in the high season. Consider the Osa Peninsula if you want a more remote area and don't need the amenities.
How do I get around Costa Rica?
The best way to get around Costa Rica is by renting a car. That way, you'll be able to determine your own route and travel on your own schedule. With a car, you can easily give yourself a few bases during your time. Note that some of the roads are quite bumpy and others will require a 4×4.
If you don't want to drive, Costa Rica also has an expansive bus network. It might take a little longer but it could save money and stress. There's also the option to fly, if you're short on time.
How long do I need in Costa Rica?
How long do you have? Costa Rica is filled with incredible places to visit. You could spend weeks and months there and not get bored – just ask one of the many expats who decided to make Costa Rica home.
Despite its small size, Costa Rica packs in quite a lot for travelers. So while you could fly down for just a long weekend since it's so close and there's very little time difference, we'd recommend a little longer to make the most of your trip.
We would recommend at least one week to ten days if you want to experience 2-3 bases in Costa Rica. If you have the time, there's plenty to do to fill two or even three weeks.
Where should I go after Costa Rica?
Another great thing about Costa Rica is that it is located right in the middle of Central America, making travel in the area very easy. If you want to continue traveling overland, you can drive or bus north to Nicaragua or south to Panama. You can continue farther or jump on a short flight to explore more of the area including Belize, Colombia and Mexico.
Some more logistics about traveling to Costa Rica:
What timezone is Costa Rica in?
Costa Rica observes Central Standard Time (GMT-6) all year. This puts it in the same timezone as Denver, just two hours behind New York and one hour ahead of Los Angeles.
This is another reason why traveling to Costa Rica is a great idea. Not only can you get there on a relatively short direct flight, but you won't lose much time doing it. Unlike long hauls to Asia, Europe or all the way to Australia, a trip to Costa Rica won't mess up your sleep or see you missing half your trip thanks to jet-lag.
What language is spoken in Costa Rica?
Spanish is the official language of Costa Rica and a number of indigenous languages are also spoken locally. English is widely used, especially in tourist areas, so you shouldn't have any trouble getting by. If you do want to go more off the beaten path or immerse yourself further in the culture, you may want to brush up on your Spanish skills.
What is the currency in Costa Rica? How do you pay for things?
The currency is the Costa Rican colón. In addition to the local colones, US dollars are widely accepted. It is advisable that you have both US dollars and colones on you, as you may want colones for smaller purchases or in cases where the exchange rate isn't favorable.
A great way to do this is to bring US bills with you ($20 denomination or lower is best) and then receive your change in Costa Rican colón. Once you run out of change, you can head to an ATM to take out more colónes. Note that some ATMs will limit the amount you can take out, so if you're trying to pay a big bill in cash, start taking it out a few days in advance.
Credit cards are also widely accepted in Costa Rica.
Is Costa Rica expensive?
Yes and no. American dollars will go further in Costa Rica but maybe not as far as you had hoped. It's one of the most expensive countries in Central America, mostly thanks to high import costs. If you want to save, stick to local products and local eateries. Keep in mind that many nature activities will also include a park entrance fee.