Top 10 Unique Experiences in Belize
April 9, 2020 | by Emma McKay | Posted in Americas, Places
Explore the most unique experiences in Belize and dive deep into this wonderful tropical destination!
So much more than beaches, the seemingly tiny Belize packs in so many activities and sites to explore. Beyond the crystal clear water and powdery sands along the coast, there are tons of unique experiences in Belize to explore. From heading inland into the jungle, traversing through National Parks or getting off shore to the Belize Barrier Reef and hidden islands, discover the 10 most unique experiences in Belize.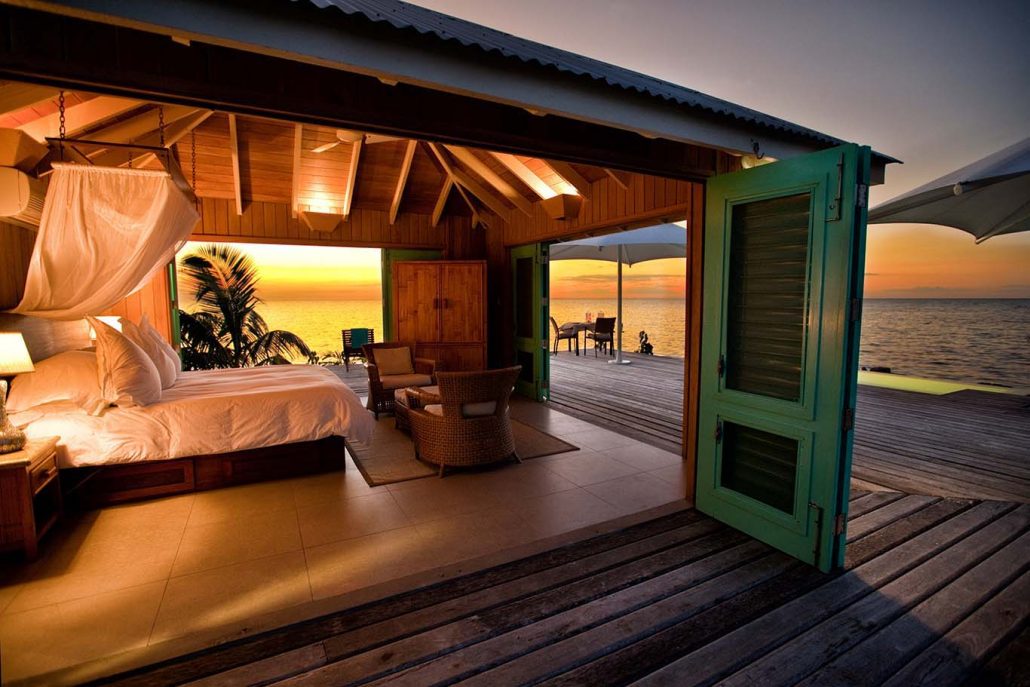 Stay in an overwater bungalow
Waking up on top of the water, with fresh ocean breeze wafting in and the sound of the waves below you, an overwater bungalow is the ultimate tropical getaway. Forget the long flights to Bora Bora or the Maldives and stay in an overwater bungalow closer to home. Across Belize there are a number of resorts with overwater bungalows to choose from, from the super luxurious Cayo Espanto on a private island to the more colourful, rustic feel on Tobacco Caye, a stay at an overwater bungalow in Belize is one to add to the bucket list.
Visit the Blue Hole
The Great Blue Hole, off the coast of Belize, is the world's largest sinkhole, about 410 feet deep and almost 1,000 feet across. The UNESCO World Heritage Site originally formed as a cave during the last glacial period, but as ocean levels began to rise, the cave system flooded and collapsed, creating a "hole" in the sea.
While a spectacular view from above, and scenic flights available, heading to the Great Blue Hole by boat is also a great experience: with great diving and snorkelling at surface level here. While it does take over an hour to reach by boat, once there you'll be treated with calm waters, an anomaly out in the middle of the ocean. Note: while the snorkelling here is nice, it is not that different from what you'll find at Hol Chan (below).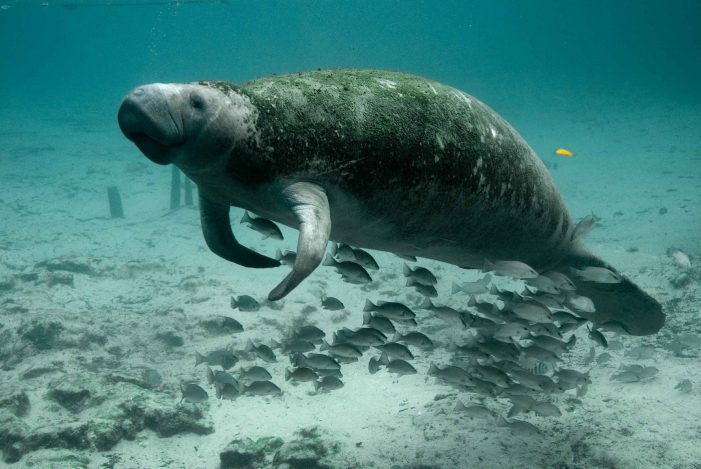 Snorkelling with marine life like sharks, manatees and more
Belize is home to some of the best snorkelling in Central America, with crystal clear water and generally calm shores. Just off the coast is second largest barrier reef in the world, offering unparalleled snorkelling conditions. Along with plenty of tropical fish and coral to discover, you can also snorkel with sharks AND manatees, a unique experience to Belize. Hol Chan, a marine reserve just off the Cayes, is almost 5,000 acres of coral reefs, seagrass beds, and mangrove forest, and makes a great day trip from the islands.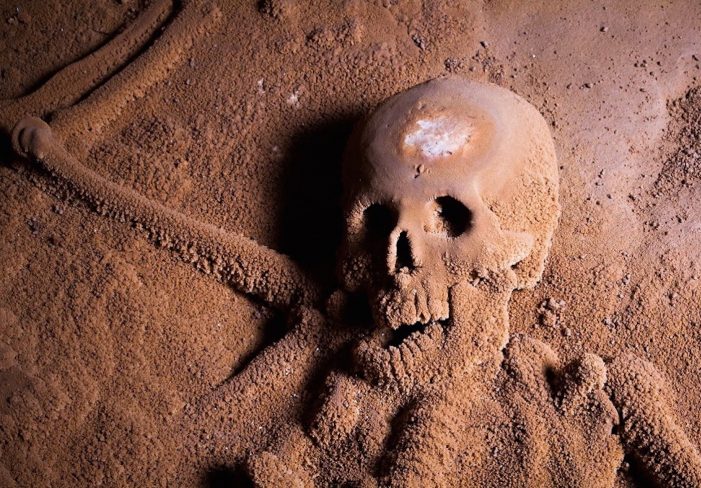 Explore caves
Belize is home to huge number of caves for such a small country, including the cave turned sinkhole famous Great Blue Hole. One of the most spectacular to visit is the Actun Tunichil Muknal (ATM) cave near to San Ignacio in the Cayo District. ATM is notable as an archaeological site that includes Maya skeletons, ceramics and stoneware. You'll walk through the jungle, swim across a stream and into the dark cave system, where you'll head through a maze of tunnels, and pass by skeletons and Maya artifacts at every turn.
Stay on a private island
Belize has hundreds of islands off the coast, running from just south of Mexico all the way down the country, and for one of the most unique experiences in Belize, you can even rent one! For a fraction of what you'd pay elsewhere in the Caribbean, in Belize you can rent a private island, with no other guests for under $500 per night. Along the Cayes, there are also private island resorts with full restaurants and facilities and just a few rooms – taking luxury and privacy to a new level.
Diving the Belize Barrier Reef
The Belize Barrier Reef is the largest barrier reef in the Northern Hemisphere, stretching 180 miles, only second to Australia's Great Barrier Reef. Diving the Belize Barrier Reef is a fantastic opportunity to enter deep canyons of coral, and see numerous fish and marine life. There are shallow areas for beginners, or you can head deeper. Easily accessible by boat from Belize City or southern hotspots of the country like Hopkins and Dangriga, the Belize Barrier Reef should be on every divers bucket list!
Visit Maya Ruins
The Maya civilization occupied a wide area stretching through Mexico and northern Central America, including in Belize. Across the country you'll find remnants of sprawling cities and historical sites. Perhaps the most well known Maya ruin in Belize is Xunantunich, near San Ignacio, where the mighty El Castillo rises 130 feet above the complex offering amazing views over the entire valley. Even on the islands though, there are smaller ruins to discover, like Marco Gonzalez on Ambergris Caye, where an estimated 20,000 Mayans lived at one point. Wherever you visit in Belize, the history of Mayan culture is prevalent.
Visit Mountain Pine Ridge
Mountain Pine Ridge Forest Reserve is the oldest and largest protected forest area in the country and is one of the most unique experiences in Belize. Rolling hills covered in pine forests offer a contrast from the jungle covered canopy around Belize, and you'll also find fresh water pools, caves, waterfalls and Maya Ruins throughout the area. Day trekking and hiking is abundant here, along with overnight camping in certain areas.
Wildlife and animal experiences
If there is one thing Belize is known for, it's the animals that call this land home. From underwater to on land and up in the treetops and sky, you would be hard pressed to come to Belize and not marvel at the animals across the country. In the depts of the Cockscomb Basin, track jaguars, and look out for tapirs, monkeys, snakes and over 300 bird species. Under the sea, you'll find sharks, barracudas, eagle rays and even manatees. Around the Cayes, you'll also be able to spot crocodiles. At the Belize Zoo, a wildlife rescue centre turned zoo, you'll find a number of native species – there are no imported animals here.
Learn about Belizean culture
A melting pot of Latin America, Caribbean and more, Belize has a unique culture that is ever changing. With English as its official language, Kriol, Garifuna, Spanish, Maya and Mandarin are also widely spoken across the country. A blend of culture brings a varied cuisine as well, in Belize you'll find fabulous Creole creations, British influenced meals, Maya delicacies and Latin American favorites as well. One of the best way to learn about the culture is to support locally run restaurants, shops and services, and to speak with the local people, who are generally very friendly and eager to share.
Pin it for later: