8 Places You Won't Believe You Can Visit in Colombia
October 15, 2019 | by Riana | Posted in Americas, Places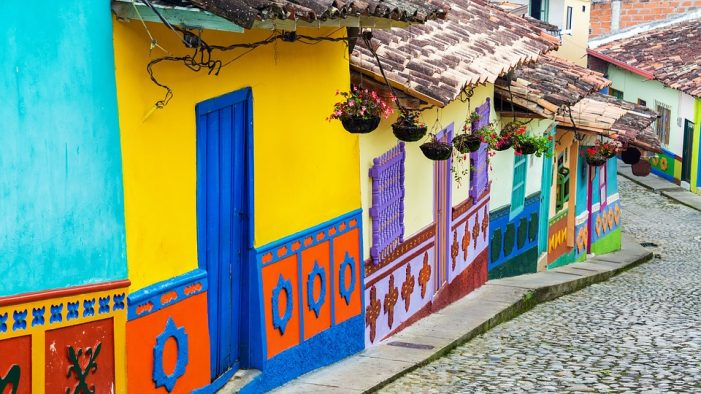 Colombia. Once better known for its illicit history, the Colombia of today is a natural wonderland for adventure seekers and city lovers alike. Here you'll find diverse landscapes, beautiful architecture, rich history and more outdoor activities than you'll know what to do with. But what sets Colombia apart? What experiences can you have that are uniquely Colombian?
To answer that question, we consulted with our favorite local guide, Juan. Juan has been sharing his home country with visitors for years. Below, Juan fills us in on eight unique places you will only find in Colombia that should be on the top of any visitor's must-see list!
Chocó Department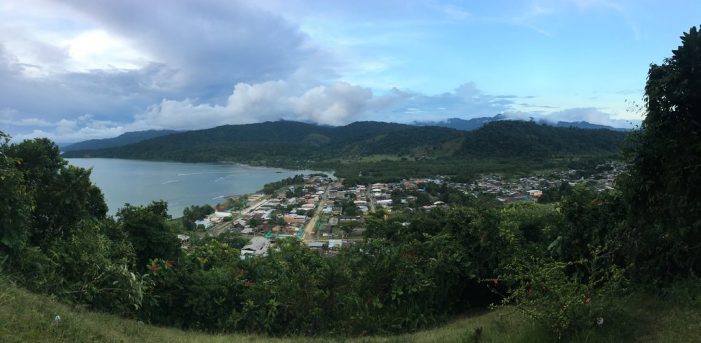 Chocó Department, or Chocó State, is one of the most interesting places not only in Colombia but in the world. It's home to diverse geography, unique ecosystems and unexploited natural resources. It's the only Colombian state to have both an Atlantic Ocean and a Pacific Ocean coast. And it has the record for rainiest lowland in the world.
All of that rain contributes to creating a lush rainforest that is perfect for exploring. Juan tells us that to discover this natural paradise, it's best to fly into Bahía Solano or Nuquí. From there, you'll have your choice of jungle hotels from basic to boutique beachfront. You'll spend your days exploring waterfalls, going on amazing treks and wandering the volcanic black sand beaches. Juan mentions that you can go whale watching from July to November, and even spot whales from the beach!
"To me, this is the most interesting, lush and beautiful place on earth. The topography is amazing! If you are into nature, this is the first place you have to visit in Colombia," advises Juan.
The Amazon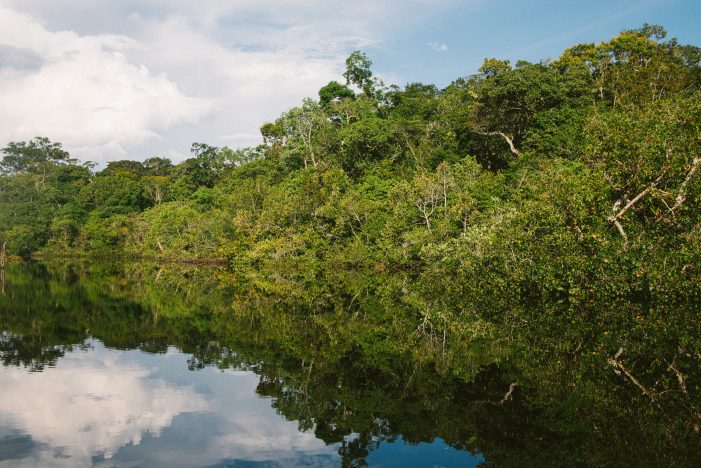 Of course, no visit to South America is complete with checking off this bucket list item: a visit to the Amazon Rainforest. Here you'll trade Chocó's mountains and oceans for the mighty Amazon River. Colombia is home to 10% of the Amazon Rainforest, an area of 155,000 square miles shared between six departments (states).
Juan suggests starting your visit by flying into Leticia, the gateway to the Amazon. This small town, which shares a border with Brazil and Peru, is the perfect place to begin your Amazon adventure. In Leticia, you can learn more about the Amazon at various eco-parks and witness the daily migration of thousands of birds flying to the nearby treetops. And then it's time to jump in a boat and journey along the Amazon River.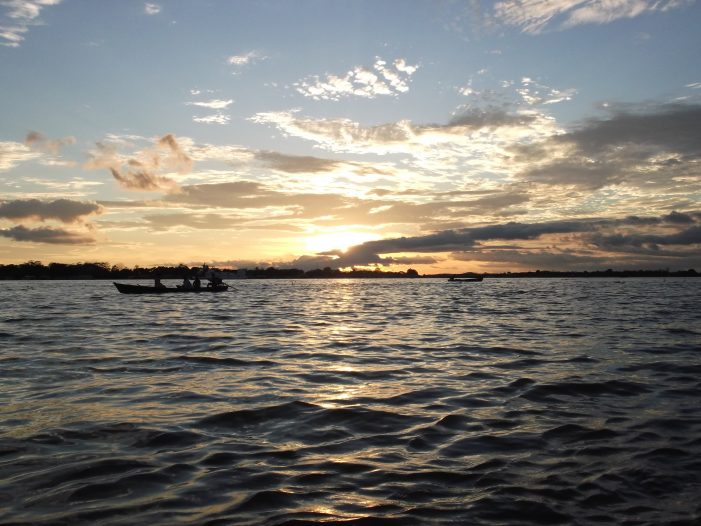 Animal lovers will need to add Isla de los Micos (Monkey Island) to their Amazon must-visit list. This popular destination is home to over 5,000 monkeys. Keep your eyes peeled for the world's largest water lily, Victoria Regia, which floats in the waters north of Leticia. This impressive plant has leaves up to 6.5 feet in diameter!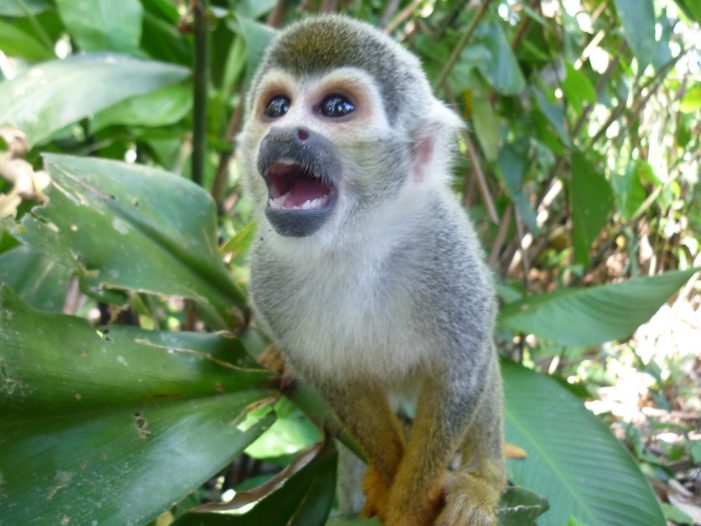 Over 26 Colombian indigenous communities live along the banks of the Amazon River and some welcome visitors to see their way of life and witness their traditions. One must-visit community is Puerto Nariño, better known as the cradle of the Amazon. This town is pedestrian-only (no cars or motorbikes) and fully self-sustainable. It serves as a model for other towns around the world looking to become more sustainable and eco-friendly. Be sure to visit Puerto Nariño's lookout point for 360 views over the Amazon.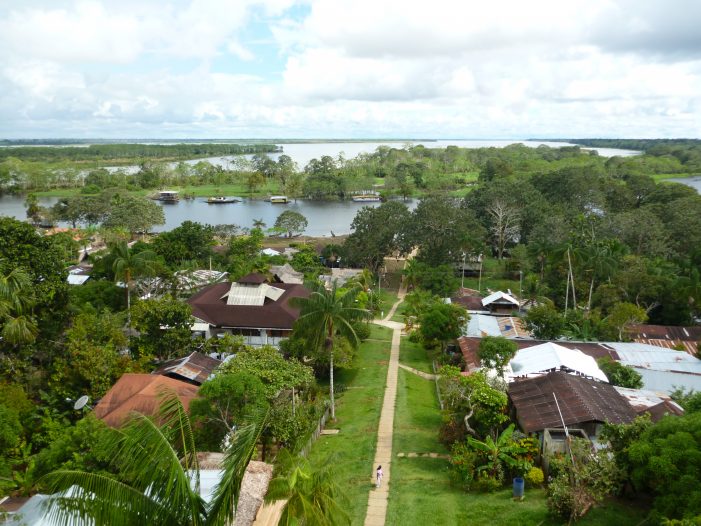 Just outside of Puerto Nariño on the Loretoyacu River is where you will find Tarapoto Lakes, home of the incredible pink dolphins! Legend has it that the tribal gods were so envious of a good looking man that they turned him into a dolphin, and thus the pink dolphins were born. Sadly, the pink dolphins are now in danger of extinction due to deforestation, pollution and commercial fishing.
Visitors to Colombia's Amazon can also spend their days out on canoes or kayaks, sailing on floating houses, or discovering the land by foot, climbing trees and walking beneath canopies. You can also visit Amacayacú National Park, one of the Amazon's main conservation sites in Colombia.
Caño Cristales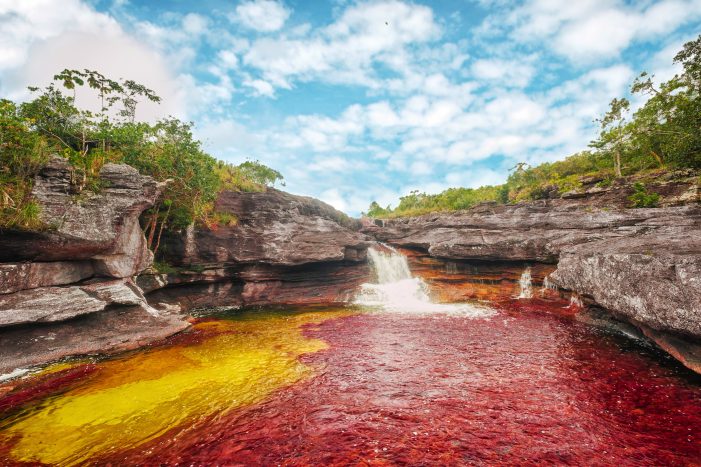 As Juan says, "Caño Cristales is the most beautiful river in Colombia and one of the most beautiful rivers in the world!" Truly, a visit to Colombia's river of five colors is a once in a lifetime experience.
The river is located in La Macarena National Park and is one of the most unique attractions in all of Colombia. That's because for a brief period between the wet and dry seasons each year, the river explodes in color thanks to a unique plant that grows on the river floor. The plant blooms a bright red and is off-set by yellow and green sands and blue waters, giving the river a rainbow look.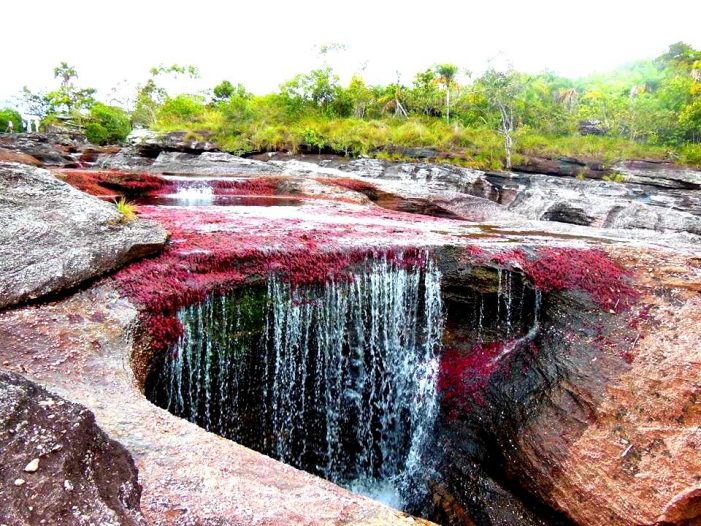 As this natural phenomenon only takes place between the seasons, it is suggested that you plan your visit between July and November, with September being the ideal time (though this may change as the seasons shift each year). You'll also need to hope for good weather in order to see the river in peak brightness.
Once you're done being wowed by the river, be sure to spend some time exploring the rest of La Macarena National Park and taking in the wildlife that call this park home.
Santander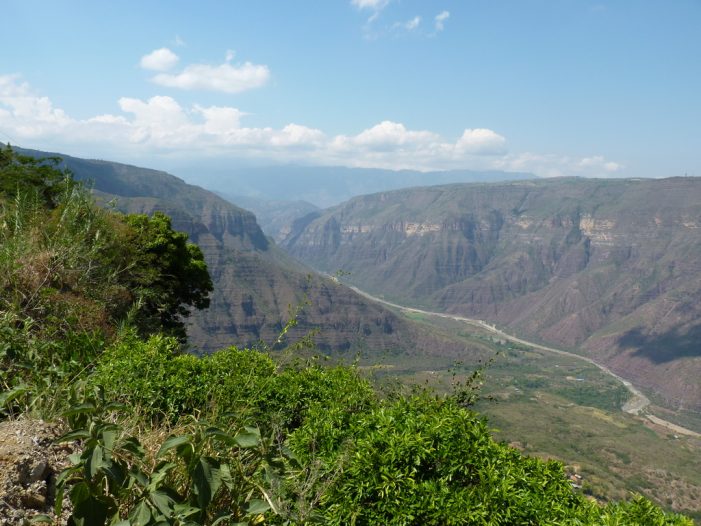 The department of Santander is one of the places Juan encourages visitors to Colombia to check out. Here you'll find beautiful towns and natural wonders, as well as great food and plenty of activities.
Start your Santander visit by taking in the views of the Chicamocha Canyon. Juan says it's just like the Grand Canyon – but green! It's the largest canyon in Colombia and the perfect place for a picturesque cable car ride (or a zipline ride, if you're feeling more adventurous!). If you enjoy rock climbing, head to nearby Mesa de Los Santos for the best rock climbing in Colombia.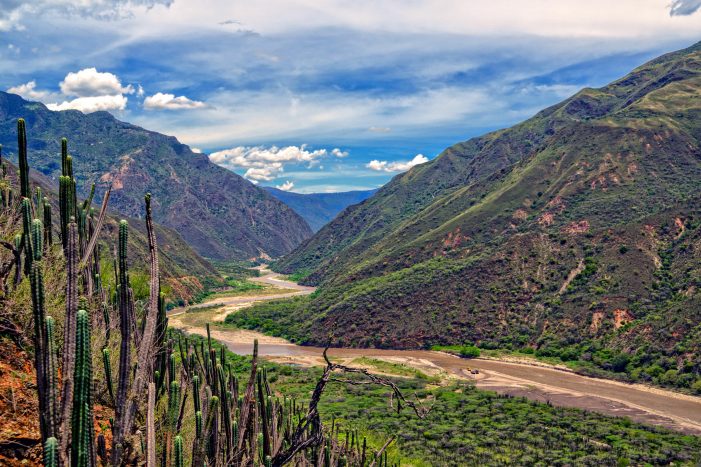 Barichara is often called the prettiest town in Colombia, which definitely makes it a worthy addition to your must-visit list in Santander. Take a break from extreme sports to explore the cobble-stones and red-tiled roofs of Barichara. Giron, a lesser-known colonial town, is also a worthwhile visit for a relaxing city break.
For adrenaline junkies, you'll want to head to Santander's San Gil for bungee jumping, white-water rafting, caving, canyoning, rappelling, and ziplining. And if you're really feeling adventurous, you can sample Santander's local delicacy, hormigas culonas, or big-bottomed ants.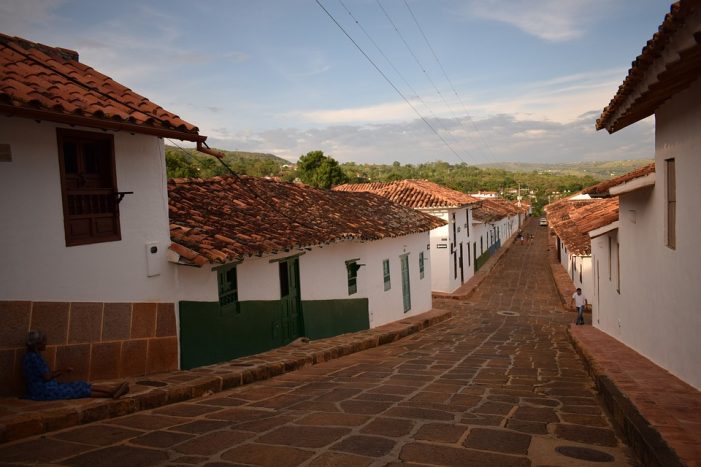 As Juan says, you could spend weeks in Santander and still barely scrape the surface of all there is to see and do. There's the red river Las Gachas in Guadalupe with natural "jacuzzis" carved into bedrock. There are the giant caves and waterfalls of Florian. And there's the coffee producing region of Mesa de Los Santos, the perfect place for a tour and tasting.
Sierra Nevada de Santa Marta
Sierra Nevada de Santa Marta is the highest coastal mountain in the world, with the snow-capped summits of Mt. Colón and Mt. Bolivar rising almost 19,000 feet above sea level. The most amazing part? These mountain peaks are just 26 miles up from the beach.
Also in Sierra Nevada de Santa Marta National Nature Park you'll find 16 rivers and many species of wildlife like jaguars, tapirs and deer. Visit the mountain town of Minca where you can spend your time touring organic coffee farms, trekking and exploring waterfalls.
When you're ready to leave the mountains behind and hit the beach, you can enjoy the white sandy beaches and turquoise waters of Tayrona National Park, go scuba diving in Taganga, party on the beaches of El Rodadero, or catch a ferry to Playa Blanca.
Or if you're feeling more adventurous, why not trek to Colombia's Lost City? La Ciudad Perdida was said to be built by the Tairona people in 800 AD, predating Machu Picchu. It was rediscovered in the 1970s. This spectacular sight amongst the jungle terrain can be reached on a guided four to six day trek that's not for the faint of heart, but totally worth it.
Coffee region
What visit to Colombia would be complete without getting to know Colombia's famous cup of joe? Colombian coffee is well known around the world and the best premium beans are grown in an area called Eje Cafetero.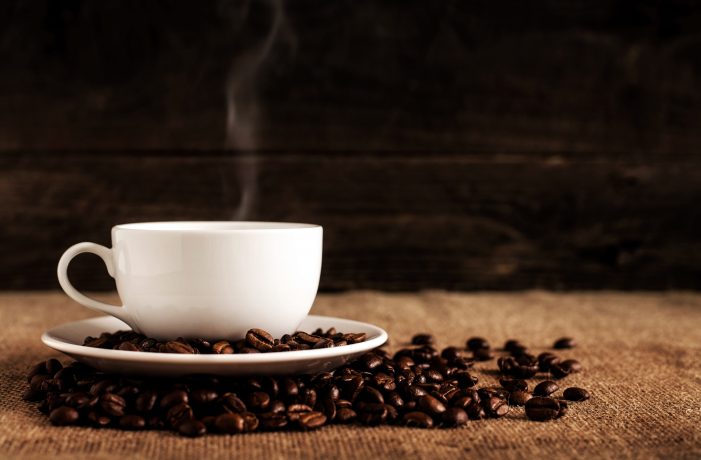 Of course, you'll need to start your visit to this region with a coffee tour. Learn from the farmers, pickers and other locals about their role in coffee production and what coffee means to them on a coffee tour experience, like the Wakecup Coffee Tour. This is the perfect time to sample a cup of the good stuff and buy your favorite beans to take home.
For the truly coffee obsessed, you can visit Parque Nacional del Cafe, or the National Park of Coffee. Here you'll find a coffee museum, interactive displays telling the history of coffee, and many coffee-themed roller coasters and other rides.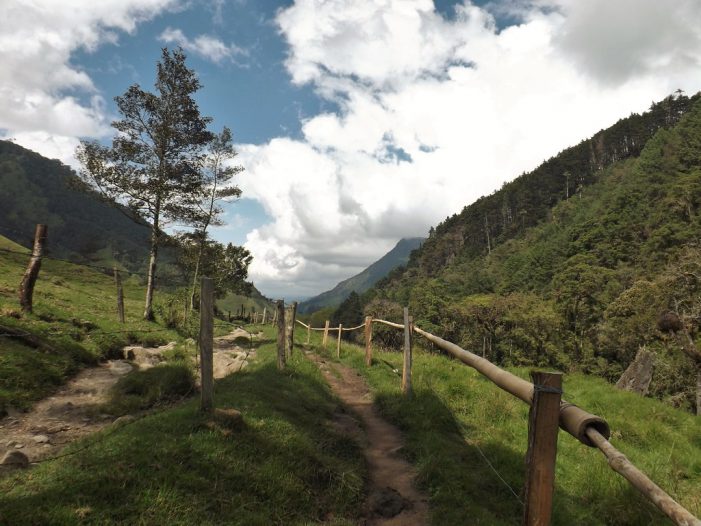 Besides coffee, Eje Cafetero has more to offer visitors. Once you're fully caffeinated, hike one of Colombia's most beautiful trails, Cocora Valley Trail. Here you'll find a cloud forest, beautiful scenery and Quindio wax palms, the tallest palm trees in the world. You can also enjoy a hot air balloon ride over the region, pop into small towns like Salento and Filandia, relax in the Santa Rosa de Cabal hot springs, and hike in Los Nevados National Park.
Explore the big cities: Medellín, Bogotá and Cali
Colombia, while a nature lover's paradise, has much to offer city seekers too. For city stays, Juan recommends the big three: Medellín, Bogotá and Cali.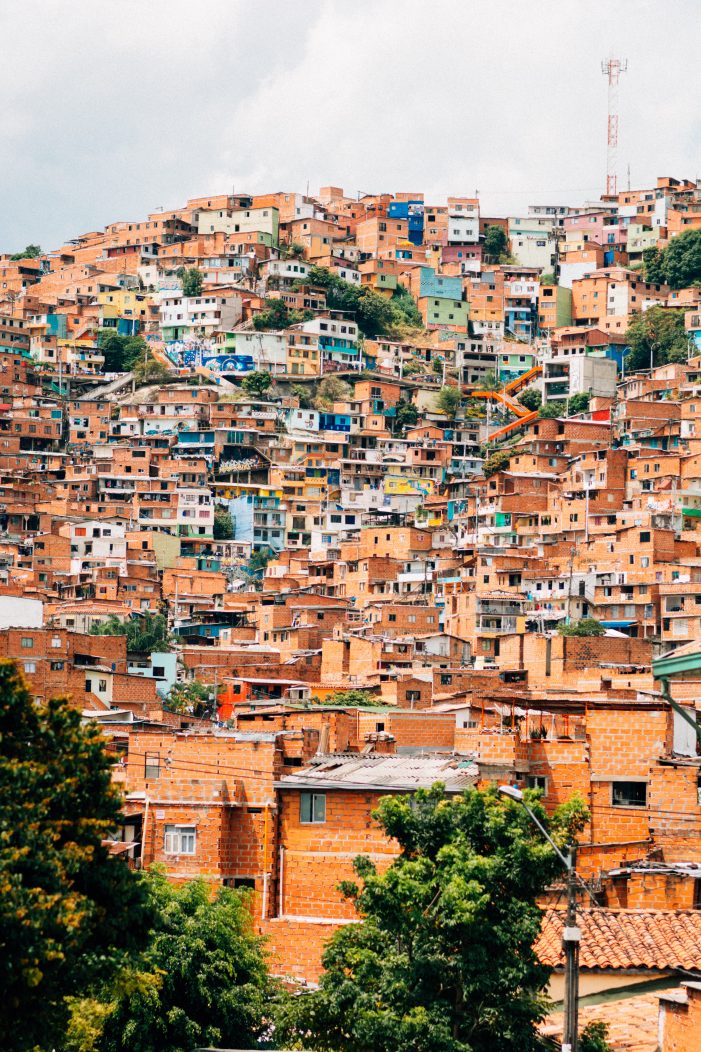 Medellín is the second largest city in Colombia and known as the "city of eternal spring" thanks to its constant temperate weather. Once one of the most deadly cities in the world, Medellín has now become a hot tourist destination. Spend your days in Medellín admiring sculptures at Plaza Botero, relaxing in Parque Arvi nature reserve, enjoying the nightlife in Parque Lleras, admiring plants at Joaquín Antonio Uribe Botanical Garden, and taking a day trip to the nearby beautiful town of Guatapé.
Bogotá, the country's capital, is another city that has changed its reputation in recent years. While not as pretty as some other Colombian cities, visitors enjoy Bogotá for its authentic and vibrant atmosphere. While in Bogotá you can see over 55,000 gold artifacts at the Museo del Oro, take in the view from Cerro Monserrate, check out Colombia's most famous artist at Museo de Botero, explore the beautiful La Candelaria neighborhood, go on a street art walking tour, and head out to the Lake of Guatavita.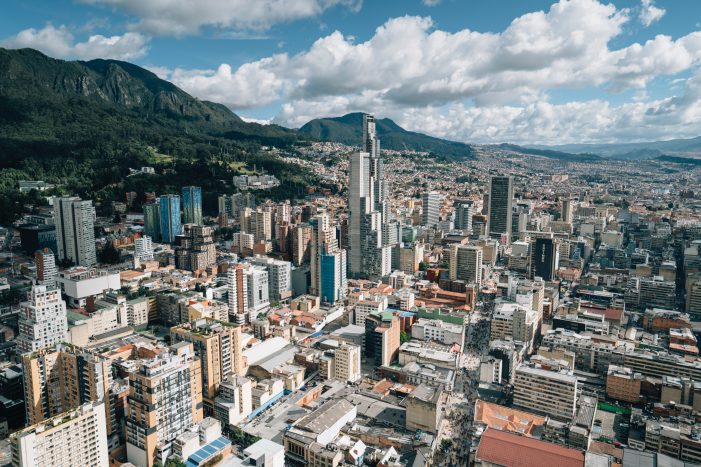 Cali is most well known as the salsa capital of the world and the beat can be felt everywhere you go in the city. If you're a fan of the dance, you'll want to visit this Colombian city and dance along (or just watch!) the experts. Start your time in Cali with a visit to one of their legendary salsa clubs, like Zaperoco Bar, or by taking in a salsa festival. Once you tire of dancing, you can visit the Zoológico de Cali, the best zoo in Colombia, see butterflies at the Andoke butterfly farm, wander the Barrio San Antonio neighborhood, and go on a day trip to San Cipriano.
Popayan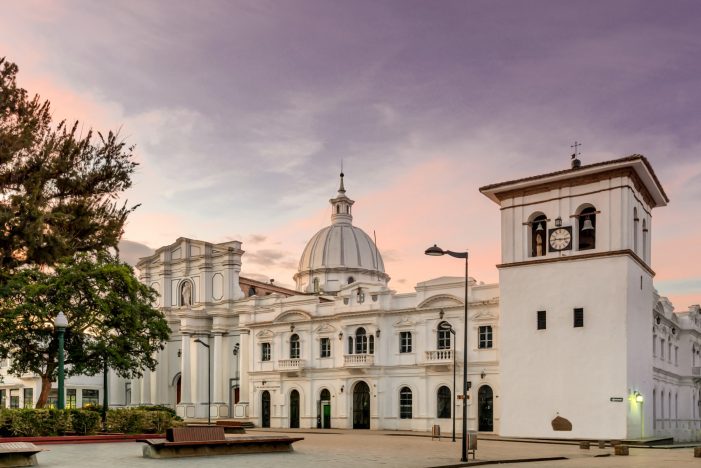 Last but not least is the beautiful city of Popayan, located in the south of Colombia. Juan tells us this colonial city is one of the religious centers of the country and it's best to visit during Holy Week (the week before Easter) when the city comes to life with events, parades and music. This underrated city isn't as touristed as others in Colombia, so you won't have to fight the crowds during your trip (unless you come during Easter, when you'll need to book accommodation well in advance!).
Start your time in Popayan with a visit to San Francisco Church, the largest and most beautiful church in the area. The church's claim to fame? Mummified bodies! Another church worth visiting is La Ermita Church, the oldest church in Popayan dating back to 1546.
Besides churches, Popayan is also an excellent base for day trips in the area. Head out to Purace National Park to see its volcano, waterfalls and hot springs. Journey to the town of Silvia where an indigenous market takes place once a week. Relax and rejuvenate in the Coconuca thermal baths, Agua Hirviendo and Agua Tibia.
Archaeological lovers and history buffs will want to be sure to visit nearby San Agustín Archaeological Park, home to the largest collection of religious monuments and megalithic sculptures in Latin America, and the National Archeological Park of Tierradentro, featuring underground chambers from the 6th to 9th centuries AD.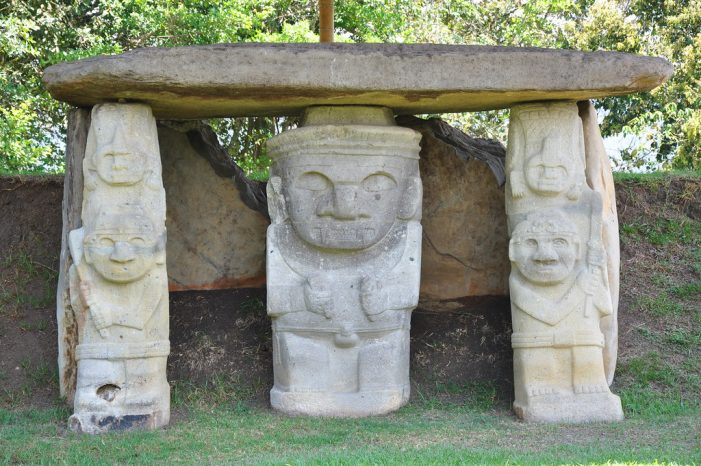 Pin it for later: