12 Domestic Getaways You Can Drive to
May 25, 2020 | by Riana | Posted in Americas, Places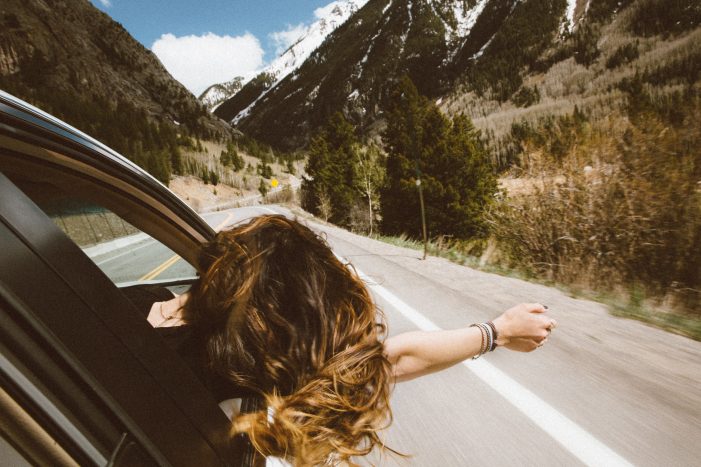 Welcome to the season of the road trip! We know that as restrictions loosen and local travel becomes an option, many people will want to start with domestic getaways close to home. There's so much to explore in our own backyard. Even if we can't jet off to Italy or relax on a beach in Thailand, we can still get our fill of wanderlust right here.
Below we're sharing some of our favourite domestic getaways in the US. These driving destinations are perfect for a long weekend away to leave behind the confines of your home. There's lots of options nearby to escape into nature and enjoy a vacation, while still distancing from crowds.
NOTE: Before you head out on one of these domestic getaways, please ensure you're abiding by all regulations in place in your area, and the area of your destination, so you can have a safe and enjoyable trip!
New York
Harriman State Park (1 hour drive)
For most New Yorkers who have been cooped up in tiny apartments for far too long, an escape into the wilderness is exactly what the doctor ordered! Just an hour outside of the city lies Harriman State Park, your perfect dose of Mother Nature. Here you'll find over 200 miles of hiking trails, picture perfect lakes and beautiful mountain backdrops. Relax on a beach, roast marshmallows at a campsite, or hike a portion of the Appalachian Trail.
If you want to extend your trip, drive another 25 minutes north to Beacon. You may not be able to shop and eat in this charming small town like in the past, but you can still enjoy its beauty. Take a stroll on the waterfront where walking and biking lanes await you, or head to Mount Beacon for some epic views over the Hudson River. As a bonus, this is also close enough to do as a day trip!
The Catskills (2.5 hour drive)
Visiting the Catskills is a right of passage for most New Yorkers. Even though this domestic getaway is well known, you can still find your own remote piece of paradise. Here you can explore the forests, hike up mountains or enjoy a refreshing swim. And if you save your trip for the fall, you'll be able to witness the stunning fall foliage as the leaves turn.
While some of the Catskills most loved activities, like festivals and dining out, may not be on offer this summer, you can still make the most of your time here. Enjoy the local fare by getting take-out of the area's favorite breads, coffee, chocolate, sandwiches, cider, wine and more. Tuck into a picnic of your take-out goodies while enjoying some of the beautiful views in the Catskills.
Cape May, New Jersey (3 hour drive)
If you're looking for a trip to the beach, Cape May on the Jersey Shore might be for you. Escape the city and relax on the beach as the bright blue water washes over your toes. When you're done sunning, wander around the town admiring the Victorian era houses and picturesque coastline views. While not all of Cape May's attractions will likely be open this summer, there's still plenty to enjoy here.
Pro tip: If you really want to beat the crowds and the heat, save your trip to Cape May for early fall! It will still be warm enough to enjoy the beach but not so busy that you can't social distance.
San Francisco
Pescadero (1 hour drive)
Pescadero is the perfect place for Bay Area residents to escape the city and enjoy the seaside. This outdoor oasis will give you that breath of fresh air that you've been looking for. Enjoying hiking in Butano State Park, hitting the beach and camping for a few nights out in the wilderness.
While you might not be able to frequent all of Pescadero's local shops and restaurants, you can still indulge in a little curbside takeout. We're talking fresh bread, homemade soups and famous pies – the perfect snacks for a breezy night by the water. And don't forget to visit Pigeon Point Lighthouse, one of the tallest lighthouses in the US at 115 feet.
Gualala (3 hour drive)
After many cooped up weeks at home, you may be looking to go somewhere to just relax. If that's the case, Gualala is going to be right up your alley. This small coastal town screams relaxation with little to do besides enjoying Mother Nature.
Kayak or float down the Gualala River and wander through the pygmy forest of Salt Point State Park. You can also go on a whale-watching hike in Gualala, often spotting the majestic creatures from the shoreline. Retire back to your lodge or campsite, tuck into some local BBQ, and enjoy the beautiful views.
Lassen Volcanic National Park (4 hour drive)
Think California getaways are all about the beaches? Think again! If you can't get to Hawaii, you can still enjoy some volcanic fun in the continental United States. Welcome to Lassen Volcanic National Park, the largest lava dome in the world. You can even climb Mount Lassen – and cross your fingers she doesn't erupt!
After you make it safely down from Mount Lassen, continue exploring with a kayak ride or hike around Manzanita Lake and a visit to Subway Cave, one of the largest lava tubes in the world. Up next is a journey to the beautiful 130 foot Burney Falls and then a trek over to Bumpass Hell, a hydrothermal area filled with hot pools and steam vents.
Boston
Portland, Maine (2 hour drive)
Portland, Maine has become a hotspot for domestic getaways over the last few years, ever since Bon Appetit named it Restaurant City of the Year in 2018. So if your vacations are all about great food, Portland is not going to disappoint. And even if you can't dine indoors like you could before, there will be plenty of delicious take-out options available!
Once you've filled up on Portland's best seafood, there's still lots to enjoy in the area. Grab a kayak and get on the water, set out on one of the many hiking trails, or just stroll around town and admire the Old Port and other beautiful neighborhoods. If you want to extend your trip, carry on to nearby Casco Bay Islands or Cape Elizabeth.

Note: Currently, Maine has issued an executive order requiring all out-of-state visitors to self-quarantine for 14 days. This is expected to be in place for the majority of the summer.
Block Island, Rhode Island (3 hour drive)
Nantucket and Martha's Vineyard are so 2019. For 2020, take yourself to lesser known (and therefore, less crowded) Block Island, off the coast of Rhode Island. This little piece of paradise is perfect for city dwellers who need an escape into nature. In fact, over 40% of the island is protected conservation land, accessible only by foot or bike.
On Block Island, spend your time exploring Clayhead Nature Trail, Rodman's Hollow and Settlers Rock. You can also go out fishing or take a walk through the charming shops and Victorian era houses. To get there, you'll drive to Kingston and then board a 15 minute ferry. Once on the island, you'll be able to easily get around on foot or by bike or moped!
Stowe, Vermont (3.5 hour drive)
In northern Vermont lies the town of Stowe, the perfect place for nature lovers to explore, once it's safe to do so. While Stowe is best known for its winter activities, including an epic mountain for skiing, it's also a great place for summer and fall retreats. You can spend sunny days hiking, golfing, swimming, biking or kayaking.
After you've enjoyed some outdoor recreational activities, hop back in your car to drive the Auto Toll Road. This scenic trail allows you to zig zag your way up to Mt. Mansfield, one of the most beautiful spots in the area for a mountainside picnic.
Washington, DC
Harpers Ferry, West Virginia (1.5 hour drive)
Harpers Ferry is best known for its role in the Civil War, and therefore a must for history lovers. But nature lovers will find lots to enjoy here too! Harpers Ferry National Historical Park combines both of those loves. Spend your time hiking around this scenic park while learning about the important historic moments that took place on that same ground.
Take in beautiful views of the Potomac and Shenandoah Rivers at the Point and keep an eye out for the area's famous falcons. If you're a history buff, be sure to check which exhibits and museums will be open in time for your visit.
Deep Creek Lake, Maryland (3 hour drive)
Deep Creek Lake is the perfect place to get back to nature, no matter what season! In summer, spend your days hiking around Swallow Falls State Park (with a visit to Muddy Creek Falls), mountain biking in Deep Creek Lake State Park, fishing on the Youghiogheny and Savage Rivers, and kayaking on Deep Creek Lake itself. In the fall, enjoy all of that with the added beauty of fall foliage and stay warm by the campfire.
In the winter, Deep Creek offers opportunities to ski, tube, sled, ice fish and more. If you're looking to get out of the city no matter what time of year, Deep Creek is the place to do it.
Cape Hatteras, North Carolina (6 hour drive)
While Cape Hatteras is a little farther away than most of our other domestic getaways, we promise it is worth the drive! The beauty awaiting you at Cape Hatteras National Seashore will make the six hour drive fly by. Here, once you're truly away from it all, you'll be able to enjoy undeveloped beaches and grassy dunes. Leave the crowds behind and escape to the Cape!
Cape Hatteras is also well known as a fishing and surfing hot spot. Try out the waves on a warm summer day and tuck into a delicious seafood feast at night. Fall asleep in one of the ocean-facing hotels so you can wake up with the view!