The ultimate guide to visiting wineries in New Zealand
August 19, 2018 | by alle contributor | Posted in Oceania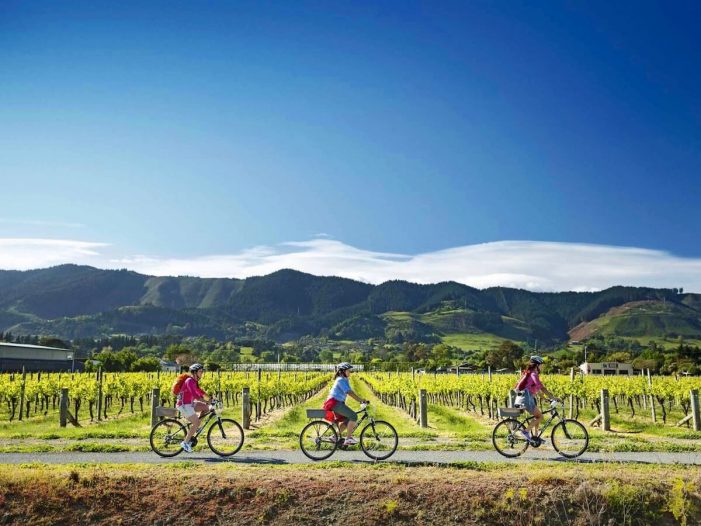 When I got to New Zealand (and, as you know, quickly proceeded to fall in love with it) I knew very little about the wine scene. I was filled with questions like "where do I start?", "where are the best wine regions?", "how do I find a region with my favorite varietals?" and "what are the best wineries?" In a sense, I wrote this guide to visiting wineries in New Zealand for me as something I wish I had had several years ago.
It is an honor to pass it down and introduce you to the New Zealand wine trail: twelve distinct wine regions, each rising stars on the international wine scene in their own way.
A bit of background on wine in New Zealand
New Zealand is unique in the sense where the entire country is ripe with wineries, and I really mean the entire country. Spanning 1000 miles, from the tippity top of Northland, to the lowly lakes of Wanaka, wine flourishes throughout the country. New Zealand is also to able to boast about having the most southerly vineyard in the world; the best news of all? Every region is accessible within a two hour flight of one another, making New Zealand the ideal destination for the wine lover in all of us. The international spotlight swung its gaze on the New Zealand wine scene in the 1970's when buyers got a tickle of the Marlborough Sauvignon Blanc. Slowly, but surely, Pinot Noir became apart of the conversation, then came Riesling, Chardonnay, and Syrah, delightfully so. The most exciting part is that wine culture has blossomed relatively recently. The first bottle of wine wasn't even bottled until the late 1800's (compared to Europe's 6,000 year old wine traditions). That opens the doors to something new and exciting: A new generation of adventurous winemakers experimenting and taking the craft to a whole other level. The result? A wine world that you never knew could even exist is now on your doorstep.
What makes New Zealand wine special?
The long answer lies in the concept of terroir. Terroir is the set of all environmental factors that affect a grape's expression, including unique environmental contexts, farming practices that the wine grower inserts themself and a crop's specific growth habitat. Collectively, these characteristics bloom into terroir: what you taste in a glass, the dazzling colors that you see and those sweet aromas you smell. In plain English, terroir is a reason why wine tastes different in Tuscany than it does in the Napa Valley and the reason why a Pinot Noir from the Rio Negro river in Argentina are going to taste totally different than a Pinot Noir grown in Ahr, Germany. Even within New Zealand, sometimes just miles apart, a Pinot Noir is going to taste different. Terroir is the essence of what makes the New Zealand wine scene such an exciting wine destination.

Without further ado here is my guide to visiting wineries in New Zealand (in geographical order, from the top of the North Island to the bottom of the South), and a brief guide to each- enjoy!

Northland
Dubbed the winterless north, Northland is easily accessible from Auckland and you're never more than 30 miles from the ocean this stunning wine growing region. Northland also boasts the warmest wine growing climate in New Zealand, you can taste the sunshine in every bottle of wine that is produced from Northland's boutique wineries.
Northland is known for: Viogniers, Pinotages and Chambourcin
Best Northland wineries: Marsden Estate (for their 2015 Chambourcin that will change your life) and The Landing (for their Italian varietals blossoming in New Zealand).
Northland is best for: Those who want wineries close to Auckland and are looking to get out of the city, into the sunshine, and onto the beach, as well as the adventurous wine drinkers looking for something a little different and reinvented.
Auckland
The best part of Auckland is that everything is just within an arm's reach as soon as you touch down. That includes some world renowned wineries at your fingertips. Volcanic and clay heavy soils make it a very unique region with vineyards having started from Croatian, Lebanese and English winemakers.
Auckland is known for: Merlot, Cabernet, and Syrah
Standout Auckland wineries: Cable Bay (Waiheke Island's crowning winery), Brick Bay (for the stunning grounds and their cheeky petit verdot), and Mudbrick Vineyard & Restaurant (for their gourmet platters and blissful terrace)
Auckland is best For: Those basing themselves in Auckland and looking for finer dining to pair with sublime wines.
💡My favorite winery near Auckland: Man O' War Vineyards
Man O' War is one of the trickiest wineries to access because there are really only two ways, first by private boat from Auckland, or on a slow rolling dirt road where you'll watch the world go by as you gingerly bump and bustle for half and hour; which is something that I love about Man O' War Vineyards, the road isn't paved, and they have no plans to pave it, to keep dust, noise, and traffic down. There is no personal quest for fortune and fame (even though they seem to have stumbled upon it quite easily with the quality of their wines). The wider hapori 'community' spirit on Waiheke Island runs strong, and Man O' War exemplifies it beautifully and that inspires me with how I choose my wineries and to be weary of ecological impact that they have on their vines and community. Man O' War also boasts the only beach-front cellar door on Waiheke, where you can take in views of the bay while you sip on your pinot. With a modest colonial era bungalow perched in full glory of the outdoors. Man O' War doesn't just do incredible wine, but they have out of this world food. Come hungry and thirsty and you will leaving wanting naught.

Waikato
Situated just south of Auckland, Waikato is traditionally thought of as a wine region, as it is mostly farmland (think cheese!), and is expansion even for New Zealand standards. However, with several delicious wineries hiding between the flowers this up and coming wine region will tickle your palate with some unique variatial.

Waikato is known for: Cabernet Sauvignon, Pinot Gris, Merlot and Gewurztraminer
Standout Waikato wineries: Vilagrad (for their unique Vilagrad Sparkling Charminar).
Waikato is best for: Those who love road trips and want to explore both wine and cheese with Over the Moon, Pukeatua Peak, Kaimai Cheese, Mercer and Meyer, all award winning cheese makers in Waikato.
Bay of Plenty
A visit to Bay of Plenty guarantees being able to sip on wine in one of New Zealand's most stunning regions. Prepare yourself for gondola rides, mountain biking, soaks in the hot pools, or a day at the beach, all with a glass of wine in hand (I'm sure sippy cups can be arranged for the mountain biking days).

Bay of Plenty is known for: Pinot Noir, Pinot Gris, and Sauvignon Blanc
Standout Bay of Plenty wineries: Mills Reef Winery (for their outstanding Bordeaux varietal reds, and an award list too numerous to list) and Volcanic Hills Winery (for their antipasto platter and gondola rides offered).
Bay of Plenty is best for: Those who are outdoorsy and want to explore the Coromandel and Rotorua with a glass of wine in hand.

Gisborne
Tucked away on New Zealand's eastern coast, Gisborne's cellar doors are mere 15 minutes from the regional airport and if you're looking to mix wine with New Zealand's coolest surf town you're in the right place.

Gisborne is best Known For: Chardonnay, Pinot Gris, and the first place in New Zealand to see the sunrise
Standout Gisborne Wineries: Poverty Bay (for getting a feel for how a classic laid-back Gisborne cellar door functions), Milton Vineyards (for their lovely organic/biodynamic wines), and Wrights (for the pizza, views, and obviously, wine)
Girborne is best For: Relaxed white wine lovers looking to be able to visit top notch wineries in their togs (kiwi slang for swimsuit).

Hawke's Bay
One of New Zealand's sunniest regions, and the second largest wine growing region. Hawke's Bay is best cruised around in a historic vehicle checking out art deco Napier and popping into one of the 72 cellar doors.
Hawke's Bay is best known for: Syrah, Pinot Noir, and Chardonnay
Standout Hawke's Bay Wineries: Black Barn Vineyards (for their platters and earthly Tempranillo), Church Road (for being one of the oldest in the area, and who really know what they're doing), Craggy Range (for their award winning everything) and Trinity Hills (for breaking boundaries with is their Old Tawny)
Hawke's Bay is best for: Those looking to go off the beaten path, see some of New Zealand's oldest vines and vineyards, but yet want a well established, award winning, wine trail.
💡My favorite winery in Hawke's Bay: Te Awa
Te Awa was the first winery I ever went to in New Zealand, it's the place where I tried my first ever Pinot Noir, and it was where my partner and I made our decision to build our house amongst the vines, just up the road. Te Awa feels like home and that is a very hard experience for just any winery to replicate. It's also a winery that reaches a little further from home with vineyards stretching out with over 15 different varietals all being experimented with in conjunction with their single estate vineyards in the Gimblett. If I haven't gushed enough, the winery is divine, the restaurant heavenly, best of all, Te Awa is one of the most accessible wineries in the Gimblett Gravels, it is causal, yet upscale, unpretentious and welcoming of anyone who wants to get a taste of the region. Te Awa exudes a magic that has to be experienced and don't even think about leaving without lingering over a glass of their Rosé or Albariño.

Wairarapa
Trying to find the Wairarapa on a map might take you some time because it produces just 1% of New Zealand's total wine production. However, this tiny boutique wine growing region bases its epicenter in Martinbrough; host of the Toast Martinborough Festival
Wairarapa is best known for: Pinot Noir and Savangion Blanc
Standout Wairarapa wineries: Te Kairanga (for their easy going pinot noirs that will win you over at first sip) and Cambridge Road (a hidden gem bursting with new technique, if you get a chance to chat with Lance, seize the opportunity to find out what he's got up his sleeve for the coming year)
Wairarapa is best For: Those who have based themselves in Wellington, want to get out of the city, drive over the white-knuckle Remutaka Range and into a tiny town built around wine.

Nelson
Nelson is one of New Zealand's boutique wine regions, you won't find any big names, but you will find some of the finest hospitality and an anything goes attitude, to both wine making and life.

Nelson is best known for: Pinot Noir, Chardonnay, and Sauvignon Blanc
Standout Nelson Wineries: Fossil Ridge (for their macadamias and olives, that pair exquisitely with their wine) and Mahana Estates (for views, views, views and did I mention views?)
Nelson is best For: The adventures and outdoorsy folk. Nestled onto Tasman Bay you can hike, kayak, swim, hunt for wild mussels and still have time to fit in several wine tastings.
Marlborough
Unequivocally New Zealand's most famous wine region. It can easily be said that Marlborough put New Zealand onto the international wine scene with their Sauvignon Blancs.
Marlborough is best known for: Sauvignon Blanc
Standout Marlborough wineries: Cloudy Bay (one of Marlborough's iconic wineries and because to not visit would be sacrilegious) and Spy Valley (where the architecture, wine, and sweeping views will blow you away)
Marlborough is best for: The serious wine connoisseurs looking for top-notch classic Sauvignon Blancs
💡My favorite winery in Marlborough: Giesen
Every great wine drinker can look back at their life and pick a single bottle, from a single year, that changed everything. For me, that bottle came from Giesen, and that year was the 2015 Risling Two Brothers Reserve. For years I had heard terms like "honeysuckle" and "perfumed" to describe wines. However, up until that point, wine had tasted a lot like… wine; every time I had a glass I tasted a lot of muddy flavors, that diluted everything that I tried. My first sip of Gisen's 2015 Two Brothers Reserve Riesling changed that. It was the first time that I tasted pears and honey so distinctly and definitively. In an unusual way, my palate had turned a corner and was was as if being able to use a sense for the first time, thus began my journey to to identify tastes and subtle terroir through wine. Giesen also has a crackin' cheese platter, and if you happen to be there winter, there is a cozy fireplace to spend your tasting cuddled in front of.

Canterbury and North Canterbury
Tucked between the Alps and the ocean, this region is bursting with wineries that are hidden gems and opportunities to go whale watching, mineral-rich thermal pools, and boutique shops.
Canterbury is known for: Pinot Gris and Riesling
Standout Canterbury wineries: Black Estate (for their minimalist aesthetic, 100% organic vines, and out of this world lunch menu), and Pegasus Bay Winery and Restaurant (for it's iconic wine status and aged New Zealand Gouda that it serves).
Canterbury is best for: Those who find themselves underwhelmed by Christchurch and wanting sprawling views with a plethora of boutique wineries that you won't find anywhere else in the world.
💡my favorite winery in North Canterbury: Waipara Hills
"Your Sauvignon Blanc tastes like crackling black pepper and it's dancing on my tongue", that sentence raised an eyebrow from Dennis, Waipara Hills sommelier extraordinar. I was lucky enough to meet Dennis when I was just starting to get acquainted with the wine world. When we arrived at Waipara Hills Winery we were the only wine tasters for miles and Dennis decided to lay out the entirety of the history of wine, how wine works and how to win at a wine tasting. He taught me that first and foremost, that wine tastes different to everybody and that is due to the fact that no two taste buds will perceive nuances exactly the same. Therefore, it's ok to hate wines with 20 award stickers on them and it's ok to love no-name, no-award, wines. Second, drink the wine that you love, whether it is a bottle of Two Buck Chuck, or a $32 bottle of 2016 Waipara Hills Equinox Sauvignon Blanc that dances on your tongue and tastes like cracked black pepper. Third, enjoy your wine tasting, don't get too caught up in the sniff, swirl, and taste; or do! It can be part of the fun.

Waitaki Valley
The Waitaki River is one of New Zealand's largest, that snakes through the Waitaki Valley. Here you're find coastal breezes mixed with views of the Southern Alps, in a tiny, tucked-away, relatively unknown wine region.

Waitaki Valley is known for: Pinot Gris, Riesling, and Gewurztraminer.
Standout Waitaki Valley wineries: Pasquale Kurow Winery (for their aromatic grape varieties like Nebbiolo and Dolcetto) and Ostler Wines (for their boutique cool climate wines).
Waitaki Valley is best for: Those who truly want to get off the beaten path and explore one of New Zealand's smallest wine destinations.

Central Otago
Central Otago is the land of mountains, valleys and lakes. The varying landscape seeps into all of the wines grown and with numerous sub-regions, if you want to taste a hundred different aspects of one varietal in the same region, Central Otago has it all.
Central Otago is know for: Pinot Noir, Chardonnay, and Sauvignon Blanc
Standout Central Otago wineries: Rippon (for a classic views over Lake Wanaka) and Misha's (for super exciting new takes of Pinot Noirs, and the late harvest Gewürztraminer)
Central Otago is best for: Pinot Noir lovers and those wanting to try a multitude of subregions with some of the best views New Zealand has to offer.

If you're looking for even more wine: 4 New Zealand Wine Festivals Not to Miss
New Zealand is home, and host, to several wonderful wine festivals that are not to be missed. They will give you a better taste of the region, people, and course wine.
Toast Martinborough
Sunday 18 November 2018
Martinborough, New Zealand
One of the most high tech wine festivals out there Toast uses a cashless, hands free AWOP wristband payment system. Each of the eight festival sites offers a variety of dishes at varying price points, with gluten-free and vegetarian options. Around ten wineries will be showcasing their new releases and award-winning wines. There is something for everything, however I recommend heading over to the bubbles bar at Margrain Vineyard to get started. There is really something for everyone at Toast Martinborough from 100% vegan wines at Tirohana Estate, organic wines at Vynfields, Apres at Muirlea Rise, Toast Chardonnay at Ata Rangi, and the rosé bar at Te Kairanga Vineyard. Blind tastings are a plenty (and super fun!) and if you need a second to let it all sink in head over to one of the twenty musical acts that take place over the course of the festival.
F.A.W.Cs
2nd to 11 November 2018
Hawke's Bay, New Zealand
Hawke's Bay Food and Wine Classic gives you the ability to sample wine and food until you are fully up to the brim. For an entire 10 days in November you'll be able to chow down on food that has been either foraged, fished, and (always) sourced in the heart of Hawke's Bay. The best part is that wine is always included, and is always plentiful. Various wineries, restaurants, cafes take part to give you a stunning overview of what the region has to offer at a fantastically discounted price. A highlight is Mission Estate Winery that serves a delectable two course set menu with a glass of wine for a humble $50NZD ($35USD)
Marlborough Food and Wine Festival
February 9, 2019
Marlborough, New Zealand
The Marlborough Wine & Food Festival is lovely New Zealand's original and longest running wine festival, also it's most popular. The festival takes place in one of New Zealand's oldest and most postcard perfect vineyards: Brancott Vineyard. This festival gathers over 40 of Marlborough best wineries, hosting classics such as Cloudy Bay, Giesen Wines, and Fromm Winery. Not to worry there will be food around with over 25 food spots all pining for you attention and taste bites. The fact that the Marlborough Food and Wine Festival only lasts a day brings tears to my eyes, but with 34 cellar doors in Marlborough the festivities don't have to stop.
North Canterbury Food & Wine Festival
March, 10 2019
Waipara Valley, North Canterbury
The North Canterbury Food & Wine Festival dubbed the "coolest little wine festival in the country." With over 30 wineries attending with the likes of The Crater Rim, Pegasus Bay, and Black Estate, joined together with 25 food stalls serving delicious morsels like Kaikoura cheese platters, Manuka smoked pork, and West Coast whitebait and pāua patties this festival gathers together the best of Canterbury . You'll also find 9 pop-up local market stalls, and 4 bands, this little festival packs a huge punch, and does good too, supporting the Māia Health Foundation. You'll feel like you're at a community park having a massive family reunion with those who love food and wine just as much as you do, the kiwi way.