10 reasons why Australia is the ultimate luxury destination
January 21, 2018 | by alle contributor | Posted in Oceania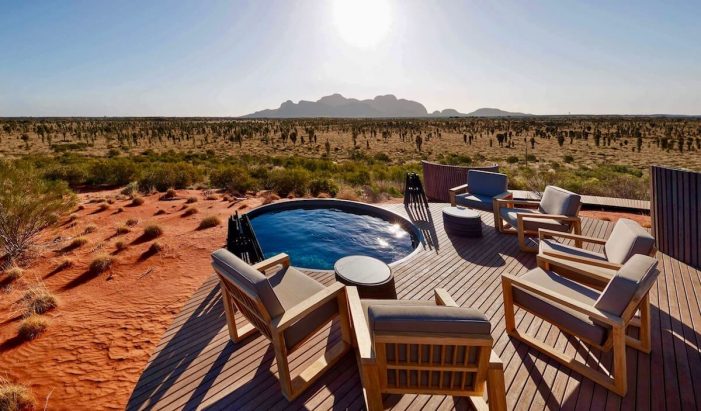 There's two things we do all day at allé: talk to travelers and plan trips (tough life). Because of this, we always have our ear to the ground about places that are in-vogue or up-and-coming, and we also see when there's a huge, glaring misconception about a destination. Australia is a prime example. So many of our clients think Australia is just the Sydney Opera House, the Great Barrier Reef, and the Outback. And our most discerning of clients think that there's nothing there that will impress them. Well, that couldn't be further from the truth, so I was tasked with the job of rounding up my top 10 reasons why Australia is the ultimate luxury destination, and showing them to you (again, tough life). What you'll find just might surprise you:
1.In Australia, you can enjoy wine and views at world class wine regions
With more than 60 wine regions, Australia has no shortage vineyards to spend your days sipping spicy Shriazs (Syrah for the rest of the world). From the Yarra Valley just outside of Melbourne, to Sydney's Hunter Valley, to Margaret River just outside of Perth, and the Barossa Valley near Adelaide. There is no shortage of luxury vineyard estates to pair with the vineyards. The top highlights include Spicers Vineyards Estate, which is set on an eight acre vineyard in Polkobin, just a 2 hour drive outside of Sydney, with just 12 exclusive guest rooms and hot air ballooning over the Hunter Valley. The Louise, if you find yourself in the Barrosa Valley, just an hour outside of Adelaide, will lead you to a land of luxury like no other. The wine and the luxury suites are an obvious highlight, but being able to have breakfast in the bush with the kangaroos, take private Italian cooking classes, and explore the stunning vistas of wine country are just a fraction of the surprises that await you at The Louise. Luxury can be found even on the other side of Australia, in Perth, The Cape Lodge in Margaret River is ideal for those looking to be truly secluded with a taste of the country. Whether it is truffle hunting, being pampered in the spa, or sampling treats in Australia's best gourmet region, you'll find no shortage of luxury here.
2. In Australia, you can dine on some of the best cuisine in the world
Michelin doesn't exist in Australia, but if it did, there would be stars galore. While you may not think of Australia as a luxury dining destination, the beauty of Aussie cuisine is that it is eclectic, internationally inspired and has a spear-headed focus on how to transform local ingredients into a global palate. With restaurants like Attica, in Melbourne, and their New Zealand inspired foraging dishes like salted red kangaroo and local honey from an urban hive that is dripped off of the comb at your table. There is also Brae outside of Melbourne, with Spanish roots, Orana in Adelaide with glimpses of Scottish inspiration. Penfolds Magill Estate, also in Adelaide with subtle Japanese flavors, and Franklin, in Hobart, showcasing the best of Tasmanian food culture. If sitting for hours, wining and dining, in one of the world's best restaurants doesn't quite have the luxurious spark that you're looking for, head Kings Canyon, in the Watarrka National Park, 6 hours west of Alice Springs, to dine under the stars with a 5 course menu, complete with locally sourced produce and native herbs from the Outback.
3. In Australia, you can enjoy a spa week in Wolgan Valley
Situated just a 2.5 hour outside of Sydney, and set on 7000 acres of conservation reserve, you'll be warmly greeted at the world famous One and Only Resort Wolgan Valley. As your private helicopter lands in the lush Wolgan Valley, prepare to be launched into Australia's most luxurious resort. All villas come with a private plunge pool that overlooks the beautiful Wolgan Valley; a magical slice of Australia filled with river, valleys, and sandstone gorges. Best known as an ultimate relaxation destination, the highlight includes the Japanese soaking tub, mountain aromatherapy massages, and heated basalt stone massages. Activities are abundant and include experiences like horsemanship sessions, stargazing with a personal campfire, and getting out into the bush to explore the resident animals.
4. In Australia, you can go full luxury on the Great Barrier Reef
The Great Barrier Reef can be the ultimate luxury destination with places like the Orpheus Island Lodge, situated on Orpheus Island, which accommodates just 28 people. Orpheus Island is an unspoilt tropical paradise that you can find just off the shores of Townsville. Boasting over 6 miles of turquoise coastline. The reef surrounding the island is pristine and you'll have access at your doorstep. If that doesn't entice you, the infinity pool that mirrors the Coral Sea will. You'll need to helicopter in, or take a speedboat. Qualia cannot be missed, a private world unto itself on Hamilton Island, is an adults-only experience on one of Australia's most luxurious islands. You can cruise to white sands, lush coral seas, or just relax in your private infinity pool overlooking the ocean. Bedarra Island Resort is one of the most exclusive and relaxed resorts you can find on the Great Barrier Reef. It is a sublime barefoot luxury resort, and you can truly sink into the island at this all-inclusive resort. It's snuggled in between the tropical rainforest and Great Barrier Reef Marine Park just off the shore from Mission Beach. With luxurious tree-house villas to house even most adventurous of luxurious travelers. A beachside helicopter pad brings you swiftly onto the island. With just 10 villas on the island, they cater to the exclusive client. You'll have an entire reef and island to explore as you see fit.
5. In Australia, you can wake up to the magic of Ayers rock from Longitude 131°
If you find yourself headed for the blazing outback, luxury desert basecamps are an essential part of the magical experience of Australia's heartland. Longitude 131° is a exclusive lodge that boasts wide open views of majestic Uluru. If you're looking for the ultimate getaway from the cities and want seemingly infinite views from floor to ceiling Longitude 131° fits the bill perfectly. From your first foot step into the billowing pavilions, you'll be immersed in traditional Anangu (recognized as the rightful and native owners of Uluru-Kata Tjuta and the surrounding land) culture, rolling sand dunes and indigenous art that fills the walls. You'll have the opportunity to be able to choose between two different levels of divine luxury, from Luxury Tents. Or if you're looking for something just a step above, the Dune Pavillion is the only accommodation option in Australia that offers expansive views of both World Heritage-listed Uluru and Kata Tjuta.You'll be able to relax in your deep tub that overlooks the superb or from your private plunge pool with a drink, from the curated bar, in hand. Climate control and a full sound system are just several of the perks that come with a night at Longitude 131°.
6. In Australia, you can escape to secluded luxury hideaways like Kangaroo Island
Off the beautiful coast of Southern Australia, just a 45 minute ferry or a 30 minute flight from Adelaide, lies Kangaroo Island. With over 300 miles of coastline to choose from you'll see sea lions basking in the sunshine in the soft, powdery white sand and koalas only waking from their sleep to munch on eucalyptus leaves from the trees they are slumbering in. You'll also find no shortage of wineries and delectable bowls of local cuisine bursting off of the plate. So put your feet up at the Southern Ocean Lodge, built just above the cliffs, where you can spend your days listening to the pounding surf lap against the rocks with floor to ceiling panorama views. The isolation and pristine nature of the island makes it an ideal spot to get away and explore the hidden side of Australia from.
7. In Australia, you can explore off-the-beaten path in luxury at Bamurru Plains
If you're looking for luxury off-the-beaten-track, head to the Northern Territories, and to the edge of Australia and the edge of the Kakadu National Park. There you will find Bamurru Plains: a safari style, super luxurious lodge, self-proclaimed as "wild bush luxury" in the middle of Australia's mystical heartland. The lodge truly allows you to unplug, as there is no signal or wifi offered during your stay. Set amongst the savannah bush and floodplains, the sunsets are like no other and with only 20 guests able to stay at a time you'll find true peace and quiet. While the lodge is remote, a 3 hour drive from Darwin to be exact, you'll never be more than a couple of feet from the wild plains of Northern Australia and from nature. Rates include delectable meals, a cheeky, and unlimited, open bar, and daily guided wilderness activities to feast your eyes on saltwater crocodiles, water buffalo, or an adventure to The Hide, where you can have a 360° view of the surrounding plains from the tree canopy. Did we mention that they have a luxurious treetop sleep-out for the adventurous romantics?
8.In Australia, you don't have to fly to 10 different places to get the best of both the Outback and Reef
If you've ever dreamed of luxuriating at a beachside safari camp, and being steps away from desert landscapes, wild kangaroos, the Sal Salis fits the bill beautifully. With only fifteen tents, this boutique eco-luxe camp will take you to both the heart of the Outback and Reef in Western Australia. The Ningaloo Reef is just waiting for you at the foot of your luxury tent, with over 500 species of fish, more than 200 coral species, and majestic whales, dolphins, and whale sharks just beyond. The Cape Range, just out the back of your luxury tent, boasts red kangaroos, wallaroos and rock wallabies, with over 100 bird species to round it out. From snorkeling to safaris you can have it all on the edge of the desert. There is no wifi or internet, making it the ultimate destination to unplug right on the shores where crashing waves and sounds of the Outback.
9. (Near Australia) you can explore rugged Tasmania in luxury
The Saffire Freycinet Luxury Lodge offers a luxurious spin on rugged Tasmania. You'll be taking helicopter rides around the island, to golf courses and the far flung beaches of, as well as fishing adventures and even being able to privately smoke the trout that you catch, while indulging in small-batch single-malt e limited release Tasmanian whiskey. Luxury hikes into the national park, interacting with Tasmanian devils, private plane rides into wine country, sipping your way through the vines, then back to boarding your flight onto the next vineyard. Gourmet beach picnics also await you with local oysters, free range meats, local Tasmanian farmhouse cheeses and delectable little desserts. On the topic of food, Tasmanian born and breed Ian Todd takes the helm of Saffire Freycinet's kitchen and you can be assured that you will have the freshest, most inventive pluck of what Tasmania has to offer.
10. In Australia, you can have it all in Noosa
Noosa, sitting gingerly on the sunshine coast straddles everything you would want out of a luxury holiday in Australia. The city is oozing with luxury offerings. From the dining scene at Sails, headed by Executive Chef Paul Leete, unpretentious, uncomplicated but simply delicious, with 180 degree views of the bays. To some of the best cocktail bars and craft beer offerings that the coast has to offer with venues like Locale. You can also take to the seas to surf, or take a luxury catamaran around the bays. Noosa also has some of the best day spas, Ikatan being the household name. With 8 hour spa days with a complete skin rejuvenation, massages, and champagne. Noosa offers a top range of quintessential Australian experiences, for the luxury traveler.
So, shall we start planning your trip to Australia? ❤️