Why New Zealand is my favorite place on earth
July 2, 2018 | by alle contributor | Posted in Oceania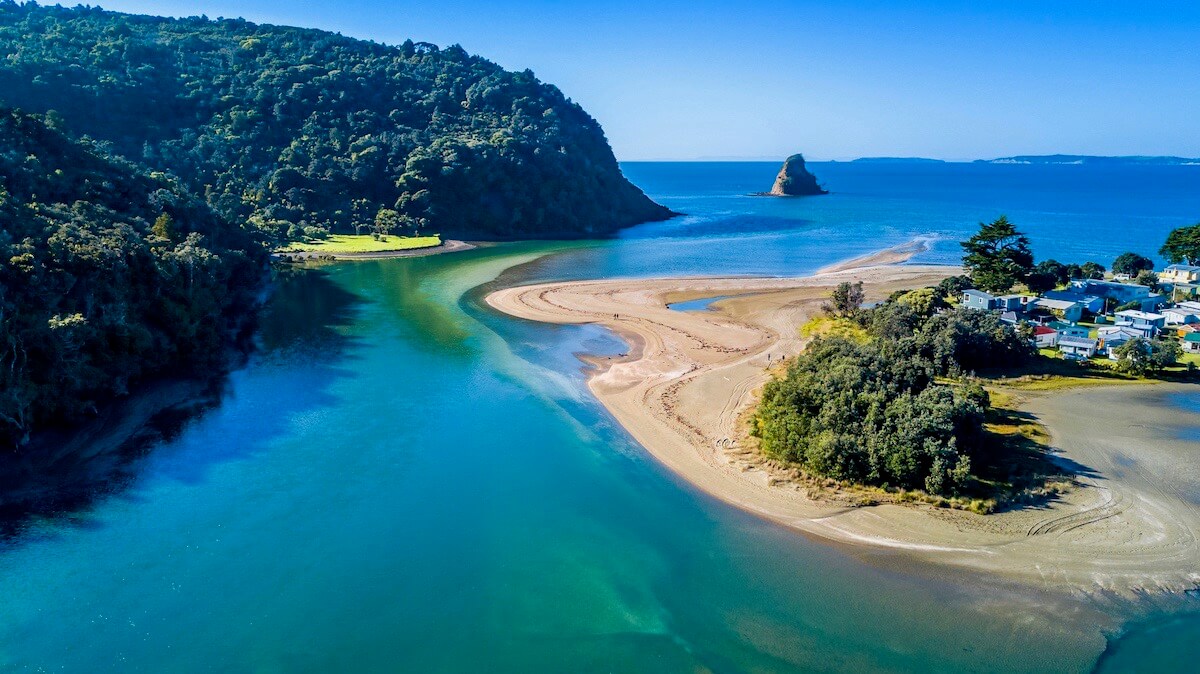 New Zealand, for me, starts as the beginning of a beautiful love story (my favorite!). I had just met the loveliest (human) Kiwi on the wild beaches of Nicaragua, who was headed back to the land he was born and raised in: New Zealand. I, of course, can never resist the opportunity for a spontaneous adventure but in the spirit of honesty, I'm ashamed to admit I had no idea that New Zealand was even split into two islands not too long ago. To say it wasn't quite on my radar, or map (literally, fun fact: New Zealand is often left off of world maps) is an understatement. But this story has a happy ending, New Zealand stole my heart (the boy did too!), and every chance I get to be surrounded by friends, family, wine and food, in wild New Zealand, I do.
As a travel destination, New Zealand is hands down an all-round-winner in terms of having it all, from sublime beaches, exquisite vineyards stretching both islands, some of the most dazzling and varied landscape packed into one country, and thousands of magnificent backcountry trails just waiting to be hiked. New Zealand has something for the wine lovers, outdoor enthusiasts, mountain seekers, beach bummers, and those after an adventure – or honeymoon – of a lifetime. Below is a tiny laundry list of my favorite reasons why New Zealand is my favorite place on earth.

Wine on Waiheke Island
While I could write an entire article on New Zealand wine (I actually am, stay tuned!). If you take the 45 minute ferry out to Waiheke Island from Auckland, it can feel a world away. With more than 18 wineries open year round, you'll find no shortage of panoramic views, snazzle Bordeaux varieties like Cabernet Sauvignon and Cabernet Franc, and some of the balmiest beach weather west of Hawaii. If you only have time for one winery, make it Man O'War, it's a trek from Oneroa, Waiheke's main hub, but oh-so-worth-it. The road isn't paved, and they have no plans to pave it, to keep dust, noise, and traffic down. If that doesn't speak to the wider hapori 'community' spirit on Waiheke Island, I don't know what could.

Hike Tongariro alpine crossing
New Zealand has Eight Great Walks, and unless you have a year, or two, to do them all, making it out to Tongariro Alpine Crossing is a must. It is one of the most popular walks in New Zealand, and as cliche as this sounds, for good reason. It is a nine-hour trek over some of New Zealand's most incredible and varied scenery. You'll be hiking past the likes of Mt. Ngauruhoe (Mt. Doom for you Lord of the Rings fans) and over Mt. Tongariro. You have to hike it to truly understand the vastness, but imagine panoramic views of volcanic plateaus and colorful crater lakes. Prepare yourselves to be immersed in the sacred, due to the cultural importance that the valleys, rivers, and peaks hold to local Maori.

Sail across Lake Taupo
There is nothing better than hitting the water on Lake Taupo; commonly pronounced as tau-po, but locals will appreciate the correct pronunciation of toe-paw. Sail across the water of a volcano caldera (which is still volcanically active!) to get a sense of New Zealand's biggest lake, and the Southern Hemisphere's biggest freshwater lake. The definite highlight is the Maori rock carvings, while not historic, having been completed in 1980, the extraordinary cliff side art is stunning and well worth sailing out to see.

Soak in the Sunshine in Hawkes Bay
In Hawkes Bay, the wine is marvelous, and the sun is almost guaranteed to be shining, as it's one of New Zealand's sunniest regions. The vines were first planted in 1851 by Marist missionaries and the region produces some of my life-time favorite reds. Te Awa, Craggy Range, Trinity Hill, and Church Road are just a few of the world-class wineries in the region. Beyond the vines, an essential sunset walk to the Te Mata Peak and Cape Kidnappers to gaze over the marvelous views that effortlessly stretch into the horizon. If you're feeling like a late night tipple after your sunset walks there is also a "hopping" beer and cider scene just waiting to be explored. Hawkes Bay is also New Zealand's up and coming cycling capital, with more than 125 miles of trails to discover and zoom around on.

Kayak Tasman Bay
The views from Tasman Bay are the epitome of magical, with white sand, blue water, and what seems like an infinity of splendid native bush (dense tropical-esque forest) framing it. Tasman Bay is the ultimate local hangout spot, with camping slots booking out over a year in advance over the holidays. Kiwis know where it's at! You'll wind your way through thrilling tropical bush that hugs the golden coastland that opens up to aforementioned exquisitely clear water and pristine beaches that make up the bay. But you'll have to get off the main stretch to fully experience the bay and is no better way to enjoy the sunshine, and views, than on the water, kayaking. Paddle out and find your own slice of beach paradise on hidden Torent and Awaroa Bay. Bonus points if you're able to spot New Zealand Fur Seals "kekenos" frolicking in the water near Tonga Island.

Explore Kapiti Island
There are two ways to explore Kapiti Island, the first, by missing out on the quintessential Kiwi activity of a lifetime by doing a day trip, or you can opt-in for an experience of a lifetime by staying overnight on the island and going in search for little spotted kiwis at night. Be ready to walk along the tracks in the beautiful dense native bush, swim in the surrounding bays, or bird watch. If you sit down for a picnic, you'll more than likely get a visitor of the Kia persuasion: the world's only alpine parrot who will not be afraid to climb onto your shoulder, open your backpack up, or nibble on a piece of your lunch.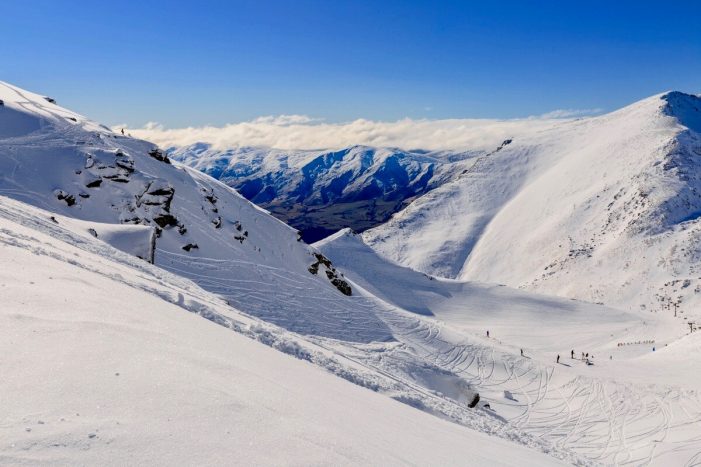 Ski Queenstown
The best escape from the northern hemisphere summer means heading down to Queenstown and being dropped straight into the powder. With four ski fields, two being the world famous Treble Cone and The Remarkables, you can ski all day and party all night. Retiring your skis doesn't have to mean keeping your feet on the ground. Head up the Queenstown Skyline Gondola for unreal views over the mountains and water. If the weather is too warm for skiing, and skydiving is just waiting to have a big green check mark next to it on your bucket list, there is no better time to do it than in Queenstown.

Ride the Picton to Wellington Ferry
New Zealand boasts many "most beautiful thing in the world" and the Interislander Ferry ride is no exception. From dramatic views of Wellington harbor, straddling mountain views of the South Island, and the dramatic coast of the North. You'll see dolphins, orcas, and even humpback whales swimming right beside you as you coast along Cook Strait. You'll you sailing along for a breezy 3 hours, and you'll be dropped in Picton, the gateway to the Marlborough Sounds: South Island wine country.

Wine and dine in Marlborough
As you sail into wine country, Marlborough is nothing short of exquisite wine country. While Sauvignon Blanc is their namesake, you'll be tickled by honey-green apple crisp Rieslings, fruity, and seemingly drenched in sunshine, and you'll be pleasantly surprised by the limits being pushed by cultivating promising varietals like Grüner, Veltliner, Viognier, Arneis and even Tempranillo. If things seemed a little bleak sailing off the ferry from windy Wellington, fear not, the Wairau Valley in Marlborough has been named "Kei puta te Wairau", 'The place with the hole in the cloud'. Kick your feet up, soak in the sunshine and indulge in a cheeky glass, or two, with a variety of artisanal foods like local chutneys, Manuka honey, jams, fine meats and, of course, some fresh New Zealand sheeps cheese.

Helicopter around Milford Sound
Milford Sound must be seen to be believed and it is best seen from the air. A breathtaking sliver of topography that easily rivals the great Norwegian sounds and while it is last on the list, it is an absolute must to anyone heading to New Zealand. Hop aboard, fly away, and be prepared to gaze in awe. You won't know whether to look left, past the wrinkled and wild cliffs, or right, to gaze out on gushing waterfalls falling soothingly into the sound. The best news is that you can easily skip the tragically receding Franz and Fox glaciers in favor of landing on the sleek Mt Tutoko glacier. The magical combination of intense wilderness, mystical waters and lush tropical bush that surrounds Milford Sounds is unlike anything else on planet earth.


The logistical side of things
When to visit
New Zealand being in the Southern Hemisphere, things run a little differently down there, including their seasons. Their summer runs from December to February, autumn from March till May, then winter is from June to August, and spring from September to November. Holiday crowds are at their busiest from December to early February. Due not only to overseas visitors being at their peak, but school summer holidays being in full swing, where roads can be backed up for miles with Kiwis trying to make their way to their own coast. Mid-February and March are ideal, both weather-wise, and to miss the crowds, especially if you're looking to hit the beaches and wineries. Whereas July and August are your months if you're ready to hit the ski slopes and experience New Zealand as a winter wonderful it can be.

How much to budget
There is no perfect number for being able to visit New Zealand. Flights will easily eat up the majority of your budget hovering around $1,250, per person, round trip from the East Coast. Whereas, accommodations in New Zealand really run the gamut in both price and level of luxury. You can rent a batch (Kiwi holiday home) in the off-season for as little as $50 a night, or you can easily splurge and stay on the vineyards of some of the worlds best wineries across the country for around $300 per night. If you're a foodie at heart, New Zealand boasts some incredibly wonderful menus, but they come at a price, usually around $70 per person, per day, you can always choose to chow down on a vast menu of pies for under $5 – kumara (sweet potato) and steak being a national favourite. Unique, small-group experiences such as a boutique, full-day wine tour on Waiheke Island, they start at $85 per person, whereas things like the Glow Worm Caves and Hobbiton cost $35 to $60, per person, respectively. With some exceptional experiences like helicoptering over Tongariro National Park (as opposed to the 8 hour hike to cross it!) costing $415 per person. It's a country best suited for budgets in the $3,200-$6,400 per person range for a 10 day trip.

How long to go for
In order to see it all, we recommend budgeting at least 20 days to see both the North and the South Island. Splitting your time evenly between the two. You'll lose three of those days flying (thanks to the international date line time, but at least you'll be able to say that you are in future!), and if you're going to go all the way, why not stay a while. Shorter trips are possible, of course, but in that case I recommend making some compromises and not visiting some parts of the country, to avoid dashing from place to place.
What to combine New Zealand with:
Australia: for city lovers and great nightlife.
Fiji: for honeymooners fulfilling bucket lists.
Tonga: for seasoned adventurers and those who want to get away from it all.
New Caledonia: for the French-fusion foodies and those wanting a little slice of France in the middle of the Pacific.
Hawaii: for those who want to mix in a tropical island with wild New Zealand, but a little bit closer to home. With new Air Asia connections between Auckland and Honolulu – starting at $250 one way, per person – it's an economical combination too.
Discover more of New Zealand with an ask allé custom coaching call!
Save hundreds of dollars and hours of planning with our travel coaching package!