7 Reasons to Add Montenegro to Your Bucket List
April 3, 2019 | by Riana | Posted in Europe, Places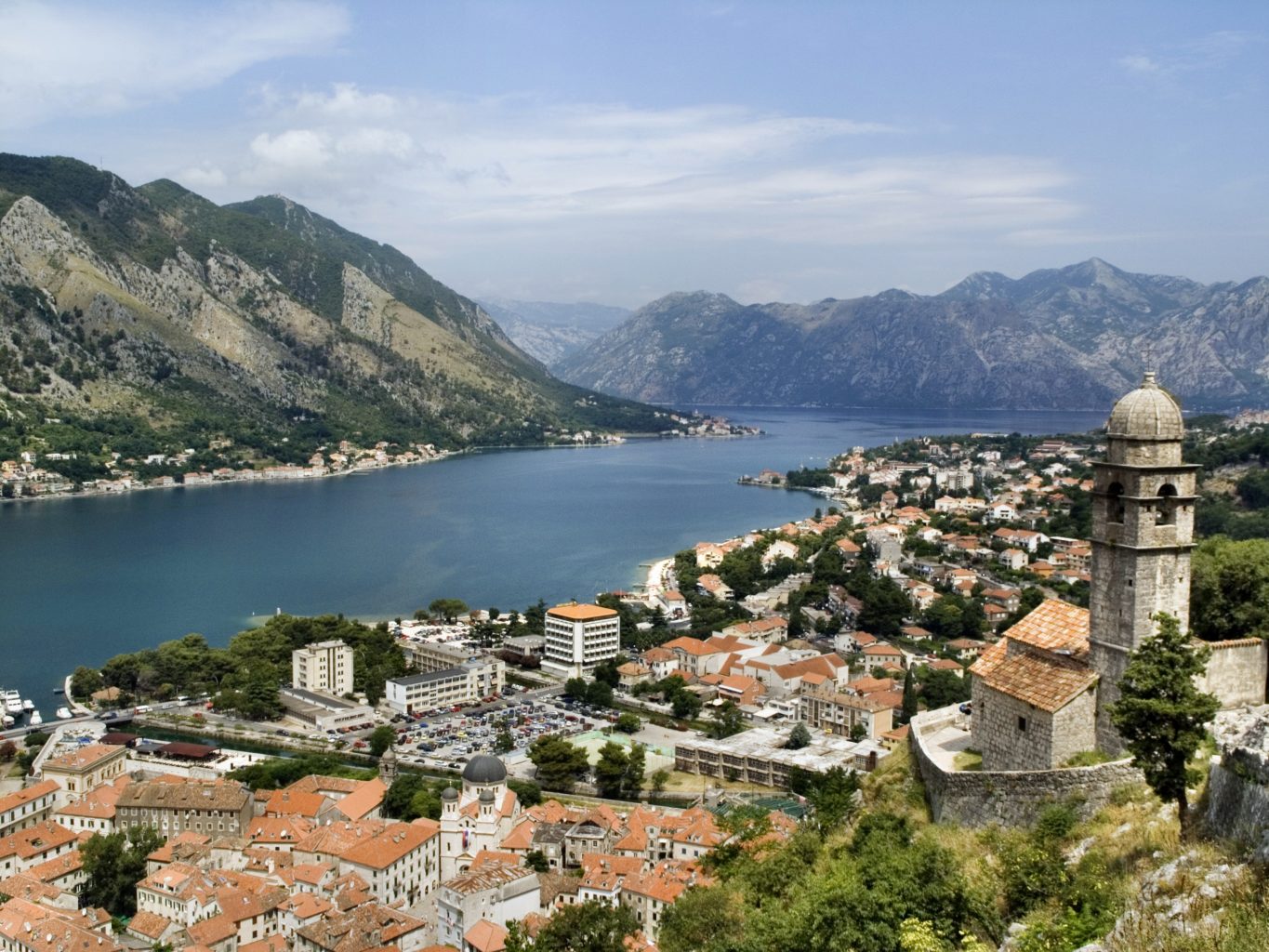 "The most beautiful meeting of land and sea on this planet."
That's how Lord Byron described Montenegro upon his visit. Not a bad review, right? With a testimonial like that, you'd think Montenegro would be overrun with tourists 200 years later. But luckily, that hasn't happened. Lucky for you, Montenegro is still waiting to be fully discovered.
So why visit Montenegro?
If you are looking for a stunning coastline, great weather, beautiful beaches, scenic mountains and forests, outdoor activities and water sports, rich culture, fascinating history, warm hospitality, delicious food, and all of that on a budget and off the radar – then you are looking for a trip to Montenegro.
Incredible coastline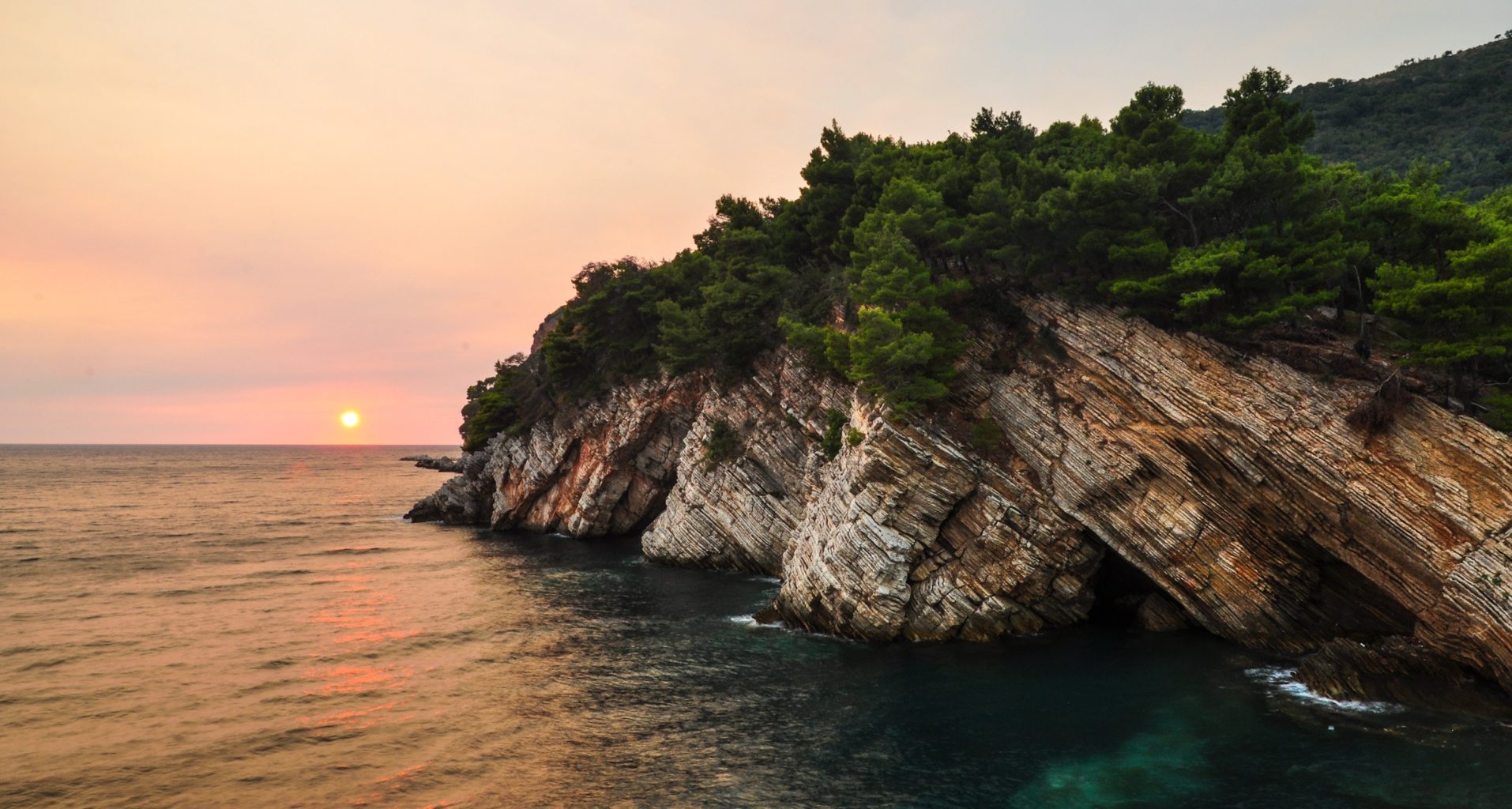 While Montenegro is a tiny country, it is home to a stunning coastline. If you are looking for picture perfect beaches, you'll find them here.
Start your search at the Bay of Kotor, one of the most exquisite spots in all of Montenegro.
From there, head south to Budva, known as Montenegrin Miami, for great nightlife in addition to stunning shores. If you want to get more off the beaten path, go just a little farther south to Bečići, a more low-key and isolated beach town. And if you prefer freshwater, there's beautiful Lake Skadar (below), a large lake that splits Montenegro and Albania.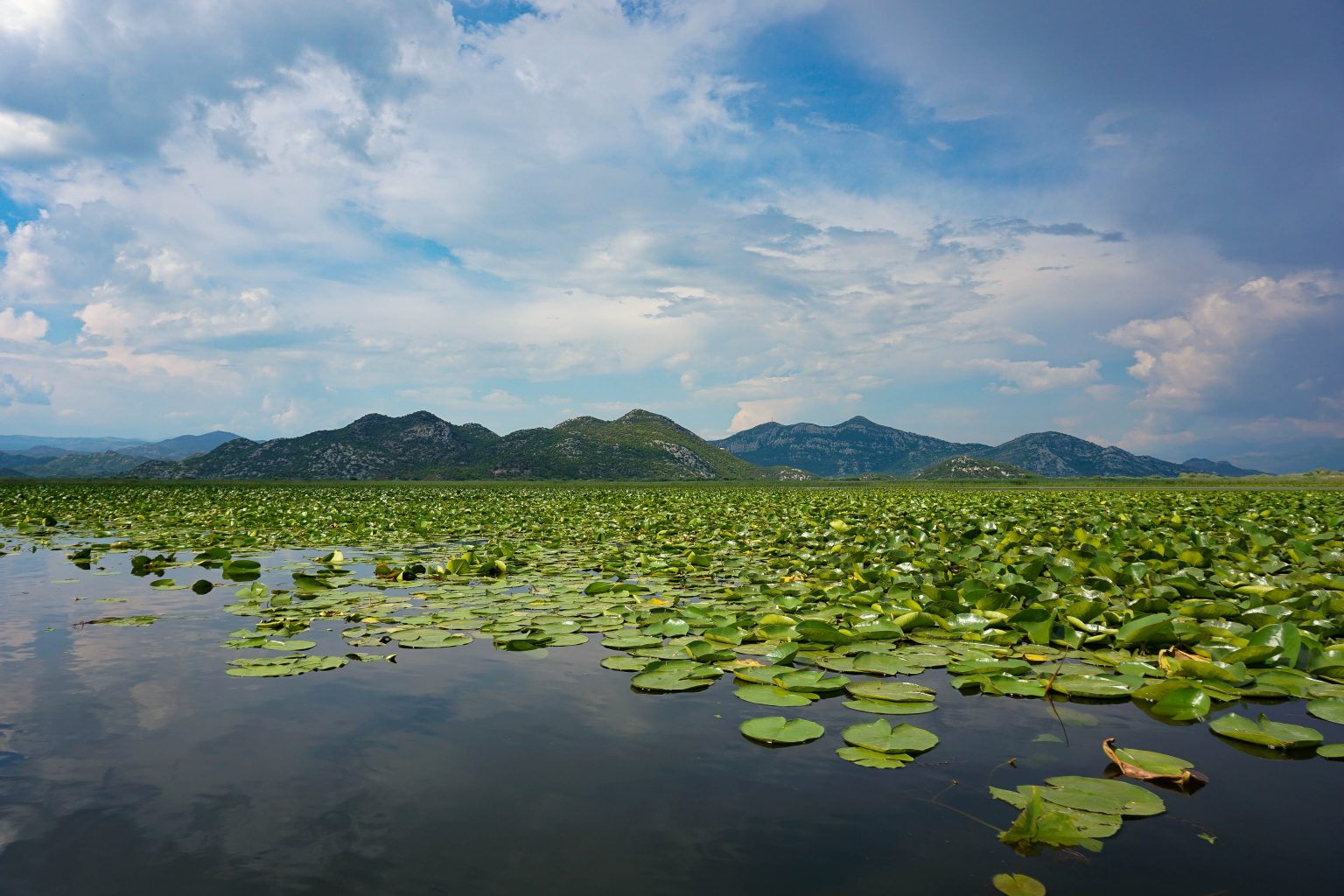 But Montenegro's coastline isn't just for admiring and sunbathing. There are many water activities that are growing in popularity, perfect for travelers who want to get out on (or under!) the water.
Montenegro is a wonderful place for scuba diving adventures as it is home to underwater caves and years of shipwrecks. Visibility is usually around 50 feet and the best time for diving is between May and September, when surface water temperatures are up to 77°F. The best diving, and where dive operators are located, is in Budva, Pržno and Ulcinj.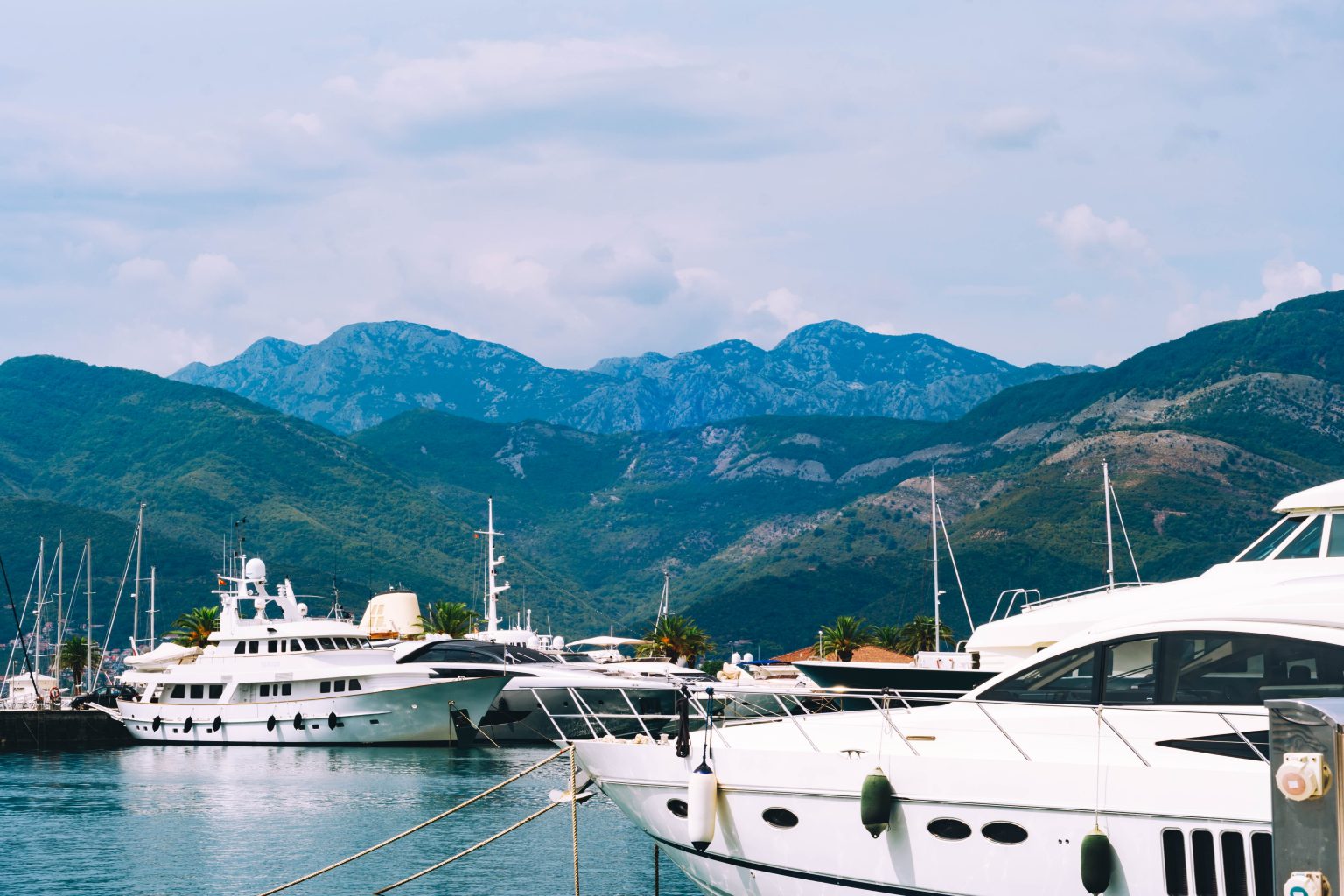 Montenegro's other well-known water activity is sailing. With 182 miles of coastline and 250 days of sunshine, Montenegro is the perfect place to hop in a boat and set sail. Explore the beautiful Bay of Kotor, Herceg Novi and the Perast twin islands, trendy Porto Montenegro, pirate hotspots in Ulcinj, and hidden coves in Zanjic and Mirista – all by boat.
In addition to diving and sailing, kitesurfing is a great water activity to try in Montenegro. The best spots to try this out are Velika Plaža and Ada Bojana.
Rich culture & warm hospitality
It's not all about the beach in Montenegro. This tiny country packs a big punch when it comes to culture. Popular Old Town of Kotor is a UNESCO cultural heritage site. Medieval city Budva is known for its nightlife, festivals and art scene. In the summer, Budva is referred to as "Theatre City" thanks to the outdoor stages that pop up all throughout the Old Town hosting everything from Shakespearean dramas to modern Montenegrin comedies.
In Podgorica, Montenegro's capital, you'll find the Centre for Contemporary Art which houses art collections from all over the world in one of the most impressive art museums in the Baltics.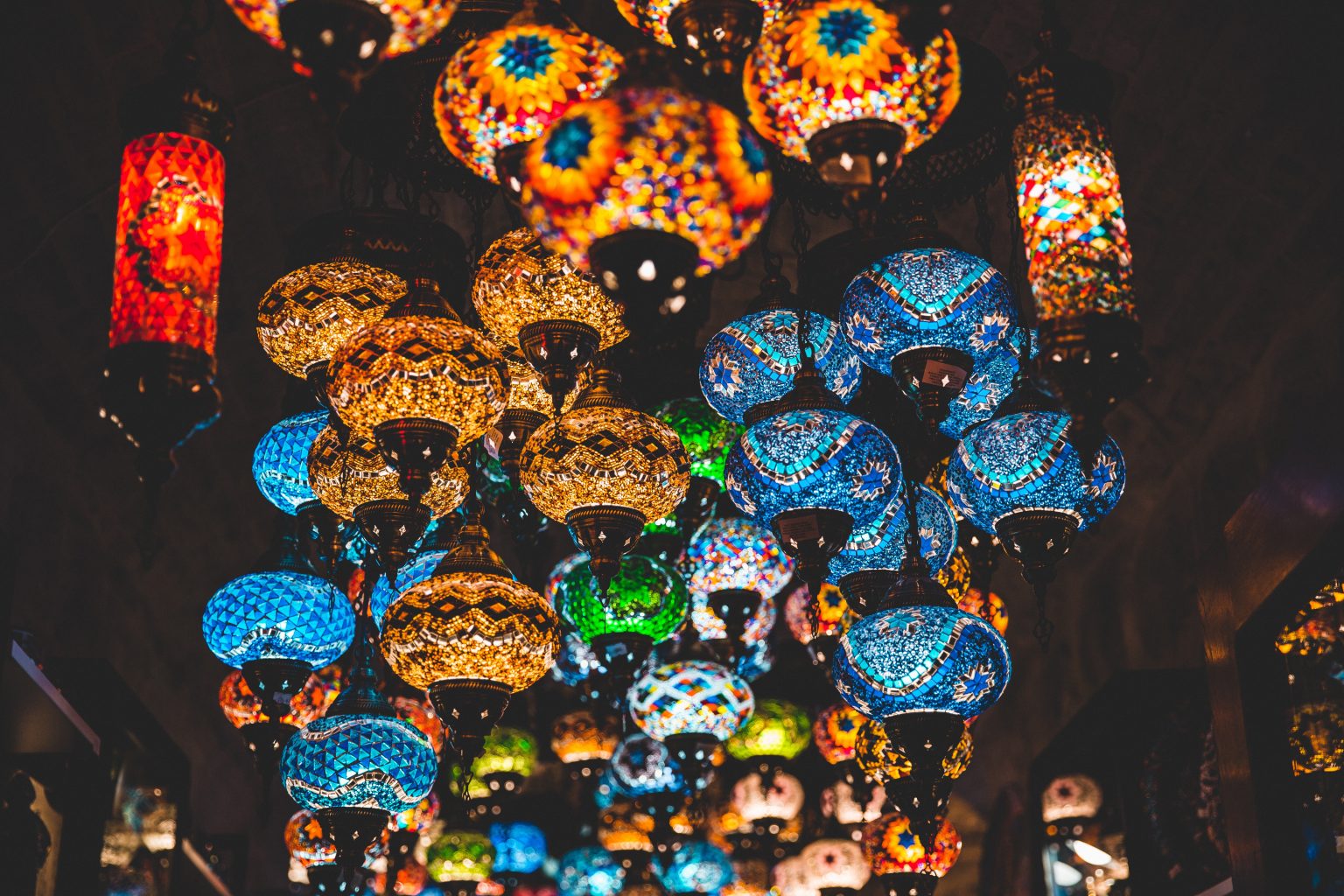 In addition to their rich culture, Montenegrins are known for their warm hospitality. Despite tourism being on the rise, the people of Montenegro are just as charming and welcoming as they have always been. You won't find scams or hassles here. Instead, don't be surprised when the person you stop for directions offers to walk you to where you're going and gives you a hug when you part ways, after inviting you for dinner, of course.
Stunning natural landscapes & outdoor activities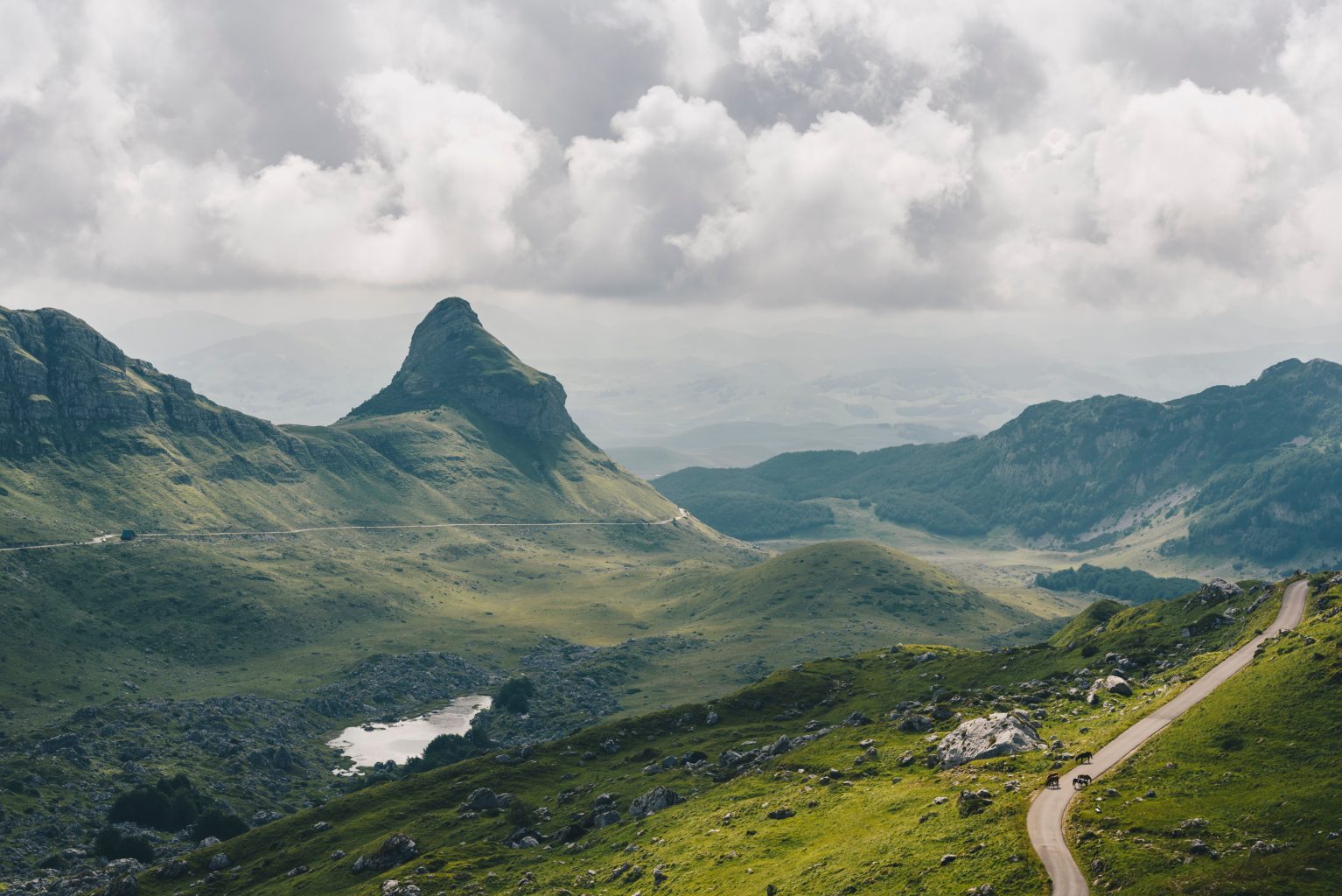 It's not just Montenegro's coast that deserves all the glory. The interior of the country is just as beautiful, and not nearly as popular with tourists. Whether you're hiking, biking, kayaking or even skiing, odds are you'll be in a postcard-perfect setting that you won't have to share with too many other people.
If your perfect hike involves forests, mountains, lakes, gorges and waterfalls – you'll find what you're looking for in Montenegro. Head to Durmitor National Park (below) for a hiker's paradise; don't miss the Instagram highlight, Crno Jezero, or Black Lake. Other great day hikes include Biogradska Gora's Lake Biograd, Mt Ćurevac for a view of Tara River Canyon, and the Vrmac ridge in the Bay of Kotor. For a challenge, check out the Prokletije Mountains or the Coastal Mountain Traversal.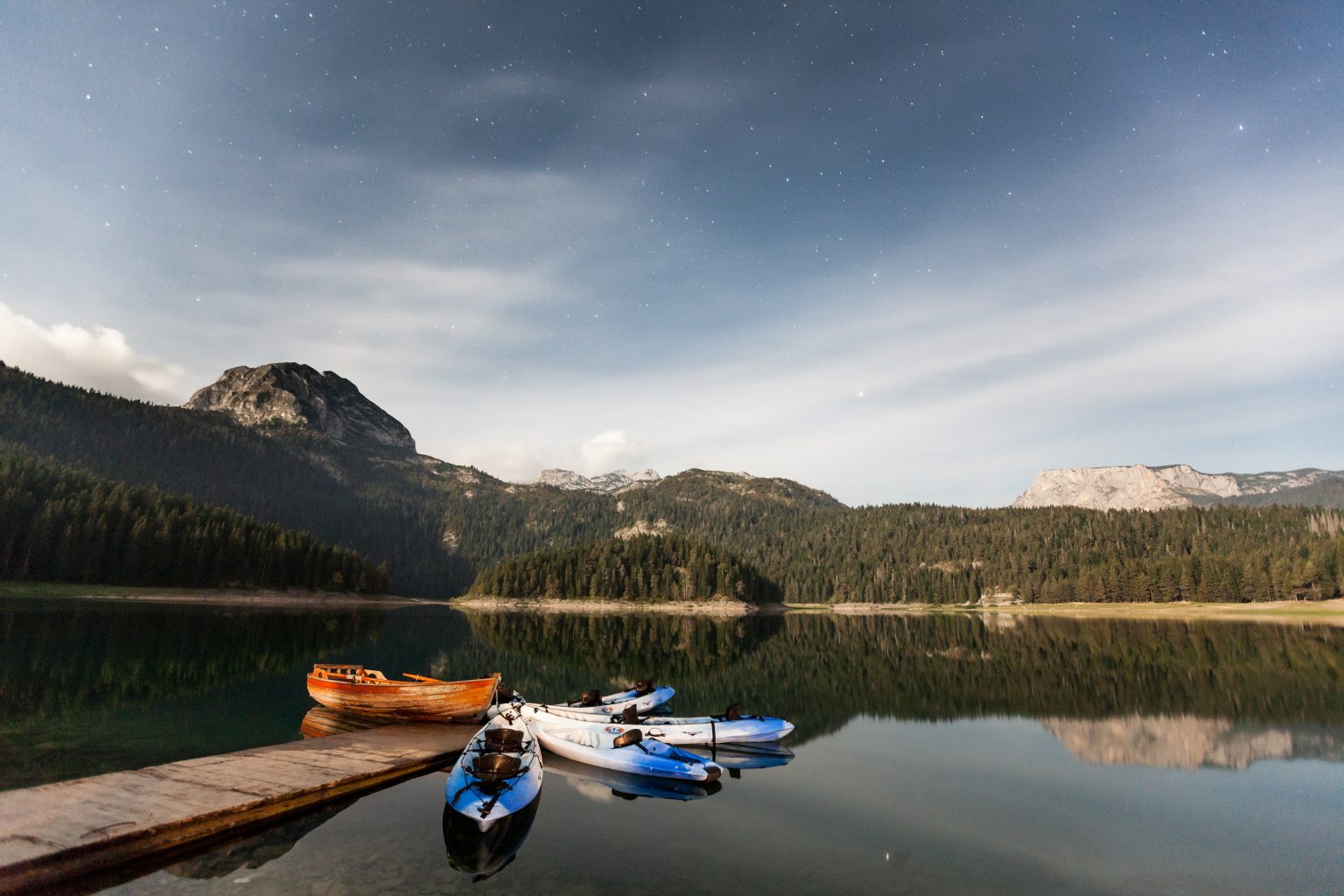 If you prefer to set out on wheels rather than on foot, head to a National Tourist Office for one of their wilderness biking pamphlets that outlines the top bike trails. Great routes include the Vrmac ridge (mentioned above), the loop from Cetinje through Lovćen National Park or the loop from Virpazar through Crmnica field.
On the water, you can try your hand at rafting or kayaking. The Tara River is a popular spot for rafters, especially those who want to brave the Tara River Canyon with a 4,265 foot drop. The best rafting is had between April and October. For kayaking, head to the Bay of Kotor or inland to Lake Skadar. If you're more experienced, many of Montenegro's rivers offer a nice challenge for pro kayakers. And if you really want a challenge, why not try canyoning? Canyoning (or canyoneering) is traveling through canyons by walking, climbing, abseiling and swimming. The best spots for this in Montenegro are Nevidio by Durmitor National Park, Sopot by Herceg Novi, Škurda by Kotor, and Rikavac and Medjurečje near Bar.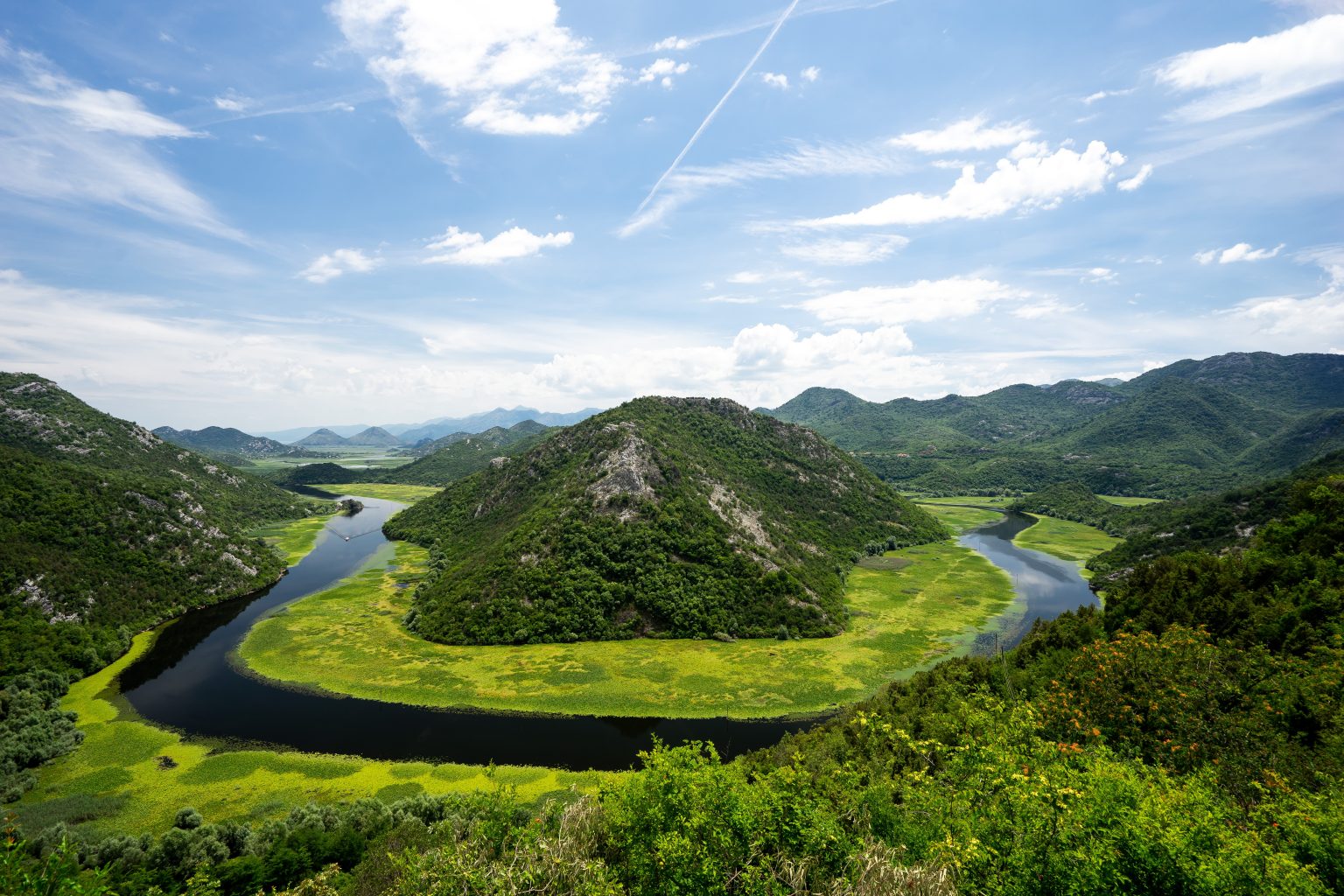 But it's not just summer activities available in Montenegro. Ski bunnies will also find outdoor experiences to their liking. From January to March, enjoy Montenegro's ski season at various mountains throughout the country. Check out the ski resort near Kolašin or the small ski centers of Nikšić and Rožaje. Durmitor National Park is a great place to find both downhill and cross-country skiing.
Rich history & medieval towns
The history of Montenegro adds another layer to this fascinating country. When the Ottoman Empire invaded the Balkans, Montenegro held strong and managed to maintain their independence. Using the mountain landscape as a defense, rebellious Montenegrin forces would lure their enemies into the mountain ranges and then leave them there to starve.
For over 1500 years, Montenegro has sat on the border between the east and west, housing a multitude of cultures, religions, styles and cuisines in one country. Here you'll find Roman villas next to Orthodox monasteries, and Catholic churches next to Muslim mosques. This unique history and resulting mixture of cultures means there's more to Montenegro besides beautiful beaches and mountains.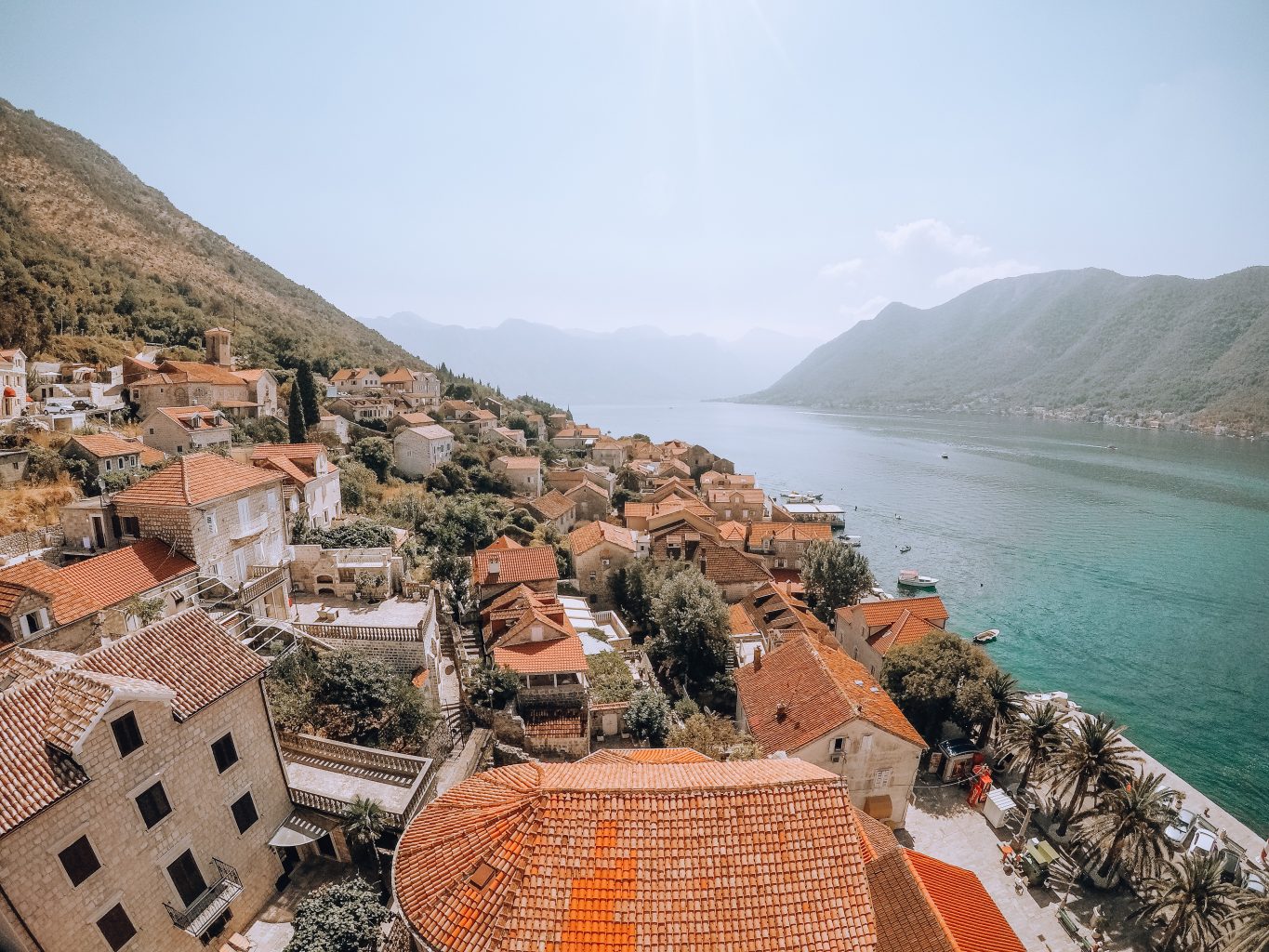 Montenegro's history is present in its many beautiful medieval towns. Visit Perast (above), the Venice of Montenegro, where you'll find a single main street through the centre of town and dozens of beautiful churches and palazzos. Near the modern city of Bar you'll find the ancient Byzantine city of Stari Bar, where an earthquake 40 years ago left roofs off houses, Ottoman bath houses abandoned and the city's walls in ruins still to this day.
Venture to one of the highest peaks in Lovćen National Park to view an ancient mausoleum and take in views of Montenegro, Croatia and Albania. For another view, ascend the Kotor City Walls (photo below) 4000 feet up and 850 feet above seal level to St. John's Fortress. Construction on the walls began in the 9th Century, with the loop being completed in the 14th Century and additions added until the 19th Century. Other towns worth a visit for a taste of culture and history include Ulcinj, Rose, Tivat and Savina.
To die for cuisine
Of course, with a location on the sea, a rich history and east meets west culture, it's no surprise that Montenegro serves up some delicious food. Influenced by the Balkans, Turkey, Austria and Italy, Montenegro focuses on fresh produce, seasonal goods, and seafood.
In the heartland of Montenegro, expect to find a focus on meat and cheese. Njeguši, a village on the edge of Lovćen (below), is famous for their pršut, a smoke dried ham similar to prosciutto. In fact, locals make the harrowing pilgrimage up Serpentine Road just to buy some Njeguši ham that has been dried and smoked for five months. You'll also find sir, Montenegrin cheese, and ražanj, spit-roasted meat, in this region. Anything from Njeguši is guaranteed to be authentic and delicious.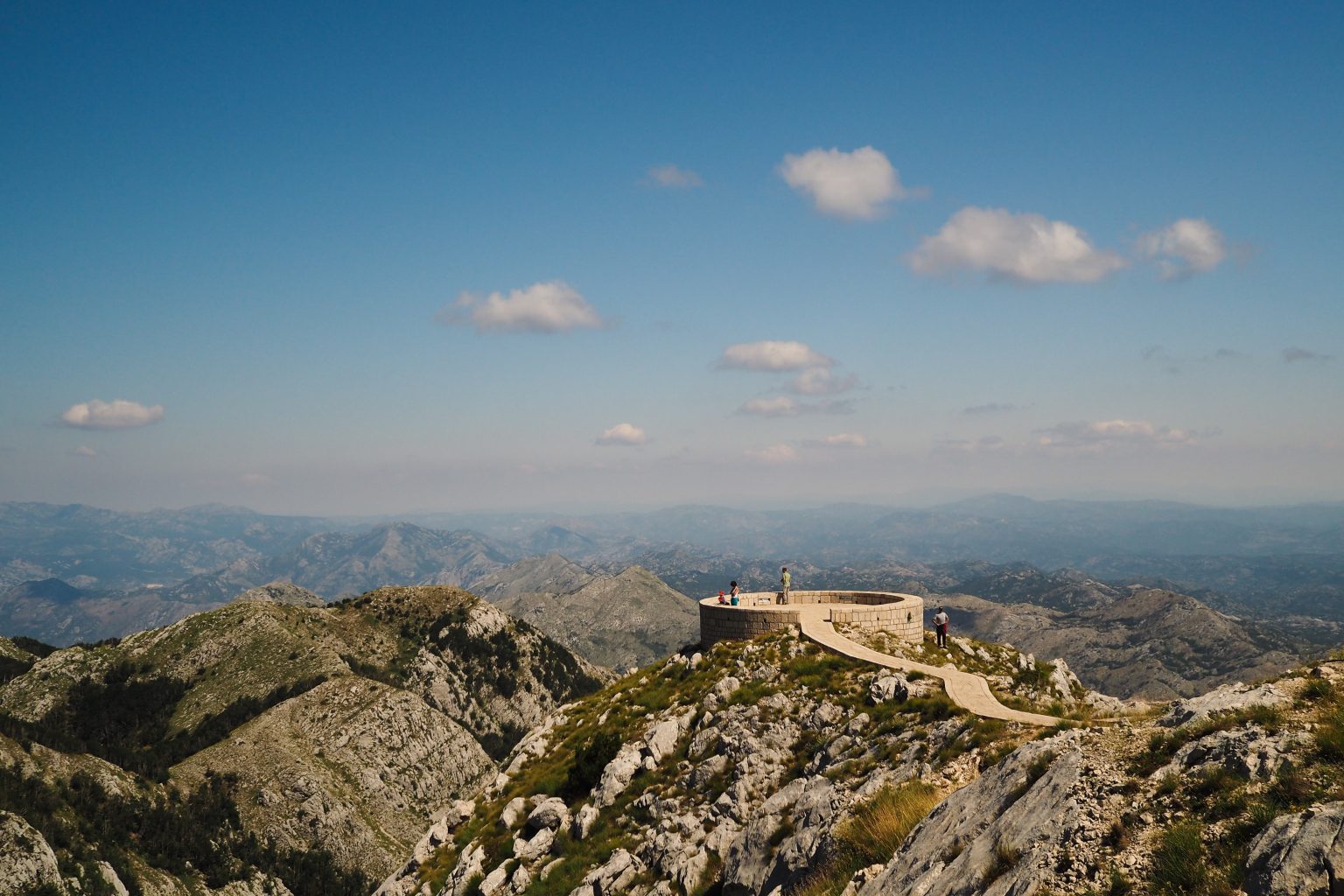 Old Montenegro, from Crnojević River to Lake Skadar, focuses on freshwater fish: eel (jegulja), bleak (ukljeva) and carp (krap).
In the mountain region of Montenegro, you'll find a stronger focus on meat, heartier comfort foods, and Serbian influences. Traditionally, meat and vegetables are cooked under a lid covered with coals set in a hearth in the middle of the room. This method of cooking is called ispod sača. Other populars dishes in this area are brav u mljek, spiced lamb poached in milk with potatoes, and japraci, beef stew with cabbage, rice and red peppers.
Sample side dishes like cicvara, a cheesy creamed polenta or buckwheat, kačamak, a creamy potato dish, and kajmak, a clotted cream that is spread on bread, meat or potatoes. Another mountain specialty? Honey! This region is famous for their honey so pick up a jar to take home.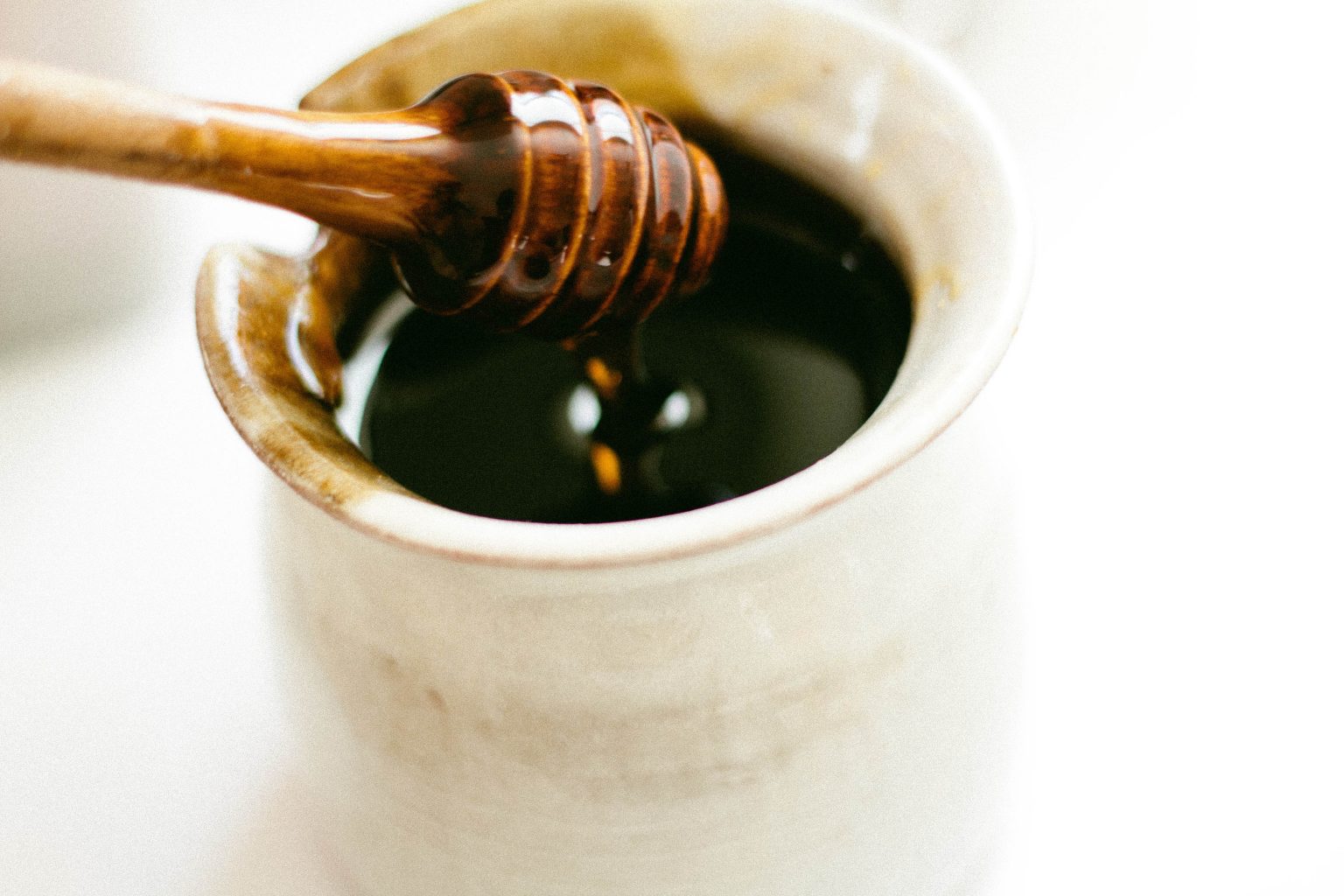 On the coast, you'll find Dalmatian cuisine like seafood, garlic and olive oil. Enjoy specialties like riblja čorba, a fish soup, lignje na žaru, grilled squid, and punjene lignj, squid stuffed with ham and cheese. Venetian influence means this region of Montenegro has perfected their pasta game. Taste crni rižot, black risotto that gets its color from squid ink, or seafood risotto in white or red sauce that can be served hot or cold.
In seafood restaurants on the coast, you may be presented with whole fish, sold by the kilogram, for you to choose from for your dinner. Local varieties of fish from Montenegro tend to run smaller than imported fish. Grilled fish are usually seasoned with laurel, parsley, lemon and garlic, and served with a mixture of silverbeet and boiled potato.
If you're looking to try more regional dishes, here are some unique ones to sample in Montenegro:
Ćevapčići: minced meat shaped into a sausage

Pljeskavica: spicy hamburger

Ražnjići: pork or veal kebabs

Musaka: layers of eggplant, potato and meat

Sarma: minced meat and rice in cabbage leaves

Kapama: stew of lamb, onions and spinach with yogurt

Punjene tikvice: zucchini stuffed with minced meat and rice

Burek: filo pastry filled with cheese, meat, potato or mushroom

Palačinke: sweet or savory pancakes with various toppings
Lastly, we have desserts. Sweet foods are often eaten throughout the day with coffee or after dinner. The most common dessert is priganice, a fritter served with honey, cheese and jam. Local ice cream, called sladoled, is another tasty sweet treat. You will also find an assortment of cakes and tortes, such as cashew baklava.

It pairs so well with Croatia
Croatia is at the top of many travelers' bucket lists – and for good reason. This beautiful country on the Adriatic coast is a major draw for many people planning their European vacation. They want to walk around Split, admire Plitvice Lakes National Park and climb the walls, Game of Thrones style, in Dubrovnik.
You know what makes a great addition to your Croatian itinerary? Montenegro! Montenegro is right next door to Croatia. In fact, many people traveling to the north of Montenegro actually fly into Dubrovnik airport as it's only 10 km from the border.
You can drive or take a bus from Dubrovnik over the border to start your Montenegrin adventure. Take the Adriatic highway and cross at the Debeli Brijeg checkpoint or head down the Prevlaka Peninsula to the Konfin-Kobila checkpoint. The drive from Dubrovnik to coastal town Herceg Novi is only an hour, and it's two and a half hours from Dubrovnik to Kotor.

Affordable and off the radar
One of the best reasons to add Montenegro to your bucket list is because it's affordable and off the radar. Of course, Montenegro isn't completely undiscovered and untouristed. But it is when compared to its much more popular neighbors, Croatia and Italy. Relative to the beaches of Spain or Portugal, Montenegro is off the beaten path.
In addition to being a secret gem of the Adriatic coast, Montenegro is also friendly on the wallet. Unlike expensive destinations in Western Europe, Montenegro is still affordable for visitors, especially if you frequent local restaurants and stay in private homes over hotels.
But it won't stay that way forever. More and more people are discovering Montenegro – the secret is out! And with a bid to join the European Union, likely in 2025, Montenegro will be on more people's radars and prices will rise.
So if you're planning a trip to Montenegro (and you should be!), the time to visit is now.