The latest trend: groom-planned honeymoons
September 15, 2017 | by Irina | Posted in Africa, Americas, Asia, Europe, Middle East, Oceania, Places, Travel IQ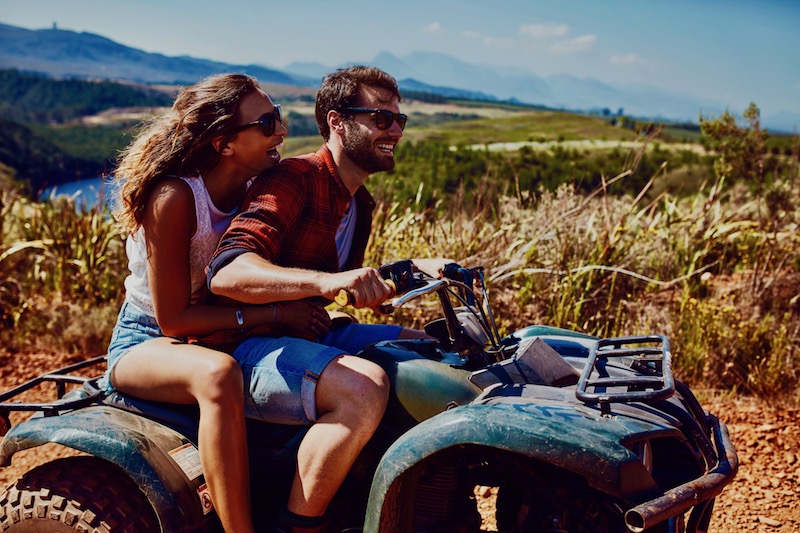 The majority of the trips that we plan at allé are honeymoons, and we love it. We love it because we love working with adventurous lovebirds and taking an element of wedding stress of their plate. And because it's what we do day in and day out, we know it inside out. We know off the top of our heads about how much a honeymoon in Hawaii costs and what much better alternatives are, we can tell you all about the most obscure islands in the world, and we can discuss at length the pros and cons of departing for your honeymoon the day after your wedding.
This also means that have our pulse on all things honeymoon related at all times. The latest trend that we're seeing with our clients and totally loving? Groom-planned honeymoons.
We love groom-planned honeymoons because in today's world, couples try to tackle wedding-planning together, as they should! But try as they might, it's quite hard for the Groom to get too terribly interested in floral arrangements or picking a make up artist for the bridesmaids.
The honeymoon, however, is an area where Grooms can easily take the lead on. In fact, this is a trend that's really actually in line with tradition: wedding etiquette states the Groom plans the honeymoon—and that it should be a surprise for the bride. For most modern couples, this is actually quite doable; they've traveled together before, they know what they like and don't like, what their musts and no-thanks are.
Here's some Groom planned honeymoon inspiration we're really loving at the moment (and remember, we're hard to impress, since we do this whole honeymoon thing all day every day)
Decide the destination together
Though full-on surprises can be fun, in a world where many Brides are even getting involved with picking out their engagement ring, full-on honeymoon destination surprises just don't work. Most of our Groom-planned honeymoons still involve both members of the couple during the destination decision process, but then as things get more involved, the Bride takes a backseat and the Groom takes the lead on decisions.
Focus on the experience portion of the honeymoon
Unless you've been living under a rock, you know that experiences are where it's at. In fact, it's scientifically proven that spending money on experiences actually makes you happy. By experiences, we mean things like surfing lessons, cooking classes, paragliding, etc. Essentially, they're the parts of your honeymoon that you'll be telling stories about when you come home. Smart Grooms know what it is they love to do with their partner as a couple, and tactfully work it in to a honeymoon to make it extra special.
Think different
Just because your friend/ neighbor/ coworker went to [insert boring destination of choice with a boilerplate, personality-less all inclusive resort] doesn't mean you need to. In fact, please don't. It's a huge, massive world out there, and more and more Grooms (and their Brides) are realizing it's much more fun to be the people at the party who have been to Sri Lanka than comparing notes about the best pools in Cancun. We love brainstorming new and unique honeymoon locales- here are our favorites.
Forget "fly and flop"
It's definitely a testament to the kinds of couples who we we work with, but most often, Grooms tell us "We'll go crazy if we just lay on the beach all day for a week". The best kinds of honeymoons, Groom-planned or otherwise, involve a combination of relaxation and adventure; that way, when it does come time to relax on your secluded beach, you've got something to laugh about and reminisce about. More and more, Grooms are coming to us and sharing about what it is that they love to do together with their Bride- be it cooking together, hiking, biking, or general adventuring, and we make that happen at their destination of choice.
Go all out on amenities at unique accommodations
Even when couples aren't usually connoisseurs of luxury, it's a good idea to splurge a little more on your honeymoon than you normally would, and the Grooms we work with know that. What's best, there are now so many options when it comes to accommodations, that splurging doesn't at all have to mean a 5* resort. You can go glamping under the stars in Botswana, you can stay in a treehouse in New Zealand or you can rent a rice-paddie overlooking villa, for example.
Who says the photos stop at your wedding? Get a photographer

Your honeymoon (if planned correctly, of course) is going to be perfect in every way, why not get some professional shots to capture the moments and add to your wedding album? Check out our friends at Shoot My Travel; they've got a whole lineup of photographers in every corner of the world ready to do shot and sweet photoshoots with you. It's fun, you'll discover new corners of your honeymoon destination together through the lens of a local photographer and you'll have the perfect honeymoon photos to remember your perfect honeymoon.
Call in the experts
The smartest Grooms know when to call in the backup and get some extra help on board planning the best honeymoon ever. Be it a travel agent or a travel planner, getting some help planning your honeymoon is the best decision you can make, and saves Grooms time and money. And of course, it also ensures that the most important part of the whole getting married process (yes, really) is perfect in every way.
Getting married soon and want to delight your Bride with the best honeymoon ever? We can help.