Where to Go on Your Honeymoon in Vietnam
December 11, 2019 | by Riana | Posted in Asia, Places
For years Vietnam has been overshadowed by its neighbor, Thailand, but now it is finally getting the spotlight it deserves. And about time too, since Vietnam is one of our favorite honeymoon destinations for 2020! This Southeast Asian gem offers something for everyone – whether you're looking for bustling cities, relaxing beaches, beautiful countryside, historic temples, or just the most delicious street food. It's no wonder that so many couples are wanting to honeymoon in Vietnam.
If you're planning a honeymoon in Vietnam, we can promise that you won't be disappointed. But where should you go?
We'll take you through the main stops you could make on a trip to Vietnam, starting in the south and working our way north.
Fly into Ho Chi Minh City (Saigon)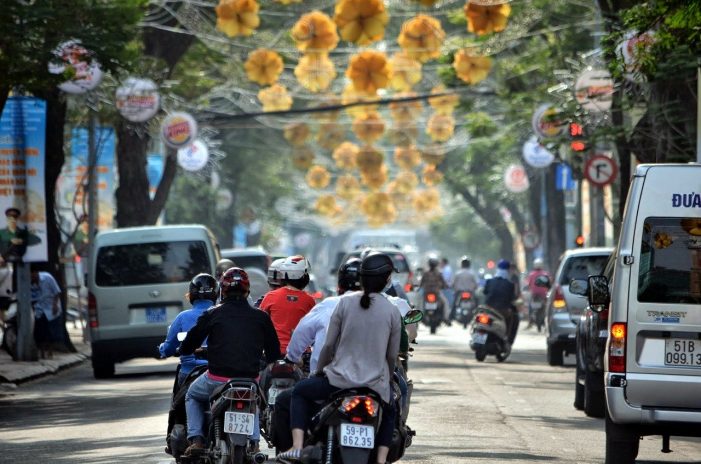 Ho Chi Minh City, also known as Saigon, is a common entrance point for Vietnam as many international flights arrive here. It's also towards the south of the country, so the perfect starting point if you plan to travel south to north.
While we love Saigon as a starting point, we don't suggest spending too much of your Vietnam honeymoon in this city. It's nice enough but it's not the best that Vietnam has to offer. Spend a couple of nights in the city getting beating jet lag and doing some exploring. Check out the royal palace, the giant post office and the Notre Dame church. You may also want to explore the Cu Chi Tunnels, a system of tunnels used during the Vietnam War that are now a war memorial park.
You can also explore a little farther afield, visiting the Mekong Delta from Ho Chi Minh City. Our advice? Skip the group tours offered by every vendor in the city and opt for a private tour catered to your interests for a more authentic experience.
Hit the beach on Phu Quoc Island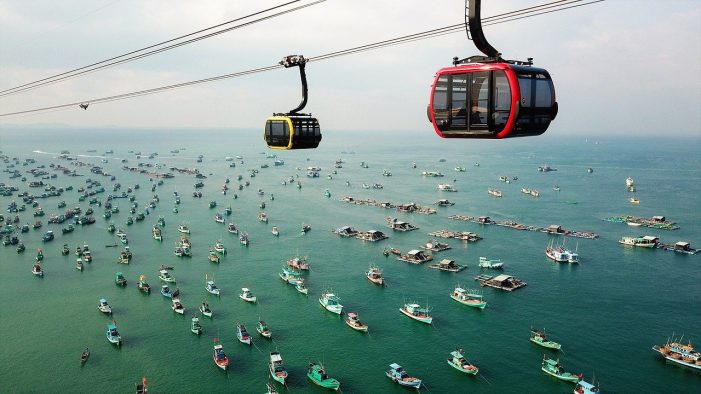 From Saigon, it's a quick one hour flight to one of Vietnam's best beach destinations. Welcome to the island of Phu Quoc. Here you can spend your whole days on the beach – from swimming, sunbathing, fishing and snorkeling to eating freshly grilled catch of the day for dinner.
If you love the beach but get bored lying around all day, Phu Quoc is the perfect mix of beach destination and island adventure. You can head up to the north part of the island to visit a fishing village and learn more about the island's famous production of fish sauce, peppercorns and sim wine. On the south end, you can island hop and ride one of the world's longest cable cars. In between, you'll find you're spoiled for choice of activities from chasing waterfalls and hiking through Phu Quoc National Park to touring museums and historic prisons, eating at food markets, or trying your hand at making the local cuisine in a cooking class.
Relax in luxury on Con Dao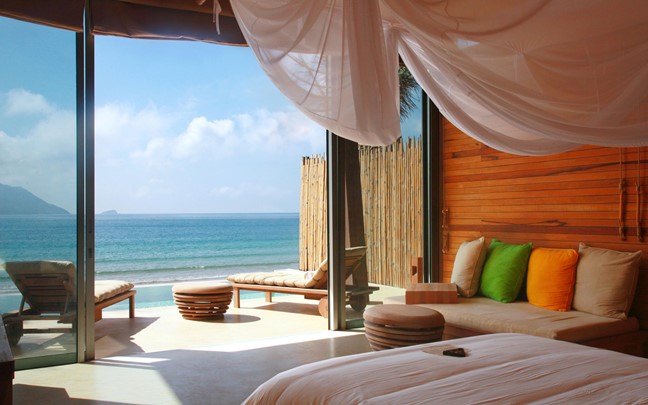 If you're looking for the perfect place for relaxation and romance during your honeymoon in Vietnam, look no farther than Con Dao. This island off the south coast of Vietnam is a hidden gem. You won't find all of the activities available on Phu Quoc, but you also won't find the crowds. This is the place for laid back exploration and quality time together.
Spend your days getting massages, hitting the beach, going on snorkeling adventures, and enjoying fresh seafood. If you're wanting to upgrade your honeymoon experience, consider spending a few nights at Six Senses, Con Dao's five-star luxury resort. It truly is a piece of paradise and since the rest of Vietnam is so affordable, you might be able to afford a splurge in Con Dao!
Explore the sands of Mui Ne
If you don't have time to visit one of Vietnam's islands or prefer to keep your travels to the mainland, Mui Ne is a great option. You'll still be able to get your beach time without needing to hop on a flight or travel too far from Ho Chi Minh City.
In less than four hours on the train from Saigon, you'll arrive in the coastal town of Mui Ne. For beach lovers, Mui Ne has it all. Here you'll find popular party beaches, secluded private beaches and beaches dedicated to the local fishing trade. In fact, one of the best sights in Mui Ne is watching the fishing boats head out at sunrise.
Mui Ne's other claim to fame is its sand dunes. Mui Ne is home to both white and yellow sand dunes, and both are perfect for exploring. You'll also want to stop by Fairy Stream, a geological formation that is unique and bright in color thanks to the mixing sand dunes nearby. Kick off your shoes and enjoy wading through the low waters as you marvel at the cliffs and colors.
Escape to the highlands in Dalat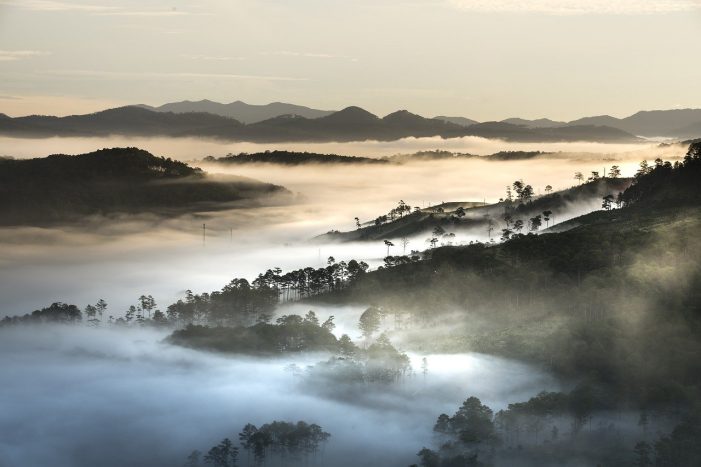 We told you Vietnam wasn't just beaches. For something totally different, you'll want to check out Dalat on your honeymoon. Dalat is located in the central highlands, one of the coolest climates in Vietnam. It was the top vacation destination in French colonial times, and is still under a lot of French influence. Here you'll trade beaches and shorelines for forests, valleys and waterfalls.
Speaking of valleys, no Vietnam honeymoon would be complete without a trip to Dalat's Valley of Love. This romantic park is filled with whimsical art, manicured gardens and a lake you can ride across in swan-shaped boats. Cheesy? Maybe just a little!
Getting out in nature, you can visit Dalat's impressive waterfalls: Elephant Waterfall, Pongour Waterfall, Prenn Waterfall, and Datanla Waterfall. You can also hike Lang Biang Mountain or wander through Golden Valley. Back in town, admire Dalat's unique architecture with a walk through the French Quarter, a visit to Dalat Clay Sculptures Tunnel, and a stop at the Dali-inspired Crazy House. Of course, you'll also want to enjoy some of Dalat's delicious coffee and tea, grown on local plantations.
Wander picturesque Hoi An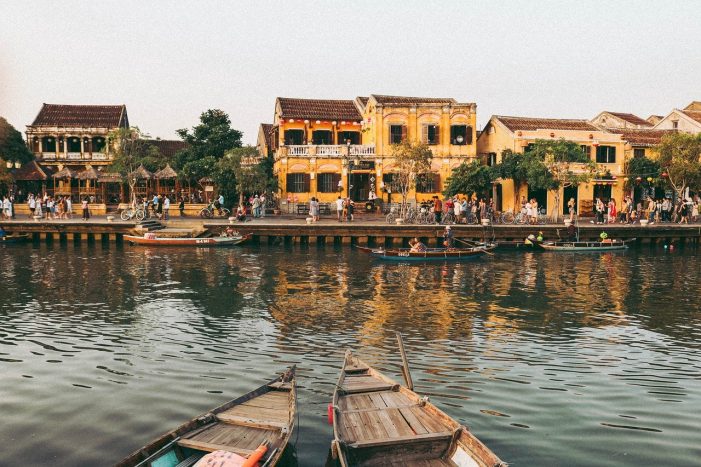 Hoi An is the place to be for old world charm. It's the perfect mix of romantic and historic, with a little bit of outdoorsy thrown in for good measure. It's also located around the midpoint of the country, making it an easy addition to a shorter itinerary if you're staying in the north or the south.
A visit to Hoi An has to start in its Old Town. This ancient part of Hoi An has been very well preserved, and has been referred to as the Disneyland of Vietnam for its picture-perfect street and, at times, large crowds. Wander along the canals, admire the markets and temples, and cross your fingers that you're in town for one of the lantern festivals.
Hoi An is also well known for being the clothing capital of Vietnam. If you want to get clothing made to order, this is the place to do it. The city streets are lined with tailors and dress makers just waiting to take your measurements and create a custom shirt, dress or entire wardrobe for you. Here's a tip: If you plan to have clothing made, be sure to visit a shop on your first day in Hoi An to take your measurements and place your order. It can often take a couple days for the garment to be finished, so make the tailor your first stop!
In addition to a beautiful old town and the chance to leave with a bespoke wardrobe, Hoi An also has a beautiful white sand beach and great trails for bikers. It really is a place for everyone – city and nature lovers alike!
Explore the Imperial City of Hue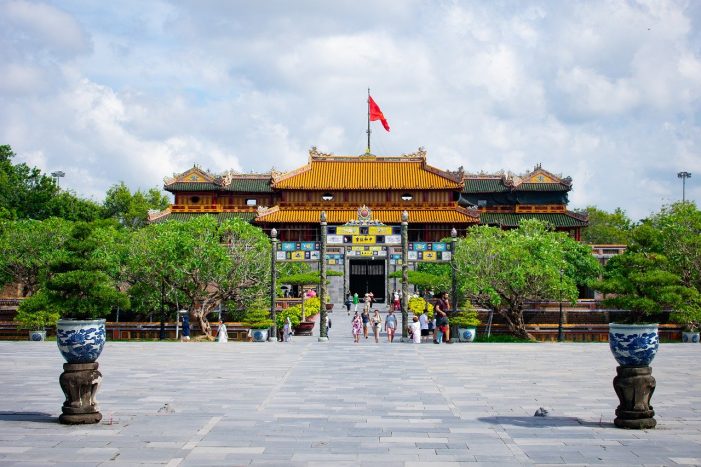 Hue is a small city, often overlooked in a Vietnam visit, but well worth a stop. It's an Imperial City and UNESCO World Heritage Site. Hue's claim to fame is its citadel. If you're looking to add a bit more culture and history to your honeymoon in Vietnam, this is the place to do it.
Much like China's Forbidden City, Hue's Imperial Citadel is the main attraction. Spend your time wandering through the massive grounds and exploring ruined temples, walls and shrines. Once you're done, you can continue to learn about Hue's past by visiting nearby imperial tombs and temples. If you need a break from all of the history, hop on a bike and ride out into the beautiful countryside.
Get back to nature at Phong Nha Ke Bang National Park
If you want to add more outdoor adventure to your honeymoon in Vietnam, you're going to want to visit Phong Nha Ke Bang National Park. Located between Hue and Hanoi in Vietnam's northern part, this large park is the perfect spot for adventure seekers looking to explore caves, waterfalls, mountains and more.
Explore Son Doong, the largest cave in the world, though be wary of the expensive entrance fee and limit on annual visitors. If you miss out on Son Doong, the park still has lots more to offer. You can wander through Phong Nha and Tien Son caves, canoe down an underground river, trek through the forest, bike up the mountains, and keep your eyes open for birds or even elephants and tigers.
If your idea of romance is exploring mountains hand-in-hand and camping on the shores of a giant cave, Phong Nha Ke Bang National Park needs to be part of your Vietnam honeymoon.
Enjoy a taste of city life in Hanoi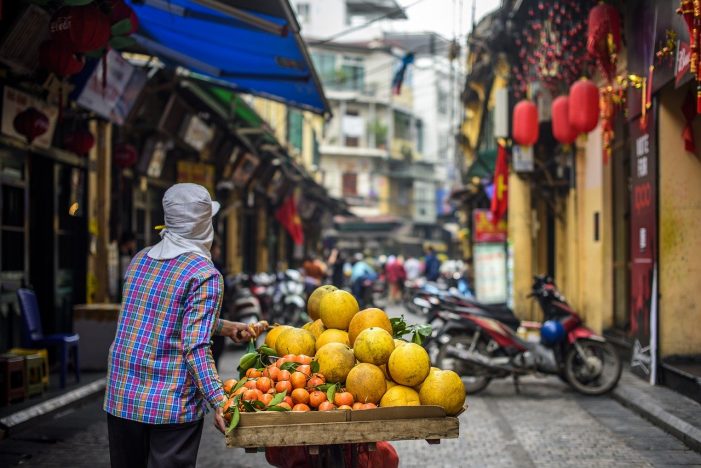 Nowhere in Vietnam will give you a more authentic big city feel than the capital, Hanoi. Located in the north, Hanoi is one of the most fascinating capital cities in Asia. Giant buildings and non-stop traffic are coupled with beautiful temples and peaceful lakes.
Enjoy your time in Hanoi visiting the main monuments, like the Ho Chi Minh Masoleum and One Pillar Pagoda, as well as the Hoa Lo Prison Memorial. Check out temples and wander around the large lakes that break up the city. Immerse yourself in city life by taking to the streets and trying your best to not get run over by the constant stream of cars and bikes. You'll notice each street in Hanoi specializes in selling something different – electronics on one block, kids' shoes on the next. And don't forget to look up and gawk at "Hanoi spaghetti," the mess of electric wires overhead.
After you've had your fill of city life (and great food!), Hanoi is a wonderful base for exploring more of the natural sites in the north of Vietnam on your honeymoon.
Explore natural wonders in Ha Long Bay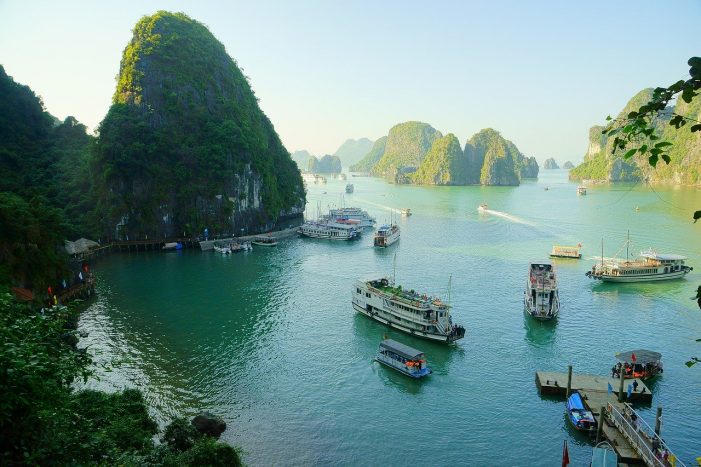 Ha Long Bay is one of the most popular places in Vietnam, and for good reason. This oasis off the northeast coast of Vietnam is known for its bright emerald waters and towering limestone pillars. It truly is one of the most beautiful, natural places in the world and well worth a visit.
However, because Ha Long Bay is so popular, you'll want to make sure you give yourself enough time to lose the crowds. From Hanoi, it's about a four hour drive to the main boat terminal for Ha Long Bay. Most tour companies will pick you up in Hanoi. When you first arrive at the terminal, be prepared for large crowds and lots of boats. This isn't the serene and beautiful natural setting you might have been expecting.
But give it a couple of days and you'll get to experience the Ha Long Bay you've seen in photos. If you opt to stay one or two nights in Ha Long Bay, either on a boat or a nearby island, you'll get much more of this natural paradise to yourself. You can enjoy hiking up mountains, kayaking through caves and just marvelling at the limestone pillars as you drift through the waters.
Escape the crowds in Tam Coc (aka Ninh Binh)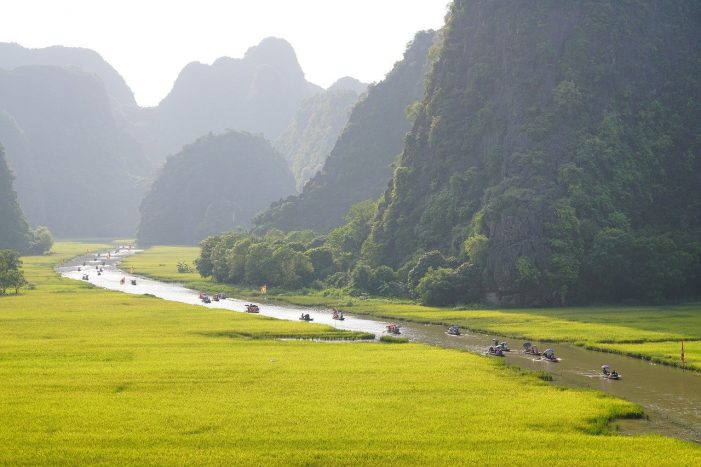 If you don't have time to dedicate a few days to Ha Long Bay, or you're looking for a more off-the-beaten-path alternative, you'll find it in Tam Coc. Tam Coc, in the area of Ninh Binh, is one of our favorite spots in Vietnam. It's got the beauty of Ha Long Bay but without the crowds.
Think of Tam Coc as a mini Ha Long Bay. Here you'll find limestone rocks jutting out along the river, surrounded by rice paddies and beautiful scenery in all directions. Instead of sharing a larger cruise boat with a group in Ha Long, experience Tam Coc on traditional sampan boats. Explore caves, visit temples and keep your eye out for mountain goats or kingfishers.
Another bonus? Tam Coc is only a two hour ride from Hanoi.
Head north to the rice fields of Sapa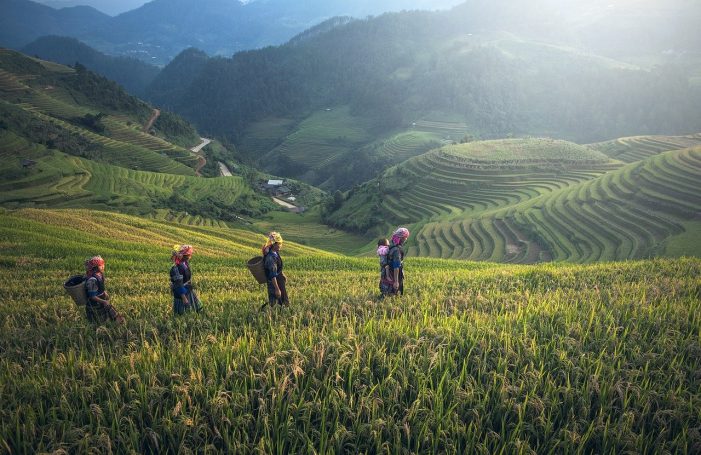 Another famous side trip from Hanoi is to the rice fields of Sapa. Boarding an overnight train from Hanoi, you will arrive in a completely different world. Far from the waterways of Ha Long Bay or the busy city streets of Hanoi is Sapa, a peaceful area dominated by stunning rice field paddies on giant hills.
If you want to get lost in a natural paradise, Sapa is the place to do it. Outdoor enthusiasts will love spending their honeymoon trekking amongst the bright green rice paddies in Sapa. The area is best explored on a multi-day trek, perfect for getting far off the beaten path. Treks are often lead by locals and usually include a homestay in a local village. It truly doesn't get more immersive in nature and culture than this.
If you can't make it all the way to Sapa, a closer alternative is Mai Chau. Only three hours from Hanoi, Mai Chau will still give you the opportunity to experience local homestays and explore the green countryside on foot or by bike.
Pin it for later: