14 romantic activities to do on your honeymoon in Morocco
May 8, 2019 | by Riana | Posted in Africa, Places
Are you dreaming of a honeymoon that's off the beaten path and full of adventure? Is your perfect trip culturally rich, culinarily delicious and absolutely breathtaking? Does "luxury on a budget" make you grin from ear to ear? If so, it sounds like you should start planning your honeymoon in Morocco.
Morocco is the perfect place to honeymoon if you want something new and exciting, but still comfortable and luxurious. It's a place where you can ride off into the desert on camelback at sunrise, spend the day at a traditional bath and spa, and finish the night dining on delicious North African cuisine at a rooftop restaurant. A honeymoon in Morocco will have you traversing diverse landscapes – from the Atlas Mountains to the Sahara Desert and from the busy city streets of Marrakech to the relaxing beaches of Essaouira.
Known for hospitality and service, Morocco is sure to welcome you with open arms. And since it's an easy direct-flight from many major American airports, Morocco is not only a wonderful honeymoon destination, it's very accessible too.
Romantic Things To Do On Your Honeymoon In Morocco
Have we sold you on a honeymoon in Morocco yet? If you're still not ready to book your tickets, discover 14 romantic activities you can do on your honeymoon in Morocco.
Eat delicious Moroccan food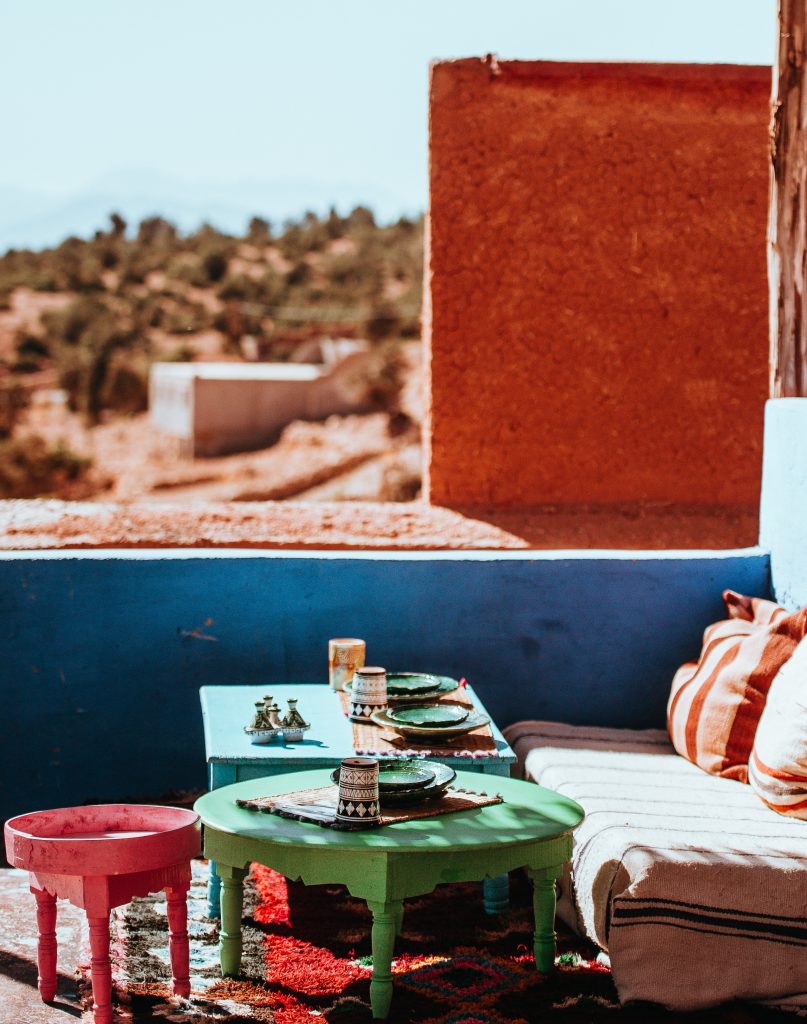 One of our favorite things to do on vacation is feast on local food, and Morocco is certainly no exception. While Moroccan food may not be as popular as Italian or French for honeymooners, it's just as delicious.
North African cuisine is aromatic and perfect for lovers of spice and flavor. One of the most popular dishes that you must try on your honeymoon in Morocco is tagine, a flavorful stew comprised of vegetables, spices and meat. It is served in a clay pot, often with olives, dried fruits, toasted nuts and seeds, or even french fries!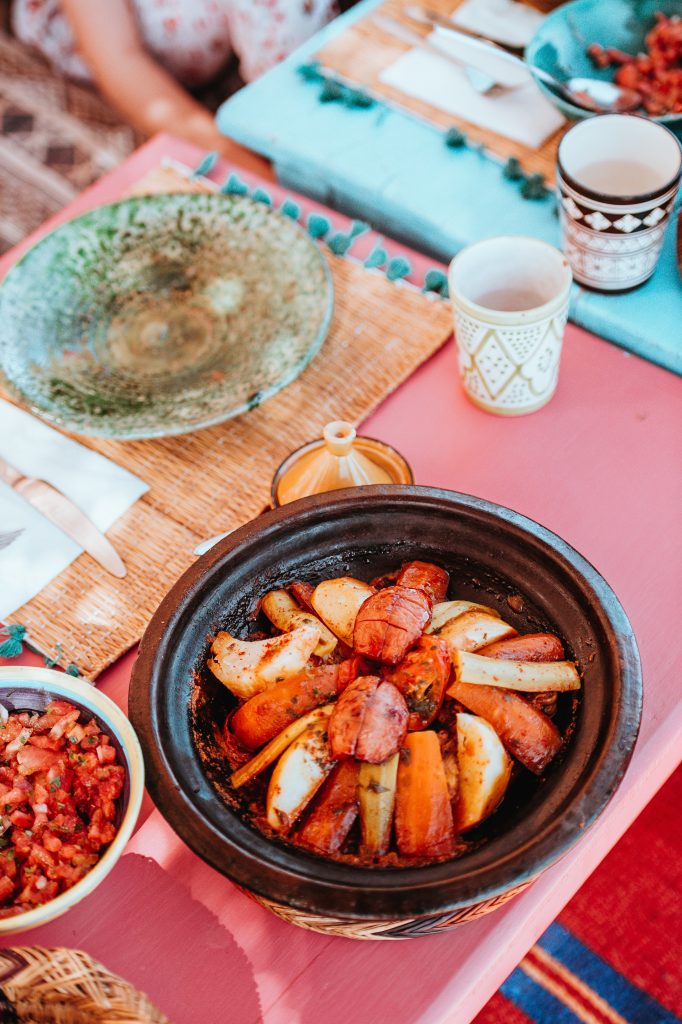 Other must-eat Moroccan dishes include couscous (served over chicken and with a spiced broth), bastilla (a thin pastry with meat inside and cinnamon and sugar on top), harira (tomato-based soup), and Morocco's famous mint tea.
Enjoy these dishes at one of Morocco's many rooftop restaurants overlooking the bustling streets below. If you're real foodies, dive deeper into Moroccan cuisine by taking part in a cooking lesson, available throughout the country. What could be more romantic than making a meal together?
Explore charming Essaouira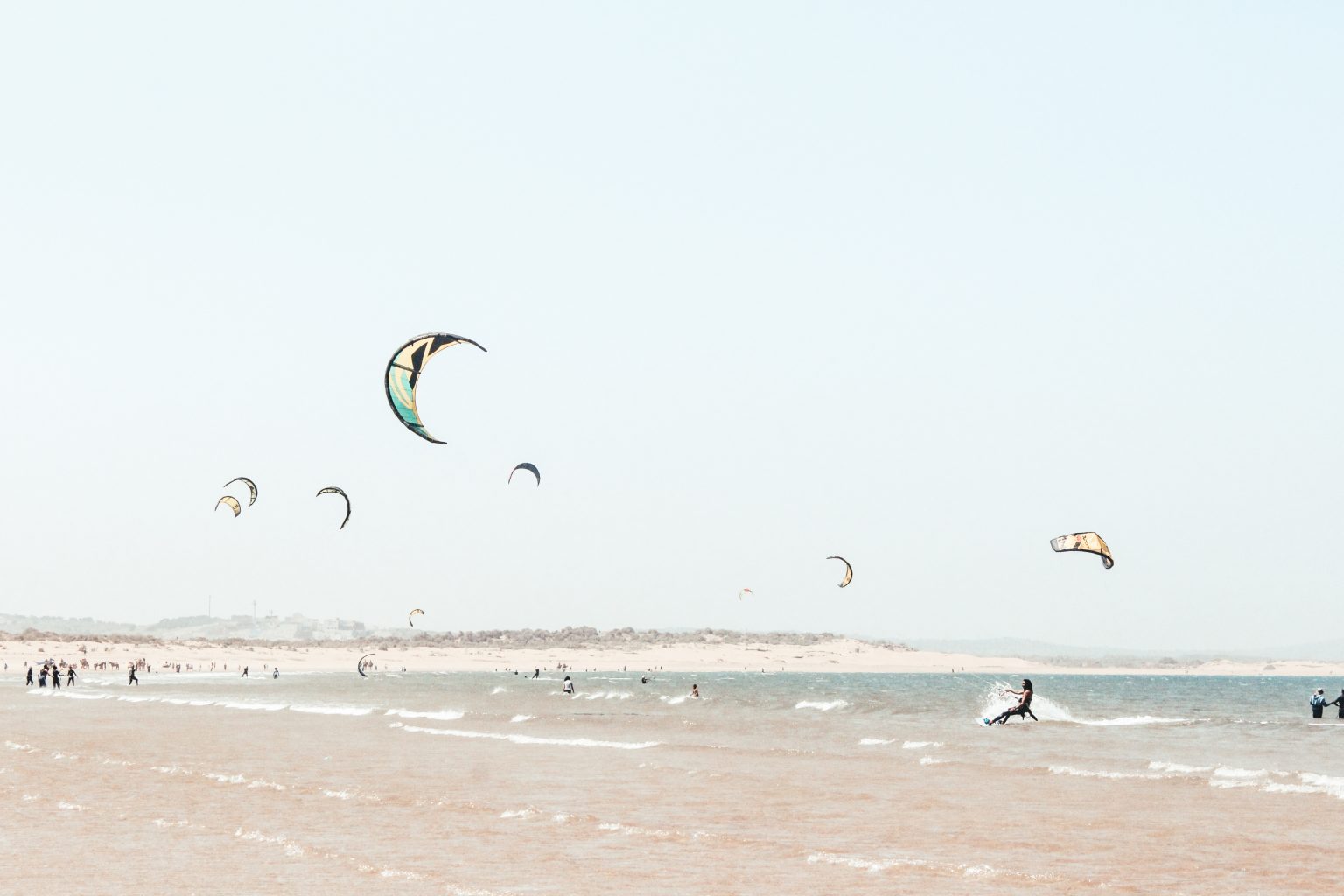 Essaouira is Morocco's most well-known beach town, and a perfect spot for honeymooners who are craving a little coastal time. This town on the Atlantic Coast has a bohemian atmosphere and a large arts scene. Enjoy live music and relaxed vibes as you admire views off the coast.
If you want to take part in any water activities during your honeymoon in Morocco, Essaouira is the place to do it. Spend your time surfing, kayaking and kitesurfing. Or enjoy a romantic horseback ride for two on the beach. And don't forget to stop at the medina and spy the Game of Thrones filming locations in Essaouira.
While many parts of Morocco are dry (i.e. alcohol is not sold or served), that certainly isn't the case in Essaouira. Head to one of the many cocktail bars to sip on something delicious while watching the sun go down over the water. Or head just out of town to Val d'Argan Winery to toast your nuptials with some Moroccan wine straight from the source.
For the real beach goers, you may also want to check out some of Morocco's other top beaches like Saidia Beach, Legzira Beach, Agadir Beach and Asilah Beach.
Stroll through Jardin Majorelle in Marrakech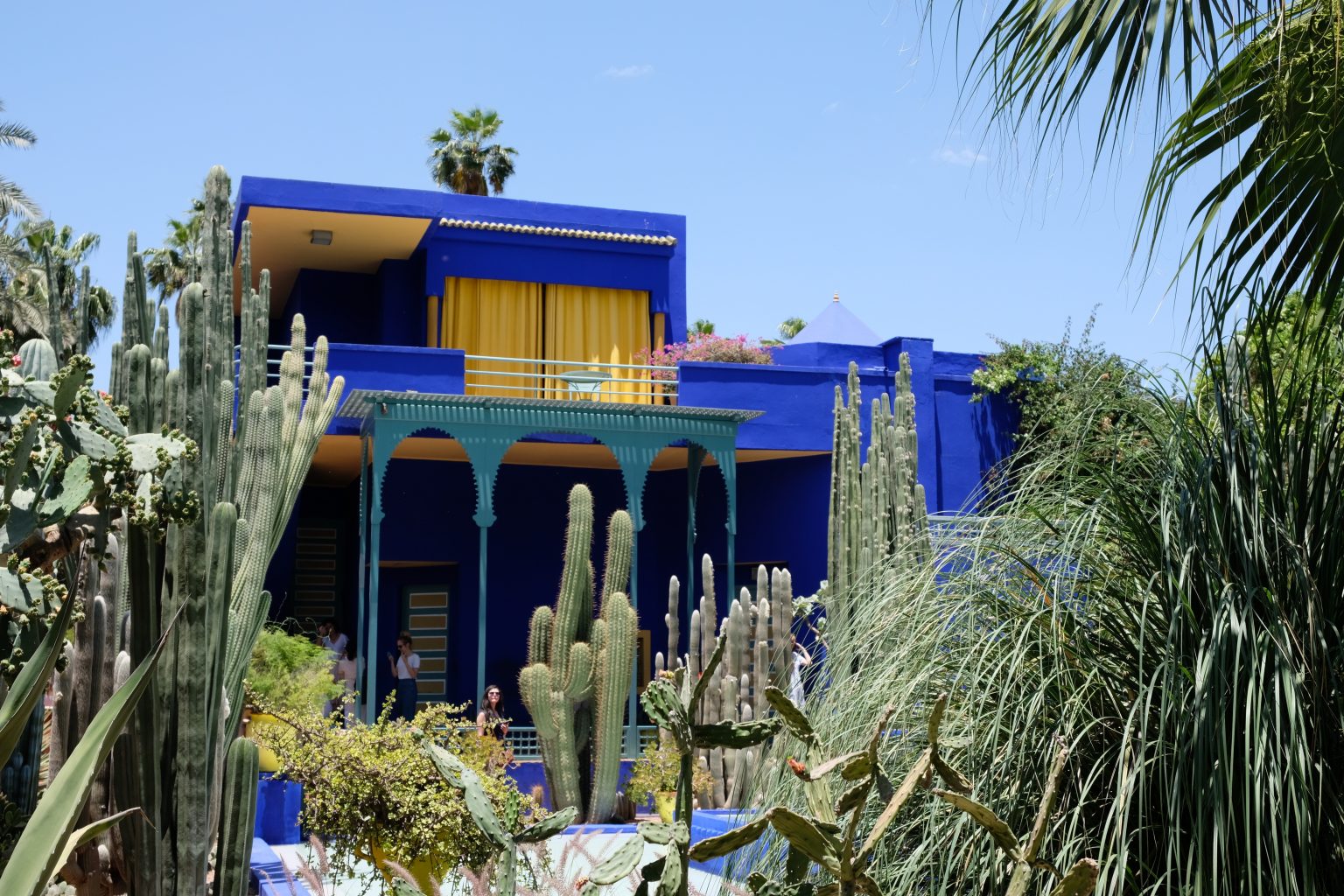 While the maze of shops and stalls in Marrakech's Old City may not be described as "romantic" for honeymooners, a stroll through Jardin Majorelle certainly will be. This is the perfect place to escape the hustle and bustle of the city and get back to nature.
Take in the cobalt buildings and impressive gardens, a gift to the city from Yves Saint Laurent, as you stroll hand in hand with your new spouse.
Ride a camel through the Sahara Desert at sunset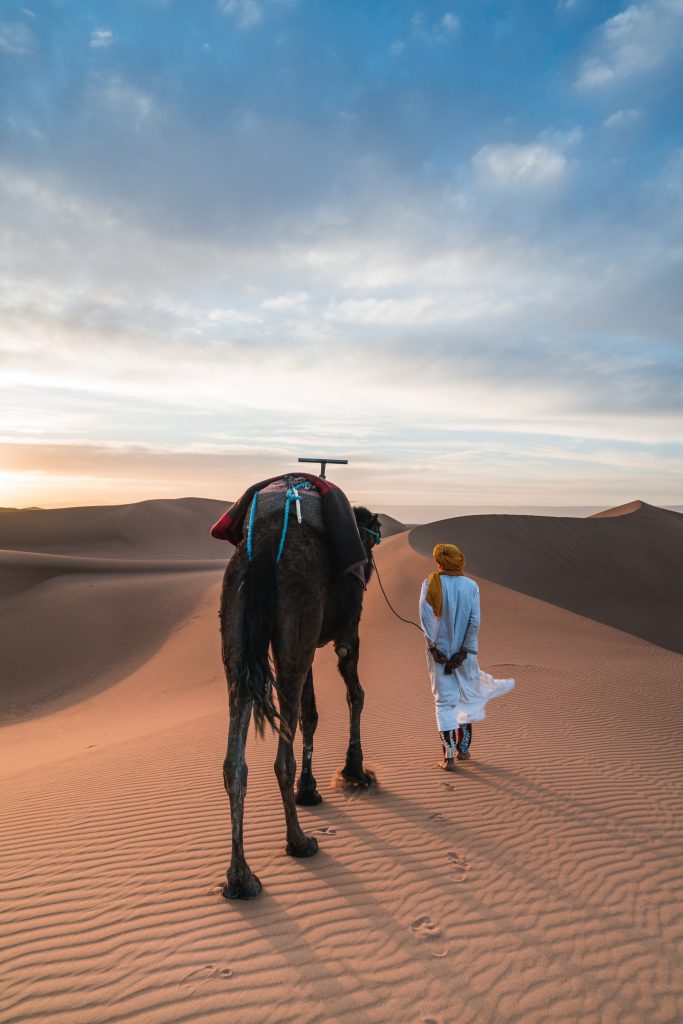 One of the top items on your Moroccan honeymoon bucket list has to be riding a camel. And it doesn't get more romantic than riding a camel with your love through the Sahara desert at sunset.
While the drive out to the desert can be long and winding, the pay off is well worth it. Midway through your journey, stop off at a desert lodge for a quick dip in the pool. Then, climb aboard your camel for a magical trek further into the desert just as the sun is setting. Awaiting you on the other side is a collection of tents nearing the Algerian border. Enjoy traditional Berber bread and other treats while you stargaze along the sand dunes – the stars have never looked better since there is no light pollution in the desert. Pure honeymoon bliss!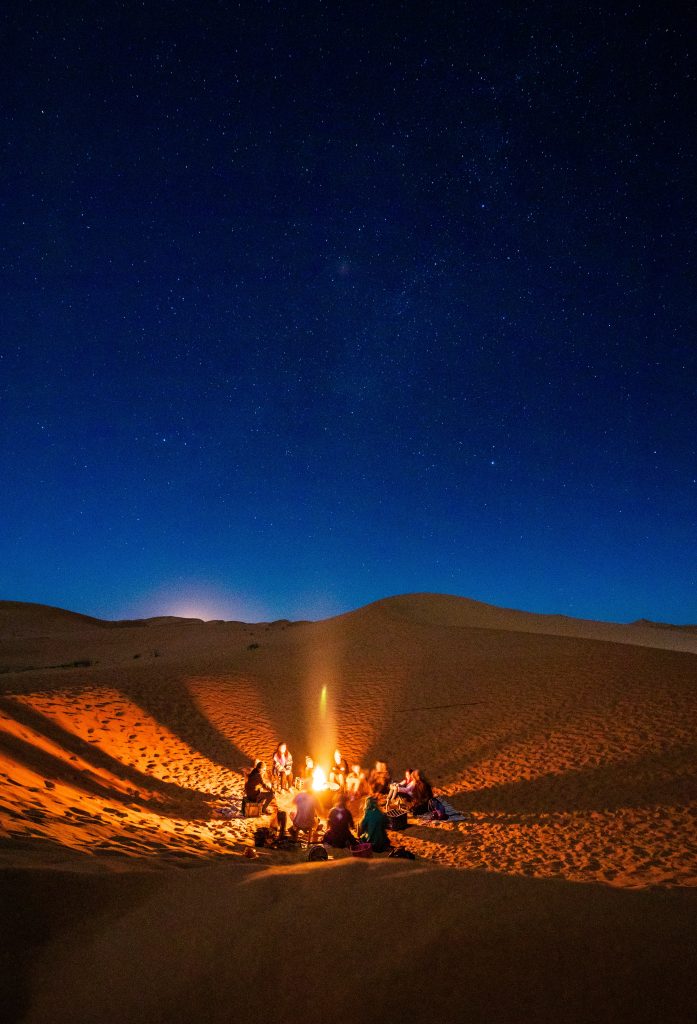 If you're looking for something intimate, remote and romantic during your honeymoon in Morocco, a night or two in the desert is just the thing. You can opt to share your desert camp with a small group, often just two to three other couples, or rent a private desert camp for just the two of you.
Wander the world's oldest and largest medina in Fes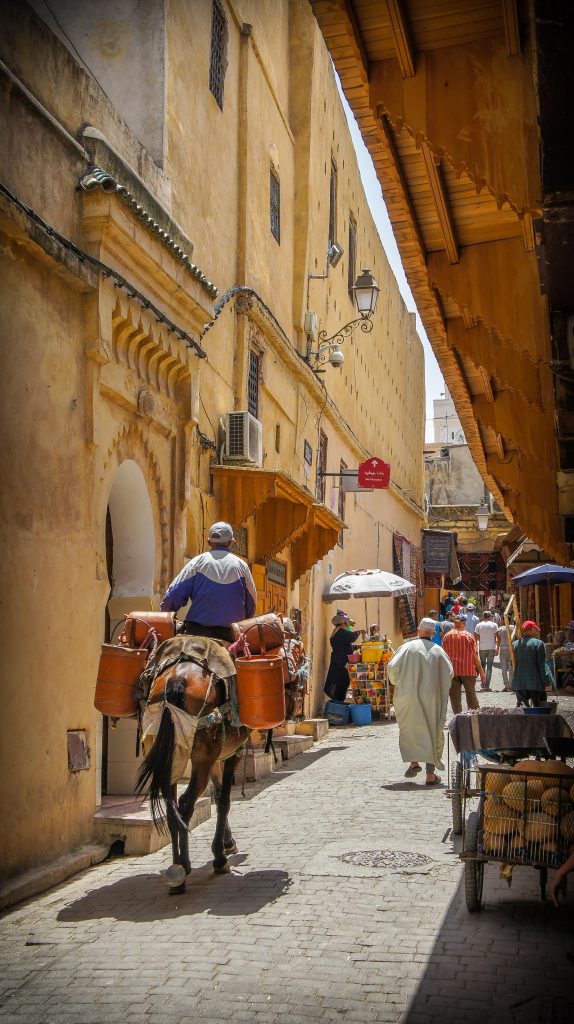 If, like us, you love exploring local markets and finding great local wares to bring home, you're going to love taking a trip to Fes. Fes is home to the oldest and largest medina in the world. It's also the world's largest car-free zone.
With over 9000 unnamed streets, it's easy to get lost in Fes. Book a tour to help orient yourself and have a local guide help you discover the best hidden gems. Of course, getting lost amongst the maze-like cobblestone alleys is part of the fun. Just make sure you can find your accommodation and dinner reservation!
Bathe in a hammam (Moroccan bath)
Many people know about the famous baths in Budapest or onsens in Japan. But did you know that Morocco has its own ancient bathing ritual that you can take part in on your honeymoon?
A hammam is a communal bathhouse, traditionally used by locals who didn't have private bathing facilities. These days, the practice is more recreational and some hammams have been upgraded to deliver a luxurious spa experience to their guests.
Start with a body scrub of crushed olives and then head to a steam room. Indulge in a massage with Moroccan essential oils. And, of course, relax in a piping hot bath.
Note: traditionally men and women bathe separately at hammams. However, some modern hammams will allow couples to bathe together. Inquire ahead if you're planning a spa day for your honeymoon in Morocco.

Take off in a hot air balloon over Marrakech
What better way to see Marrakech than by hot air balloon? This is another big bucket list item for honeymooners, and for good reason. Enjoy colorful views of the High Atlas Mountains, Berber villages, large valleys and wadies (dry valleys).
Many ballooning programs allow you the option to extend your trip by adding on breakfast, lunch at a Berber village, and a camel ride. You also have the option to book a private hot air balloon, for just the two of you, if you want to make things extra romantic.
Pose for Instagram photos in Chefchaouen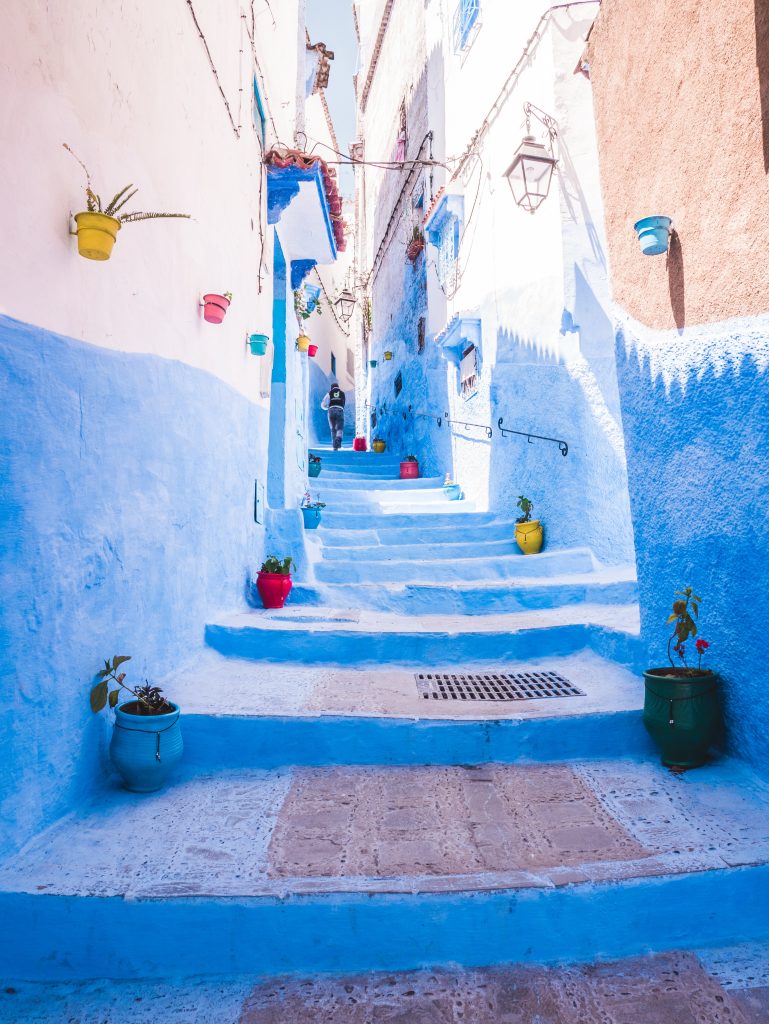 Even if a honeymoon in Morocco wasn't on your radar until now, you've likely seen photos of one of Morocco's most Instagrammed spots: Chefchaouen. Chefchaouen, also known as the Blue City, is a 15th Century city in northern Morocco that is bathed in blue. From the walls to the streets to the doors, everything is a beautiful shade of blue. Basically, this city is begging for a photo shoot. There's nowhere better to snap your iconic honeymoon selfies.
While in Chefchaouen, make sure you book a rooftop restaurant so you can watch the orange sunset meet the blue hills of the city. And if you're feeling more active, visit and hike to Akchor Waterfall, about 45 minutes out of town.
Go glamping in the Atlas Mountains
We told you Morocco was a land of diverse landscapes. In addition to busy cities like Morocco and Fes, peaceful desert camps in the Sahara, and relaxed coastal towns like Essaouira, there's also the Atlas Mountains.
The Atlas Mountains can be reached in less than an hour's drive from Marrakech. In the foothills, spend time hiking through Aleppo pine trees and salt mines. Discover red soil, olive groves and waterfalls in the Ourika Valley. If you're feeling more active, you can trek up Mount Toubkal, the highest summit of the Altas.
In this area, you can also visit Berber communities, an indigenous group to Northern Africa. With a guide, you can visit a Berber village to discover the signature architecture of their houses, sample Berber whiskey, and learn about the way of life for traditional Berber families.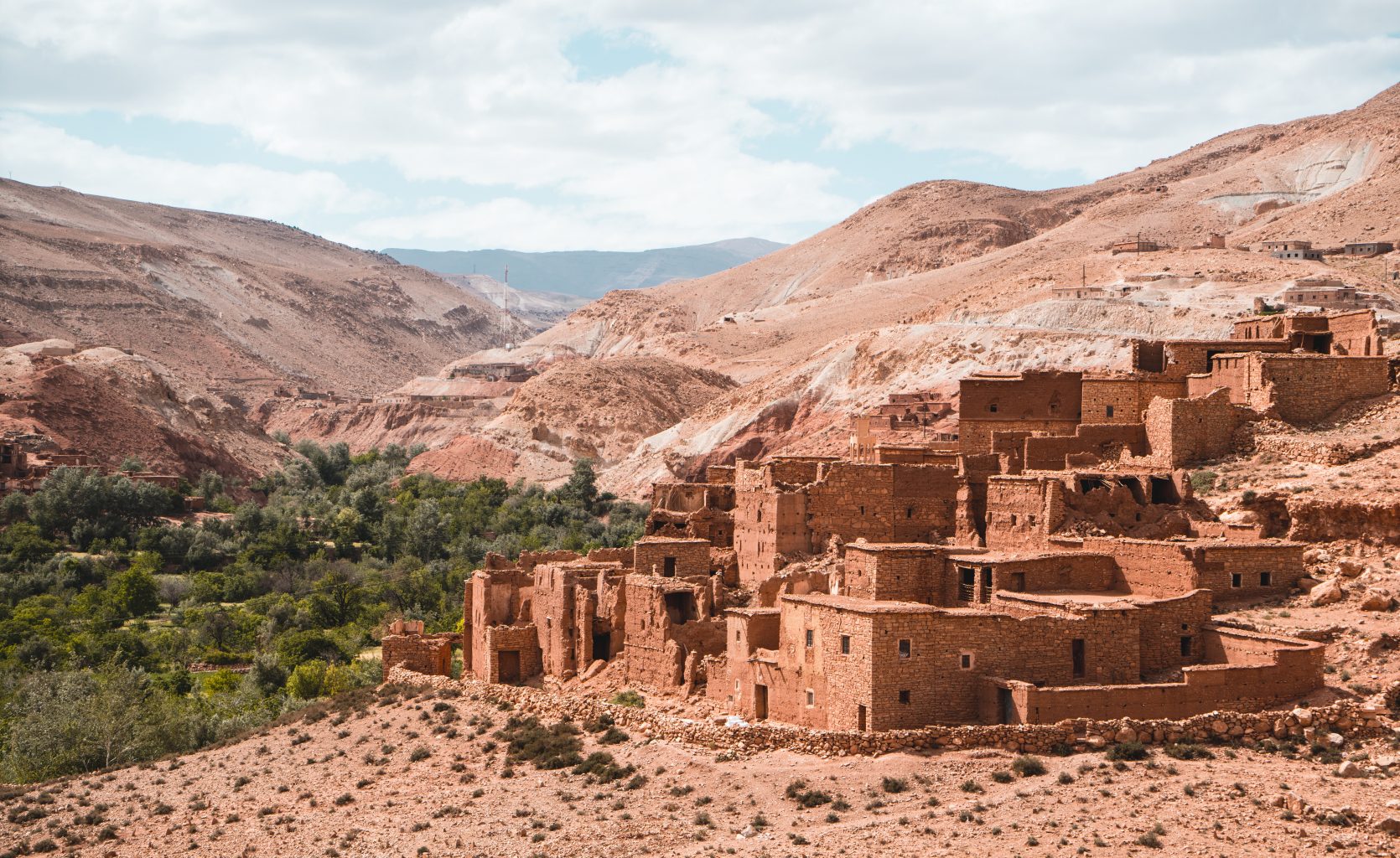 If you're looking for a little more luxury and romance in the mountains, consider staying at Kasbah Tamadot, Sir Richard Branson's luxury resort in the Atlas Mountains. This will take glamping to a whole new level!
Stop to smell the roses in El-Kelaa M'Gouna
If there's a destination called "Valley of the Roses," you know we have to recommend it for a honeymoon in Morocco. Valley of the Roses, or El-Kelaa M'Gouna, is a beautiful place to stop in Morocco in the springtime when the roses are in full bloom.
Roll down your car windows and let the scent in. Stop to take photos of the stunning landscape and rose bushes. And be sure to visit some of the small cottage shops along the way where you can purchase rosewater and other rose-infused sweets and treats.
Bargain hunt for Moroccan rugs & silver at the souks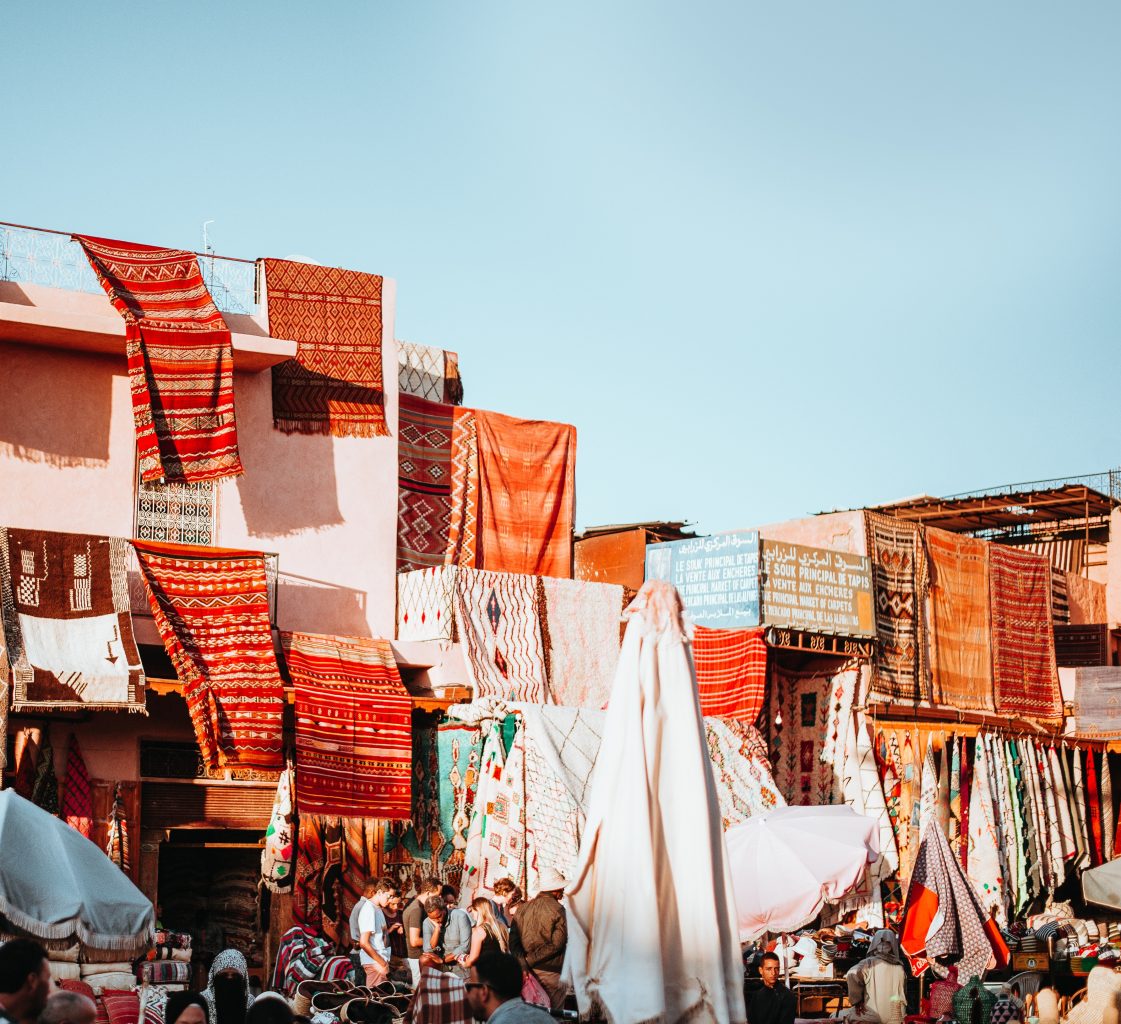 One of the best ways to keep your memories from a wonderful trip fresh in your mind is to bring home a little piece of that country and culture. Luckily, Morocco is full of beautiful souvenirs and wares that will look perfect in your home, and also make wonderful gifts.
For example, traditional rug-making is still a common practice in Morocco. Not only can you buy a handmade Berber carpet or Arab rug but you can actually watch the rugs being made or participate in making one yourself by joining a class.
Other great tokens to bring home include a Moroccan tea pot (so you can make your own Moroccan mint tea back home), Berber silver jewelry, table settings with Moroccan double-sided embroidery, blue pottery from Fes, brass trays, pure scented oils, and Moroccan leather. The best places to buy your souvenirs will be in the souks in the medinas of Morocco, like in Fes and Marrakech. Where appropriate, don't be afraid to bargain. It's part of the fun and after you settle on a price, the vendor will usually invite you to have tea together and chat!
Indulge at a resort or traditional riad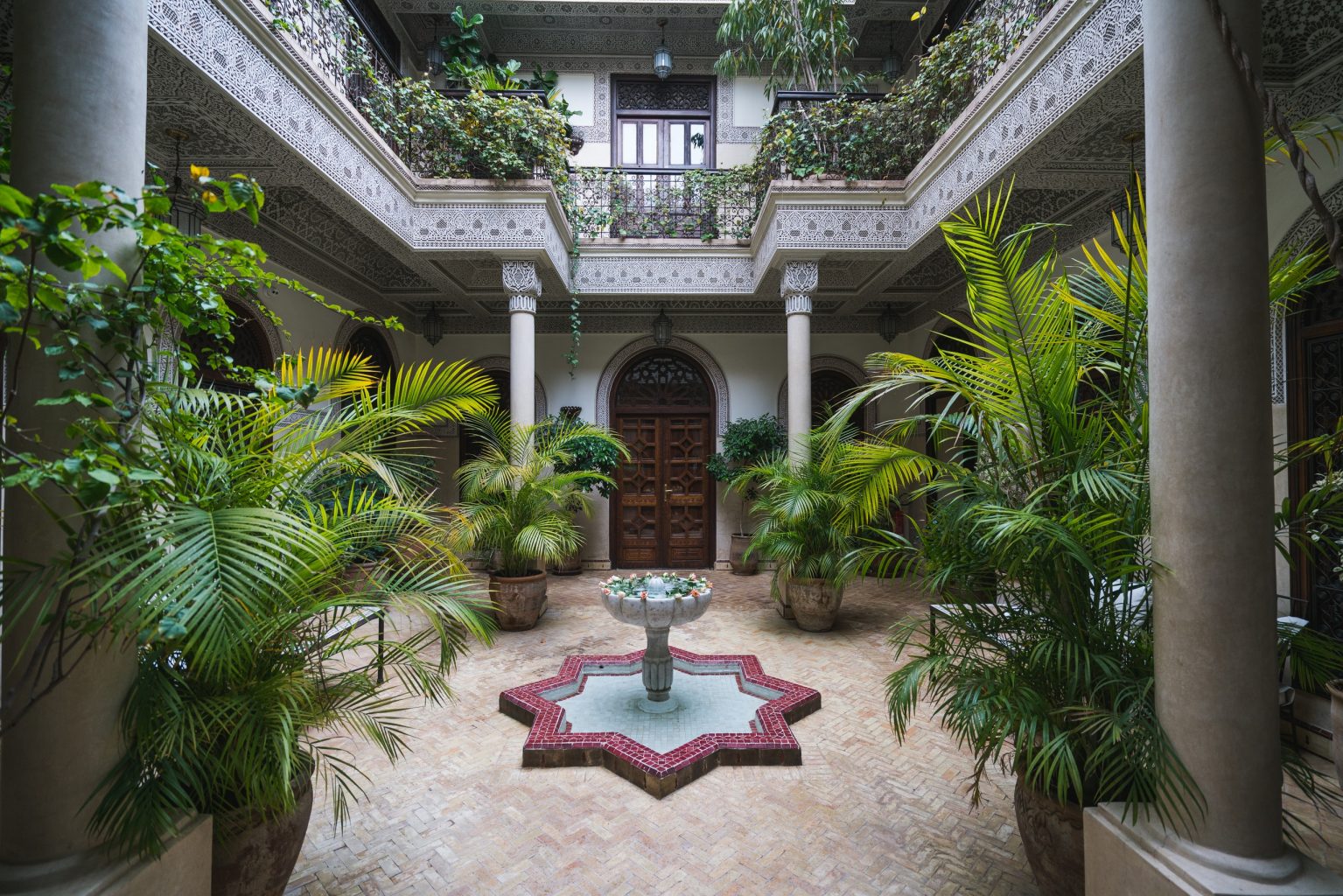 For your honeymoon in Morocco, treat yourself to an indulgent and luxurious stay at a resort or riad. A riad is a private, traditional house featuring beautiful Moroccan art, architecture and design. These homes often have an open courtyard, multiple levels, and viewpoints from the rooftop. While some are still used as family homes, many have been transitioned into guest homes and bed and breakfasts for visitors.
If you're looking for a romantic resort or riad, here are some of the best in Morocco:
Splash around in the Cascades d'Ouzoud waterfalls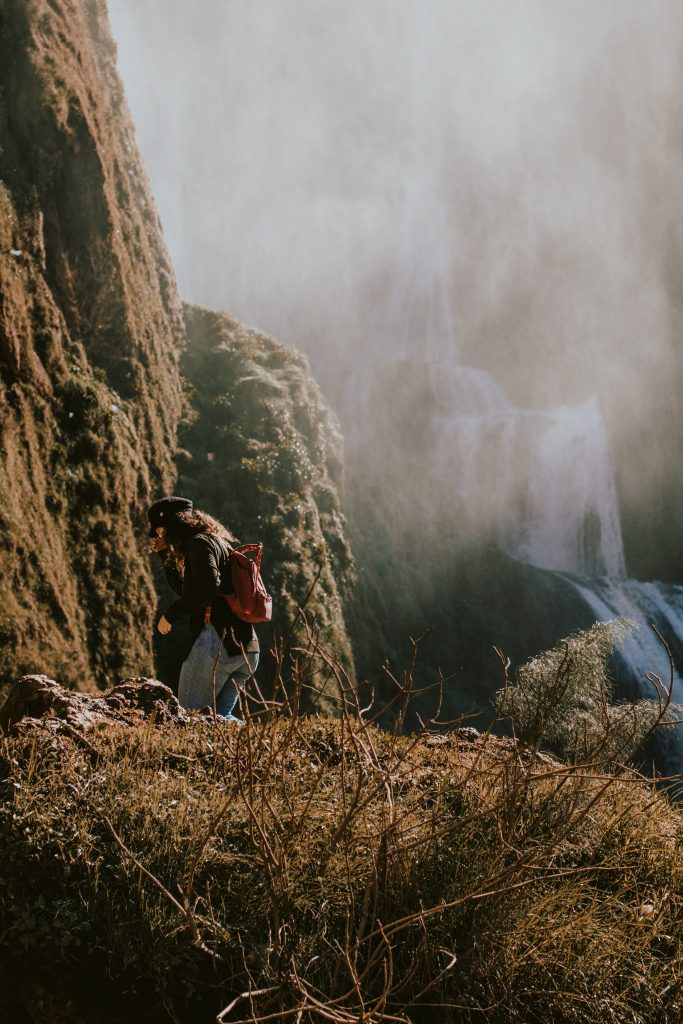 If you want to go chasing waterfalls during your honeymoon in Morocco, make your way to Cascades d'Ouzoud, one of the most romantic spots in the country. Less than 12 miles from Marrakech, these beautiful waterfalls await. You can hike around the base of the falls, take a boat to one of the large pools, or go for a swim in one of the smaller pools. You can even arrange to spend a night out at the falls.

Relax in Oualidia
While there's a lot of adventure to be found in Morocco, there are also ample opportunities for relaxation. If you're looking to slow down, rest and recharge, head to Oualidia, a picturesque small town on the Atlantic coast.
Oualidia is a favorite vacation retreat for Moroccan royalty. They enjoy the small town feel and beautiful beaches. With not much to do here besides relax and enjoy the views, it's the ideal spot for honeymooners wanting to recuperate post-wedding. Spend your time bird watching, enjoying fresh local seafood (Oualidia is one of the best places for oysters!), and admiring the flamingos who hang out in the local lagoon.