The Caribbean's Best Kept Secret: A Honeymoon in the ABC Islands
June 12, 2019 | by Riana | Posted in Americas, Places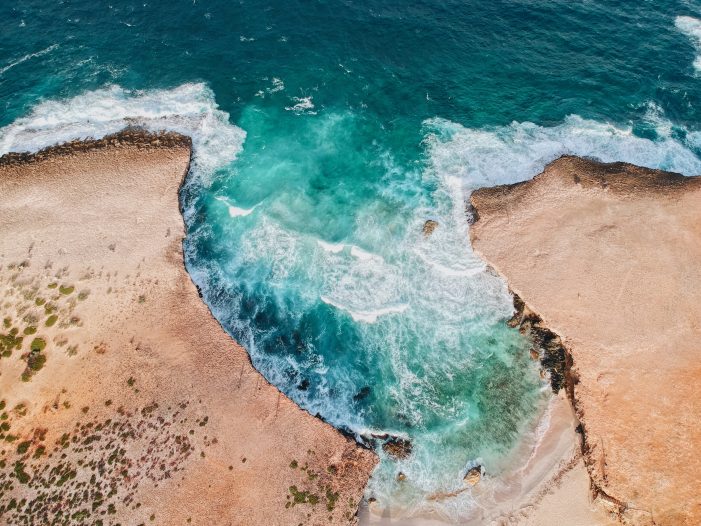 Have you heard of the ABC Islands? Three Dutch islands in the Southern Caribbean, Aruba, Bonaire and Curacao, are the Caribbean's best kept secret and one of the most amazing places in the world to honeymoon.
Why honeymoon in ABC? For starters, it's close to home. If you're travelling from the US, you can fly direct from New York to Aruba in under five hours (or from Miami in under three). And, depending on whether it's Daylight Savings Time or not, you'll be in the same time zone as home (or just an hour or two different). With one short flight and no jet lag to deal with, you'll be able to enjoy your honeymoon right from the start.
Another reason to honeymoon in the ABC Islands is that this secret trio is not over-touristed. Since the ABC Islands aren't as well-known, they don't suffer from the same number of tourists, meaning your honeymoon will be just about you two (and your Instagram post will be one of a kind).
But the secret reason we love the ABC Islands? They're not affected by hurricane season! Much of the Caribbean is off-limits during hurricane season (June 1 to November 30) when torrential downpours and island storms can ruin any honeymoon. Luckily, Aruba, Bonaire and Curacao are all outside of the hurricane path and don't suffer from this same fate. While the rest of the Caribbean is on lockdown with rained out beach plans, the ABC Islands are enjoying sunshine and perfect beach days.
An easy trip from home, no throngs of tourists and perfect weather – what more could you want? Luckily, the ABC Islands are serving up all of that and more. There are beautiful beaches, warm and welcoming locals, a thriving culinary scene, exciting nightlife options, a mix of Dutch, Caribbean, and South American culture, and lots of opportunities to escape into nature (or under water!). With three islands to choose from, there's something for everyone to enjoy on an ABC Islands honeymoon.
Aruba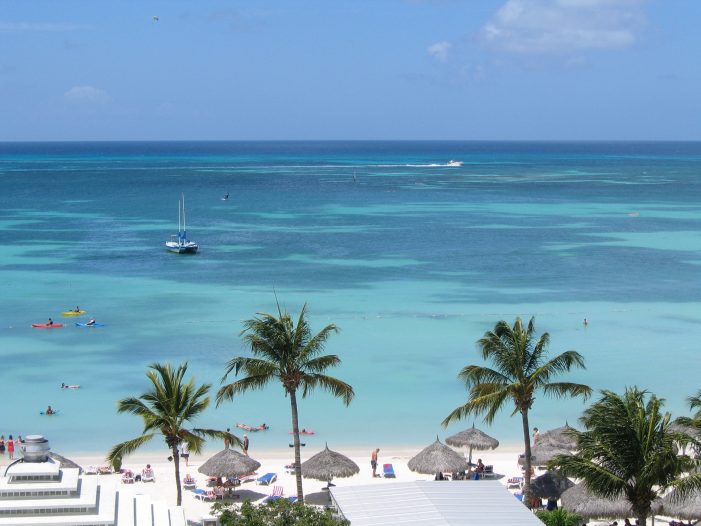 Aruba is definitely the most well known and developed of the three ABC Islands. If you're looking for a honeymoon that's more "resort" than "roughing it," Aruba may be the perfect choice for you. It's also got the easiest flight connections from the US.
Aruba is the place to be if you want to be in on the action. Here you'll be able to spend your days shopping, golfing, windsurfing or relaxing on the beach, and your nights in one of the island's many casinos or clubs.
The gentle trade winds off Aruba's coasts make this island the perfect spot for windsurfing. Head to Hadicurari Beach for some of the best windsurfing opportunities. You can also try your hand at kite surfing or parasailing, among other water sports. When you need a moment to relax, kick back on Palm Beach and enjoy floating in the water and people watching from the sand.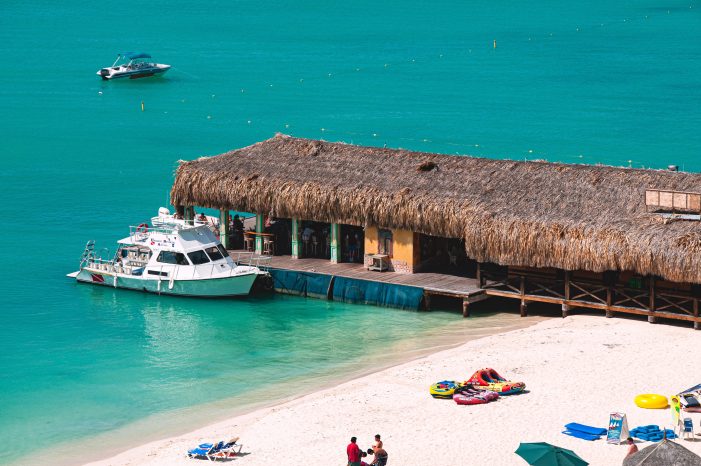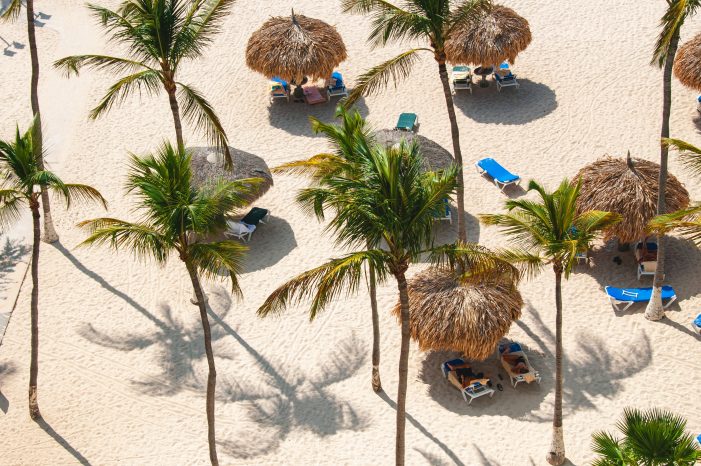 Aruba is also home to the Caribbean's top shipwreck scuba diving. If you want to explore wrecks deep in the ocean, this is the place. Don't miss Antilla, a German World War II ship and one of the largest wrecks in the Caribbean. For non-divers, Antilla can also be discovered via semi-submarine tour.
Once back on dry land, continue to explore Aruba on foot, or better yet, try a 4×4 or horseback tour. Visit Arikok National Park, an area of almost 8000 acres of protected park land and home to local species of flora and fauna. Visitors recommend renting a jeep so you can explore more of the park, including beautiful bays, caves and Conchi, a natural pool in Arikok perfect for a dip.

Foodies will love the culinary scene in Aruba, particularly in the capital city of Oranjestad. Check out The Kitchen Table for a great meal and even better view, and Screaming Eagle on Eagle Beach for a taste of French-fusion. If you're looking for fresh seafood, visit local favorite Zeerovers in the coastal village of Savaneta. Right on the wharf, you'll be able to dine on the always-fresh catch of the day.
Last but not least, you'll want to be sure to enjoy Aruba's famous nightlife. For live music, check out Soprano's Piano Bar or the Aruba Sinatra Show, for a throwback. For dancing on the beach, visit MooMba Beach Bar & Restaurant. Party all night at Gusto Night Club or enjoy a drink at Fireson Brewing Co., Aruba's first local craft brewery. Or you can try your luck at casinos like La Cabana Beach Resort and Casino or The Casino at The Ritz-Carlton.
Bonaire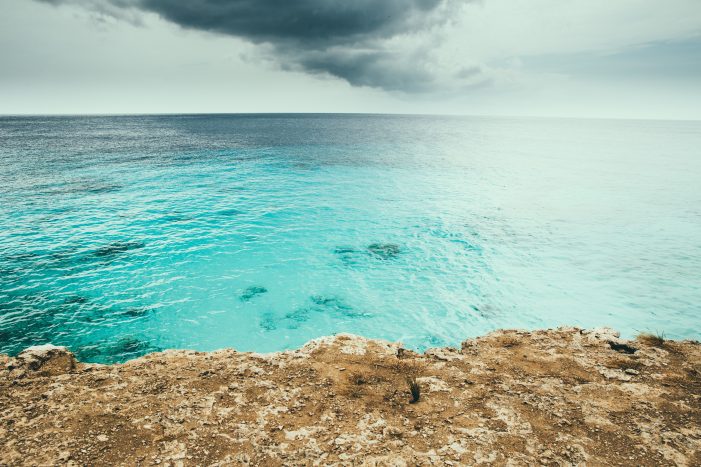 Where Aruba can be glitz and glam, Bonaire is a return to nature. This laidback island is the smallest of the ABCs and also the quietest. If you're looking to get away from it all, and spend most of your time in the water, a honeymoon in Bonaire may be for you.
Known internationally as one of the best diving spots in the world, particularly for coral reefs, Bonaire is a paradise to those who love to explore the deep blue sea. Bonaire is home to over 50 types of coral, more than 350 species of fish and 60 plus official dive sites. Here you'll see everything from parrotfish and angelfish to nurse sharks and stingrays.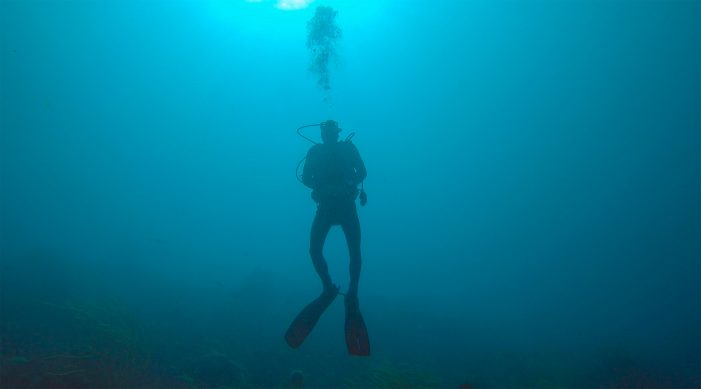 One of the best areas for underwater adventuring is Klein Bonaire, a small uninhabited island half a mile off Bonaire's coast. Make your way to No Name Beach or 1000 Steps Beach for some of the area's best diving. Snorkelling is also offered in this area and a great way for non-divers to get up close to some tropical fish and coral reef.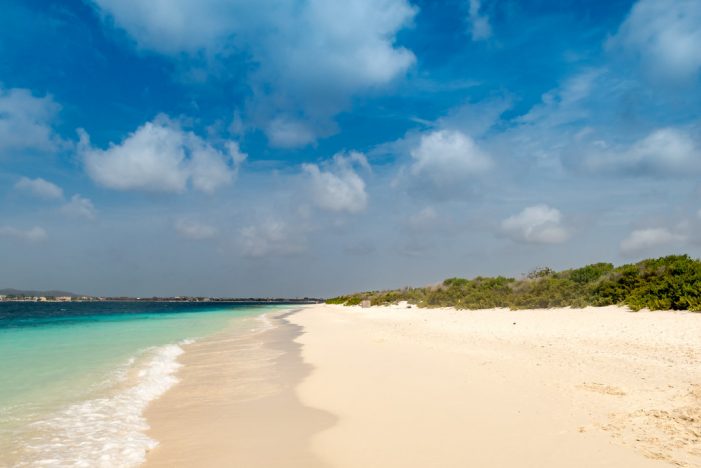 On Klein Bonaire you'll also find native birds and endangered sea turtles. These animals, and all of the nature in this area of Bonaire, are included in the Bonaire National Marine Park, and protected by STINAPA Bonaire. Bonaire's commitment to eco-friendly tourism and sustainability ensures these beautiful places will be around for many generations to enjoy.
Continue exploring on dry land with a visit to Washington Slagbaai National Park to spot sea turtles, and walk through beaches, lagoons, deserts and hills. The desert-like terrain found throughout Bonaire is very popular amongst bikers and hikers. And when the desert gets too dry and hot, you can always head to the coast for a dip in the water and a cool breeze.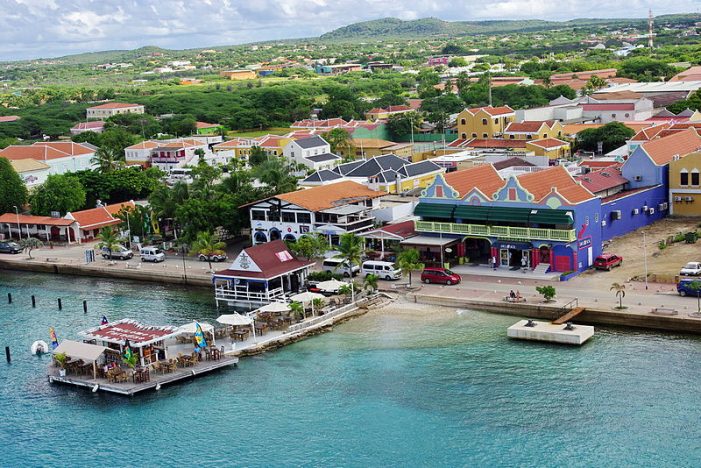 Journey to Kralendijk, Bonaire's capital city, where you can learn more about the island's history and shop for some handcrafted souvenirs to take home. And visit Pekelmeer Flamingo Sanctuary, one of the Caribbean's only protected flamingo breeding sites. Fun fact: flamingos in the Caribbean are the brightest pink in color due to the red carotenes that are found in the algae and local insects.
End your night with a bottle of the island's own Bonaire Blond!
Curacao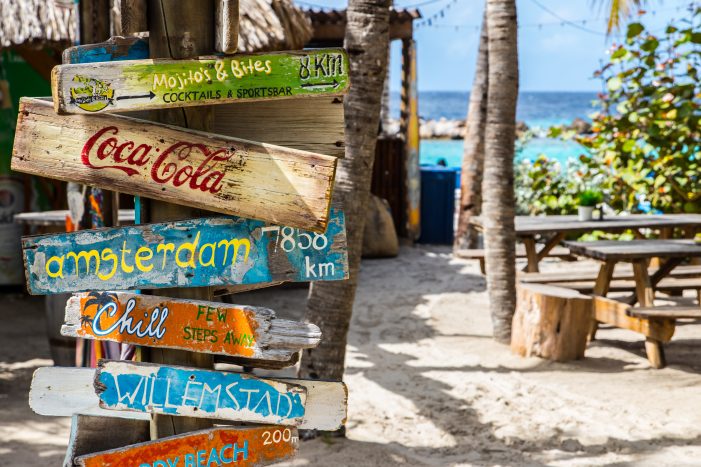 Last but not least, we have our favorite ABC Island, Curacao. Curacao is the perfect middle ground between developed Aruba and off the beaten path Bonaire. If you want equal parts relaxation and excitement, with a healthy dose of culture, history and beach time, Curacao is the perfect place for your ABC Islands honeymoon.
When you arrive in Curacao, you might mistakenly think you've taken a trip to Europe. With the Dutch style architecture, and many Dutch residents and visitors, Curacao definitely owns its Dutch roots.
The capital city, Willemstad, is a must-visit in Curacao. This UNESCO World Heritage Site is best known for its brightly colored homes and buildings. Rumor has it that in the 1800s, the governor of Curacao complained that the sun shining off of the then-white buildings was giving him a migraine. So he asked all of the residents to paint their homes in bright colors. Of course, the governor also happened to own the only paint company on the island. But despite his ulterior motive, Curacao has upheld their tradition of bright and beautiful buildings, even including street art murals in recent years. Stroll the Handelskade for the best waterfront views of these colorful buildings.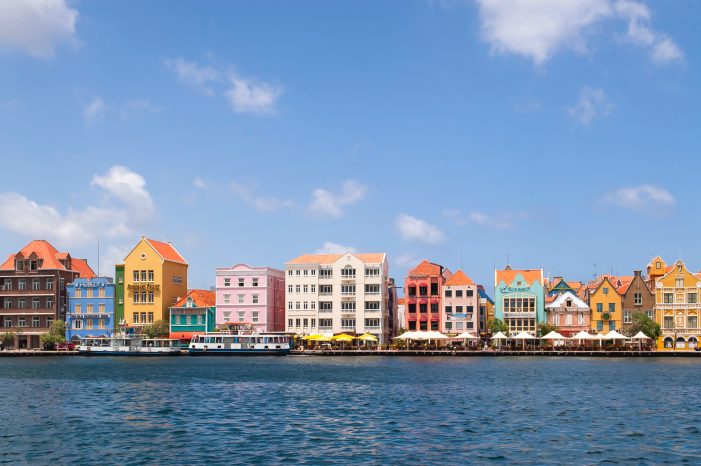 In Willemstad, be sure to visit the floating market, where boats from Venezuela sail up to sell their fish, fruits and vegetables. Talk about freshness! For more shopping, head to Punda and Otrobanda, the two best shopping districts in Willemstad. To get there you'll need to cross the Queen Emma Bridge, a unique floating pontoon bridge made of wood.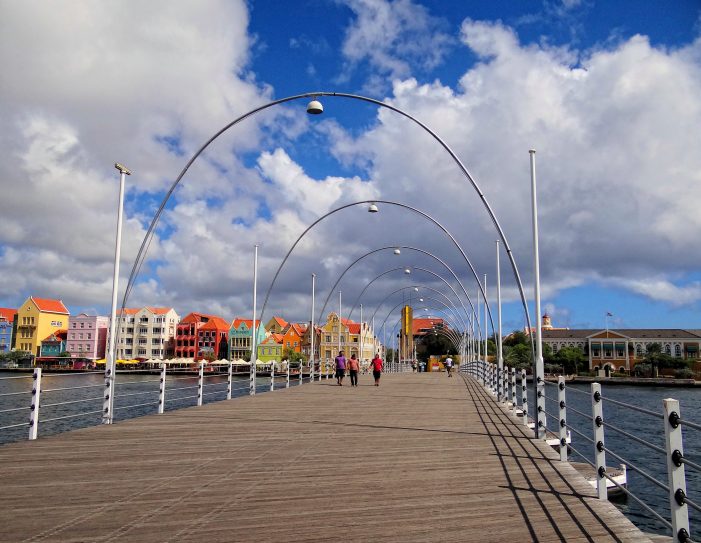 Also in Willemstad, you can pay a visit to Mikvé Israel-Emanuel Synagogue, the oldest active synagogue in the Western Hemisphere. And stop by Kurá Hulanda to learn about the history of slavery on Curacao.
After spending a day or two in town, it's time to hit the water. Curacao has over 35 beautiful beaches to choose from, many of which are secluded and perfect for snorkeling, diving and sunbathing. The best beaches include Porto Marie, Knip Beach, Director's Bay, Mambo Beach and Jan Thiel Beach.
Like its sisters Aruba and Bonaire, Curacao is also a great place to go scuba diving and explore shipwrecks. Top dive sites include Klein Curacao, Tugboat Shipwreck, Car Pile, Superior Producer, Hell's Corner, Mushroom Forest, Blue Room, Director's Bay and Watamula. Under the surface you'll be face to face with sea turtles, rays, sharks, eels and some fish species that are only native to Curacao.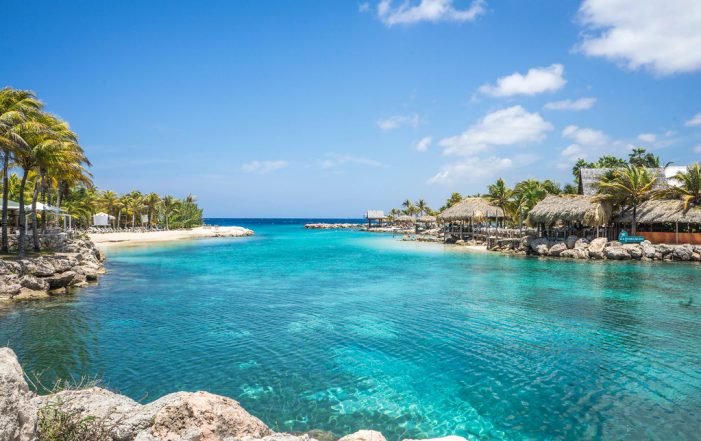 From the water to the land, you can visit Curacao's largest national park, Christoffel Park. Here you'll find native flora and fauna species like wild orchids, barn owls and the rare Curacao white tailed deer (there are only 250 of these deer left in the world!). For wildlife enthusiasts, you may also want to pay a visit to Mimi's Eco Farm, where marine life, reptiles and birds are protected, or Saliña Sint Marie where flamingos make their home.
Other fun activities on Curacao include water sports, yoga classes, golfing and spa visits. You can also explore the Hato Caves, ancient structures on the north side of the island. These limestone caves are over 200,000 years old and a perfect example of Curacao's history and natural beauty. Enjoy walking around the caves, dipping in the pool and keeping an eye out for bats and iguanas.
While Curacao isn't quite as full of eateries as Aruba, it still has a thriving foodie scene. Start your exploration of Curacao's food and drink at the Chobolobo Factory, where the namesake Blue Curacao liquer is produced. Try one of the island's food trucks or seafood tapas restaurants, and be sure to sample the local dish arepa di pampuna (pumpkin pancakes). If you time your visit right, you may also be able to enjoy one of the many music festivals that descends on Curacao when beaches turn into music venues and you can dance the night away.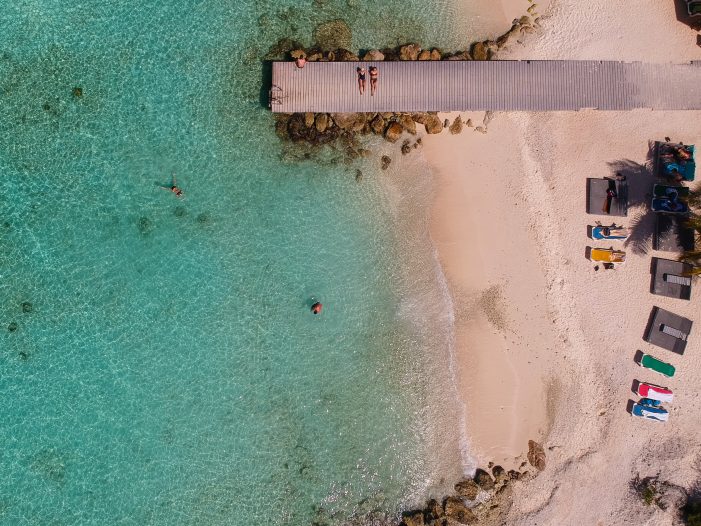 Have we convinced you to honeymoon in the ABC Islands yet?
Read more: Top 19 Honeymoon Destinations for 2019
Pin it for later: