The Costa Rica crisis cure
February 8, 2015 | by Irina | Posted in Americas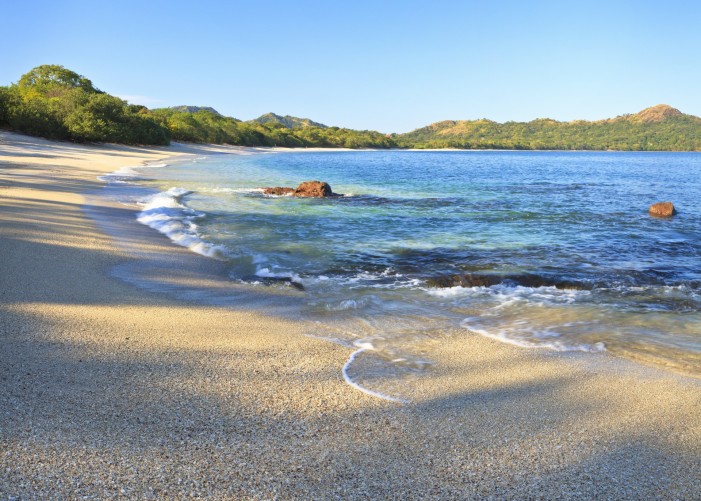 About a year into being a big, adult, grown up girl with a big, adult, grown up job and all the other no fun stuff that comes with it, I had a meltdown. As with other noteworthy hurricanes and natural disasters, this meltdown even received a name, I called it the Pre Quarter Life Crisis.
I just didn't really get what I was doing with my life. I wanted to be cradled back to childhood, or at least college student-hood gently and lovingly. So I made some stupid decisions, flew back home to my parents' and went to my favorite yoga class. It was surely not a solution, but it was a start.
And then my best friend informed me she was headed to Costa Rica to visit her dreamy, steamy Costa Rican boyfriend at the time. I decided I had to join her. My parents, terrified by what was going on in my brain supported it whole heartedly- so the whole family pitched in frequent flier miles, and soon enough I was off to get a taste of the real pura vida (essentially the unwritten law of the land in Costa Rica, basically means hakuna matata, life is good, etc).
A week, a dark tan, a fleeting romantic encounter and thousands of belly laughs later, I was flying back and was completely and totally, 100% cured of my previous symptoms. Costa Rica's natural beauty and more importantly amazing people reminded me of all that was important to me, centered me, and reassured me everything would be a-ok.
So whether you're going through some dramatic crisis of your own or just need a break from this crazy thing we call everyday life, I highly recommend making a spontaneous (or premeditated) escape to the tiny country that just knows how to live. My pointers:
Solo or with a best friend
Based on rather anecdotal but nonetheless trustworthy research, I'm here to tell you that there are two ways that this kind of trip can work: either totally solo, alone with your thoughts and your journal (and whoever else you meet on your trip) or with a best friend. Preferably just one best friend, maybe two. It's really not a big group getaway type thing.
Turn on escape mode from the time you get to the airport
Stop taking work calls and by all means leave your laptop at home; start the adventure from the time you step into the airport. On the flight, allow yourself indulge in a movie, or maybe even read that smart, philosophical book you can never actually read in real life because you're always sleepy by the time you crack it open at midnight on a Tuesday. Or best of all, gaze out the window and journal. One of my most memorable moments of brilliance was while journaling during the flight down to Costa Rica; the flight path had us following the Pacific Coast all the way down and all of a sudden everything just seemed to make sense.
No ritzy all inclusives
I don't care if you have a lot of points with Marriott or you found a good deal; don't try to tell me you're going to find yourself poolside sipping on your 12th margarita of the day. No. This is about getting away from tourists, being one of at most 10 people on a secluded beach and hanging out with the locals in the evenings. This is about integrating yourself, not isolating yourself, with the way the Ticos (the name for Costa Ricans) live. Book your accommodations on sites like airbnb or VRBO or FlipKey. Challenge yourself to stay in something more rustic that maybe you would normally feel comfortable in. Trust me, showering with crabs running around leads to all kinds of personal growth.
Stop planning 
Yes this is coming from me, the travel planning girl, but I do stand firmly by the fact that a Crisis Recovery Voyage is NOT the kind of trip you want to plan every millisecond of. Definitely have your accommodations picked out, figure out how you're going to get from the airport to your bed (I highly recommend renting a car; calm down, it's not dangerous) and also how you're going to get around (told you- nice to have that car). That and have a general sense of the places you kind of sort of may want to eat at, or hang out at, or maybe some experiences you'd like to check out (zip lining, surfing, hiking). But try not to get detailed; instead, try to let the mood in the precise present moment rule your itinerary. Costa Rica moves at a slower, more relaxed and laid back pace than anything you're used to. Make your time there about adopting this slower pace, even if just for a few days.
Let go of your shit 
Presumably, it's the stuff you carry around with you- anger, angst, anxiety, fear, distrust- that are causing this crisis in the first place. So as you hear the waves of the Pacific washing themselves onto the pristine beach (which you're practically alone at, remember) play a little mental game and let each wave wash away some of that crud which you actually have no need for. I'm guessing there's probably a lot.
The hope is that a getaway like this will leave you excited to get home, recharged with a good load of calmness and creative energy. I'd love to hear about your experiences below!
Logistically speaking 
Fly into Liberia Airport (LIR) is the closest in proximity, otherwise San Jose Airport (SJO) is the largest airport in the country and often airfare is cheapest with a San Jose arrival
When to go best time to visit is the dry season, mid-December to April. June- July offers a brief reprieve from the rainy season.
Transporation car rental in Costa Rica is reliable and simple, Check out this guide to renting a car in Costa Rica.
Stay in Nosara– located on the Pacific coast, it is a small, pleasant town that lies tucked away in the jungle and is surrounded by Costa Rica's finest beackes.
Book accomodations try airbnb, VRBO or FlipKey