Borneo is the choose-your-own-adventure-land you absolutely have to visit
November 29, 2017 | by alle contributor | Posted in Asia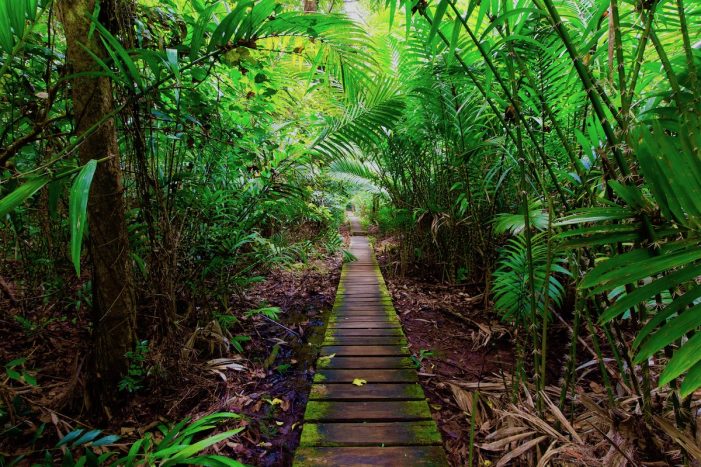 The third largest island in the world, Borneo has intrigued adventurers, anthropologists and explorers for centuries. The island is shared by Malaysia, Indonesia and the tiny country of Brunei. From steamy jungles to blissful mountains, cloud forests to some of the world's largest caves, balmy beaches and peaceful villages; Borneo's bounty of natural treasures seem to be tailor-made for fun, relaxation, exploration and adventure. Home to one of the oldest forests in the world, an incredible level of biodiversity can be found in Borneo, with new species being discovered every year.
First things first: where is Borneo
With an area of almost 287,000 square miles, Borneo is the third-largest island in the world and the largest in Asia. With Malaysia to its West, Indonesia to the South and East, and the Philippines to its North East, it sits right at the heart of Southeast Asia.
The island is actually divided between three countries: over 73% of it is known as Kalimantan, the Indonesian part of Borneo, while Sabah and Sarawak are the two Malaysian states that occupy the northern and eastern part of the island. The Sultanate of Brunei is nestled between Sabah and Sarawak.
The island is home to the oldest rainforests in the world, that have been estimated to be almost 140 million years old, and comprise some of the richest biodiversity on the planet. Though you can certainly visit all of Borneo if you like, I generally recommend sticking with the Malaysian part of the island (Sabah and Sarawak); here you'll find that infrastructure is better developed and better suited for travelers.
My favorite Borneo adventures

Trek with Orangutans
The 'Old Man of the Jungle' is perhaps THE most iconic species in Borneo. Living up in the trees for most of their lives, these gentle giants spend most of their time feeding on ripe fruit, resting, and swinging around between their feeding and resting sites. While they were once found in forests throughout Borneo, illegal logging and clearing away of land for palm oil production have shrunken their habitats greatly. But there are still some areas where it is possible to get a glimpse of them in the wild.
One of the best and potentially underrated places to spot them is Batang Ai National Park, one of the last stretches of pristine forest, where the local indigenous Iban people manage the park along with the Wildlife Department in an inspiring example of community-led conservation and tourism.
Another great spot is the Danum Valley in Sabah, which is said to be home to around 500 Orangutans. The wonderful Borneo Rainforest Lodge is located right in the heart of the Valley, and 17 resident orangutans can be seen swinging around the forest area near the lodge.
And by the way, did you know a group of Orangutans is called a 'buffoonery'? If that right there isn't enough reason to visit, I don't know what is!

Cruise along the Kinabatangan River
The riverine ecosystem along the Kinabatangan River is one of the most diverse in Borneo. It is one of the only two places in the world where ten different primate species are found, including the highly endangered Proboscis Monkey. This lively ecosystem is also home to the elusive clouded leopard and pygmy elephant, both of which are endangered as well. In addition, crocodiles and several colorful species of birds and insects can be found here. A boat safari is one of the best ways to view these animals in their natural habitat. It's also one of the least intrusive ways, and you don't need to trudge in slippery mangrove swamps!

Conquer Mt. Kinabalu or Mt. Trus Madi
If you thought Borneo was beautiful at ground-level, well, wait till you reach the top. Encompassed by lush green rainforests are some of the tallest peaks in the Malaysian Archipelago: Mt. Kinabalu, rising to an impressive height of over 13,000 feet, and its shorter counterpart, Mt. Trus Madi, about half as tall. But don't be fooled by height, Mt. Trus Madi is the more challenging climb of the two. Both mountains have tricky granite faces that become almost vertical at some points and need to be climbed up using ropes.
The most exhilarating part of the hike/ climb is that the final ascent is always done in the night, so as to reach the top before sunrise. Along the way, a trek up Mt. Kinabalu is well known for its orchids, birds and butterflies, and while Mt. Trus Madi is famous for the flying foxes as well as the different varieties of pitcher plants.
Note: At a moderate pace and with adequate rest periods at the camps, both of the mountains take around 2 days to climb, and no prior rock climbing experience is required. The weather tends to change frequently, from hot and humid to cold and chilly, so be sure to pack in layers.

Scuba dive one of the best dive destinations in the world
Borneo isn't merely full of terrestrial wonders; the northeastern part of it actually falls within the Coral Triangle, which has been given the moniker of 'The Underwater Amazon' because of the incredible diversity found there. And nowhere else does this amazing diversity come to life so beautifully as in the waters around the tiny island of Sipadan. It's considered by many to be one of the best dive destinations in the world, and with sightings of a dozen turtles in one dive alone being a common occurrence, this one is a serious contender for the top spot.
To give you a tiny (written) glimpse into the sheer level of diversity, here is a brief list of what has been found underwater: around 3000 species of fish, hundreds of different corals, bigger critters such as turtles, manta rays, and several different sharks such as leopard, white tip, hammerhead and whale sharks. And with visibility ranging from 65 to 165 feet, diving here is nothing short of spectacular.

Get your cave game on at Gunung Mulu National Park
Nestled in the heart of Malaysian Borneo, Gunung Mulu National Park is filled with some of the most spectacular caves in the world. For the adventurer who'd like to keep things light, there is also a series of show caves that are great to visit. The Deer Cave is known for having the largest single cave passageway in the world, and to get to it, you have to hike along a 3 kilometer (1.86 miles) long plank walk that takes you through peat swamps, Penan burial caves and several jungle streams to get to. In the evening, millions of bats fly out of the cave in search for food, making it quite a sight to see.
The Wind and the Clearwater Cave have a subterranean river system running though them, and are reached by boat. With impressive cave formations, and unique plant life such as photo-sensitive algae and one leafed plants, these caves are a real sight to see.
For the more avid explorer, I recommend heading to the Sarawak Chamber, which takes 3 hours of rainforest hiking plus an additional 3 hours along an 800 meter long river channel to get to. It's all completely worth it, because the Sarawak Chamber is nothing short of spectacular, and it's so large that it can house 40 Boeing 747's!

Admire the Limestone Pinnacles in Mulu
Mulu is a UNESCO World Heritage Site, and it absolutely deserves it, because the experiences here are nothing short of amazing. The Pinnacles found at Gunung Api are just one example, with razor sharp limestone shards that are almost 45 meters high and quite a sight to behold. The journey to get there involves a boat trip along the Melinau River, followed by a 5 mile mile hike with several river crossings to Camp 5, and finally a 1.5 mile steep and slightly slippery trek upwards to a rocky outcrop that with breathtaking views of the Pinnacles. It's a two-day long trek to make it there, with the final ascent on the second day.
If you're craving even more adventure, from Camp 5, you can also do the two day long Head Hunter's Trail, which follows the route once taken by the Kayan head hunting parties to conduct raids on the tribes in the Limbang area.

Let your nose lead the way to the stinkiest flower in the world
The Rafflesia flower is the largest species of flower in the world; they've been known to grow as wide as 4 feet! When it blooms, it gives off the smell of rotting meat. The best place to see these stinky wonders is the Gunung Gading National Park in Sarawak. The Park has some beautiful trails that take you through pristine forests, lovely waterfalls and refreshingly cool streams to take a dip in. Keep an eye out for hornbills, bearded pigs, civets and porcupines that are commonly seen on the trails.

Beach Bum to your Heart's Content in Sabah
Not all of the experiences in Borneo are Indiana Jones style adventures, in fact, the island is a great place to relax as well! One of the best spots to turn on the chill vibes is at the Tunku Abdul Rahman National Park, composed of 5 different islands and the surrounding seas. With swaths of white sandy beaches, enchanting coral gardens and turquoise blue water, you can spend your day just unwinding on the beaches, or snorkeling in the reefs surrounding the islands. The largest island out of the five, Gaya Island is home ritzy resorts, but also a turtle rescue center and coral reef nursery. Mamutik Island, the tiniest of the five, allows for camping on the beach for stargazing.

Visit a traditional Dayak Longhouse
The native people of Borneo are known as the Dayaks. Comprising over 200 different ethnic groups, each has their own language, culture and traditional customs. They have traditionally lived in communal longhouses, which is a stilted structure that can be hundreds of feet long, with a communal platform, and individual sections for families. People are often invited to a visit by the friendly locals, or go as part of a tour. A visit to a longhouse gives a wonderful glimpse into the culture of these warm people, where they don't let you go without you partaking in dinner, dance performances and indulging in tasty rice wine.
Borneo Fast Facts
What is the best time to go?
March to October is the time of the dry season, when the rains are kept at bay, and the water is calmer. Being a tropical rainforest, you can't really get away from humidity which is a constant presence throughout the year. The dry season is the best time to view wildlife; during the summer, the trees starting fruiting, and the Orangutans and other primates come down from the trees to enjoy the fruity feast. Between March and May, migrating whale sharks can be seen, and from June till September, sea turtles can be seen on the sandy beaches. The dry season is the best time for scuba diving as well, with calmer waters, and visibility being as high as over 100 feet.
What kind of traveler is Borneo best suited for?
Borneo is an ideal destination for those travelers who are looking for an adventure. The island is known for its beautiful landscapes and exotic biodiversity, but not all of it is easily accessible. Some of the best hikes, such as the Headhunter's Trail, or climbing up the summits of Mt. Kinabalu or Mt. Trus Madi can involve long journeys of a day or even longer, and humidity levels can be 80% or more, making for a challenging journey. There are also picture perfect beaches to relax on the beach after a good dose of adventure and beautiful eco-resorts to indulge in a spa day. That being said, Borneo isn't the best choice for those looking to kick it on a beach the entire time, it's an island where adventure combines with splendid beaches, and to really get the most out of a visit to Borneo, visitors should be ready for thrill and adventure.
How to get to Borneo?
Your best access point to Malaysian Borneo is either Kota Kinabalu International Airport or Kuching International Airport; both of which are have frequent flights to Singapore and Kuala Lumpur on Air Asia, Malaysian Airlines and Silk Airlines. No visas are needed to Malaysia; US Citizens get a 3 month long visa on arrival.
How much to budget for a trip to Borneo?
Logistically, Borneo isn't expensive to move around in, as the inner flights, accommodations and permits are quite cheap.
Borneo offers something for everyone in terms of accommodations: I like the boutique, charming hotel offerings in the island's major cities, like for example The Ranee, running at just $100 a night. When staying at the island's beach front locales, resorts like Gayana Eco Resort, Gaya Resort and Le Meridien Kota Kinabalu are at most $350 a night.
However, activities such as scuba diving, river cruises and safaris tend to comprise a big part of the budget, but keep in mind that these experiences often include accommodation as well. The river cruise can range from $65 for a half day cruise to $250 for a 3 day experience; diving in Sipadan can be anywhere between $85 for a Discover Scuba course to $680 for a 4 day dive package; a 3 day trip to Danum Valley starts at $350 whereas a 5 day trip to Mulu comprising a visit to the Show Caves, Pinnacles and trekking along the Head Hunter Trail costs around $600.
Food is relatively cheap in Borneo; on an average you won't spend more than $25-$30 a day.
How many days are needed to really see Borneo?
There are so many things to see and do in Borneo, and since it's quite the flight to get out there, I recommend ideally spending 14 days there. Of course, you can choose to focus on a particular part of Borneo and cut the length of the trip, but then again, Borneo is a once-in-a-lifetime kind of destination. You wouldn't really want to miss out on anything, would you?
Is Borneo safe?
Borneo is quite safe for travelers of all genders, however, like with any other destination, precautions should be taken. There have been cautionary advisories issued regarding travel to the very remote islands off the coast of Sabah since 2013. This is due to a few kidnappings that have been reported, but most of this activity is concentrated on the islands close to the Philippines. Tour companies have strong emergency safety and emergency protocols in place, and Borneo receives millions of visitors every year, thousands of whom have visited these islands without any problems.