So You Want to Visit the Philippines?
November 13, 2019 | by Riana | Posted in Asia, Places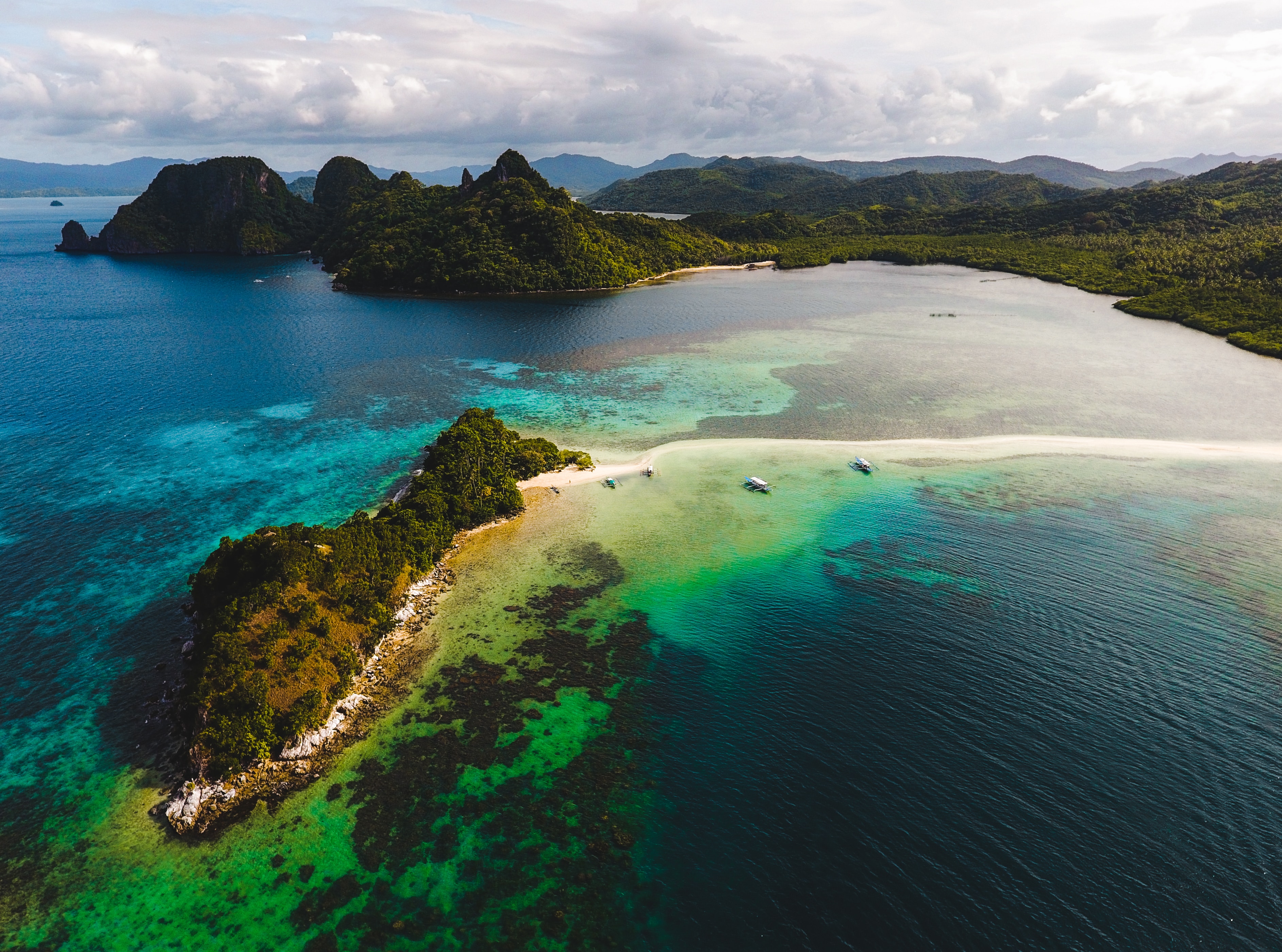 The Philippines is hotter than ever this year! More and more people are wanting to visit the Philippines and have it on their radar as a must-see destination. So maybe you've seen the photos of beautiful beaches and island paradises, heard tales of the legendary food and hospitality, or know a friend of a friend who spent time there, but what do you know about the Philippines? Most people love the idea of this island nation but have no idea how to actually plan a trip there. Which makes sense, since there are over 7000 islands to choose from! 
We're going to break it down for you and help you understand everything you need to know in order to visit the Philippines. 

Understanding the Philippines
The Philippines is an island nation in Southeast Asia, east of Vietnam and north of Indonesia. It's the only country in the region that isn't connected by land to another country, meaning a visit there is going to take a bit of dedication and planning. The Philippines is made up of more than 7000 islands and is home to over 105 million people. 
A perfect spot for island hoppers, a visit to the Philippines has something for everyone whether you're looking for culture and cuisine, snorkeling, surfing and scuba diving, or hiking to find unique wildlife and rice terraces. The islands that make up the Philippines each offer something different, making a trip there a little overwhelming if you're not sure where to start. 
The Philippines is as safe as anywhere in Southeast Asia. Like every country, there are regions you may want to avoid as a visitor, but any violence is usually contained to a specific area. If you keep your wits about you, you won't have any problems. 
One of the reasons why people visit the Philippines is because it's one of the cheapest places to travel – and one of the most beautiful! $1 USD is worth about 60 Philippines pesos (at the time of writing) and a meal at a local eatery with a bottle of domestic beer should set you back no more than $5. Accommodation options are also inexpensive, as is transportation between cities and islands. 
Another reason to visit the Philippines? English is widely spoken! While over 170 languages and dialects can be found in the Philippines, English and Filipino are the official languages. Which means it's very easy for English-only speakers to get around. In addition to no language barriers, there's also very little barrier to entry. US visitors only need a valid passport and return ticket in order to visit the Philippines for under 30 days – no visa is required! (Be sure to check the official State Department page for up to date information.)
Lastly, the Philippines is drawing visitors from all over the world thanks to their legendary hospitality and kindness. Locals are known for being warm and friendly. Tourism is encouraged and visitors are always greeted with a genuine smile. You'll know you've really been welcomed in the Philippines when a local invites you to share the karaoke stage with them! 

When to visit the Philippines
While the Philippines is a primarily tropical country, its dispersed islands mean you could see sunshine in one part of the country and rainstorms in another on the very same day. The country is divided into four climate zones, with dry and wet season alternating depending on where you are located.
Typically speaking, the Philippines enjoys a hot season (March to May), rainy season (June to November) and cool season (December to February). Of course, you'll want to check ahead that your islands of choice line up with these seasons. The Philippines is also located within a typhoon belt, meaning typhoons are a risk from July to October. It's best to avoid travel during this time. If you're visiting near or during typhoon season, be sure to follow weather reports to ensure you stay as safe and dry as possible. 
Most travelers visit the Philippines from March to May, during the hot season and before the typhoons. This is usually when prices are highest and crowds are largest. Other popular times are around New Year's and Easter, both major celebrations in the Philippines. If you're traveling during this time, be sure to book your accommodation well ahead of time. 
At allé, we're big fans of traveling during the shoulder season. We think the perfect time to visit the Philippines would be in November or May, on the shoulders of the dry season. The cool season, from December to February, is also a great time weather-wise, but may be slightly more crowded than shoulder season. 

How to spend your time in the Philippines
Now that you have a better understanding of the Philippines, where it is, why it's so popular and when to go, it's time to figure out where to go and for how long.
Most international flights from the US will fly into Manila, the capital of the Philippines, or Cebu, another large city, after a connection elsewhere in Asia. Some flights will stop twice (once in the US or Europe and again elsewhere in Asia) but there are also direct flights available from JFK to Manila. Direct flights are 17 hours long and connecting flights can have 20-30 hours of travel time. Because of the amount of time it takes to get to the Philippines, and the difference in time zones causing you to lose a day, we recommend at least 10 days for a visit. 
10 or more days will also give you enough time to visit various islands of interest. While the Philippines is well-connected, the islands are spread out and it can take a while to travel from place to place. You may need to take a plane, bus, taxi, and/or boat between cities and islands, so it's important to leave time in your itinerary to get from place to place. 
Given the long travel times between cities, and the amazing amount of things you can do in each spot, we'd recommend staying at least three nights in each stop on your itinerary. So on a 10 day trip, you could have three bases, where you stay three nights each, and an extra day for flying to the Philippines. Of course, everyone's travel style is different, but we think this is a great pace for discovering the Philippines!  

Where to go in the Philippines 
Below we're breaking down the main islands and hubs in the Philippines so you can get an idea of where you should go on when you visit the Philippines. 
Palawan Island
Palawan Island is probably the most well-known island in the Philippines, home to hot spots you may have heard of like Puerto Princesa, Coron and El Nido. 
Puerto Princesa is popular with visitors thanks to its famous Underground River. If you're visiting during high season, you may want to skip this spot as it can get very crowded. But there's lots more paradise to discover in Coron and El Nido.
If you're after picturesque limestone rocks, island hopping, and diving amongst shipwrecks, you won't want to miss Coron. This is the spot in the Philippines to get on (and under) the water to explore the best of nature and history. You can join a group or charter a private boat and visit places like Siete Pecados Marine Park, Barracuda Lake and Kayangan Lake.
Consistently named one of the world's best beaches, El Nido is the place to enjoy a more remote version of island life. Like Coron, you'll want to spend your time here out on the water, taking in the breathtaking scenery. Island hop around spots like 7 Commandos Beach, Snake Island, Cudugnon Cave, Nacpan Beach and Black Island. To truly enjoy your time, charter a private boat and explore at your own pace. 
How to get there: You can fly from Cebu or Manila to Puerto Princesa, and then take a 5-6 hour shuttle bus to El Nido. From there, you can take a three hour fast ferry to Coron, a slow 6-9 hour boat, or a short 40 minute flight. You can also fly from Cebu or Manila directly to Busuanga Airport in Coron, though these flights are usually more expensive than ones to Puerto Princesa. 
Boracay Island 
Boracay Island is best known as the party capital of the Philippines. Or at least, it was. In 2018, the island shut down for a six month rehabilitation due to over-tourism which was hurting the island's natural resources and polluting the waters. It recently re-opened with strict rules in place meant to preserve the island's beauty and cut back on tourism numbers.
"New Boracay" is still in its infancy and it remains to be seen if the new regulations will help or hurt the island in the long-run. These new regulations have halved tourist numbers in places, and banned many of the activities that were once so popular in Boracay like beach parties and hitting the casinos. If you're looking for legendary nightlife, you might not find that in Boracay anymore. But what you will find is a more serene and protected island, eager to do tourism the right way this time.  
Underneath its party exterior, Boracay is still one of the most beautiful places in the Philippines and could be worth adding to your itinerary. Check out the famous White Beach (now free from drinking and smoking), take a boat to Puka Beach, visit Spider House, watch the sunset at Diniwid Beach and dine at Talipapa Seafood Market. While some activities (like scuba diving and kite surfing) have been banned, you can still enjoy many activities like parasailing, horseback riding, jet skiing and free diving. Check out this guide for more information about the latest on Boracay Island. 
How to get there: From Manila or Cebu, you can fly into Caticlan (the closer airport) or Kalibo airports. From either airport, you'll take a bus to Caticlan Jetty Port (five minute drive from Caticlan Airport or two hour drive from Kalibo Airport) and then a 10-20 minute boat ride to Boracay. 
Cebu
Cebu is one of the Philippines' main metropolises and home to an international airport. It's the perfect spot for those who prefer urban exploring, but still want to get their fill of nature at the nearby beaches and mountains. It's also a great base for arriving into the Philippines and for exploring the rest of the country. 
Scuba divers will want to check out Malapascua, Moal Boal and Pescador Island – where you have the chance to dive with sharks. Kawasan Falls, an Instagram highlight in the area, are a must-see and a great place for canyoneering, if you're feeling more adventurous. You can also explore Tumalog Waterfalls and Mt. Matutinao, and take a boat to Mactan. Cebu is the perfect place to indulge in some Filipino delicacies like lechon de Cebu (roasted pig), pochero (beef stew), ngohiong (spring rolls made of bamboo shoots and pork) and halo halo (a must-try Filipino dessert!). 
How to get there: Cebu is one of the main hubs of the Philippines, so your international flight can arrive directly at Cebu's Mactan International Airport. From Cebu, there are regular flights and ferries to other islands in the Philippines. 
North Luzon and the Rice Terraces
When you tire of white beaches and blue seas (impossible, we know), you'll want to head to the less traveled region of North Luzon. This part of the Philippines is most well known for the beautiful Banaue Rice Terraces. In fact, they've been named a UNESCO World Heritage Site, so certainly a must-visit during your time in the Philippines. 
Here you can stay overnight at a local homestay to experience the local way of life as a rice farmer. Admire the 2000 year old rice terraces, starting with the popular Banaue and trekking farther to Batad, if you're up for it and want to get away from the crowds. You can also spend your days visiting nearby waterfalls, checking out the caves in Sagada, and finding the hanging coffins in the Echo Valley! 
How to get there: From Manila, it's about a nine hour bus ride to North Luzon. You can take an overnight bus and arrive at the rice terraces in the morning. 
Bicol Region
Think the Philippines is just beaches? Think again! This diverse country is also home to one of the world's most beautiful volcanoes, Mayon Volcano in the Bicol region. Mayon Volcano is over 8000 feet tall and is active, having last erupted in 2018. Before you make plans to visit the region, be sure to check the latest activity to ensure it's safe. Once you have the all-clear, you can join a three to four day trek to reach the summit.

Besides Mayon, you'll also find remote islands in the Bicol Region, perfect for escaping the crowds. Camp on Calaguas Island, swim in the Tayak Lagoon or take a boat around the Caramoan Islands. There's also Camsur Watersports Complex nearby, the perfect place for adrenaline junkies looking for extreme water sports! 

How to get there: From Manila, you can fly to Legazpi City Airport, which is just a short drive from the base of the volcano. Alternatively, you can take a longer (10 hour+) bus ride from Manila to the Bicol Region. 
Manila
Last but not least on our list is Manila, the capital of the Philippines. Manila is a busy international hub and may be where you fly into to start your Philippines trip. This city is full of people, Spanish colonial architecture, and delicious street food. There's always something going on! 
While the real beauty of the Philippines isn't found in its busy cities, you may enjoy spending a night or two in Manila. Take a jeepney to visit the Spanish-style Intramuros, go shopping at the Mall of Asia (one of many mega-malls in Manila), dine in Binondo (Manila's Chinatown), and enjoy the city's nightlife. Manila is also a great base for day trips. From Manila you can visit Mount Pinatubo volcano, hike in the Batangas or visit Taal Lake. 
How to get there: As an international hub, you may find Manila is the easiest place for you to arrive from the United States and start your Philippines travels. Manila is well connected to many other islands and regions of the country, making it the perfect place to enter or exit. 



Where to go if you like…
By now you should have a pretty good idea of what the Philippines has to offer and where you'd like to go during your stay. But in case you need a few more suggestions, here are our top picks based on your interests. 
Scuba diving: Divers should head to great dive spots like Tubbataha Reefs Natural Park, Malapascua, Puerto Galera, Apo Island, Okikawa Maru in Palawan, and Yapak in Boracay.
Beaches: There are countless beautiful beaches in the Philippines but some of the best include Nacpan Beach and Duli Beach in El Nido, Paradise Beach on Bantayan Island,  Bounty Beach on Malapascua Island, Alona Beach on Panglao, and White Beach on Boracay (now that it's been cleaned up). 
Surfing: Catch a wave in Siargao ("Surfing Capital of the Philippines"), La Union, Baler, Pagudpud, Lanuza Bay and San Antonio. 
Hiking: Get your steps in while getting some of the best views in the Philippines hiking Mount Batulao, Masungi Georeserve, Mount Daraitan, Mount Maculot, Tarak Ridge, Mount Pulag, Kibungan Circuit and Mount Pinatubo.
Pin it for later: