Why You Need to Visit Northern Thailand
July 24, 2019 | by Riana | Posted in Asia, Places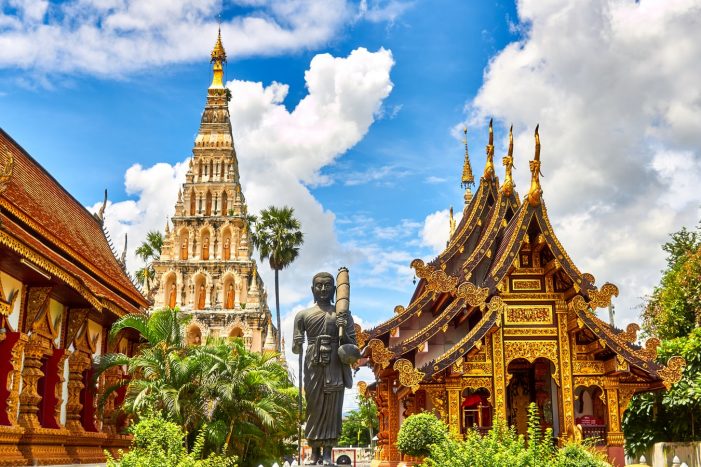 Northern Thailand is one of the most amazing places to visit in Southeast Asia. While the big city of Bangkok and the islands off of Phuket and Koh Samui get most of Thailand visitors' attention, the north is not to be missed. Whenever we have clients return home from their trip to Thailand, without a doubt, the north is always a top highlight. Visit Northern Thailand for the perfect place to go for culture, diverse landscapes and delicious food. Plus, it's a lot cheaper and has cooler temperatures than what you may find in the south. From temple hopping and mountain climbing, to waterfalls and elephant encounters, there's something for everyone in Northern Thailand.
Chiang Mai cafe culture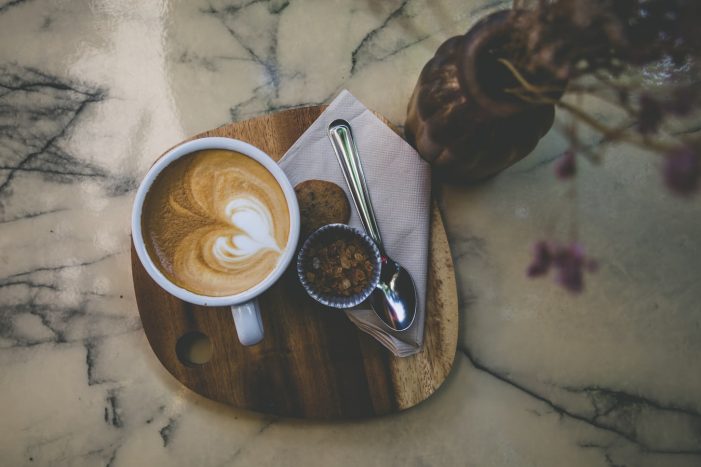 If you're after a good cup of joe, you'll be sure to find it in the coffee capital of Thailand, Chiang Mai. A stroll through the cafes in Chiang Mai's Old City might have you thinking you accidentally stumbled into a trendy Melbourne coffee district.
In the 1980s, coffee and tea crops were introduced to the mountain regions surrounding Chiang Mai. A strain of Arabica from Central America was successfully planted and the coffee industry was off! These days, Thailand is the third largest coffee producer in Asia and the cafe culture is strongest in Chiang Mai. Here you'll find both expat and locally owned cafes, many of which are decorated in more Western styles. The cafe culture has even expanded to include nitro cold brew coffees, cocktail bar and coffee shop hybrids, and (a favorite among the many digital nomads) co-working spaces serving up some of the finest local beans.
If you're in Chiang Mai, be sure to visit some favorites like Australian inspired Ristr8to, Good Morning Chiang Mai with its beautiful garden, and the suitably named, Coffee Lovers.
Old City temples in Chiang Mai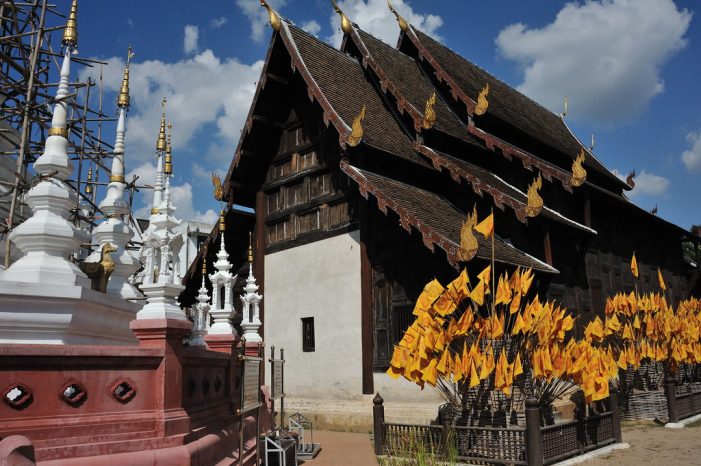 In addition to wonderful cafes, Chiang Mai's Old City is also home to over 300 temples (!). The best way to explore this maze of temples is on foot and without a map; let yourself get lost in the Old City and see what you happen to stumble upon.
Notable temples include Wat Phra Singh, completed in the 14th century and home to beautiful murals, and Wat Chedi Luang, with its distinct architecture. Just outside of the Old City walls you'll find Wat Umong, a temple comprised of a series of tunnels, as well as the famous Wat Phrathat Doi Suthep, a golden temple set in the mountains.
White Temple in Chiang Rai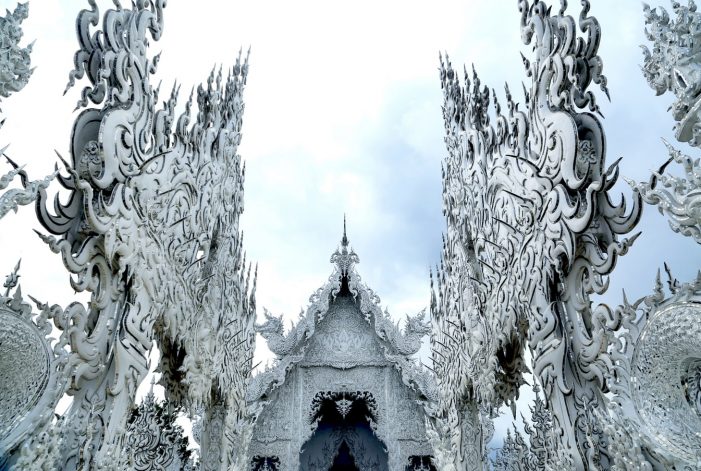 The main attraction in Chiang Mai is Wat Rong Khun (The White Temple), which is visually stunning thanks to its all white coloring. The Buddhist temple was created by Thai artist Chalermchai Kositpipat. Despite being a religious site, this temple is often regarded as much more modern and quirky than typical Thai temples, with symbols of Hello Kitty, The Matrix and Superman found throughout.
After the White Temple, it's time to head to the Black House, or Baan Dam Museum. Artist Thawan Duchanee is responsible for this morbid sight meant to be a portrayal of hell complete with animal bones and demonic art. Thawan actually lived in the house before his death in 2014!
In addition to its famous temples, Chiang Rai has many other things to discover. Here you can watch the golden clock tower show, ride a boat along the Kok River, relax in the waterfalls of Khun Korn Forest Park, explore the mountains inhabited by hill tribes, and jet off to nearby Laos or Myanmar.
Elephant encounters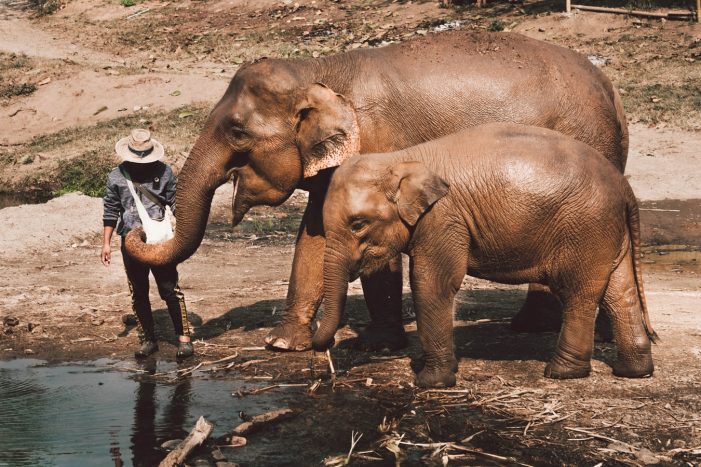 Many travelers visit Northern Thailand in order to see the famous Asian elephants up close. The elephant has been an important animal in Thailand for thousands of years. In Buddhism, the elephant is a sacred animal and you'll see it depicted in many temples throughout Thailand. As the national animal of Thailand, elephants were used in ancient times for manual labor and by royalty. In recent years, elephants are mostly seen in the tourism industry.
Sadly, these elephants became an endangered species in 1986, mostly due to over-logging eliminating their habitat. The government, in addition to many local organizations, worked to help protect these animals and conserve what's left of their natural habitat. Unfortunately, not all efforts are as humane as they should be.
In Northern Thailand, many organizations offer elephant encounters – from rides and shows to feeding and observing. Not all of these organizations follow ethical animal tourism practices. For more information on how to ensure you're interacting with animals as responsibly as possible, check out our post on ethical animal tourism. Hands down our favorite options for elephant encounters in Northern Thailand is Elephants@Home.
Khao Soi and delicious Northern Thailand foods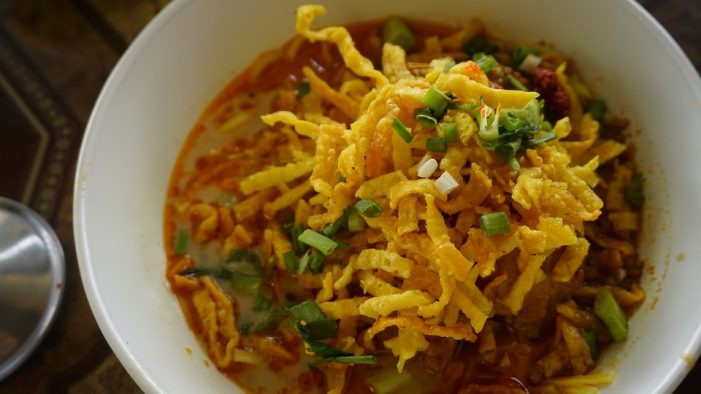 One of the best parts of a journey to Northern Thailand is the cuisine! This region produces Thai food you may not find on a menu back home – it's not just Pad Thai and green curry up north. Traditionally the food in Northern Thailand is based on a staple of sticky rice, and uses less coconut and spices than in the south. It also relies on seasonal produce grown in the cool mountainous region.
Khao Soi is one of the most well known (and most delicious!) dishes from Northern Thailand. This dish is wheat-and-egg noodles in a rich, yellow curry, often served with meat, like chicken or pork, and topped with crunchy noodles. Other notable dishes include Gaeng Hung Lay, a curry made with garlic, ginger, spices and pork belly, Jin Dup, a tough piece of beef that has been marinated and made tender, and Nam Phrik Ong, a chilli dip made with tomatoes and minced pork.
Hippie hangouts in Pai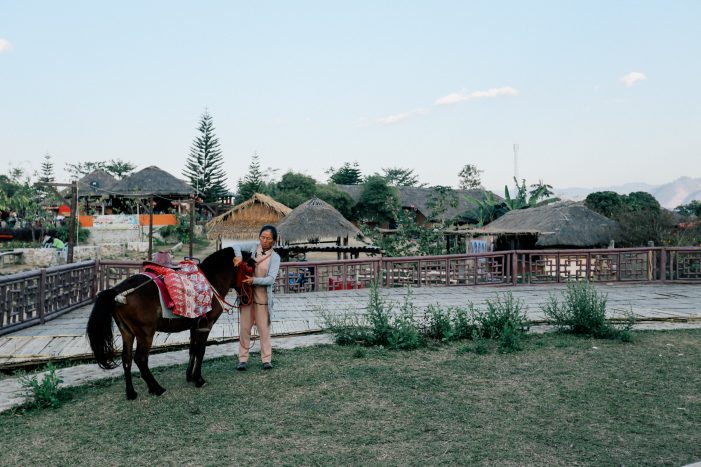 After Chiang Mai, the most popular town in Northern Thailand would have to be Pai. Pai is known as the hippie hangout of the north, a laid back place where backpackers can recharge. While Pai still retains its hippie roots, it's not nearly as quiet or serene these days, thanks to its increasing popularity.
But Pai is still a great stop on your visit Northern Thailand itinerary. Here you can take a yoga class, get a massage, and frequent one of the many health shops selling organic products and vegetarian meals. Here you'll find juice shops, meditation centers, healing workshops and health retreats.
And you'll also find a raging nightlife. With this many backpackers in one place, things can get a little crazy. When you need a break, head to the nearby countryside for a trek through the mountains or an afternoon of white water rafting.
Hiking in Mae Hong Son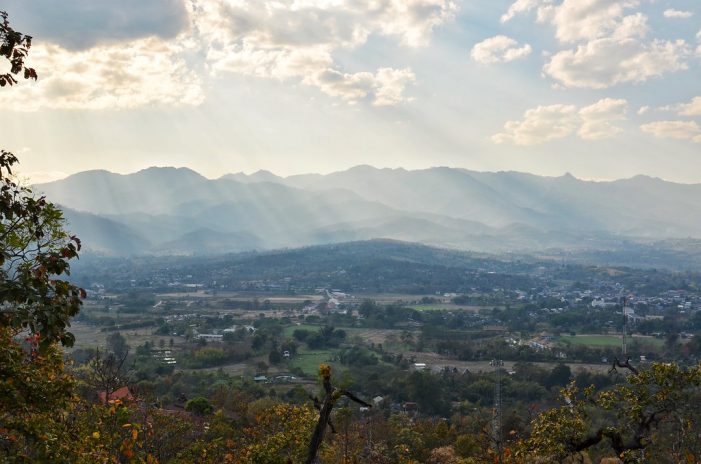 Mae Hong Son is a small town located close to the border of Myanmar. This is the perfect place to go if you're interested in hiking and trekking across the countryside. Guides will take you out to the Su Tong Pae Bamboo Bridge, Tham Pla Fish Cave, Pha Sua Waterfall, Pang Tong Palace, or Wat Phra Non reclining buddha.
Once back in town, spend your time relaxing by the lake and watching the locals practice Tai Chi. Enjoy eating at one of the many cafes or restaurants, and shopping at the nightly walking street market. Take a break from big city life, get back to nature and explore a different side of Thailand in Mae Hong Son.
Going back in time to Sukhothai Historical Park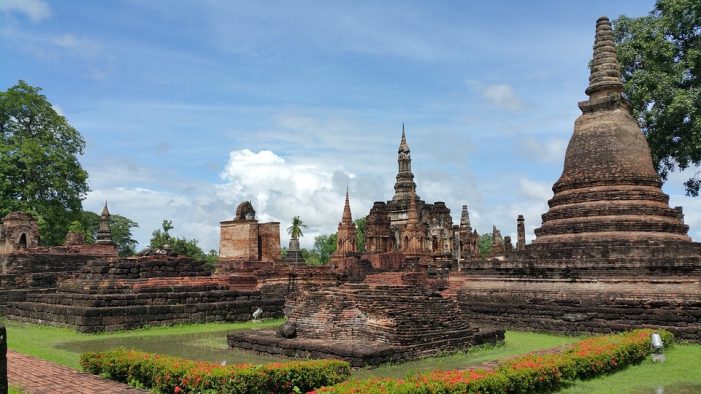 Sukhothai was Thailand's first capital city, the capital of Siam founded by King Ramkhamhaeng. In the 13th Century, Sukhothai was the heart of Thailand. Today, this ancient city is a playground of ruins for visitors to explore and see what life was like 800 years ago.
Sukhothai Historical Park is a UNESCO World Heritage Site and divided into four separate sections. After paying a small admission fee, you'll be granted access to a park filled with giant Buddha statues, crumbling temples and idyllic lakes covered in lily pads. You'll think you stumbled into the temple grounds of Angkor Wat!
After the park, you can continue to discover the area paying a visit to Ramkhamhaeng National Museum, Ramkhamhaeng National Park, Sri Satchanalai National Park, and Wat Mahathat.
Climbing cliffs in Chiang Dao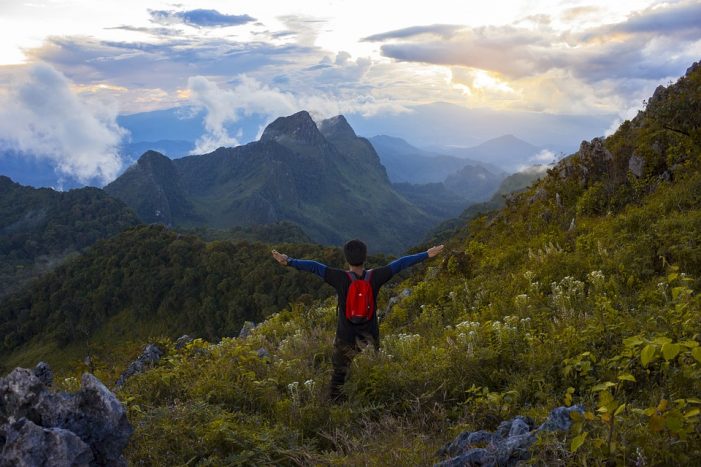 Nature lovers will feel completely at home in Chiang Dao, Northern Thailand. Here you'll find giant limestone cliffs and one of Thailand's tallest mountains, Doi Chiang Dao. Spend your days hiking, caving and spotting some of the over 300 bird species. You can also visit Pha Daeng National Park, a great place for trekking through bamboo forests, spotting rare wildlife, and walking along Northern Thailand's main river systems.
When you tire of scaling cliffs, you can relax in Chiang Dao's other famous natural wonder, hot springs. Soak in one of the natural hot springs, a welcome spot if you happen to be visiting Chiang Dao during the chilly winter months.
Only 90 minutes from Chiang Mai, Chiang Dao is the perfect place to get back to nature.
Shopping in Lampang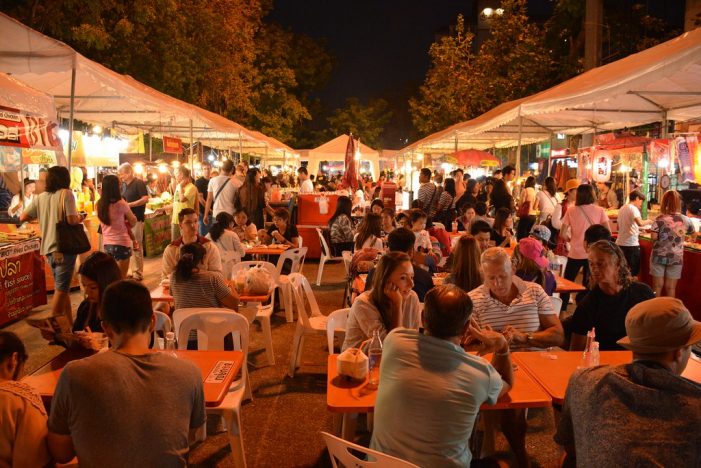 As the third largest town in Northern Thailand, Lampang definitely deserves to be on your Thailand itinerary – especially if you love to shop. On the weekend, the Gad Gong Tha night market takes over Lampang. Here you'll be able to buy everything from delicious Thai snacks, meals and drinks to souvenirs like local ceramics or paper made from elephant dung.
When you need a break from your retail therapy, Lampang has lots more for you to discover. The town has a rich history, with people living there for over 1000 years. Visit the emerald Buddha at Wat Phra Kaew Don Tao, the murals at Wat Phra That Lampang Luang, and Ban Sao Nak, or House of Many Pillars. As one of the few places in Thailand where tuk-tuks don't exist, you'll have to get around on foot, by songthaew (covered pickup truck), or on horse-drawn carriage.
Thailand's highest mountain: Doi Inthanon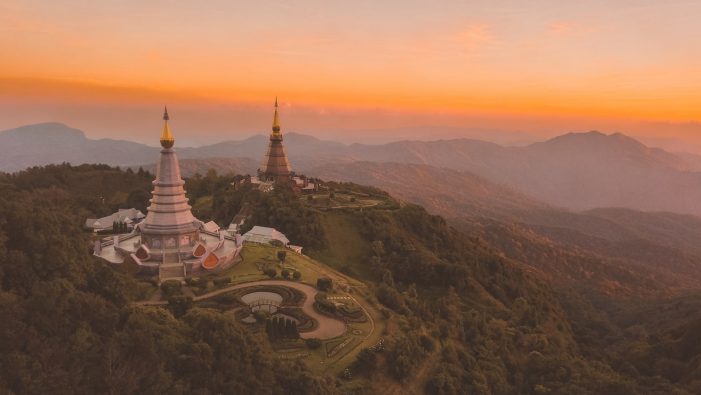 In Chiang Dao you are able to visit Thailand's third tallest mountain. Now it's time to visit Thailand's tallest mountain, Doi Inthanon. Doi Inthanon is located in Doi Inthanon National Park, a place that will make you feel like you've been transported out of Thailand.
Home to Thailand's highest mountain, this park is at a high elevation and can even experience frost in the winter – which you won't see in any other part of Thailand. Hike along the Ang Ka Nature Trail and be sure to stop at the park's famous waterfalls: Mae Klang Waterfall, Mae Ya Waterfall and Sirithan Waterfall. When you need a break, stop by the Hmong Market to meet locals and purchase some snacks and souvenirs.
Embracing culture in Nan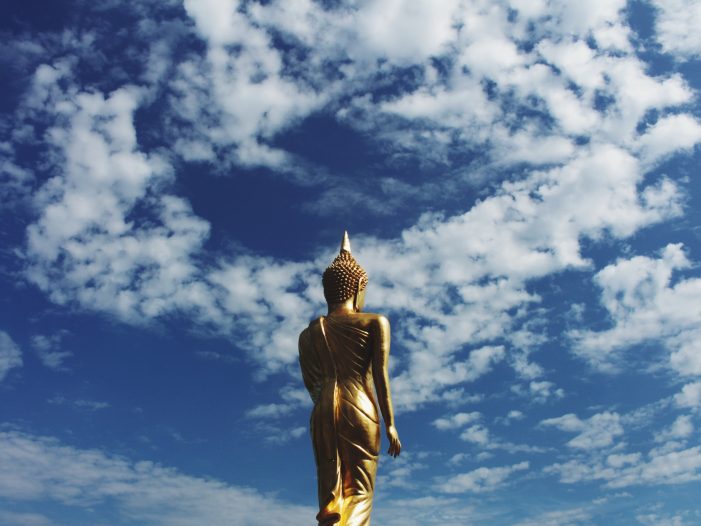 If you're more interested in culture, history and tradition, Nan is the perfect place for you. Back in the 14th century, Nan was a city state in the Lanna Kingdom. It grew to be a successful area, thanks to its location halfway between Chiang Mai and Luang Prabang, Laos. In 1931, Nan officially rejoined Thailand, making it a relatively new Thai city but a very historic town in the area. Learn more about Nan's interesting heritage by visiting the Nan National Museum.
For more history and culture, stop by the King of Nan's Teak House and see the murals at Wat Phumin. Head up to the Blessing Buddha at Wat Phra That Khao Noi for beautiful views over Nan. End your night walking along the Nan River shopping the walking street market and watching boat races on the water.
From Nan, you can also visit nearby Phayao, a peaceful lakeside town. Visit Wat Tilok Aram, go fishing on the lake and enjoy some of the delicious regional food.
Visiting Thailand's oldest city: Chiang Saen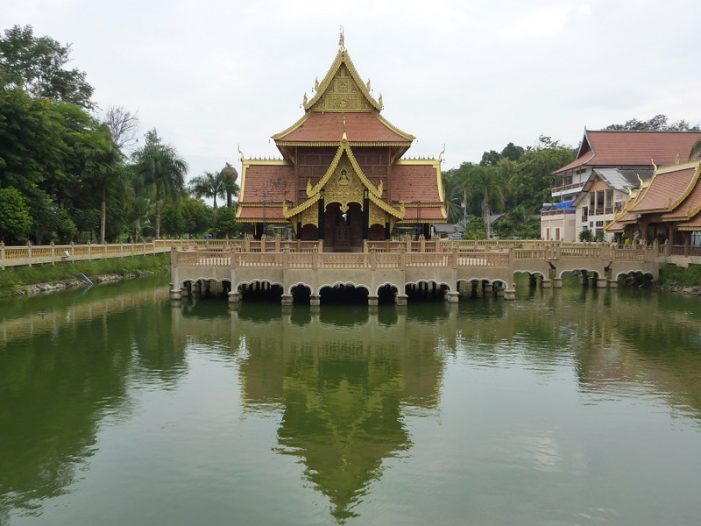 If you really have a heart for history, you'll have to visit Thailand's oldest city, Chiang Sean. Back in the Lanna Kingdom days, Chiang Saen was known as Wiang Hiran Nakhon. It was the capital city before Chiang Rai was established in 1262.
Chiang Saen sits along the Mekong River and borders Laos and Myanmar, making it the perfect place to continue your Southeast Asia travels. Learn more about the area by visiting the Chiang Saen National Museum and then wander the town's famous temples, Wat Pa Sak, Wat Phra Chao Lan Thong and Wat Phra That Pha Ngao. In the evenings, join the locals by dining at one of the street-side vendor stalls, sitting on plastic chairs, and enjoying the best of Northern Thai dishes.
Are you ready to visit Northern Thailand?
Pin it for later: