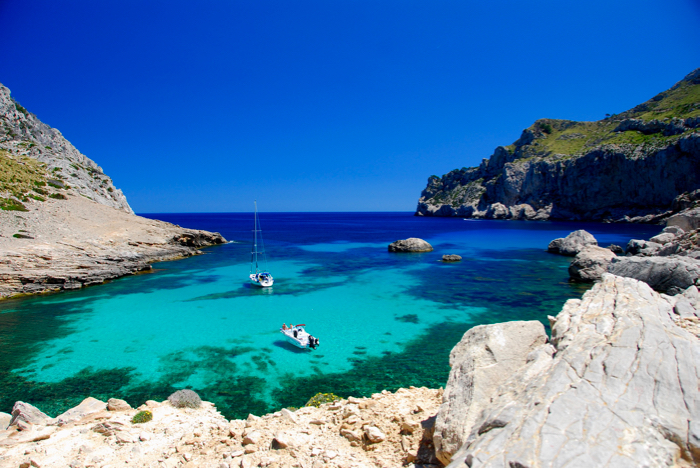 With summer on our heels, flight prices at an all-time low and an amazing US Dollar – Euro exchange rate, Europe is definitely having its time in the sun right now as far as travel is concerned. And while some destinations are timelessly and perfectly fit for a summer vacation to Europe (I'm looking at you, Greek islands), Europe actually has quite a few islands to choose from, some that you may not have even heard of. Yet.
I've compiled my favorite of the less-than-obvious and a bit off the beaten path, undiscovered islands in Europe below:
Gozo, Malta
Part of the entirely independent southern European island nation of Malta, which lies just off the southern coast of Italy, Gozo is the main island's sleepy and incredibly laid back sister. Though most of Gozo's visitors head here as part of a day trip for a break from Malta, I'm a big proponent of dedicating an entire vacation to Gozo. You'll quickly notice that all roads in Gozo, though there aren't many of them, lead to the citadel in Rabat, a stunning fortified city that has somehow managed to stand the test of time in the most charming of ways. A boat trip along the coast of Gozo is a must; the coastline is full of amazing cliff formations, even though the famous and very beautiful Azure window has recently collapsed. There's a great walk along the Marsalforn promenade that will take you to the (even more) remote areas of the island, and all along the way you'll spot Roman salt pans that have also miraculously stood the test of time.
How to get there: Fly into Malta's main airport (MIA), transfer by bus or private driver to Cirkewwa port, about a half-hour drive, and from there take one of the hourly ferries across to Gozo. The ferry ride takes about 25 minutes. It's a good idea to rent a car in Gozo so that you can get around with ease- I like Mayjo Car Hire.
Where to stay: Thirty Seven is a boutique property that is nothing short of stunning, while Murella Living offers a taste of very affordable luxury.
How long to stay: You can easily keep yourself busy for at least 7 days in Gozo, and of course much longer, too, if you want to focus even more on relaxing.
Ile des Porquerolles
,
France
Dubbed the French Riviera's last frontier, this unspoiled and incredibly peaceful island lies just a few miles from the lush debauchery and excess that St Tropez is so famous for. And though day trippers do frequent the island during the peak months of July and August, they don't get too far; two thirds of the island, from its bright- white sandy beaches to its pine and eucalyptus woods are part of a large protected national park. The best part of a visit here is that cars other than service vehicles are simply not allowed. Instead, set out on foot or on bike to explore the rough unpaved trails and enjoy a picnic lunch on a beach that is entirely yours. Take a self-guided hike to explore the stone forts along the harbor that defended the islands against pirates, and later, the Nazis, or spend a day visiting the tiny vineyards. And of course, the beaches, spend lots and lots of time on the island's beaches.
How to get there: Fly into Toulon- Hyeres airport, take a short taxi ride to the port and from there ferries depart hourly. The ferry ride only takes 15 minutes.
Where to stay: Le Mas du Langoustier is absolutely the most stunning property on the island, perched above two coves with an amazing view. 
How long to stay: If you're an active, adventure-seeking traveler, 3-4 days will definitely be long enough to explore the island as it's so tiny; stay longer if you want more time to relax and unwind.
Dugi Otok, Croatia
Just off the coast of Zadar, Dugi Otok island is the kind of place that feels completely suspended in time, even during the rush of high tourist season. Laze on Sarakun beach, one that many (including myself) consider to be the most beautiful beach in all of Croatia, explore tiny and colorful fishing villages with the most amazing backdrop of the bright blue sea, and of course make sure to spend a day in Telascica Nature Park to explore its seaside cliffs and saltwater fed lake. Dugi Otok serves as a great gateway to Kornati National Park, a collection of protected islands that offer amazing snorkeling, beach hopping and hiking opportunities- the best way to explore these islands is on a speedboat or sailboat. And back on Dugi Otok, be sure to set aside time to explore the vineyards, orchards and sheep pastures; they offer a welcome retreat from the sea and sun.
How to get there: You can fly into Zadar airport or drive to Zadar as a part of a larger Croatia itinerary. From Zadar, ferries leave every 4 hours and take about an hour to get to Dugi Otok. You'll definitely want to have a car with you in Dugi Otok.
Where to stay: If you're looking for a 5* resort, this isn't the place for you. Hotels are modest and frankly not too impressive. Instead, consider apartment/ home rentals for a real taste of local life. For example, I love this Romantic Stone House on the airbnb network. 
How long to stay: If you're super active and on the go, you'll run out of things to do in about 2-3 days, so it's best paired with a visit to Croatia's mainland or a few other islands. If you're in the mood to kick it for a while and relax, staying for longer is a great idea.
Canary islands, Spain
Off the coast of mainland Europe but far south enough to be more close to the climate of the African continent, the Canaries enjoy a warm season that's much longer than many of the other European islands. Here you'll find a little bit of everything- and I mean everything- volcanoes, pine forests, sand dunes, dramatic mountains, tumbling waterfalls, charming seaside villages and lava fields. And of course, lest we forget the beaches, which range from white sand to black sand, tourist-packed to remote, and everything in between. Best of all, the Canaries have recently turned into a true foodie destination, with boasting fresh tropical fruits, delicious wine (and vineyards), local cheese-mongers, colorful markets and restaurants that are at the top of their class for fusing tradition with modern fare.
How to get there: All 7 of the islands have airports of their own, with Tenarife airport being the main one that handles traffic from the rest of the world.
Where to stay: There are many soul-less chain hotels to choose from here, but I recommend avoiding those and going the route of somewhere small and local, like Avanti Hotel Boutique or Baobab Suites 
How long to stay: At least a week, ideally closer to 10 days; there's a lot to do here, especially if you make it a point to explore more than one island (as you should)
Azores islands, Portugal
Nine islands about a thousand miles off the coast of Portugal, virtually smack dab in the middle of the Atlantic Ocean, the Azores quite literally feel like heaven on earth. Pristine beaches, bright blue lakes, cascading waterfalls, ancient tiny fishing towns and even 15th century churches can be found here. But the real highlight is mother nature in all of her unspoiled, completely unadulterated glory.  So much so that UNESCO has even designated three of the islands as official biospheres, so as you can imagine, the hiking, diving and whale watching opportunities here are second to none. Located at the meeting point of the European, American and African tectonic plates, the Azores are also home to scalding hot springs, caverns, mudpots, lava tubes and fumaroles. And of course, the beaches; a whopping 30 of the beaches here are Blue Flag beaches– which means they are squeaky clean and well maintained.
How to get there: João Paulo II Airport (PDL) is the main portal to the rest of the world, with flights between a few North American and European cities. Ryanair and EasyJet now fly there as well.
Where to stay: I absolutely love the villa rental options at Santa Barbara eco-resort, staying here is the best way to experience the islands. 
How long to stay: At least a week; it's a long journey to make it out here so be sure to make it worthwhile by exploring these islands in all their glory.
Subscribe to our newsletter
For the latest and greatest in off the beaten path travel stories and travel tips.

Join our mailing list to start receiving exclusive content only our newsletter members have access to.

Comments
comments