Thailand island hopping
July 10, 2015 | by Irina | Posted in Asia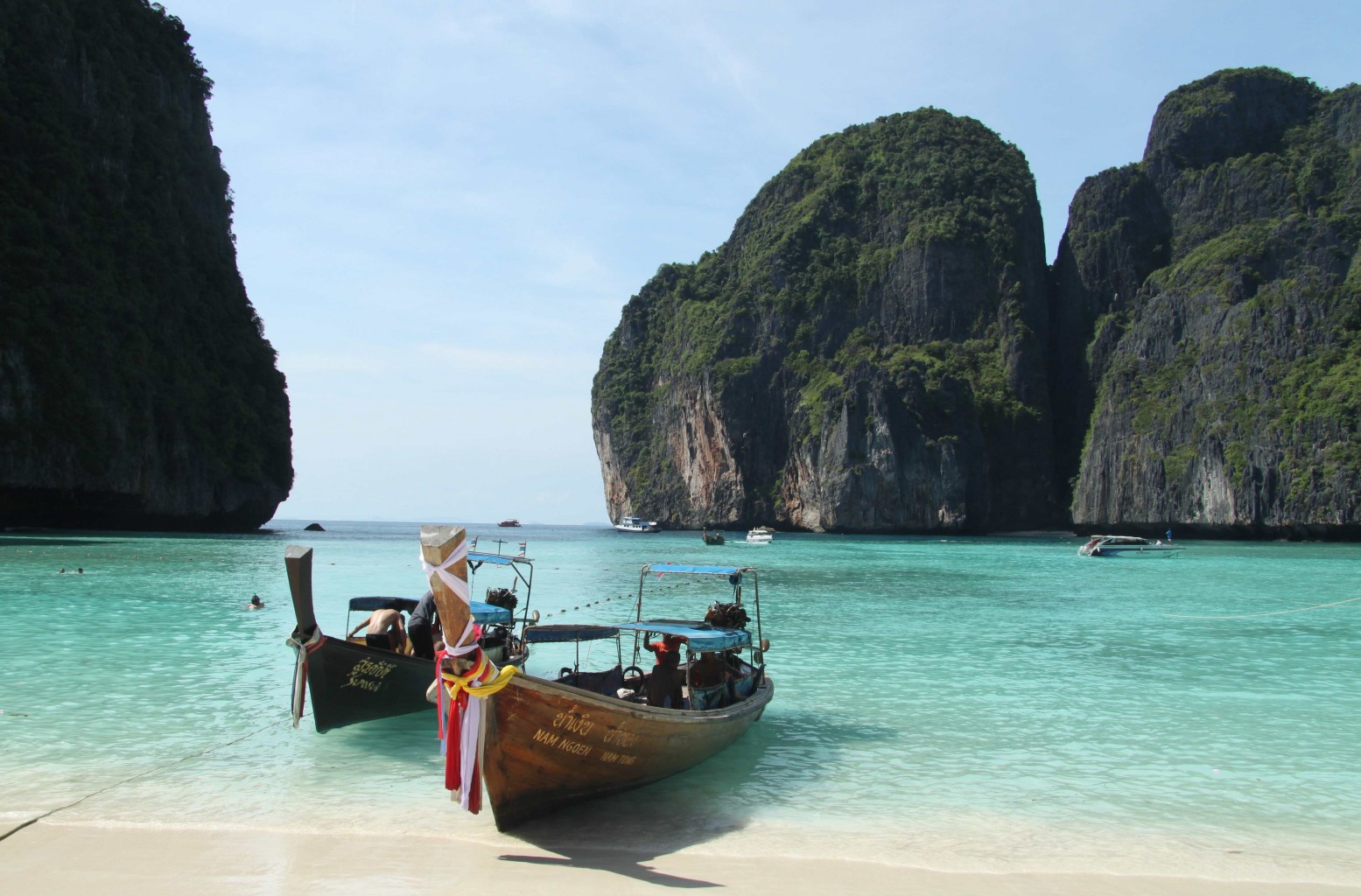 Thailand is one of my favorite places in world (ok, ok, I say that a lot about places) but this country really is something special. It seems to me one of the hardest things about planning a trip to Thailand (oh you poor thing) is figuring out which island is best to spend time on. The problem isn't that one is more beautiful than the rest, it's just that the tourist machine has really turned some of them into sterile places of beautiful beaches and mammoth hotels. That's why I'm here, to provide you with this Thailand island guide to picking the best islands to spend your precious Thailand vacation time on.
First things first: stay away from Phuket
I know, I know, it's iconic. I understand that. And maybe if it was 1983 and you were visiting Phuket it would actually be what it's cracked out to be- a quiet, removed island paradise. Now, it's huge international resorts stacked one on top of the other and tons of rude, annoying tourists. I promise you, there's better.
The Andaman Sea (the west side of mainland Thailand)
Koh Racha Yai/ Koh Racha Noi
Just about 20 km from the southern tip of Phuket lie the twin islands of Koh Racha, Phuket's unknown (and thus beautiful) cousins. It's just now being discovered so it's the perfect time to visit and enjoy some western amenities without the huge influx of tourists and resorts. Koh Racha Yai is the most developed of the twins; on this island, your feet will be your main form of transportation, with a small network of dirt roads connecting the island and a travel time of 10-15 minutes from one end of the island to the other there's not really a need for more. It's a perfect place for snorkeling and diving (even if you're a beginner). Accommodations are available for both luxury and budget travelers.
Koh Lipe
Another tiny island that you can basically cover on foot, but if you really want to get somewhere you can also ride a moped taxi. Koh Lipe is known for its clear, calm and shallow beaches. Diving, kayaking and snorkeling are some of the activities you can enjoy other than lounging in paradise. There are plenty of restaurants and bars to keep things interesting, and you'll find that accommodations suit every kind of traveler.
The Gulf of Thailand (the east side of mainland Thailand)
Koh Samui
I really wish I could have seen this island 20 years ago, before it was discovered by the world. Now it's pretty jam packed with options for tourists and is slowly morphing into its own version of Phuket, but there are still options for old-school style bungalows for decent prices. Also, a huge benefit of Koh Samui is that it's relatively unaffected by rainy season (if you travel in the Northern hemisphere's southern months), at most there will be a short burst of rain midday and then the beautiful sun will come back in full force.
Koh Chang
One of Thailand's largest islands, Ko Chang is located near the border with Cambodia. It's a mountainous island with several waterfalls, amazing coral reefs, rainforests and sandy beaches. It's now being more and more discovered by tourists but is still incredibly quiet compared to Koh Samui and Phuket, and a great option for beach bums who may get bored simply laying by the beach and want to add some diversity to their holiday.
Koh Tao
This is THE island destination for the divers of the world. The shallow waters and rich marine life make it a perfect place for first timers, and it may feel like the entire island is built to cater to divers. Non- divers (or those accompanying their diver friends) will find great hikes and an amazing yoga center as well.
The thing is, you really can't go wrong with any of these- each is pristine and beautiful and you're bound to have a great time; so make it easy on yourself, choose fast and get on enjoying your amazing holiday in paradise.
Logistically speaking
Koh Racha Yai/ Koh Racha Noi
When to go December to April is best, Rainy season starts in April, June- August is risky with regards to rain but potentially good, September – December is quite risky weather and rain-wise.
How to get there easiest way is to fly to Phuket airport (HKT), transfer down to Chalong pier and then take one of a multitude of ferry boat transfers. Return tickets from Chalong cost 1200 Baht (about 35 USD) per person.
Koh Lipe
When to go December- January will guarantee the best weather but also the most amount of fellow tourists, good weather can be expected October, November, February and March, if you're ok risking the chance for some rain but sharing the island with very few people opt for April- September.
How to get there Nok Air offers two-daily flight+ferry services from Bangkok to Koh Lipe by flying with Nok Air to Trang and transferred on a ferry to Koh Lipe. You can book directly online. Tickets about 4,000 Baht (120 USD) per person. Air Asia offers an island transfer package that includes a flight from Bangkok to Hat Yai, a bus to Pakbara, and a ferry to Ko Lipe. Book directly online. This option is usually slightly cheaper than the Nok Air option.
Koh Samui
When to go peak season is December to February- weather will be ideal but you can also expect crowds. You can still expect great weather March- June but it will be very hot. October and November are the rainiest months. July- September is a great place to visit with sporadic rain and great deals on accommodations.
How to get there a multitude of flight options from Bangkok (Thai Airways, Bangkok airways) and are typically about 100 USD.
Koh Chang
When to go the best season November to February, March- May roasting hot, June- October very heavy rains and many guesthouses close this time of year
How to get there three flights daily from Bangkok's airport (BKK) to Trat Airport (TDX) and from there many transfers available directly to Koh Chang island.
Koh Tao
When to go peak season is December – March and July – August, expect a lot of local and foreign tourists at this time. May and June are best times to visit because of great weather and few fellow tourists. Avoid visiting September to November as rainy season can be quite intense.
How to get there Nok Air sell an integrated Fly and Ferry combination ticket from Bangkok to Koh Tao via Chumphon Airport directly on their website, this combines flight, transfer and high speed ferry in a single ticket. Or through you can fly into Koh Samui directly from Bangkok and then ferry to Koh Tao, which is more convenient but also more pricey.
[vc_row][vc_column][vc_empty_space][vc_cta h2="" txt_align="center" style="flat" color="white" add_button="bottom" btn_title="Find out more!" btn_style="flat" btn_color="white" btn_align="center" css=".vc_custom_1488304661749{background-color: #3ba949 !important;}" btn_link="url:https%3A%2F%2Falletravel.co%2Fask-alle%2F|||" btn_custom_onclick="true"]
Save hundreds of dollars and hours of planning with our travel coaching package for only $149
[/vc_cta][/vc_column][/vc_row]