allé's 8 Golden Rules of Packing
October 2, 2019 | by Riana | Posted in Travel IQ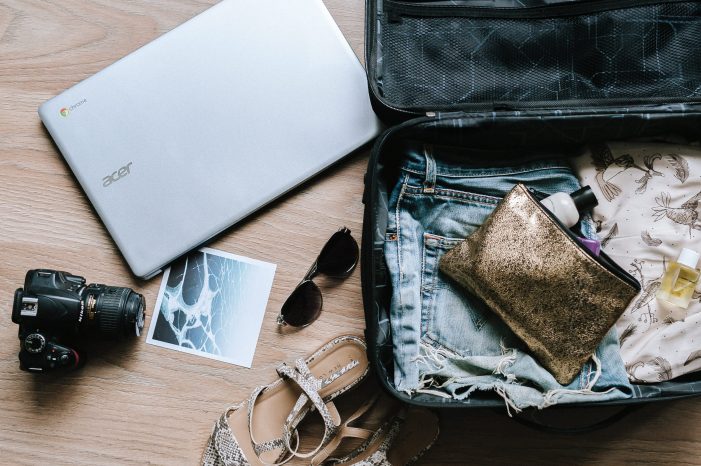 Your flights are confirmed, your hotels are booked and your dinner reservations are made. All that's left is to pack your bags and hit the road! But turns out, packing isn't always that easy. Despite your best efforts you still might find yourself heading halfway around the world with an overweight suitcase, three electronics you can't plug in, and four more sweaters than you actually end up needing.
Packing mistakes happen to the best of us. But if you follow our eight golden rules of packing, you'll avoid the worst of them and be a packing pro in no time.
Let's get packing!
Thou shalt always pack emergency items in thy carry-on luggage
If you are traveling with both checked and carry-on luggage, it's important that you always have your essentials with you in your carry-on. Anything that you would be devastated to lose or have damaged should be with you. And in the unfortunate scenario that an airline misplaces your checked luggage, you should have the appropriate items in your carry-on bag to carry (see what we did there?) you through until your checked bags arrive.
Items that should always be in your carry-on luggage:
All of your electronics. Your cellphone, laptop, tablet and fancy camera should always be in your carry-on so they don't get stolen or damaged in your checked baggage. You should also have all of the chargers and adapters (more on that later) needed to use these items. You don't want to get stranded in Bali with your phone at 2% battery life and your charger stuck in your missing checked suitcase.

All of your medication. If you take any medication, you'll want to keep this in your carry-on with you so there's no chance of it getting lost or thrown out by TSA.

All of your important paperwork. Of course, you'll need to have your passport with you. But you should also have any other paperwork you would need to enter the country and get to your first destination. This could include papers for your visa, proof of immunizations, hotel reservations, car rental bookings, etc.

An emergency overnight bag. In case your checked baggage doesn't arrive at your destination when you do, you should always have everything you might need to stay overnight packed into your carry-on. This usually includes a change of clothes and important toiletries like a toothbrush and deodorant. These items are also nice to have if you're in the air for a while and just want to freshen up. (Just remember: toiletries, and any other liquid items, must be in bottles of 3.4 ounces or less and packed into one, clear, quart-sized bag.)

Whatever else you need for the plane. You may want to pack snacks, headphones, reading material, a light sweater and an eye mask to make your flight more comfortable.
Thou shalt be mindful of adapters, outlets and appliances
As you likely know, different countries have different sized electrical outlets and use different electric voltages and frequencies. For travelers, this means you might not be able to stick your phone charger into the wall just like you would back home. Before leaving on your trip, do some research about the outlets, electric potential and frequency of your destination.
The best thing for 21st Century travelers to have is a universal adaptor (like this one) that allow you to plug in electronics that have one type of outlet on one side and use another type of outlet to plug into the wall. While these adapters are called universal, there are a few countries where you will still need to buy a country-specific adapter. But a universal adapter should cover most of your travels.
Important to know: Adapters do not convert electrical output current and voltage. That is to say, the adapter allows different styles of outlets and plugs to be used together, but it doesn't change the amount of electricity coming out of those outlets.
Luckily, most travel-friendly appliances are dual voltage and are able to be plugged in almost anywhere in the world. You can plug your phone, laptop, camera and tablet into outlets in the US, England, Vietnam, Australia and South Africa. However some appliances, most notably high powered electronics like hair dryers, straighteners and curlers, are not as lucky. These items rarely work across different voltages/outlets and worse, the differing voltage can actually fry these appliances making them totally unusable.
So our advice? Skip packing your hair dryer, curling iron, straightener, clothing iron or coffee maker. Even ones that are advertized as "dual voltage" are often faulty when used overseas. Luckily, many hotels provide basics like hair dryers, irons and coffeemakers, meaning there is no need to bring your own. This is also a great opportunity to relax your beauty routine and give your hair a break. If you really can't live without your hair appliance, you're better off buying a new one in-country when you arrive. That way, you'll be sure it will work in the outlets.

Thou shalt learn the value of packing cubes
If you're not using packing cubes for your trips, it's about time that you start. They are the perfect tool for helping you to stay organized and they make packing a breeze.
A packing cube is essentially a glorified Ziploc bag. In fact, if you'd prefer to DIY it, you could use Ziploc bags in place of packing cubes. Packing cubes are small, light-weight bags used to organize and compartmentalize clothing. They've also been known to save space, as they help travelers pack more efficiently. And if you're truly trying to save space, you can even purchase compression packing cubes that help condense your clothing as small as possible.
Packing cubes come in lots of sizes, shapes and colors, so can be tailored to your needs. We suggest buying a set of packing cubes in varying sizes with a see-through component so you can tell what is in them (like these ones). The different sizes allow you to make the most of your cubes, designating larger ones for items like pants and dresses, and smaller ones for items like bathing suits and socks.
While packing cubes can help to save space in your luggage, their main purpose is organization. This is especially important if you'll be moving locations a few times during your trip. When you're packing up every few days, you don't want to waste time rooting through your bag trying to find your last clean shirt amongst a sea of crumpled fabric.
Speaking of bags, we also suggest adding some empty bags into your luggage. This can be Ziploc bags, reusable grocery bags or even more packing cubes. Having extra bags while you're traveling is always useful as they can be great for shopping at local markets, storing dirty clothing, or separating wet clothing if you have to pack up from the beach.
Thou shalt do thy homework on visas, passports and vaccinations
Our worst nightmare? Showing up at the airport only to realize your passport has expired and you won't be heading off on that dream vacation to Italy that you've been talking about for months.
Don't let that happen to you! Do your research ahead of time to ensure all of your paperwork is in place. For international travel, you'll need a valid passport with a certain number of months remaining until expiry (usually six months, but can differ by country). Some countries also require that you have a certain number of blank pages remaining.
Besides a passport, you may also need to apply for a visa or get some vaccinations in order to travel. These things can take time, so we strongly advise you to research the entry requirements for your destination in advance. Some visa applications require you to submit paperwork online, go to embassies, mail in forms, and can take a long time to process. Similarly, some vaccines require you to get multiple dosages and have wait times between the dosages, so it's imperative you start your research early.
(PS: Traveling with us? We've got your back. Your allé travel planner will be in touch with everything you need for your trip.)
One last tip: Be sure to back up all of your important documents and paperwork. Photocopy your passport (the information page, as well as any page with a relevant visa) and any other important documents. Print off a paper copy to have with you and a digital copy (emailed to you and a friend, or available on the Cloud). That way, if any of your documents go missing, you'll have a copy that can help you secure a quick replacement.

Thou shalt limit thyself to no more than three pairs of shoes (…okay, four pairs, but that's it!)
Shoes are one of the heaviest items you will pack for your trip and they often take up a lot of space. The best way to cut down on excess luggage weight and space is to cut down on the number of shoes you're bringing. We think you should travel with no more than three pairs.
Your three pairs should include:
A comfortable, everyday shoe that you can wear for daily exploring. Stylish enough that you won't look like you're training for a marathon but comfortable enough for you to walk around a new city all day long. These should also match with almost all of the clothing you're packing.

A nice shoe that you can wear for a fancier occasion. If you're on your honeymoon and planning some romantic dinners during the trip, you'll probably want something nicer than your sneakers to wear. Bring one nice pair of shoes and try to choose the lightest pair you own, as dress shoes can get heavy.

An athletic shoe for your big adventures. A comfortable, supportive pair of sneakers is important if you're planning to do any sort of trekking, hiking, sports (or even hitting the hotel gym) on your trip.
That's it! Those are your three. While you're packing, ensure you're only bringing one of each type of shoe above. There's no need to pack three different dress shoes if you're only going out for one or two nice dinners. Of course, if you're not planning any fancy dinners or you're skipping anything athletic, you can always pare down to even fewer pairs!
We will make one exception for a fourth shoe: a seasonal shoe. If you're traveling to the beaches of Thailand, you should probably throw a pair of sandals in there. Or if you're hanging out in Norway to catch the Northern Lights in January, you'll probably need a pair of snow boots. And if you're doing any activity that requires a specific shoe, like hiking boots or cycling shoes, you'll of course want to bring those.
Pro tip: If you're worried about space and weight in your luggage, wear your heaviest pair of shoes on the plane. They may weigh your luggage, but they won't weigh you!
Thou shalt never pack anything thou hasn't worn before
There's nothing worse than being on vacation and pulling something out of your suitcase only to realize that it doesn't fit and you won't be able to wear it. Especially if you're packing light, losing out on one of the three pairs of pants that you brought is a big deal. So we say: never pack anything that you haven't worn before.
Even if you're doing some shopping specifically for your trip, you should still try on and wear every item before you pack it. You don't want to find out one hour into your hike in Patagonia that your brand new hiking shoes give you blisters. Take the time to try things on, wear them for a day and break them in before packing them into your suitcase. This is especially important for shoes; they should be totally broken in and comfortable before you head out on your trip.
We all like to think that we'll be new people on vacation. But let's be honest. If you don't wear that uncomfortable, but sort of cute, jumpsuit back home, you definitely won't want to put it on for a day of sightseeing in Cape Town. If you don't wear it at home, you won't wear it on the road. Choose a vacation wardrobe that is comfortable and familiar, not aspirational.
To make packing clothes easier, we suggest sticking to a neutral color palette – that way everything will go together. If everything matches, it's easy to create multiple outfits out of the same pieces. You don't want to pack a top that only works with one pair of pants because it limits how often you'll be able to wear that top. If neutrals sound too boring for you, you can always change things up with a bright accessory – perhaps a brand new scarf or hat that you buy on your trip?

Thou shalt know the rules of thine airline and destination
We're back to the rules. It's one thing to know about passports, visas and vaccinations, but there are packing specific rules you'll also need to be aware of. Start with your airline. Every airline will have a weight and size maximum for both checked and carry-on luggage. Ensure what you're packing conforms to your airline's rules. You don't want to be stuck paying excess baggage fees at the airport.
Remember to check the rules of every airline you're flying on, as not all airlines follow the same rules. Many small budget carriers have more strict rules and you may need to purchase extra baggage. It's always better to do this ahead of time online, as it's most expensive when purchased at the airport. You should also double check that you're not packing any of the items prohibited by your airline.
After your airline, you'll want to check the rules of your destination. Certain countries have rules about what you can bring in. For example, Oceanic countries are quite strict about bringing in fruit and vegetables from overseas. So that apple you chucked into your bag for a snack on the plane? You better be sure to eat it or throw it out before you land in Sydney. Another important consideration is medication. Some countries, like Japan, require you to bring your prescription along while other countries, like Italy, don't allow certain drugs that may seem common in the United States.
You should also do some research on the customs and cultures in your destination, to ensure you're packing clothing that is appropriate. For example, to tour the temples of Angkor Wat in Cambodia, you must have your shoulders and knees covered. If you only pack tank tops and short shorts, you'll be turned away and asked to change.
Thou shalt vow to do one's best to not overpack
Our final (and most important!) golden rule of packing: Try your best not to overpack. We know it can be really hard to pare down but you can do it! Packing light saves you money (no excess baggage fees), saves your body from lugging a huge bag around, saves the environment with a lighter plane, and saves you some space to bring home souvenirs! Never in the history of ever has a client come back from a trip and told us, "I wish I would have packed more."
Here are some tips to follow to help you not to overpack:
If you're on the fence about something, don't pack it. Every item in your suitcase should be something you are absolutely, positively going to use. If you're not sure about it, odds are you won't need it. There's no need to pack a back up.

The bigger the suitcase, the more you will pack. We fill the space we are given. So if you know you tend to overpack, opt for a slightly smaller suitcase to help curb your habit.

Lay out what you want to pack in advance and cull. Once you see everything laid out before you, it will be a lot easier to edit and pare down. Be ruthless with yourself and don't put an item into your suitcase until you're sure.

Remember: You'll be able to buy almost anything you don't pack. Almost everywhere in the world you'll be able to find anything you forgot or end up needing. From clothing and shoes to toiletries and medication, there's a good chance your destination will have what you need, so don't sweat about not packing everything.

Bonus: Thou shalt consider the virtues of carry-on only travel
We have one more bonus tip for you when it comes to the rules of packing. Before you start packing your luggage for your next trip, consider going carry-on only. We know that can sound like a death sentence to a chronic overpacker but we promise it's not that bad.
Here are some of the pros of only bringing a carry-on:
Save money on baggage fees. These days, almost all airlines (and certainly all budget airlines) are charging extra fees for checked baggage. These fees can really add up if you remember that you need to pay a fee per bag, per flight (i.e. paying there and back on a round trip). If you're planning to hop around Europe for a couple of weeks, you could be looking at hundreds and hundreds of dollars in bag fees.

Save time waiting at the airport. A checked bag not only costs you money but it also costs you time. You need to arrive at the airport earlier in order to check your bag in. And you're stuck waiting at the airport longer to get your bag once you land. With just a carry-on, you can arrive later and walk right off the plane and out of the airport when you land!

There's no risk of anything being lost or stolen. With a carry-on, your bag is with you at all times. That means there's no way something can get lost or stolen. Nothing is worse than arriving at your destination only to find out your checked luggage didn't make it with you. Take it from someone who waited five days for luggage to arrive in Mexico and ended up wearing the best of the resort's branded gift shop attire for a week!

You're more mobile with smaller luggage. If you're packing just a carry-on, especially a backpack, it makes it much easier for you to move around. You can more easily navigate stairs and cobblestones, and get in and out of taxis, trains, etc. Just try getting from the train station to your hotel in Venice (the city of bridges, stairs, narrow passageways and cobblestones) with a checked bag and you'll be ready to make the switch to carry-on!

Traveling with just a carry-on is more eco-friendly. Carry-on only travel is a more environmentally friendly solution as it's less weight which means less fuel needs to be used to transport you.

There's no risk of overpacking. With a smaller piece of luggage, you limit your ability to overpack. Most overpackers bring too much simply because they can. But with a small bag, you can't! That means less stuff to manage, organize and repack throughout your trip.
Convinced yet? You probably still have a few concerns. One of the biggest concerns we hear is that there's just no way you can fit enough clothing for 2, 3, 4 or more weeks into a carry-on. And you know what? You're right! There's no way you can fit a month's worth of clothing into a carry-on. But what you can do is do laundry.
There's no need to fit 30 days of clothing into a bag. All you need is enough clothing to get you to laundry day. Pack for a week (which can easily fit into a carry-on) and plan to do laundry once you run out of clean clothing. In many areas of the world, laundry is very inexpensive. It's sometimes as easy as dropping off a bag of dirty clothing to hotel reception on your way out for the day, and returning to a pile of freshly laundered, ironed and folded clothing on your bed that night. And even in areas where laundry isn't cheap, it's always cheaper than paying for a checked bag.
Another concern about carry-on only packing is liquids. With a carry-on, you do need to be cautious about your liquids as you're only able to bring bottles that are 3.4 ounces or less in one quart-sized bag. This is another great opportunity to pare down and pack less. Limit yourself to just your essentials and transfer favorites into travel-sized reusable bottles. You can also look at alternatives. For example, instead of a tiny 3.4 ounce bottle of shampoo that will only last you a couple of showers, why not pack a solid shampoo bar? A shampoo bar is solid, so it doesn't contribute to your liquid allowance, and it can last up to 80 washes. We love these options from Lush. Another option? Buy a bigger bottle once you arrive in-country!
Happy packing! Pin it for later: