Morocco road tripping
June 19, 2015 | by Irina | Posted in Africa
[vc_row][vc_column][vc_column_text]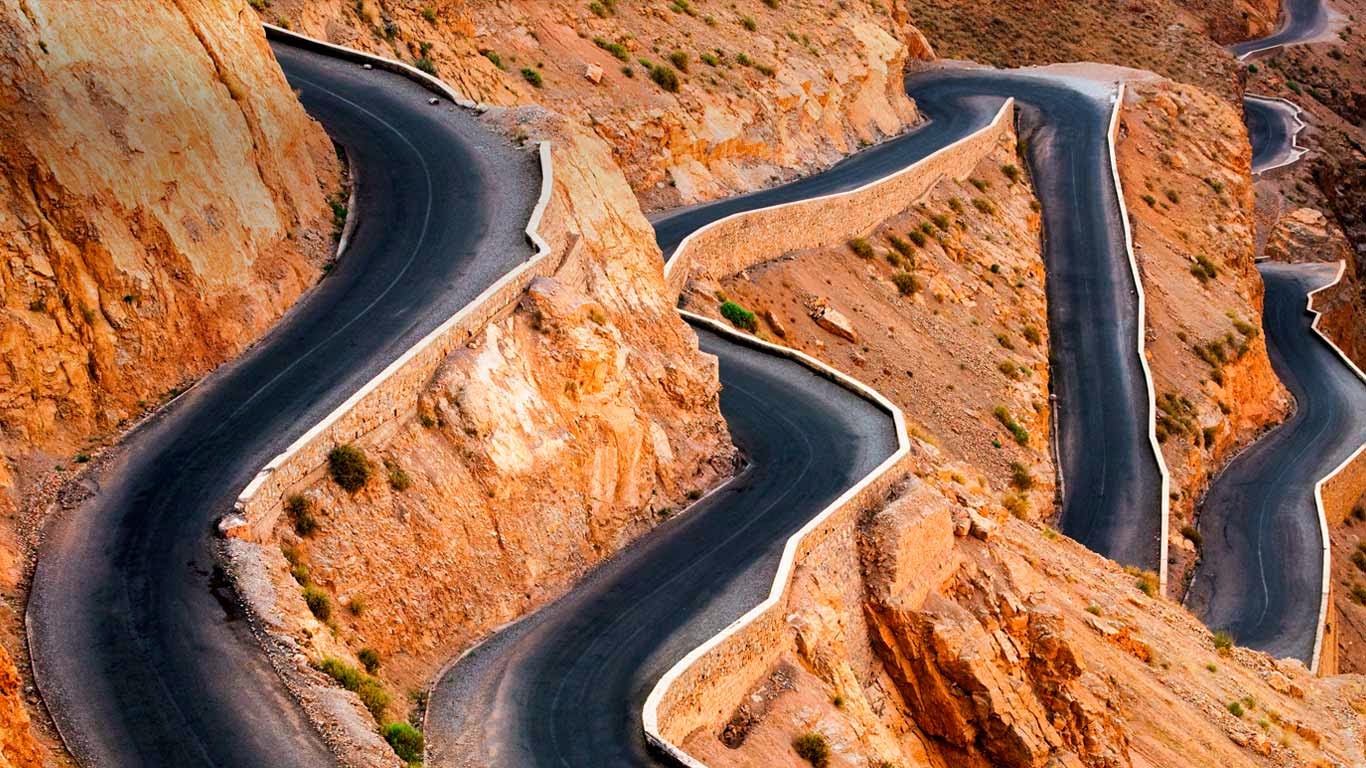 I had been itching to go to Africa since a non-very-culturally-informed children's' book that was read to me as a child had a mom telling her daughter to never, ever go to Africa. The mom warned her blond, pigtailed daughter that Africa is full of scary animals and even very large crocodiles. It was then, as a curious, rebellious child that I made up my mind: I must go to Africa to see what this fuss is all about.
And so a few (too many) years later, with a bit of bravery on account of my newly acquired French education, my French class friends and I booked tickets to Morocco. Although many people will tell you that Morocco is hardly really Africa, and I will tend to agree with them, I had a grand old time.
You see, Morocco is just African enough to make it a good first step onto the continent, but it's also very European, Arabic and Middle Eastern as well.
One of the most brilliant things that we did on our trip was have the audacity to rent a car and drive through the countryside. In retrospect, it was our best move.
Below, I share our route. Sure, it's not only driving- there's some time spent on trains (totally safe, calm down). I stand by the fact that this route is one of the best ways to get a full taste for everything this country has to offer. It may seem like a lot of driving, but all of it is scenic, and it's the best way to really experience the country.
Start in Tangier
A short 20 miles from Spain, Tangiers is a complete mix of Africa, Spain, Portugal and France. Walk along the beautiful sandy beach then make the trek up to town and give yourself time to roam and look at shops that make up the Medina, then allow for considerable time to sit at one of the many outdoor cafes and enjoy a traditional Moroccan mint tea- a beverage you're bound to fall in love with on your trip. Plan on having one full day in Tangiers, there's no need for more; this is the place to acclimate, relax after your travels to get here and gear up for the action ahead. Word to the wise, beware of "friendly" strangers wanting to be your guide, just say no and keep walking confidently.
Tangier > Marrakesh (by rail)
Next, you want to get yourself to Marrakesh, the capital of all things Morocco in many ways. The night train is convenient and relatively clean; bunks make it easy to sleep on and you'll arrive in Marrakesh's new train station well rested and ready to start your day.
Shop and eat in Marrakesh
Marrakesh is an attack of all the senses, in a good way. Of course you have to see the Koutoubia Mosque, which you can only circle if you're a non-Muslim, but even this will give you a good sense of it. Make sure to wander a ton in the souqs (open air marketplaces), allow yourself to really get lost- the further in you venture the more interesting it becomes. And remember to bargain with confidence, it's actually a great way to get to know the locals, many will invite you into their shop for tea with them and I actually find the whole bargaining game to be quite fun. Just remember you have nothing to lose- the key to great bargaining is not being attached to the item you're trying to score. At night, you must eat at the Jemaa el Fna, a lively and exciting night market that offers plenty of entertainment, great people watching and delicious food.
Marrakesh > Ouarzazate
Pick up your rental car and hit the road, preferably in the morning hours as the drive to the next destination is beautiful (you'll traverse a portion of the Atlas mountains) and you'll want to stop along the way and take pictures. Your drive will start with a very slow climb up the Atlas mountains starting with golf courses and extensive gardens and then working up to the Tichka Pass- an amazing, winding twisting road which will leave you full of adrenaline and awe, simultaneously. Stop in one of the Berber villages you pass on the way for a delicious Tagine lunch and be sure to make a slight detour to Ait Benhaddou (when you're about to approach Ouarzazate); it's an impressive Berber village built literally into the mountainside and definitely the most impressive Kasbah in Morocco. It has also appeared in many films, including Gladiator, Lawrence of Arabia and The Mummy.
See the desert in Ouarzazate
Ouarzazate is a quiet desert town that really doesn't have much to see, but the reason I recommend you stop here is because it's an ideal base to use to get out and see the Moroccan Sahara desert. You'll definitely want to team up with a guide of some sort for this leg of the trip (something I'm usually adamantly opposed to, but don't mess with the desert; get a guide). Most of the city lives off of this, so you will have plenty of options, and can definitely wait till you get there to set something up. Otherwise take a look at this list for the best rated tour operators here. Most trips into the desert will have you sleeping there for at least one night, because the best part of any desert trip is seeing the stars light up the sky at night.
Ouarzazate > Agadir
This will be a longer car ride (about 5 hours), not as scenic or mountainous as the drive to Ouarzazte, but full of lush green rolling hills and plenty of flat (and admittedly slightly boring) stretches. Plan on stopping for a breather in Taroudant, an average Moroccan town with an impressive wall fortress structure; a great place to break for lunch or a snack.
Be a typical tourist in Agadir
Agadir is as European as Morocco gets- this is a favorite resort town of many and you may even feel like you're in Spain as opposed to Morocco. The beaches are lovely, there are some great cafes, spend some time relaxing and unwinding here but if you're like me more than 24 hours here and you're bound to start getting restless.
Agadir > Essaouira
This leg of the drive is rather short and rivals the drive across the Atlas mountains in beauty. The first half of the drive hugs the coastline and is simply stunning- you'll likely be the only human(s) in sight, except for maybe a few surfers off the coast. You'll have plenty of opportunities to pull over on the side of the road, get out of the car and stretch your legs.
Enjoy Essaouira's charm
When asked what my favorite place in Morocco is I always reply Essaouira. This city just seems to have it all. Sea-side but charming and untouristed like its counterpart, Agadir. Make sure to meander and get lost in the old town, the town is famous for the bright blue colored paint used as an accent seemingly everywhere. Eat some of the best fish you've ever had (it's actually sweet it's so fresh) by the port for pennies, and then enjoy a relaxing, cooling beverage at one of the many rooftop cafes.
Essaouira > Casablanca
Not a long ride by any means, you'll see some rolling hills and it's quite a pleasant ride. Stop in El Jadida (formerly the Portuguese city of Mazagan) to see an impressive fortress and bay. Make sure to see the Portuguese Cistern, built in 1514 as a part of the fort- the sight of the reflection of great vaulted ceiling on the water down below is quite awe-some.
Get cosmopolitan in Casablanca

Another of Morocco's large cities, Casablanca is definitely its most famous. Very cosmopolitan and large-feeling; life really bustles here. 1 day is plenty here. The Hassan II Mosque is one of the most impressive structures I've ever seen (it can accommodate up to 105,000 worshipers). Non- muslims aren't allowed inside on their own, but you can take a guided tour. Aside from the Mosque the Medinas (both old and new) are worth visiting, as is the Corniche (walkway along the ocean).
Casablanca > Fes
This relatively short drive will be cut in half with a stop in Rabat, Morocco's administrative capital. What I really recommend seeing here is the Chellah- and old, crumbling, overgrown Roman city that was abandoned in 1100s. Making sense of the old structures will make you feel like an archeologist; lots of photo ops guaranteed here. Following your Roman adventure, continue along to Fes, dropping your car off here as it's the end of the road-trip portion of your trip.
Explore Fes
Considered the cultural capital of Morocco and often referred to as the Mecca of the West or the Athens of Africa, Fes is the perfect place to wrap up your adventure. Fes is the best preserved old city in the Arab world, and its labyrinth Medina is the world's largest car-free urban zone. The leather tanneries that surround the Medina are really worth seeing, but don't expect to be able to get in on your own. Some leather shops may offer "free" tours (but then you'll definitely feel heat for having to buy something for them) or you can go in with an unofficial guide (don't worry, they will find you) by offering them about 2-5 dollar's worth. Make sure to wear closed toe shoes and don't expect it to smell too good in the tannery area! Then find a rooftop at one of the cafes in the Medina to take in the action from a bird's eye view.
Adieu Morocco
This is where your Moroccan adventure ends. Fes has an airport that offers many connections to most of Europe, otherwise make your way back to Tangier by train and fly out of there.
Logistically Speaking
When to go generally speaking, the best time to go is April- early June and September- November. Try to avoid the summer months because it's when the country gets flooded with European and local tourists. If you plan on going during summer months also make sure to research current Ramadan times- though it might be interesting to observe this tradition, you will find that the headaches associated with trying to travel during this time may not be worth it.
What to wear Morocco is a Muslim country, so even though it may be quite hot during your visit, dress modestly to respect the local customs. Women should plan on wearing long pants or skirts (think linen and cotton to keep cool) and keeping their shoulders covered with sleeves or a lose scarf. Men should also observe the same standards of modesty. Morocco gets enough travelers where you won't be harassed or called out for it, but you will definitely get stares, so choose be conscious and considerate instead.
Fly into Tangier-Ibn Batouta Airport (TNG) is located 12 km from the city. Travel time to city is about 20 minutes. Taxi 100- 150 Dh (approx 10-15 USD) so make sure to stand up for yourself and bargain.
How long to stay to do the route described above, you'll need around one week, but if you want to move at more of a leisurely pace you can easily make it much, much longer.
Rental car book ahead for best rates, major companies such as Europcar, Hertz, Sixt all have branches in Morocco and can easily accommodate pick up in Marrakesh and drop off in Fez.
Guided tour of Hassan II Mosque (Casablanca) offered in English, French, German and Spanish. September- June daily (excluding Fridays) at 10.00, 11.00 and 14.00. July- August daily (excluding Fridays) at 14.30. Tour costs about 16 USD
Chellah ruins (Rabat) open daily 9- 17.30, admission fee is about USD.
Trip budget Morocco is great because it offers a wealth of options for all budgets. In most cities, you should be able to find decent accommodations starting at 10 dollars a night. Including transportation within Morocco, lodging and food, I would anticipate the average trip to Morocco will cost about 80- 120 USD/ per person per day.
Transportation:
Night train Tangier > Marrakesh trains depart Tangier every night at 22.00 and arrive in Marrakesh the next day at 8.10. Get more information on trains, website only available in French, but you can use Google website translation to navigate. This train ride will cost about 30 USD.
Drive to Marrakesh > Ouarzazate the ride will take approximately 3 hours, but with stops for pictures and a break for lunch plan for around 5 hours. View route.
Drive Ouarzazate > Agadir the ride will take about 5 hours and you can drill right through it; not much to see on this one. View route.
Drive Agadir > Essaouira the ride itself will take about 2.5 hours but you'll want to leave yourself plenty of time for picture-taking along the coast. View route.
Drive Essaouira > Casablanca he ride will take you about an 4.5 hours but leave about two to three hours for your stop in El Jadida. View route.
Drive Casablanca > Fes the ride will take you about 3.5 hours, leave about two to three hours for your stop to check out the Chellah ruins in Rabat on your way there. View route.
Route Fes > Tangier there are 4 trains daily and the train ride is about 5 hours long (no need to reserve again). Check times on Moroccan train service website. Otherwise you can chose to fly directly out of Fes, many international airlines fly in and out of FEZ international airport.
[vc_row][vc_column][vc_empty_space][vc_cta h2="" txt_align="center" style="flat" color="white" add_button="bottom" btn_title="Find out more!" btn_style="flat" btn_color="white" btn_align="center" css=".vc_custom_1488304661749{background-color: #3ba949 !important;}" btn_link="url:https%3A%2F%2Falletravel.co%2Fask-alle%2F|||" btn_custom_onclick="true"]
Save hundreds of dollars and hours of planning with our travel coaching package for only $149
[/vc_cta][/vc_column][/vc_row]