Masada at Sunrise
September 23, 2015 | by Irina | Posted in Middle East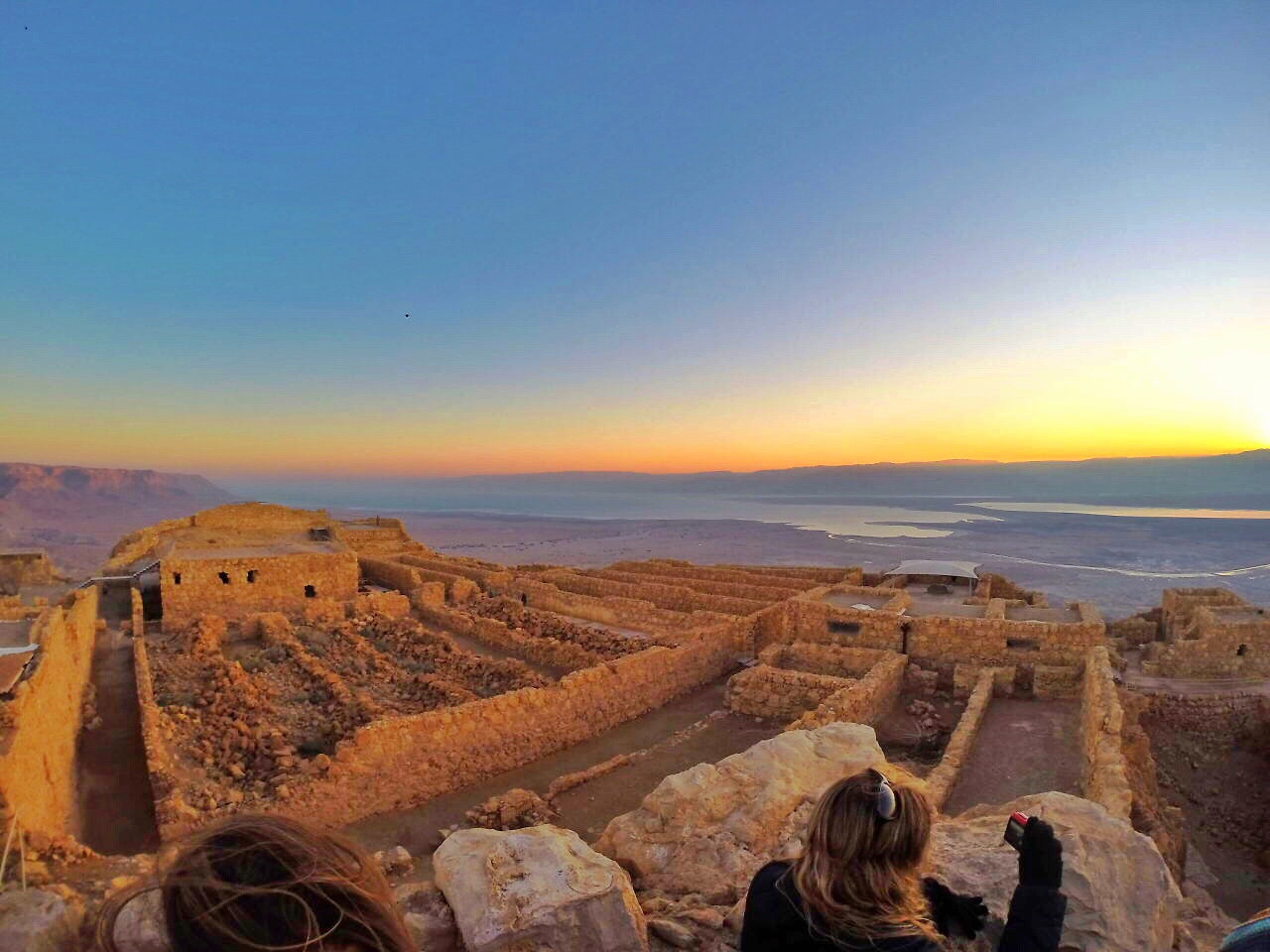 I must admit, on my first trip to Israel I did NOT go to Masada; the closest I got was sitting on a bus that drove right past it. A friend of a friend of a family friend had convinced me that it wasn't worth the climb, that it's just an old, falling apart fortress and who cares anyway. Even though my dad (the self-declared expert on Israel) had told me it's a must see, I decided to rebel (again) and not go. The look on his face when I told him I chose to frolic in the Dead Sea all day instead of seeing Masada was priceless. In a bad way.
Fast forward a few years: on the heels of my Dad's funeral, my Israeli-born boyfriend and I decided to pay another visit to the tiny but amazing land of Israel. He was wanting to visit family and friends and I was yearning to reconnect with a land and a place that was so important to my late father.
This time around, the trip would surely include Masada.
In my reading and planning sprees in preparation for our trip, I saw faint references to a sunrise hike. I zeroed in on this idea and made it a non-negotiable part of our itinerary- we were absolutely going to hike up to the desert fortress for sunrise.
What Masada is
Built by Herod the Great around 30 BCE, Masada (literally translates to "fortress" in Hebrew) sits on the edge of the Judaean desert overlooking the Dead Sea. Sparing too much history: Herod had a eye for the glorious, glamorous and the hard to build. Masada was his flashy winter palace built with countless intricate amenities including fresh water supply and thermal baths. When the Romans destroyed the Second temple in Jerusalem in 70 CE, a splinter group of Jewish zealots fled Jerusalem to Masada. It is estimated that approximately 1000 Jews made their home in Masada, resisting attack from Roman forces down below. Eventually the Romans constructed ramparts to reach Masada and laid siege to the fortress. But when they finally made their way up, they discovered that Masada's inhabitants had staged a mass suicide- in line with the ethos that it's better to die than live as slaves. Rediscovered in the early 1800s and fully excavated and studied in the mid 1900s, Masada captured the young Jewish state's desire for self-determination and freedom and is now one of the country's most famous sites.
Is it worth it?
Yes, your thinking is right, getting up to the top of the mountain by the time the sun rises means you have to get up really, really, really early. And yes, you can see it at any time of the day. But without a doubt, dawn is a special time of day anywhere (if you can get yourself out of bed for it) and there's something extra special about driving up to the foot of a desert mountain in the pitch dark and climbing as the faint sunlight begins to spread across the land. And especially when the grand finale to your dawn hike is reaching the top of Masada at sunrise and seeing the sun come into view across the Dead Sea- well yes, it is absolutely priceless and absolutely worth it. We climbed up in November, and at that time of year scorching desert temperatures aren't an issue- but if you plan on being in Israel during the spring/ summer/ early fall months, an added bonus to an early morning hike is avoiding the hot temperatures and the hordes of tourists. The old saying holds true here, too: the early bird does in fact catch the worm and as such you are more likely to have this majestic, ancient desert fortress mountain to yourself.
Say no to the packed tour busses
It's tempting (even I was tempted) to throw in the towel on the whole- we will figure it out on our own- thing and instead book a day trip with one of the many tour companies who bring busloads of tourists to Masada for daytrips. Many of these companies even have sunrise tours. But if you can at all, please avoid it. Hear me out: there's something spiritual about the inherent difficulty and discomfort of getting to the top of Masada at sunrise. You push through it, you figure it out; and that's exactly what a spiritual journey is. Nothing was ever accomplished from the comfort of a couch with a remote control in your right hand and a Diet Coke in your left. Plus, if you avoid the tour bus you're bound to enjoy a quieter and introspective time; which is exactly the way Masada is meant to be ingested. And guess what: it's not even that hard to get there on your own- either choose to sleep the (albeit short) night before in Jerusalem and drive a rental car down to Masada- about a 90 minute drive on well paved, safe Israeli highways, or sleep in one of the multitude of options dear the Dead Sea or Masada. As for my boyfriend and I, we went with the former option, and enjoyed every minute of it.
The climb is tougher than it seems
This is clearly a question of perspective, but for what it's worth it was much harder than I was expecting. I consider myself relatively physically fit- in the warmer months I bike to the office, and I'm a big yoga girl (though as I found out, the Snake Path doesn't really care about your flexibility). Anyways, my point is, this hike isn't quite a walk in the park; it's steep and will absolutely leave you winded at times. The good news is that the views along the hike up are so amazing it will be well worth stopping to snap a picture or two and let your eyes take in your surreal surroundings. Make sure to leave at least an hour for the hike up.
Give yourself time to wander
So you get up there, you see an amazing sunrise. Now what? Because there is so much attention given to the hike up, it may seem like the adventure is done after sunrise. No way. Masada is actually huge, and very impressively reconstructed- instead of completely rebuilding the fortress, Masada has been rebuilt just enough to give an idea of what was once there. It's not like visiting a totally reconstructed castle in Europe but more like visiting a real archeological dig. There are signs throughout the site which give you a brief snapshot of history and let you imagine the rest.
Epilogue: float in the Dead Sea
Potentially one of the best parts of climbing Masada so early in the morning is that it leaves ample time to get down the mountain and get over to the Dead Sea to experience mind blowing floating and some well-deserved rest and relaxation. Seriously, there is something about the experience of super buoyancy in the Sea's incredibly salty waters that leaves the mind exhilarated. And of course, it's yet another great photo op. Albeit touristy, I highly recommend the Ein Bokek beach to enjoy the Dead Sea from, it is well maintained and offers great public showers to rid your skin of all that sea salt. I don't recommend staying in one of the hotels there though- you will receive a very low value for your money. Instead head back to Jerusalem, Tel Aviv or continue south to Eilat.
Logistically speaking
Timing the National Park opens approximately 1 hour before sunrise in the morning. You will want to check currentsunrise times. Plan on taking an hour to get to the very top. Basically try to get to the entrance at the base of the Snake Path 1 to 1.5 hours before sunrise. You will likely want at least 2-3 hours to explore Masada itself. Gondola station opens at 8 AM and you can save time by riding down.
Hike up from the East Entrance of the fortress, where the Snake Path starts. The visitors center, cable car, restaurant and gift shop are all accessible from the East Side (though note that none of these will be open if you arrive in time to see sunrise). When you arrive at sunrise there will be a guard who will let you onto the Snake Path.
Wear very comfortable clothing, layers, comfortable shoes
Bring flashlights, water, snacks, swimsuit
Swim at Ein Bokek public beach
Budget 29 NIS (7.5 USD) for Snake Path entrance, gondola is 29 NIS (7.5 USD) one way if you want to take that on the way down, Ein Bokek beach is free
[vc_row][vc_column][vc_empty_space][vc_cta h2="" txt_align="center" style="flat" color="white" add_button="bottom" btn_title="Find out more!" btn_style="flat" btn_color="white" btn_align="center" css=".vc_custom_1488304661749{background-color: #3ba949 !important;}" btn_link="url:https%3A%2F%2Falletravel.co%2Fask-alle%2F|||" btn_custom_onclick="true"]
Save hundreds of dollars and hours of planning with our travel coaching package for only $149
[/vc_cta][/vc_column][/vc_row]