Step-by-step guide to visiting Petra
December 11, 2015 | by Irina | Posted in Middle East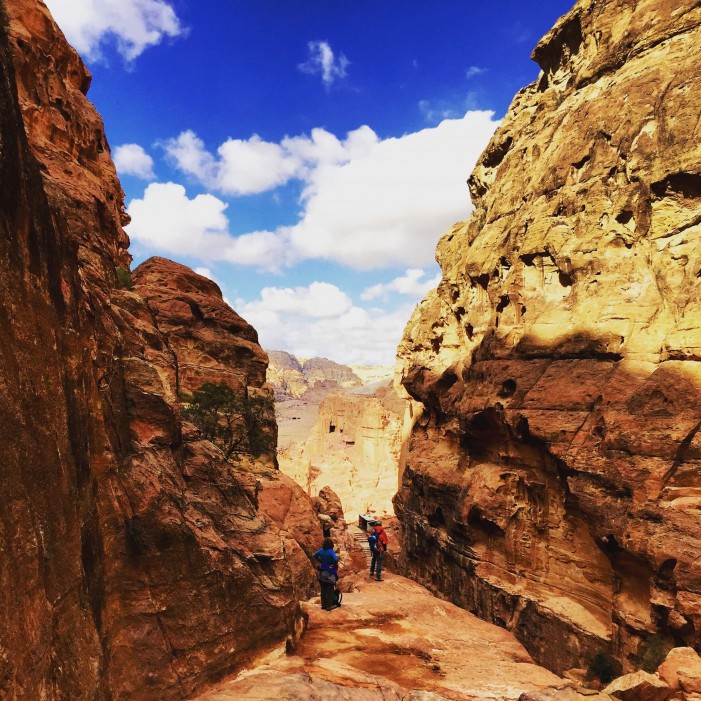 Although the ancient (and magnificent) Jordanian city of Petra has received many accolades- it's one of the New 7 Wonders of the World and was named one of 28 Places to see Before you Die by Smithsonian magazine- it's still relatively hard to get to for an independent traveler who prefers to stay away from tour buses and pre-packaged trips made for the masses. That's why I've created this step by step guide to visiting Petra; this is my good deed in attempting to make this glorious site just a bit easier to get to. One thing is for sure- I'm quite confident that no one has ever regretted a visit to Petra.
Getting into Jordan
The easiest way to get to Petra by adding it onto a trip to Israel. You just have to get yourself down to the southern city of Eilat (don't spend more than a few hours in Eilat, there's really not much to do here other than eat and lay on the beach). Eilat rubs shoulders with the Jordanian city of Aqaba, and you can cross the border into Jordan using the Wadi Araba border crossing (also called Yitzhak Rabin border terminal). Just hop in any taxi in Eilat and have them drop you off there. You can walk right across the border, first you'll leave the Israeli side, then walk across the bridge into Jordan. This border crossing is very tourist friendly, and generally not very busy, especially if you go in the morning hours.
Getting to Petra
Petra is about a 2 hour drive from Aqaba. Once you step onto Jordanian soil after the border crossing, you will be swarmed by taxi drivers in sweatpants who claim to be "representatives of the government". Don't believe them- they are taxi drivers looking to make a sale. Though it is possible to take a bus to Petra, I don't recommend going through this hassle- it's much easier and time effective to hire a private taxi. Do make sure to negotiate the price of your ride though- the "government representative" will definitely start with a price twice what you should pay. Try to target 35- 45 JOD (50 – 65 USD). Be confident enough to walk away if needed; rest assured, they will come running after you.
How long to spend there
A lot of tour groups and tourists try to squeeze seeing Petra into a day trip from either Aqaba or Eilat, but I think this is insanity. Petra covers a massive amount of territory, it's not just the Treasury building made famous by Sir Indiana Jones himself. I recommend having 2 days, which comes out to be about 1 full day when you account for travel time. Plus, your entrance into Petra will be much cheaper if you spend the night (this is the government's way of ensuring you spend money to help their economy, though it's a rule that's not very well regulated, to be honest, very rarely will they ask for proof that you are spending the night).
Sleep in Wadi Musa
Wadi Musa is the town that serves at the gateway to Petra, and the town lives primarily off of tourist traffic to Petra. There are plenty of accommodation options in a variety of price points and they are all decent. For an affordable price point I recommend the La Maison Hotel. If you're looking to splurge more then the Mövenpick is a great choice. Both are within steps of the Petra visitor center, your entry way to the magical city.
Eat in Wadi Musa
Food options span everything from pizza to burgers in Wadi Musa, but instead I highly recommend Three Steps Restaurant– it's one of those places where the owner is there every day and cares very much about your experience. The menu will give you a good sampling of Jordanian classics and they serve an amazing a red hummus/ pomegranate appetizer that I'm still pining for.
Read up before you go 
I find that many historical destinations around the world do a lousy job of putting up signs and information about the sites for visitors; Petra is no exception. For this reason, some people elect to hire a private guide. Instead, I recommend doing a little Googling and saving the information onto your phone or printing it out. Some great sources of information are here's a decent abbreviated guide, though there are many more out there. 
What to wear and bring
You will be doing a lot of walking and even climbing in Petra, so make sure you're comfortable in your footwear. There aren't many food options inside the ancient city itself, so it's a good idea to bring a snack in with you, along with water. Layers are also a great idea as weather and winds can change fast.
How much to budget
Israel exit fee and commission to be paid at border, in cash;  100 NIS (~30 USD)
Jordanian departure tax to be paid at border, in cash; 8 JOD (~12 USD)
Taxi Aqaba to Petra (round trip) ~100 USD
Entrance into Petra ~70-125 USD (see below) / per person
Is it actually worth it
Yes, the above notes do beg the question- is it really worth the hassle to visit Petra? Without a doubt, yes. It would be worth it even if everything was twice as complicated and twice as expensive. Trust the old adage that anything in life that is worth having/ seeing takes a fair bit of work. Its intricacy, vastness, and overall mystery make for one amazing adventure, one you definitely shouldn't pass up on because of a little logistical difficulty.
Logistical information
Wadi Araba/ Yitzhak Rabin border crossing The terminal is open from 6:30 to 20:00, Sunday through Thursday, and from 8:00 to 20:00 on Fridays and Saturdays, every day of the year except for the holidays of the Islamic New Year and Yom Kippur.
Petra visitor center open 6.00 to 18.00 in the summer and 6.00 to 16.00 in the winter. Entrance fee for day trip (not spending at least one night in Jordan) is 90 JOD (125 USD). Entrance fee for one day (spending at least one night in Jordan) is 50 JOD (70 USD). Entrance fee for 2 days is 55 JOD (77 USD) More info 
[vc_row][vc_column][vc_empty_space][vc_cta h2="" txt_align="center" style="flat" color="white" add_button="bottom" btn_title="Find out more!" btn_style="flat" btn_color="white" btn_align="center" css=".vc_custom_1488304661749{background-color: #3ba949 !important;}" btn_link="url:https%3A%2F%2Falletravel.co%2Fask-alle%2F|||" btn_custom_onclick="true"]
Save hundreds of dollars and hours of planning with our travel coaching package for only $149
[/vc_cta][/vc_column][/vc_row]