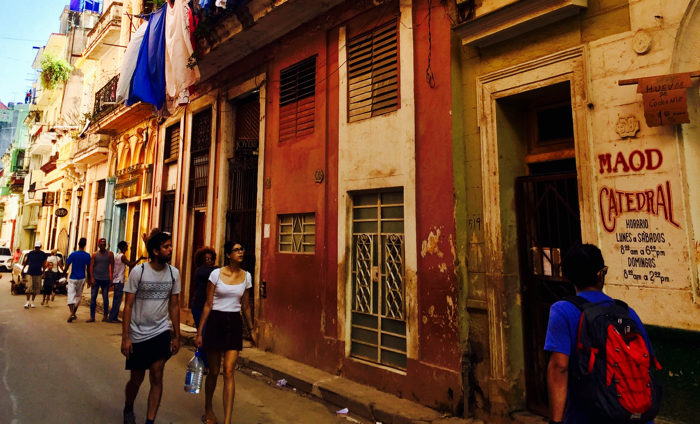 Though the average Cuban earns just $25 a month, and even doctors earn only $80 a month, Cuba is actually a relatively expensive place for foreigners to visit. Below, we lay out the numbers for you so that you know how to plan- and planning for your budget to Cuba is something all Americans need to do, because as of now there's no such thing as using your ATM to get more cash. Which means you need to do some math and then bring wads of cold hard cash with you, so here's everything you need to know about how much things cost in Cuba:
Price of your visa to Cuba
The airline that you are flying to Cuba with will have a set up for purchasing visas that are permitted under the 12 categories of travel (of which as a visitor, you want to be doing Educational, people-to-people). Generally, visas cost between $50-75 per person.
Price of accommodations in Cuba
If you go the route of Casa Paticulars (which I highly recommend) you can expect to pay at the very most $50 for a room for two people. Hotels are typically more expensive, and run $150-400/ night.
Price of food in Cuba
Food in restaurants in Havana is very close to prices that you would see in the US. Entrees are about $8-20, but there are also higher end places with entrees around $30. Outside of Havana, you'll see much lower prices, at the very most about $12 per entree. Breakfast at a casa paticular is usually $6 per person. Overall, it's best to budget about $40 per person per day for food.
Price of transportation in Cuba
Rental cars run about $80 to $100 per day for an automatic transmission car with insurance. If you're also renting a car, expect to pay double the price of gas when compared to gas prices in the US. Private drivers run about $100 per day. Flights within the country (say Havana to Baracoa) are about $150 per person, one way. Bus tickets of course vary based on distance, but a good rule of thumb is about $3 per hour of bus travel.
Need help planning your trip to Cuba? Get in touch with us to get some insight and planning help.
Subscribe to our newsletter
For the latest and greatest in off the beaten path travel stories and travel tips.

Join our mailing list to start receiving exclusive content only our newsletter members have access to.

Comments
comments