Go here, not there: top under-the-radar destinations for 2020
March 8, 2018 | by Irina | Posted in Travel IQ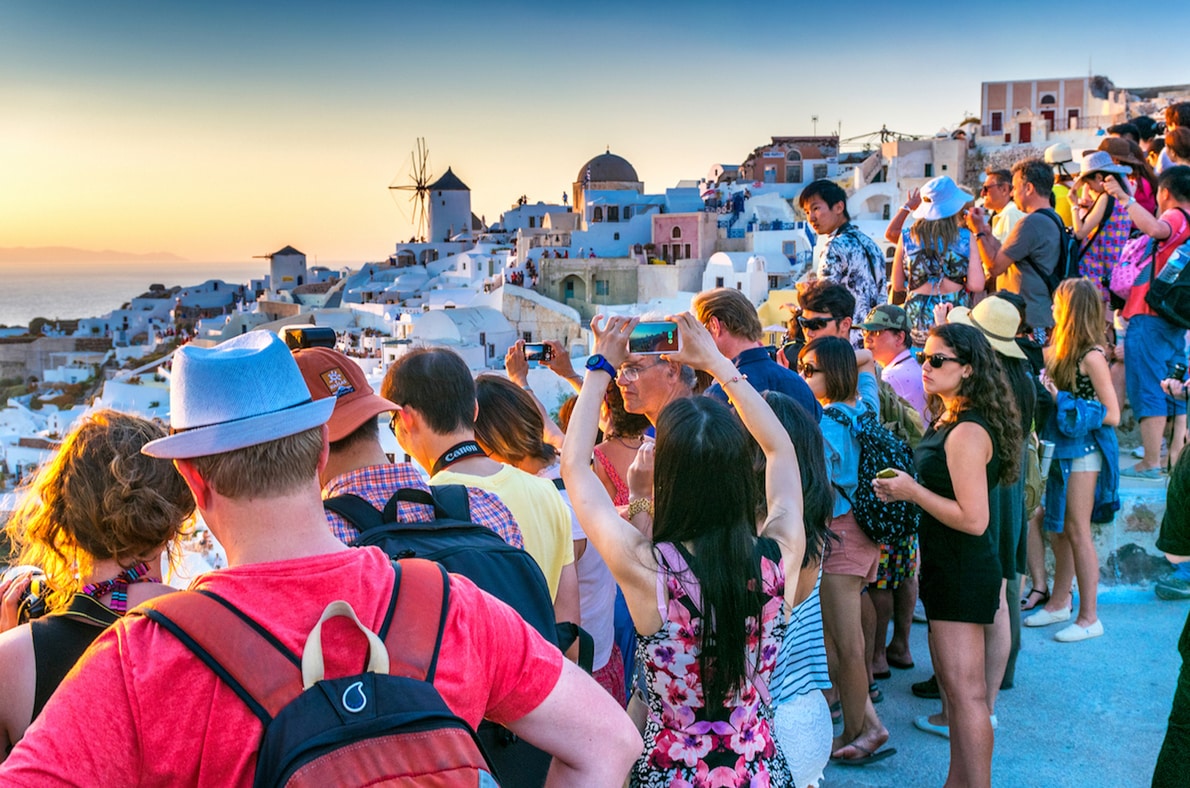 Bucket lists are the best kinds of lists, in our humble opinion. But there's a lot of us in this world, and it turns out a lot of us have the same places on our bucket lists. It is, of course, expected, but it's also leading to some serious issues as some places in the world struggle to keep up with increasing tourist arrivals (Iceland and Barcelona immediately come to mind). So what are you to do? Stay home!? No way. There's so much to do and see out there, and many of the world's most precious gems have yet to be discovered by hoards of tourists, which makes them all the more enticing. Today we've put together a list of go here not there places to add to your bucket list!

We at allé have a special eye for places that fly just under the radar, each of us slightly obsessed with beating crowds and getting a glimpse of places that are raw and untouched (as much as possible, that is). So we've put our heads together and come up with our ultimate (for now) guide of our favorite under the radar destinations for 2020. As will all great things- go fast, this won't last. Here are our best go here not there destinations.
Azores islands instead of Hawaii

Hawaii conjures images of soft-sunset, luaus and sweeping landscapes. It's is the ultimate holiday destination, and for good reason. The miles of pristine beaches, the sweeping vistas, volcanic adventures and of course the supreme Hawaii hospitality, what's not to love? Well, sadly, with every demographic flocking to the islands, in return it has become one of the most touristed US destinations and has lost a part of spiritual charm that it once had.
Instead, check out the Azores. A group of nine islands in the middle of the Atlantic. Geographically as close to the mainland US as Hawaii, a quick 5 hour hop from the east coast will land you in these beautiful islands. The Azores have all of the charm of Hawaii, lush green hills, volcanic craters, and geodynamic landscapes, but without the cliches, and without the loungers. Inhabited over 500 years ago, the locals have perfected the art of grilling snapper, baking Portuguese bread, and dabbling in making their own wine. As someone who chased after that Hawaiian picture-perfect holiday, it wasn't until I stepped foot in the Azores, that I knew I had landed somewhere truly magical. For culinary delights, I point you towards the island of Terceira to the seafood restaurant, Beira Mar São Mateus, where it's impossible for the seafood to get fresher and the food tastier. For wine, I nudge you towards the island of Pico, to the Cooperativa Vitivinícola da Ilha do Pico (Pico Island Wine Cooperative), where you will sip Pico's wine terroir of sea salt and sublime volcanic minerality. For adventure, and a taste of the local nightlife, head to the island of São Miguel, where volcanic treks, eye-popping flora, and several unique and diverse ecoregions are begging to be explored.
– Emilie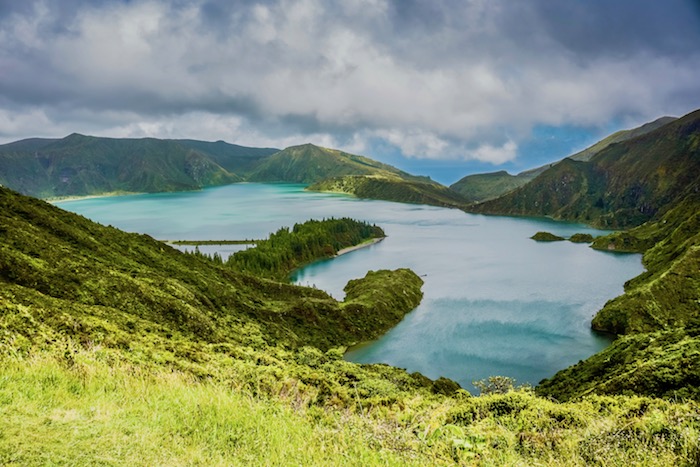 Bawah Island instead of the Maldives
As the Maldives' popularity and accessibility grows, so does the influx of visitors while fabulous Instagram pictures make it look like the definition of paradise on earth. There's nothing particularly bad to say about the Maldives, except that, likely, even your aunt has already been there. So in the search of a truly secluded alternative, why not go for Bawah Island instead.
Just a short flight away from Singapore, Bawah is an entirely isolated island resort and while it may look tiny on the map, it packs a punch on the ground (and in the waters just offshore). The resort of the same name is the only one on the island archipelago and in pace with the times, is built with eco-awareness in mind. This back-to-nature beauty is set in a previously uninhabited marine conservation zone across lush, forest-canopied islands, three sheltered lagoons and 13 beaches. It has the same lo-fi-luxury feel as Bali but the joy here is that you don't have to share the sand with barely anyone at all. There are just 35 villas, including the Maldives-like signature overwater bungalows, beachfront villas and garden suites, all made by hand from natural materials such as bamboo, driftwood and recycled teak, with beautifully recycled copper sinks and showers. Locally-grown ingredients can be found on the Asian-fusion menu at the Tree Top restaurant (there's a zero-waste programme in place, plus no pesticides or fishing are allowed), and there's a spa and yoga pavilion at the holistic wellness center.
– Polly

Northeast India Instead of Bhutan
The mystical land of Bhutan has captivated travelers ever since it opened its doors to the outside world in 1974. Nestled in the Himalayas, the country has several Buddhist festivals that are a cultural delight, not to mention the numerous colorful monasteries, scenic valleys with picture perfect views, tasty food and friendly people. In the last couple of years however, Bhutan has been a trending destination for tourism, drawing in an increasing number of visitors every year. In 2016 alone, tourist numbers jumped by 35% for international visitors, and 50% for regional visitors. For me, Bhutan is still a magical destination, but I'd like to introduce you to a slightly lower-key, but equally spectacular destination nearby.
Northeast India is a fledgling destination that offers such truckloads of unique experiences that it will make you reconsider your conventional notion of India. Here you'll find beautiful karst landscapes, lush green rainforests, serene lakes and an incredible amount of biodiversity. If you are looking for a spiritual experience, head to Arunachal Pradesh, where you will find Tawang Monastery perched at an elevation of 10,000 feet. It is home to 450 monks, 400-year-old scriptures, and is also the second largest monastery in the world. If you're an animal lover like me, there are a myriad of opportunities! The Kaziranga National Park is a UNESCO World Heritage Site housing half of the world's highly endangered one-horned rhinoceros', and has the highest density of tigers in the world. At Khangchendzonga National Park you can (hopefully) catch a glimpse of the elusive snow leopard, clouded snow leopard, and red pandas. Ever heard of living root tree bridges, where aerial roots are manipulated to create walkable, single, heck even double and triple-decker bridges? You'll find them in the rainy state of Meghalaya, along with caves, monoliths, waterfalls, sacred forests and lakes so clear that boats look like they are floating on the surface. Add to this several fantastic community-based tourism initiatives where tourists are made to feel at home by friendly tribes, a diverse culinary menu, and adrenaline-inducing mountaineering and trekking opportunities' the North-East is the must-visit destination you've never heard of!

Samana Peninsula instead of Tulum
Thanks in large part to Instagram, Tulum has become the place to go if you're trendy, vegan, eco-conscious and way over the party crowds and all-inclusive buffets of Cancun. But today, Tulum is sadly experiencing its own form of over-tourism, with a frail infrastructure that is crumbling under the pressures and demands of tourism, and rather ironically, the wastefulness that comes with this. I adore Tulum, and really think I was one of the first on the scene to "discover it" (not true). The good news is, if you're looking for something similar, you don't have to look far.

Instead, check out the Samana Peninsula in the Dominican Republic. It's still a super short flight from home, so you don't have to dip too much into your vacation time, and it has everything that Tulum has, and then some. Las Terrenas town is as European-chic and laid back as they get, with its own darling French bakery and sea-side beach shack restaurants. The beaches in the area are jaw-dropping, and some of the best ones are so remote that you need a boat to get there. Nearby, there are also stunning national parks, some of the best whale watching on this side of the world, great hikes and waterfalls, incredible and affordable accommodations (try Clava Verde or Dominican Treehouse Village) and charming eateries (like cliffside El Cabito or hidden and romantic Mi Corazon)

– Irina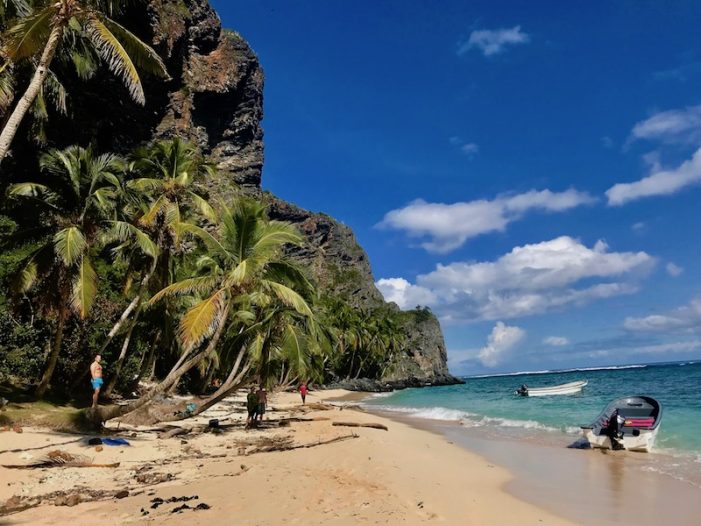 Beirut instead of Dubai
Dubai has seemingly become a hot-spot (quite literally!) in the past 5 years. Known best for the Burj Khalifa: the tallest building in the world. Tourists have flocked to Dubai for the high-end luxury shopping, cityscapes and the novelty of having an indoor skiing resort. However, if you're looking change gears and are on the hunt for history, the foodie adventure of a lifetime and an unparalleled party experience, head to Beirut.

Beirut, or as it was known in the 60's, "The Paris of the Middle East", dates back almost 1000 years. You can find the ancient cities of Byblos, Saida, and Tyre all within a two-hour drive from the capital, and it's impossible not to include them as must-sees. Experiencing Beirut should always start by walking through the effortlessly hip streets of Hamra or the easy-living streets in Beirut's downtown core. You'll want to stay in Achrafieh, at either the Royal Tulip or The Smallville Hotel, seeing as how Achrafieh is the highest point in Beirut, it's a fantastic place to really get a feel for the city. To really get a sense of local life head to the corniche in Raouché to see Pigeon Rock and hang out at a roadside coffee van while the sun sets behind the Mediterranean. It's impossible to mention Beirut, without talking about the food. It would be criminal to leave Beirut without having tried knufeh (sweetened cheese in a sesame bun drizzled with orange blossom syrup), zaatar manaeesh (flatbread fire baked with spices and olive oil), and shish tawouk (chicken marinated in spices, grilled over charcoal flames and rolled up in a flatbread with pickles, lettuce and garlic aioli), eat first, and I'll explain later. With the dazzling energy of Beirut it's easy to forget the history that Beirut has been built on, and even easier to miss the silent resilience of the city surviving a 15 year civil war that tore it in half. Forever bouncing back, Beirutis never let the past get in way of the present and certainly not in the way of their future. Lebanese people are permanent optimists, and as someone who has spent 15 years of their life in Lebanon, I can also attest to the fact that Beirutis love to party. The unofficial party capital of the middle east (since the 1990s!) there is no other club to point you towards a quintessential Beirut clubbing experience than B018. A former bomb bunker in the middle of a parking lot. It doesn't get more Beiruti than that.

– Emilie

Calakmul instead of Chichen Itza
On approach to Chichen Itza, the grandiosity of this world-famous sight becomes easily evident. It's not thanks to the actual structure itself, however, but rather the hoards of people, buses, hawkers, and the souvenir-stall-laden paths that lead to the pyramid. Chichen Itza is a sight to see if you are on a World Wonder bucket-list type of trip, nothing more. If you dislike historic sights that make it hard to tell if you're at a historically magnificent and significant place or Disneyland, then skip it altogether and head to Calakmul instead.
280 miles away from Chichen Itza, deep in the jungle of the Reserva de la Biósfera Calakmul, stand some of the most remarkable and spectacular pyramids ever built by the Maya. An entire empire stood here, now consumed by the jungle. Once down in Campeche State (the Yucatan's southern neighbor), it's an hour's drive through the forest, where there is no phone reception or electricity lines; this area is also home to a big population of the Americas' most elusive cat, the Jaguar; in fact, more jaguars per square mile live here than in the Amazon. Due to its remoteness and remaining a little obscure still, Calakmul receives yearly the amount of visitors to Chichen Itza daily, so you can wander amongst the pyramids and ruins all by yourself, while hawler and spider monkeys play in the trees. There are two very high pyramids in the area, both you can climb up and admire undisrupted views for miles. It's a true Indiana Jones-esque experience. There are a myriad of ruins all around the area, some much more easily accessible – forget Chichen Itza, this is the true treasure trove of Mayan history in Mexico.
– Polly

Mo'orea instead of Bora Bora
We work with a lot of honeymooners at allé, and I know full well that Bora Bora is the ultimate place to go (or so it seems) for a luxury honeymoon. A small island in northwest French Polynesia, this is the home of sublime overwater bungalows and pristine waters. And while Bora Bora is great, French Polynesia is also home to another, arguably more stunning island: Moorea.
First things first: yes, Mo'orea does have overwater bungalows, many of them. The lagoon in Moorea is also just as stunning as Bora Bora's, so it's not like you'll be missing out on any picture perfect snorkeling. What I like most about Moorea is that it offers so much more to do inland, so you don't just have to be laying on the beach the whole time (because, let's be real, if it's a honeymoon, relation + adventure make for the perfect combination). In Moorea, the world is your oyster when it comes to experiences- you absolutely have to rent a car for a day and go beach hopping and learn how to surf or even wind surf. The island is also a treat for hikers, with trails of all kinds, and there's also great horseback riding and ATV excursions. Feeling a bit more adventurous? Take your hand at canyoning or skydiving! If you're in the mood for something a bit more local and unique than the big resorts on the island, check out Les Tipaniers or Fenua Mata'i'oa.

– Irina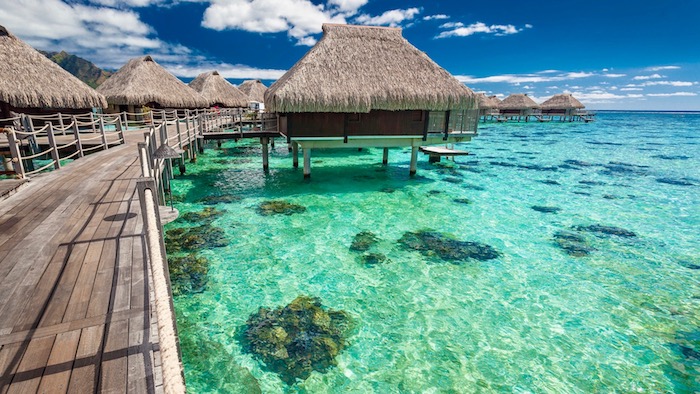 New Zealand wine trail instead of Tuscany
Tuscany. The word itself is enough to conjure imagines of rolling hills, glistening grapes sparkling through speckled vineyards speckled that woven in between the graceful dips of the valley. Tuscany is one of the most popular wine destinations on the planet, while they deserve every ounce of respect that the wine region conjures, I'd like to take you on a slight detour…to another hemisphere.
Instead of the Tuscan wine region, I'd like to introduce you to New Zealand's wine regions. I'll be honest, when I first heard that New Zealand had a wine region, I chuckled, when I heard that it was world class, I burst out laughing. I thought, "New Zealand? The land where there are close to 10 sheep for every human, how could the world possibly take them seriously as a wine-growing region?". Not only could I be further from the truth. I must say that I was deeply humbled when I moved there in, 2016. I had my first glass, that first night I arrived, (I'll never forget the bottle or the vintage), a 2014 Cloudy Bay Pinot Noir, and by the time I had emptied the last drop from my glass, I had become radicalized. New Zealand originally rose to fame for their exquisite Marlborough Sauvignon Blanc. The newfound recognition gave New Zealand a little more room to shine, and it opened the floor for the Central Otago Pinot Noir to be recognized for what it is, a complete game-changer in the wine-world, in the best of ways. For me, the true rising star and the pinnacle of how New Zealand terroir has transformed how one can experience wine is.
– Emilie

Baja California instead of The Galapagos Islands
The elusive Ecuadorian territory that is The Galapagos Islands is one of the most sought-after destinations for nature and wildlife lovers – the uniqueness and abundance of animal species and scenery is staggering, of course. But the islands are accessible mostly to those with both a generous budget and amount of time to travel (it's a long way away), and the experience is limited to tours and boat-bound "adventures".
Head to Mexico instead! That's right, The Galapagos' top rival is just under our noses, so to speak. Posters hang in fashionable cafes in Todos Santos and La Paz, Baja California Sur, reading "Baja California Sur, the planet's last treasure"; this sparsely populated, desert-like part of Mexico on land comes very much alive just off its shores, in the Sea of Cortez and the Pacific Coast. Jacque Cousteau called the Sea of Cortez "The World's Aquarium": fishes, sharks big and small, the world's largest mammal, the Blue Whale, and the world's largest fish, the Whale Shark, dwell here all or part of the year. Islands off the coast act as evolution labs – a myriad of bird and reptile species call these home, undisturbed by humans (blue-footed boobies anyone? Not unique to The Galapagos after all!) It's a 40 minute drive from coast to coast; on the Pacific side Humpbacks play in the distance at sunset, while two of the seven types of sea turtle, Leatherback and Olive Ridley, lay their eggs ashore. Grey Whales make one of the longest migrations in the world, from Alaska to this pristine part of the world, to spend winter in Baja's many sheltered bays – they are some of the friendliest, too, often coming so close to whale watcher's boats you can touch them. The peninsula's desert-like interior features dramatic landscapes, cacti forests, desolate beaches, and every now and again, shrubs turn to palms – oases! ATVing your way around is one of the most fun things to do in Baja, and as they like to say here, every dirt road leads to somewhere exciting. Baja California is very much a make your own adventure type of place: no tours, no packages, no restrictions (but the basic "be good to nature" stuff, you know the drill!): rent your own vehicle, hop around the beautiful semi-colonial towns, explore the wildlife off both coasts, stay as long as you like, and spend as little as you prefer.
– Polly

Tel Aviv instead of Barcelona
Barcelona, the ultimate summer destination on everyone's bucket list. The night-life, the beaches, the weather, Barcelona has it all. Including the crowds, the noise, the drunken youths, and of course the hordes of tourists who flock to Barcelonnette beach every summer.

Instead, check out Tel Aviv, a vibrant, youthful city that hugs the Mediterranean coastline and boasts incredible markets, food and nightlife. To be completely frank, I was initially cautious about choosing Tel Aviv because it is in a part of the world that is always in the news. And although a trip to Tel Aviv is not a simple sightseeing journey, and shouldn't be treated as such, it is, however, a unique place to meet, engage, and understand an easily misunderstood area of the world. The best place to start your Tel Aviv experience is to do as the locals and take to the markets: Shuk Ha'Carmel, the most famous market in the city, and all the charms, smells and shouts that come with it. Looking for something a little more intimate? Head to Levinsky Market, initially started by the Greeks before WW2 and then revitalized in the early 1950s by Iranians, along with their cuisine and spices. Today, this market is a real gem; approachable, untouristed and oh so local. Be sure to check out Saluf & Sons, a casual Yemenite spot, the best place to try malawach (fried pancake-like Yemenite bread). Wrap up your market-hopping in Jaffa, a weaving network of shops and markets, street performers and the like. While you're in the area be sure to stop by Two Neighbours, who are passionate about providing a pathway to collaboration and peace through fashion. Next, take advantage of how food connects those who coexist and make up the buzzing streets of Tel Aviv with a visit to Abu Lafia bakery, whose owners wear shirts that say "Arabs and Jews refusing to be enemies". When you've had your fill of markets, pastries, sweets, and treats, head over to the Dr. Shakshouka to experience a Libyan delicacy of spices, tomatoes, and eggs, that you will leave you licking your plate. Then it's time to hit the beach; I recommend heading to Gan Hamidron, if you're still hungry take a picnic from Abou Hassan Hummus (which is exactly what it sounds like: delectibale, authentic, and perfectly balanced hummus) and people watch as both Jews and Arabs mingle together and watch the sunset. When you're ready, head to Nanuchuka, a Georgian/Israeli vegan eatery by day, that turns into an all out dance-party by night and dance the night away. Or, if it's Friday head to Anat's house for Shabbat for the warmest welcome, insightful conversation and traditional Shabbat kiddush with sweet wine and challah.
– Emilie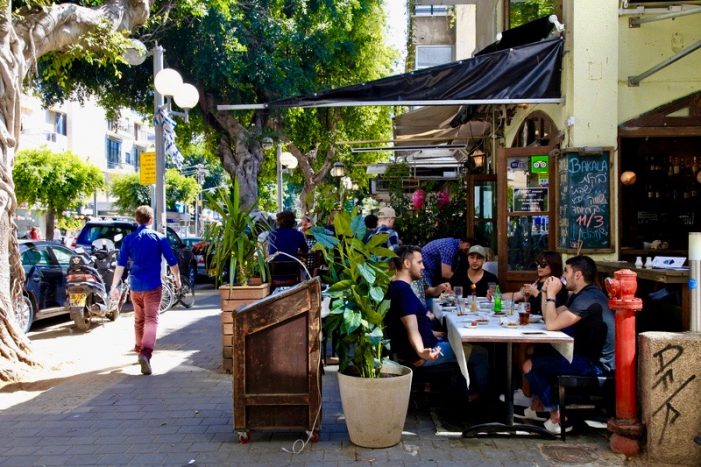 Discover more off the beaten path locations with an ask allé custom coaching call!
Save hundreds of dollars and hours of planning with our travel coaching package!