Best Destinations to Celebrate Carnival in Latin America
December 4, 2019 | by Emma McKay | Posted in Americas, Places
Carnival is a celebration like no other. Whether you think of the carnival parade in Rio, Mardi Gars in New Orleans or the famous Venice Carnival, in honour of this amazing and unique party, we're running through all the best destinations to celebrate carnival, focusing on amazing spots in Latin America!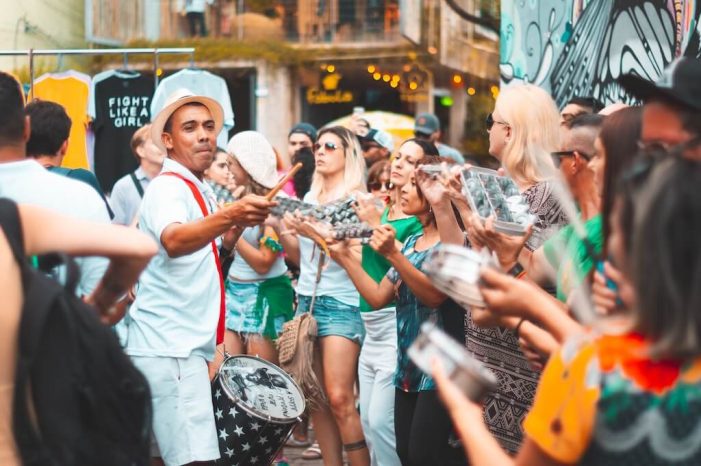 It's believed that carnival celebrations date back to the 12th century, though "modern carnival" as a celebration across Latin America is thought to have begun around the 1700's. Carnival is known as a time of celebration, a time to indulge in activities one may be giving up for lent and having a grand "final" celebration. Even the name carnival comes from the Latin word carnelevare, loosely translated as the "removal of meat", referring to the practice of giving up meat for the 40 days of lent.
Carnival is celebrated all over the world, predominantly in areas with a high population of Catholicism, and typically falls approximately 40 days before Easter, in the week leading up to Ash Wednesday. The types of events in all the best destinations to celebrate carnival vary around the world, but most involve grand costumes, parades and plenty of parties. Though carnival is interconnected with the history of slavery in Latin America, today it is a celebration of freedom for everyone to enjoy.
Here are the best destinations to celebrate carnival in Latin America.

Brazil
When you think of carnival, you likely think of Brazil! Whether the image of colourful costumed samba dancers come up, or maybe pop culture references to the iconic multi day party, Brazil is one of the best destinations to celebrate carnival in Latin America and beyond. In Brazil, the first carnival was held in Rio de Janeiro almost 300 years ago, in 1723. Though the carnival in Rio is known as "The biggest show on earth" with multiple parades, street parties, balls and so much more, there are so many great places to participate in carnival in Brazil – including the elaborate Bahia Carnival in Salvador, Manaus, in the heart of the amazon and tons of unique towns along the coast of Brazil from Floripianopolis to Recife.
There are a few different ways to celebrate carnival, all around Brazil. Perhaps the most recognizable are the parades, showcasing samba school around each region in elaborate costumes, dancing alongside larger than life colourful floats. The dancers are the best of the best, and routines are choreographed the entire preceding year. The largest parade is in Rio de Janeiro, but smaller versions occur in Salvador, Sao Paolo and most major cities in Brazil. The final parades are always elaborate, full day affairs and tickets are usually sold months in advance. The mood is exciting, colours costumes are donned and it's a giant party, on the streets or in the stands of arenas.
Street parties, known as blocos, are another amazing way to experience carnival in Brazil. These massive parties shut down whole neighbourhoods of cities, with live music, street food stalls, mobile bars and plenty of people dressed up and partying from sunrise to sundown. Blocos are held in most major cities and date back hundreds of years, and back then, these events were often the only time Brazils elite would mingle with other citizens. Nowadays, everyone gets in on the fun, with different themed blocos around each city. One of the most hilarious and unique is a quirky Beatles themed party in Rio every year, Bloco do Sargento Pimenta (Sargent Pepper), where a live band plays favourites like Hey Jude and Yellow Submarine in samba style.
If you are most interested in the history of Carnival, opt to head to either Salvador, Fortaleza or Recife. Many of the parades will have more traditional costumes on display, and you'll learn about the history and influence of Caribbean culture. In Salvador, discover why Bahia is the musical state of Brazil, where trio elétricos (musical trucks) with live musicians, singers and dancers drive across the city, creating parties at every turn. Fortaleza and Recife are host to a much more Caribbean Carnival, similar to what you might find in Trinidad and Tobago.
First time heading to carnival in Brazil? We recommend splitting your time between Rio and Salvador! Starting in Salvador, learn about the history of carnival, feast on moqueca, and discover samba music, before heading to Rio for the sambadrome parade and a block party. Wherever you go, be prepared for crowds, watch out for petty theft (leave jewellery at home!) and choose accommodation away from the centre of town – you'll need a quiet retreat after the celebrations. Ready to head to Brazil? Contact us today for a custom carnival trip plan!

Bolivia
Though not as widely celebrated as in Brazil, Bolivia is a very unique option and one of the best destinations to celebrate carnival in Latin America. In Bolivia, the Carnaval de Oruru, is celebrated yearly for 9 days leading up to Ash Wednesday. In the cultural city of Oruru, the carnival is said to have begun in 1756, as a celebration of the Virgin Mary appearing in a mineshaft, and even now the celebration is centred around the Sanctuaria del Socavon, translated to the Church of the Mineshaft in English.
The highlight of the Carnaval de Oruru is the three day, three night parade, where 48 groups of folk dancers cover a two mile route towards the sanctuary of the tunnel, where the Virgin Mary appeared. To witness the parade, locals and tourists alike can either purchase tickets for prime viewing, ranging anywhere from just $10 to up to $300, or follow the parade on foot, free of charge.
The carnival of Oruru is one of the best places to witness Diablada, a Bolivian dance that combines Spanish theatrics with indigenous style of dancing. The dance is widely recognized as a great example of syncretism of indigenous and Catholic styles and is recognized by UNESCO as a Masterpiece of the Oral and Intangible Heritage of Humanity. At the centre of the dance is a depiction of El Tio, an underworld deity (or devil-like creature) who the local miners believe provides protection in exchange for cigarettes and alcohol.
Good to know: Accommodation and local transport options often fills up months in advance, as this small town is not often visited outside of the celebrations, so this is one to plan far in advance. If you prefer, a day trip from La Paz or Sucre can be organized, but this will take up to 4 hours each way of driving.Though violent crime is unlikely, petty theft is unfortunately fairly common, so expensive cameras, jewellery and other valuables should be left at your hotel. If heading to Bolivia for carnival, be sure to add on a trip to Salar de Uyuni, the world famous Bolivian salt flats.

Uruguay
This four month long carnival is arguably the longest and most widely celebrated in the world, with around 90% of the country taking part in the celebrations, for days, weeks or months at a time. The largest and most attended celebrations will be in the capital city of Montevideo, and the Carnaval de Montevideo, is a wonderful time to visit the city, specifically during the month of February.
Carnival in Uruguay has evolved since the days of Spanish colonization of the country, and the event has become a celebration of many different beliefs and traditions from various cultures who immigrated to the country. Carnival here heavily celebrates the abolition of slavery, while also acknowledging harvest celebrations, and collective freedoms, along with the time of celebration before lent, in the days leading up to Ash Wednesday.
There are many traditions related to carnival in Uruguay, beginning each year with a week long celebration in November. Close to the time now recognized as carnival, Montevideo also celebrates Candombe. During the colonial period, this celebration was the only time of year slaves were able to express their culture, with music and their native clothing. It is now celebrated during carnival (and throughout the year!), and is one of the best times to see bands of drummers playing unique music to this area of Uruguay.
Also on display in Montevideo is murga, a romantic musical show, and pariodistas, short comedy shows and parodies. Performances take over the streets of Montevideo, with stages set up along major streets for musical, dance and comedy shows. The carnival here in Montevideo is much more of a trip back in history than what you would find in Brazil.
Carnaval de Montevideo tips: Visiting Uruguay for carnival in Montevideo is a wonderful time to soak in the history of the country – but unless you speak Spanish, it can be a good idea to hire a local guide to get the most of the experience. Couple a trip to Montevideo with a at least a few days in Casapueblo, a picturesque seaside town that looks more like Santorini than anywhere in Latin America with Cycladic-inspired architecture and a great beach. Want help planning your trip to Montevideo and beyond? Contact us today!

Puerto Rico
Experience the excitement of carnival from the United States without a passport on the island of Puerto Rico. In Ponce, about 2 hours from San Juan, Carnaval Ponceño is a grand celebration during the week before Ash Wednesday. Similar to others on this list of the best destinations to celebrate carnival, carnival in Puerto Rico is a widely celebrated week of events of music, parades, costumes and parties leading up to the beginning of lent.
The Carnaval Ponceño has been celebrated since the 1850's, and though it draws less crowds than other carnivals, this is a fantastic introduction to carnival in Latin America. Taking over the small city of Ponce, most of the events take place at the main plaza in town, Plaza las Delicias and the city hall, Casa Alcalde. The major festivities begin with the Parade of the Carnival King on Friday evening, and parades take place throughout the weekend, and finish with the El Entierro de la Sardina, translated to "burial of the sardine", at midnight on Tuesday. This final event is a symbolic burial of the past to allow society to be reborn, after the transformational event.
One of the major recognizable features of the Ponce Carnival are the vejigantes, demon like characters, drawing on folklore that blends Spanish, African and Caribbean customs and traditions. The name originates from the word vejiga, literally bladder in Spanish, because the vejigantes used to arm themselves with inflated cow bladders and dance to "beat" the spirits away from children and other innocent people. Luckily these days there are no cow bladders to be seen, but the dancing tradition remains, with dancers in elaborate costumes, complete with a cape and mask, take to the streets.
Throughout the weekend experience parties throughout the streets of Ponce, along with organized lavish balls and masquerades. Most of the events are family friendly as well, with everyone from children to the elderly dressing up in elaborate costumes. There is plenty of dancing, singing and amazing food and drinks to experiencing in Ponce.
Advice for Puerto Rico: Carnival is one of the best times to visit Puerto Rico, in the heart of the dry season. Weather will be around 80 degrees, and sunny most days. Couple a trip to Ponce with a visit to San Juan, along with Vieques, a small island off the coast boasting amazing beaches. Puerto Rico uses the American Dollar, and has direct flights from many US cities, making this an easy trip away!

Colombia
Carnival in Colombia is most popularly celebrated in Barranquilla on the Caribbean Coast, near to Cartagena, but historical celebrations of carnival are seen all over the country. One of the oldest celebrations of carnival in Latin America occurred in Pasto, now celebrated in January of each year and is another UNESCO as a Masterpiece of the Oral and Intangible Heritage of Humanity.
In Pasto, Carnaval de Negros y Blancos is celebrated yearly between January 2nd and 7th, drawing in locals and tourists to celebrate the history of slaves in the area. The carnival began as the only time slaves in Colombia had a "day off" to celebrate their cultural roots during the 1600's. In modern times, this carnival celebration is used to recognize the dark history of Colombia and the continued recognition of different cultures around the country.
In Barranquilla, carnival is similar to they type of celebration you would find in Rio de Janeiro, with elaborate costumes, parades and parties around the city. Barranquilla is also home to the second largest parade after Rio, drawing in hundreds of thousands of tourists from around the world to this seaside city. In Barranquilla, witness dance and music influenced by the melting pot of the city, from Spanish influence to African congo to indigenous mico y micas.
Carnival in Barranquilla begins with La Batalla de Flores, or battle of the flowers a grand parade that ends with a fake fight, utilizing of course, flowers. Though this is a fun opening event, it is also a political statement, mocking some of the country's fear mongering politicians and leaders. Following the parade is four days of celebration, shutting down many major streets for parties, parades and live shows.
The semi-official Barranquilla carnival slogan is "Quien lo vive, es quien lo goza", or "Those who live it, are those who enjoy it!" and this rings true for the celebration of carnival – you need to be there to see it!
Colombia for first timers: If you're thinking of heading to Barranquilla for carnival, be sure to save time to visit the rest of the Caribbean coast of Colombia, including Cartagena, a historical port city, or Tayrona National Park, for amazing hiking along the rugged coast. Barranquilla can be easily reached from the United States, by taking a direct flight to Cartagena and a short ground transfer.

Trinidad and Tobago
One of the largest carnival celebrations in the Caribbean, Port of Spain in Trinidad and Tobago is a grand celebration lasting two days, on the Monday and Tuesday before Ash Wednesday. Though the official celebration is only two days, carnival celebrations for many locals begins just after Christmas, during New Years and beyond until the two day official party.
Carnival in Trinidad and Tobago is an important part of the history of the nation, as its predecessor, the festival of Canboulay helped develop the music style of calypso. Canboulay began as a harvest festival from slaves in Trinidad and Tobago, rivalling the European carnival some plantation owners brought to the island. Nowadays, the carnival in Trinidad and Tobago blends the many cultures of the island and is widely celebrated.
Known as the largest street party in the world, carnival in Port of Spain rivals Rio de Janeiro's carnival for full day parties, elaborate costumes and live music lining the streets of the capital. Carnival Monday begins at bright and early 4 AM, where party goers enter the street covered in paint, grease and mud, dancing until sunrise. Later in the day, the bright, bold colourful costumes begin to appear, flooding the streets dancing to the sounds of soca!
Port of Spain is a great choice for visitors to experience carnival, as the celebration welcomes people from around the world with large parades, dancing and live music. Many of the parties charge a small entrance fee, but operate on an all-inclusive basis, offering partygoers food, drinks and entertainment.
Trinidad and Tobago Tips: If you're planning on heading to Port of Spain for carnival, be sure to book extremely early. Most hotels will book up a year in advance, and flight prices also rise exponentially during this time. After visiting Port of Spain carnival, be sure to head out of the city to experience both Trinidad and Tobago, an eclectic melting pot of cultures.

Other Destinations
Outside of our top picks in Latin America, there are tons of amazing destinations to celebrate carnival around the world. Carnival in Europe has been celebrated since the 12th century, and the continent still remains one of the best destinations to celebrate carnival around the world. Carnival in Venice is perhaps the best known internationally, with elaborate masquerades and events.
Beyond Venice, Nice and Tenerife are all wonderful choices for carnival celebrations in Europe. In Nice, nearly one million visitors flock to the seaside town for plenty of parties and celebrations. In Tenerife, the festivities surround the main parade, and the reveal of the carnival queen.
Staying within the United States, head to New Orleans for Mardi Gras, a translation from French for Fat Tuesday – the main day of celebration. Though Mardi Gras, like other carnival celebrations originated in Europe, New Orleans hosts one of the most amazing parties of the year, with parades and many, many parties.
Which do you think is the best destination to celebrate carnival?