Where to travel in October
September 15, 2016 | by Irina | Posted in Travel IQ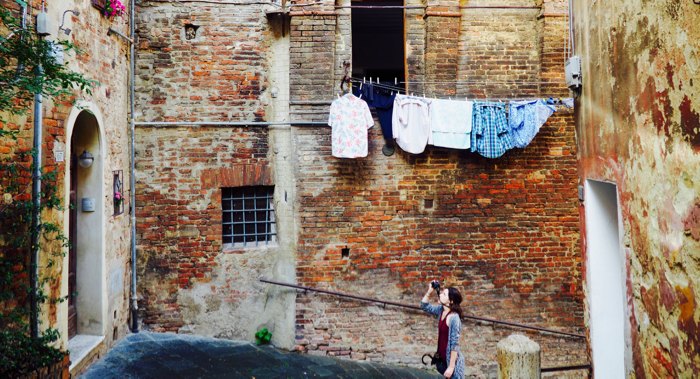 We love travel in October– the kids are back to school and the summer rush is over, finally you can enjoy the most incredible destinations in the world in the off season, think less crowds and selfie sticks and more local charm. So as the weather gets cooler, we suggest you pack your bags and hit the road to explore the following, our selections for where to travel in October:
Feed your inner gourmand in Alba, Italy
The gourmet capital of Piedmont, Italy, the town of Alba is famous for its wine, peaches, truffles and chocolates. It is located right in the heart of the Langhe region, and is home to more than 30,000 friendly locals.  The weather in October is relatively cooler but it is still a great time to visit this region because of its incredible festivals. The Alba White Truffle Festival, one of the biggest truffle festivals celebrated in the country, takes place every single weekend during the months of October and November. The festival starts with a Palio degli Asini or The Alba Donkey Palio, a donkey race held in the center of Alba usually held on the first Sunday of October. And if you happen to be a wine connoisseur, the town hosts a two day event in October called Piacere Barbaresco which exclusively features Barbaresco wines. Once known as the "City with Hundred Towers", its attractions (outside of festivals) include towers from the 14th and 15th centuries, Centro Storico, Underground Alba, Cattedrale di San Lorenzo, Casa Fenoglio, Distilleria Santa Teresa dei Fratelli Marolo, and Mauro Sebaste Winery.
Island hop in Bohol, The Philippines
The Philippines prides itself for having more than 7,107 islands, and one island that must be visited is Bohol. Although a devastating earthquake occurred in 2013 which destroyed or damaged its centuries old churches, the island has risen up from this disaster and is once again a favored destination. The weather is great for water and outdoor activities, although you can expect some rain showers and thunderstorms. An oval-shaped island surrounded by about 73 islets, Bohol is the tenth biggest island in the Philippines. A province of more than 1.3 million, Bohol is known for its landscape, natural wonders, beautiful beaches, and countless activities to enjoy. Its attractions include the Chocolate Hills which are 1268 hills that are almost of the same shape and size. They turn brown during the summer making the hills look like chocolate mounds; the Tarsier Conservation, home of the Philippine tarsiers which measure just 7 inches in height, making them some of the smallest primates in the world; and Panglao Island where you can enjoy the sea, sand, and sun. You must also take time out to enjoy the Loboc River cruise which features live cultural performances during a delicious lunch.  Also be sure to catch the Loboc Children's choir perform; they are world famous for their angelic and exquisite voices.
Take a city break in Auckland, New Zealand
It is actually mid-spring in Auckland, New Zealand, in October. The weather might not be warm enough to sunbathe, but you can still enjoy a number of outdoor and even winter activities in its snowcapped mountains. The city of Auckland is the most populous city in New Zealand and is home to more than 1.4 million people.  It is often referred to as the "City of Sails" because it has 135,000 yachts and launches that are registered in the city. And though many of New Zealand's pearls are of the natural kind, you can also get your fill of action in Auckland. Its attractions include the Viaduct Harbor, Auckland Domain, Bethells Beach, North Head Historic Reserve, New Zealand Maritime Museum, Howick Historical Village, Queen Street, Auckland Harbor Bridge, Mount Eden, Auckland Zoo, and Auckland Art Gallery Toi o Tamaki.
Beach hop in Mauritius
Although Mauritius is a year-round travel destination, October is the best time to enjoy the country. It has the least rain out of any month, and it is absolutely the best time to hit its beaches. Located in the Indian Ocean, this is a tiny country of just 1.2 million people. The country was named after Prince Maurice van Nassau by the Dutch, who in 1638 established a small colony on the island. If you are looking for a beautiful country with a rich history and culture, and lovely beaches where you can spend days appreciating its pristine water and white sand, Mauritius is the place to go. There are many luxury resorts that will pamper you with their impeccable service and facilities. In fact, Princes William and Harry, Michael Schumacher, Claudia Schiffer, Kylie Minogue Gwyneth Paltrow, Michael Douglas and Catherine Zeta – Jones, and Jacques Chirac, are just few of the celebrities who have spent their vacations in Mauritius.  Our favorite beaches (though it's hard to choose!) include Pereybere, Ile aux Cerfs, Trou aux Biches, Flic en Flac, Belle Mare Plage, Mont Choisy, Blue Bay Beach, La Cuvette, Le Morne, Mont Choisy, and La Cambuse.
Party in Salvador, Brazil
October is the best time to visit Salvador, Brazil. The weather is generally pleasant and there are great deals to be had for those who are on a budget. The city is located in the northeastern state of Bahia, and is one the oldest colonial cities of the New World, having been founded by the Portuguese in 1549. You absolutely must visit Salvador as it showcases the perfect blend of Portuguese, Amerindian, and African architecture, music, culture and cuisine. The city draws in more than a million tourists annually who are lured by its mystical and a go-with-the flow atmosphere. It's also the real party capital of Brazil with celebrations held every month! In fact, it is known for the biggest carnival party in the world. Aside from its festivals and celebrations, the city has its share of attractions including Santo Antonio da Barra fort and Nautic Museum, Bahia Lighthouse, Morro do Cristo, Misericordia Museum, Palacete Das Artes Rodin Bahia, Ponta de Humaita, Sao Francisco Church and Covent, and a number of beaches.