Where to travel in December
November 14, 2016 | by Irina | Posted in Travel IQ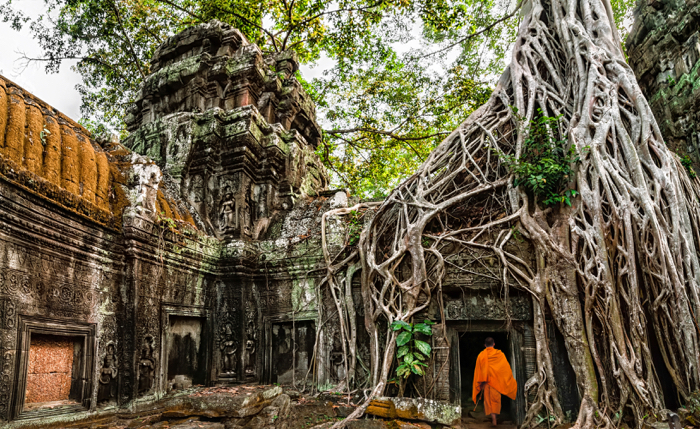 December is the time of year most of us spend going from holiday party to holiday party, stuffing ourselves silly and celebrating with loved ones. With so much going on during this month, you may just want to escape from the frenzy and festivities. Here are our top picks on where to travel in December:
Siem Reap, Cambodia
With no rainfall expected and cooler weather, the month of December is the best time to visit Siem Reap, Cambodia. Siem Reap is actually a cluster of small villages located along the banks of the Siem Reap River and is the gateway to Angkor Wat, one of the most famous temples in the world. Siem Reap attracts tourists from all over the world but it has remained a very cheap place to visit. This is the reason why it is a favorite of travelers on a budget and backpackers who want to maximize their dollars. The best thing about traveling to Siem Reap is that it you get to enjoy its sights, food, and a very energetic nightlife, thanks to the expats who call it home and the younger set of travelers.
The main reason why travelers come to this town is to visit Angkor Wat.  It is about seven kilometers from town, and is known to be the largest religious monument in the world. Aside from Angkor Wat, the town's attractions include a number of temples or Wats, Angkor Archaeological Park, Cambodia Landmine Museum, Angkor Silk Farm, Angkor National Museum, and War Museum Cambodia. If you are on a hunt for bargains, you must visit the Psar Chaa – Old Market, and the Angkor Night Market which is where you can also savor authentic Cambodian cuisine. If you are thirsty for a drink after a day of visiting sights, head to Pub Street.
Negril, Jamaica
Although Negril, Jamaica, is a popular year-round destination, the best time to visit this beautiful town is in December. Early December is still part of the low season and there are fewer crowds and accommodations are cheaper. The weather is perfect for you to enjoy this resort town which boasts beaches that are always mentioned as the best in the world. Because the town is fairly underdeveloped, it has retained its laid-back atmosphere and does not have that "touristy" feel to it.
Your days in Negril can be spent swimming or sunbathing at the famous Seven Mile Beach with its fine white sand and crystal clear waters. If you dare, you can jump off the Negril cliffs and scream you heart out or other water activities you can enjoy include a dip at the Mayfield Falls or at the Blue Hole Mineral Spring. Negril is not only for those who love the water, it has a number of attractions that does not involve the water including Barney's Hummingbird Garden Jamaica, Negril Lighthouse, Blue Mountain Experience, and Times Square Mall for shopping. Your days will be filled with things to see and do, but when the sun sets, you must dance the night away to the beat of reggae music.
Munich, Germany
You may not be able to escape from chilly weather when you visit Munich, Germany, in December where you can enjoy lots of Christmas festivities and shopping. Known as the World City with Heart, Munich was named by Travel + Leisure as one of the best places to spend Christmas in. It is the third biggest city in Germany, covers a total area of 86 square miles, and is home to about 1.5 million people.
The city celebrates Christmas the way you would imagine how it should be. The hundred-foot-tall Christmas tree in the Marienplatz decorated with about 3,000 Christmas lights best represent how the locals love the season. There are more than two dozen Christmas markets that dot the city where you can shop till you drop, and concert halls where you can enjoy German Christmas music. If you would like to practice your ice skating skills, head to the Munich Ice Magic, the city's largest open-air skating rink. The kids will surely have a ball at the Tollwood Winter Festival which features acrobatic acts, music, dances, and food, and Christmas Village in the Royal Residence where your kids can shake hands and have pictures taken with the German Santa Claus, Nikolaus.
Seychelles
December is considered a wet month in Seychelles but it should not deter you from visiting this island country. There are more sunny days to enjoy in December even if it the rainy season. An archipelago of 115 islands, Seychelles is an all-year-round destination known for its beautiful beaches. It is located in the Indian Ocean, northeast of Madagascar, and has the smallest population of any independent African state with about 90,000 locals.
Before you even head to one of its islands, you must spend a day or two in its capital city of Victoria, one of the smallest capital cities in the world.  The city's attraction the Clock Tower, Tempio Hindu, Victoria Market, Seychelles Natural History Museum, and the Trois Freres Trail. When you are ready to head out from the city, the spectacular islands with white pristine beaches await you.  You can island hop or stay in Praslin Island, Mahe Island, or La Digue Island where days are spent beachcombing, sunbathing, swimming, and enjoying a number of watersports activities.
Melbourne, Australia
It is actually the start of the summer season in Melbourne, Australia, so expect warm weather in December. The capital and most populous city in the state of Victoria, Melbourne birthplace of the Australian film and television industries, Australian contemporary dance, Australian impressionism, and Australian rules football. It is also known as one of the best coffee cities in the world. According to Livability Ranking by the Economist Intelligence Unit (EIU), and Monocle Magazine's Quality of Life Survey, Melbourne is one of the top five most livable cities in the world.
The "City by the Bay" has so much to offer for different types of travelers. Its top attractions include Queen Victoria Market, Immigration Museum, Federation Square, Old Melbourne Gaol, Eureka Skydeck 88, State Library of Victoria, Hosier Lane, Melbourne Star Observation Wheel, and Degraves Street, just to name a few. The city is also known for a number of sporting events all year round, so check out the Melbourne Park Complex, known as the venue of the Australian Open held every January. It also houses the Rod Laver Arena for ice hockey and tennis, and Hisense Arena where a variety of sports and concerts are played. You must also visit the Melbourne Cricket Ground, the birthplace of Test and One Day International cricket, and home to a number of sporting events held annually including the Australian Football League (AFL) grand finals.
[vc_row][vc_column][vc_empty_space][vc_cta h2="" txt_align="center" style="flat" color="white" add_button="bottom" btn_title="Find out more!" btn_style="flat" btn_color="white" btn_align="center" css=".vc_custom_1488304661749{background-color: #3ba949 !important;}" btn_link="url:https%3A%2F%2Falletravel.co%2Fask-alle%2F|||" btn_custom_onclick="true"]
Save hundreds of dollars and hours of planning with our travel coaching package for only $149
[/vc_cta][/vc_column][/vc_row]