Top 5 Greek islands near Santorini
June 27, 2016 | by Riana | Posted in Europe, Places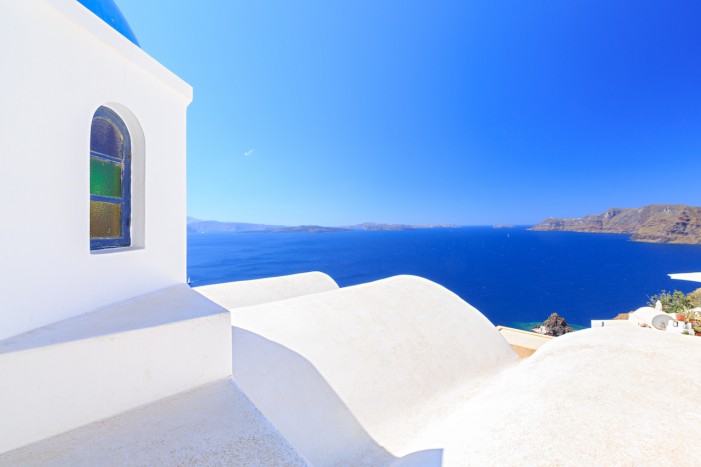 There's nothing more quintessential, or more picture perfect, than a summer trip to a Greek island, and for many, the top Greek island to visit is Santorini. For good reason too- sunsets in Santorini are a real sight to behold. And those white washed houses on the cliff? Unreal. But what about after Santorini? Say you want to keep adventuring and checking out what's around. Below are our top picks for Greek islands near Santorini that are easily accessible by a short ferry ride and well worth the detour.

Paros Island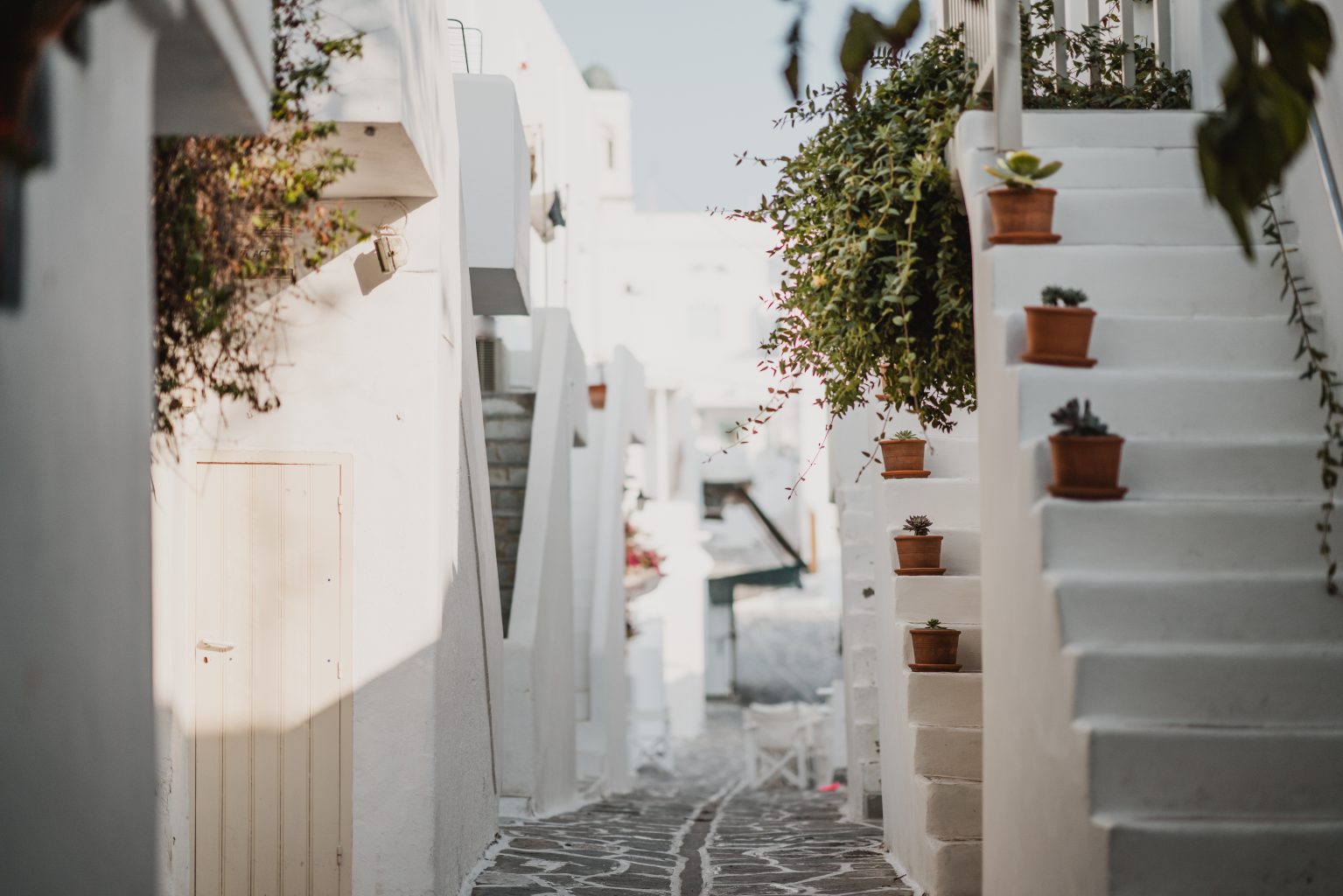 Known for its traditional villages and beautiful beaches, the island of Paros is located in the Aegean Sea.  It is the most up and coming island of the Cyclades island group and is home to more than 13,000 people. It is a favorite destination for families, young adults, and romantics. Come to Paros to relax on beautiful beaches, see its breathtaking architecture, and visit unique attractions.  
What to do in Paros:
Beaches – Paros is most popularly known for its beaches – there are a total of 38 beaches on the island, each boasting crystal clear water and fine white sand. Here are our top choices:
Golden Beach –

Defined by its soft sand and crystal clear water. This is a favorite of windsurfers, families, and those who want to indulge in other watersport activities.

Pounda –

Located near the village Parikia. It has a number of beach bars where you can enjoy food and drinks.

Santa Maria –

Found near the village of Naoussa and known for a number of watersport centers.

Kolymbithres

– One of the most famous beaches in the area of Naoussa, characterized by its rock formations and clean water.

New Golden Beach

– Located right next to Golden Beach. Not as popular as its neighbor, this is most frequented by those who desire a less developed and quitter beach area.
The Valley of Butterflies – Located 3 miles south of Parikia, it is commonly referred to as Petaloudes.  Every summer, the Jersey Tiger Moths are drawn in by the sweet smell of the leafy trees and cover the entire valley leaving a spectacular site.  This phenomenon can only be found in 3 countries (Turkey and U.K. being the other two), making this site truly unique.  The most adventurous way to access this secluded valley is by donkey! But, of course, a bus or taxi is always an option too.
Folklore Art Museum Of Cycladic Civilization – Open every day of the week, the Folklore Art Museum houses numerous miniature replicas of Greek tradition.  The art was created by ordinary fisherman, Benetos Skiadas, who used materials only from the Cycladic land.  Located in Aliki, you can come to see all types of ships, lighthouses, and castles that are perfectly to scale.  
Moraitis Winery – Found in the Old Port of Naoussa, Moraitis Winery is a great way to spend an afternoon if you are looking for a break from the sun.  The winery was started in 1910, and is run today by the 4th generation of the family.  The staff is all very hospitable and offers tours, tastings, and even cheese plate pairings.  You can make a reservation in advance (not required, but recommended) and sign up for a tasting of 6, 12, or 18 wines.  The 100 acre vineyard offers many different varietals to try and it is well worth a visit.
Panagia Ekatondapiliani Cathedral – Although inaccurately translating to 'the church with one hundred doors', this church is one of the best preserved Paleo-Christian monuments in Greece.  Originally constructed in 4th century A.D., it is located just a short walk away from the port of Parikia. If you find yourself in Paros in mid-August, you will see many celebrating the large religious festival on August 15th as the Monastery of Panagia Ekatondapiliani is considered the protector of Paros.
Venetian Fortress – The iconic landmark of Paros, this fortress was originally used as a watchtower for pirate attacks due to its ideal location overseeing the Aegean Sea.  Today, only part of the fortress remains, but this doesn't deter visitors as it's one of the most photographed landmarks on Paros.
Paros Ancient Cemetery – Visit the most important ancient cemeteries of the Cyclades.  Archaeological evidence shows that it was in use from 8th century BC to 3rd century AD.  
YRIA Ceramic Studio – If you're looking for a memento to bring home with you, make a stop at YRIA Ceramic Studio.  YRIA's original design concept was to bring contemporary form and function to one of Nature's most transformative goods: clay.  Over the years, the studio continues to grow and now carries items ranging from ceramics to home furnishings to jewelry.

Where to eat in Paros:
There is no shortage of fresh seafood served alongside breathtaking views in Paros.  Here are some of our favorites:
Les Amis Bistro Cafe – For the rooftop seekers, make a dinner reservation at Les Amis Bistro Cafe where they have a rooftop terrace for pre and post dinner drinks.  This restaurant breaks the mold of the authentic Greek style restaurant and introduces modern aesthetics to your dinner table.  Be sure to make a reservation if you decide to dine here (and just FYI – it is closed on Wednesdays).
Kargas – Are you in search for the best souvlaki in town?  If yes, then this is your spot. No thrills, just delicious casual food for you to enjoy in Naoussa.  Takeaway is also available.
SOSO – Located on a picturesque and quiet cobblestone street in Naoussa, SOSO is just how you imagined your vacation to Greece.  The restaurant does Greek food with a modern twist.  It's the perfect place to have a romantic dinner and many consider this the top pick for quality food in Paros.  SOSO opens at 7:30pm daily.
Siparos – Now for the restaurant with the view, make a reservation at Siparos.  This restaurant is located on Santa Maria beach and is the perfect spot to watch the sunset.  This Greek and Mediterranean style restaurant serves nothing but fresh food. Opening at 1pm every day, you could also stop by to enjoy a late lunch after a day at the beach.

How to get to Paros:
From Santorini: There are plenty of ferry options to travel from Santorini to Paros.  With the average travel time taking just under 2 hours, Paros is a popular day trip destination for those vacationing in Santorini.  The average price is just north of $40 one-way.
From Athens: There are two ways to reach Paros from Athens – ferry or plane. By ferry, this will take you between 3-4 hours to reach the island of Paros and will run you about $40-60 one-way during high season.  You can also reach Paros by plane, which is a quick 40 minute flight. Olympic and Sky Express offer daily flights ranging from $50-$100 one-way.
How to get around Paros:
Bus – The cheapest option with very frequent routes (especially in the summer months).  It connects several regions including: Parikia, Naoussa, Aliki, Punda, and Golden Beach.
Car – To explore hidden gems of the island, you can easily rent a car since most of the main road is flat.  There are numerous car rentals across the island.
Taxi – Often the preferred method, prices are fixed each year based on the route (that means no taxi meters).  The best places to pick up a taxi is in the central square of Parikia and in Naoussa by the little river that flows through the main road.  It is encouraged to get taxi drivers numbers so you can pre-arrange pick-ups.
Boat – Certain parts of Paros can only be reached by boat, such as certain steep beaches and Antiparos.  These boats depart from Parikia and Punda.
Tinos Island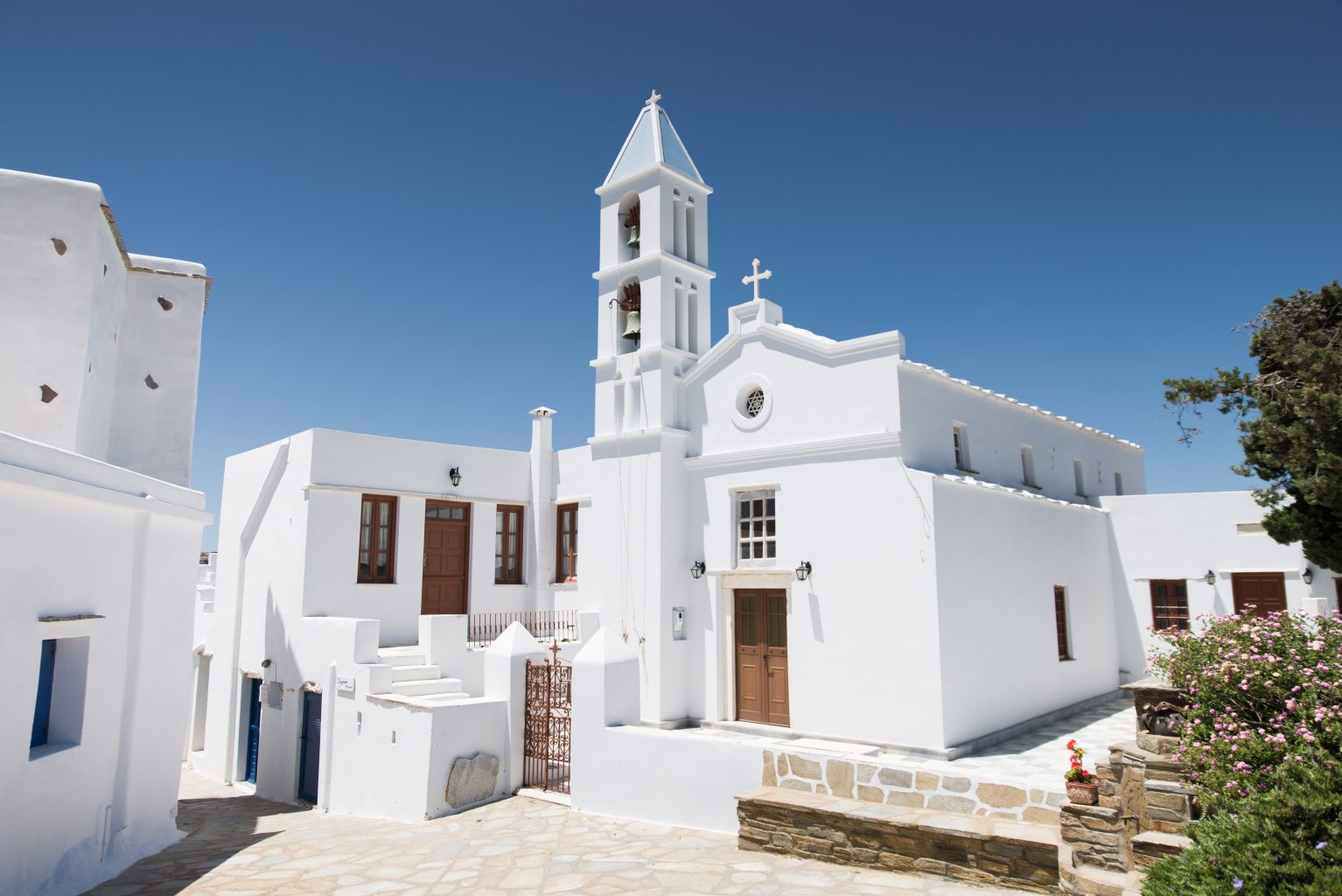 Tinos Island is located just northwest of Mykonos and is often only viewed from a distance when travelers from Athens pass by on boat.  While the island is most famous for its religious sites that lure pilgrims to the island annually, it is also hosts some of the best beaches in the Cyclades.  For those seeking total relaxation, Tinos Island is the perfect place to visit.  
What to do in Tinos:
Beaches – Tinos is really an island untouched.  The beaches are comparable to Mykonos, but more majestic as they lack the crowds and congestion.  There are countless number of beaches in Tinos that are all worth a visit. Most beaches in Tinos also get fantastic breezes, so they are highly favored by windsurfers.  Below are just a few of our favorite beaches:
Panormos – Shares the same name as the town it is located in, this is a fine sandy beach with plenty of shaded spots to cool down from the heat.  It is a convenient location, situated alongside restaurants and cafes.

Kalivia

– A long sandy beach with sparkling water.  Located on the southern coast of Tinos, the view as you approach this natural forming bay is spectacular.  

Kolympithra –

A five star beach(es) since it is actually comprised of two beaches

.  

The small beach is convenient for visitors as it has on-site facilities and snack bars.  This part of the beach can get very crowded. However, head to the larger beach where you can easily avoid the crowds and swim in peace.

Agios Sostis

– Offers crystal clear water, adequate shade (for those seeking) and a convenient beach bar.  It's a great spot when you want a little more peace and quiet.

Lychnaftia

– The place to be when you really want to go off the grid.  The beach is accessed off of a dirt road and there are few amenities nearby, bring your own food and drink for a very enjoyable and relaxing day at the beach.
Panayia Evanyelistria Cathedral – This cathedral, which translates to "The All-Holy Bringer of Good News" is a spectacular piece of architecture and the most famous place to visit in Tinos.  Panayia Evanyelistria Cathedral is what draws so many pilgrims to Tinos each year, as it's the most important orthodox shrine in Greece.  It's a must see in Tinos. Open 8am-7pm daily.
Museum of Marble Crafts – Located in the beautiful village of Pyrgos, the Museum of Marble Crafts host an impressive collection of marble sculptures.  Learn the importance that marble has taken on the Greek society from past to present.  There is €3 entrance fee and the museum is closed on Tuesdays.
Chalepas Museum – If you didn't get enough marble, you can also visit Chalepas Museum, conveniently located in Pyrgos as well.  Giannoulis Chalepas was a well known sculpture artist in Tinos.  You can visit his home to see his past work and also a beautiful garden.  There is €3 entrance fee.   The museum is open daily, but closed intermediary between the hours of 2:30pm-5:30pm.
NISSOS Cyclades Microbrewery – Sun, sand, and beer is always a good combination.  Stop at NISSOS, located in Vagia, a mile from Port of Tinos.  This brewery was once an old taverna and has since been refurbished and repurposed into today's brewery.  NISSOS offers four different beer types and a tasting and tour costs only €5.  Hours vary depending on the time of year, so please visit their website for the most up-to-date information.  
Trela Tinos – Trela Tinos is a concept store that curates antique objects and contemporary pieces that tell the story of France and Greece creating the bridge between today and yesterday and reflecting the two cultures.  Stop by if you are interested in home decor, lightings, furnitures, vintage objects, ceramics, and paintings. Only open during Easter and Summer.  

Where to eat in Tinos:
The majority of the restaurants are conveniently situated in Hora, easily accessed from the port.  If you find yourself in Tinos, here's where you should hit for a bite to eat:
Marathia – Located in Agias Fokas Beach, come to Marathia to experience a twist on the traditional Tinian culinary.  Marathia offers nothing but the freshest ingredients and wants all of its guests to indulge in their wonderful family recipes.  Make a reservation, but don't forget to stop at the Beach Bar as well to grab a drink.
O Ntinos – Overlooking Giannaki Bay, O Ntinos is the place to be to watch the sunset.  Not only can you dine on a terrace with a one of a kind view, the food and service is superb as well.  Make sure you make a reservation to enjoy all of the outstanding seafood dishes.    
Mikro Karavi – Want to switch up the sea view for something more quaint?  Try Mikro Karavi and dine in their secluded garden.  Located in the Old Port of Tinos, the chef follows contemporary gastronomic trends.  Their local cheeses and meats are a must. No reservation is needed.
Thalassaki – If you're looking for the perfect seafront restaurant, this should be your pick.  Located on Ormos Isternia, a stony beach, Thalassaki has fresh seafood and local flavors to offer.  Thalassaki is set among the hills south of Pyrgos.

How to get to Tinos:
From Santorini – Sea Jets offer a 3 hour ferry from Santorini to Tinos, but only 3x a week.  If you find yourself on a day where Sea Jets is not chartering, Golden Star Ferries offers a 4 ½ hour ferry 2x a day.  These ferry rides cost about $50 one way. Tinos is such a small island that they do not even have an airport.
From Athens – Traveling to Tinos from Athens is a fairly cheap ferry ride, running you about $30.  The ferry can take you anywhere from 1 hour 45 minutes to 4 ½ hours.
How to get around Tinos:
Bus – This is a very common way to get around, especially during the summer months.  The bus connects the major towns of Tinos – Hora, Kionia, Panormos, Kambos, and Pyrgos.  Tickets can be purchased on the bus and the costs are priced by distance.
Car – Vidalis Rent a Car is the go to rental agency on Tinos.  They have four locations in Hora, the main town on Tinos, right near the port.  This cost runs you about $45 on a weekday and $70 on a weekend in high season.
Taxi – Taxis are in abundance on Trion Hierarchon, which runs uphill from the harbor just before Palamaris supermarket and Hotel Tinion.  You can also all ahead for a taxi, if needed.
Naxos Island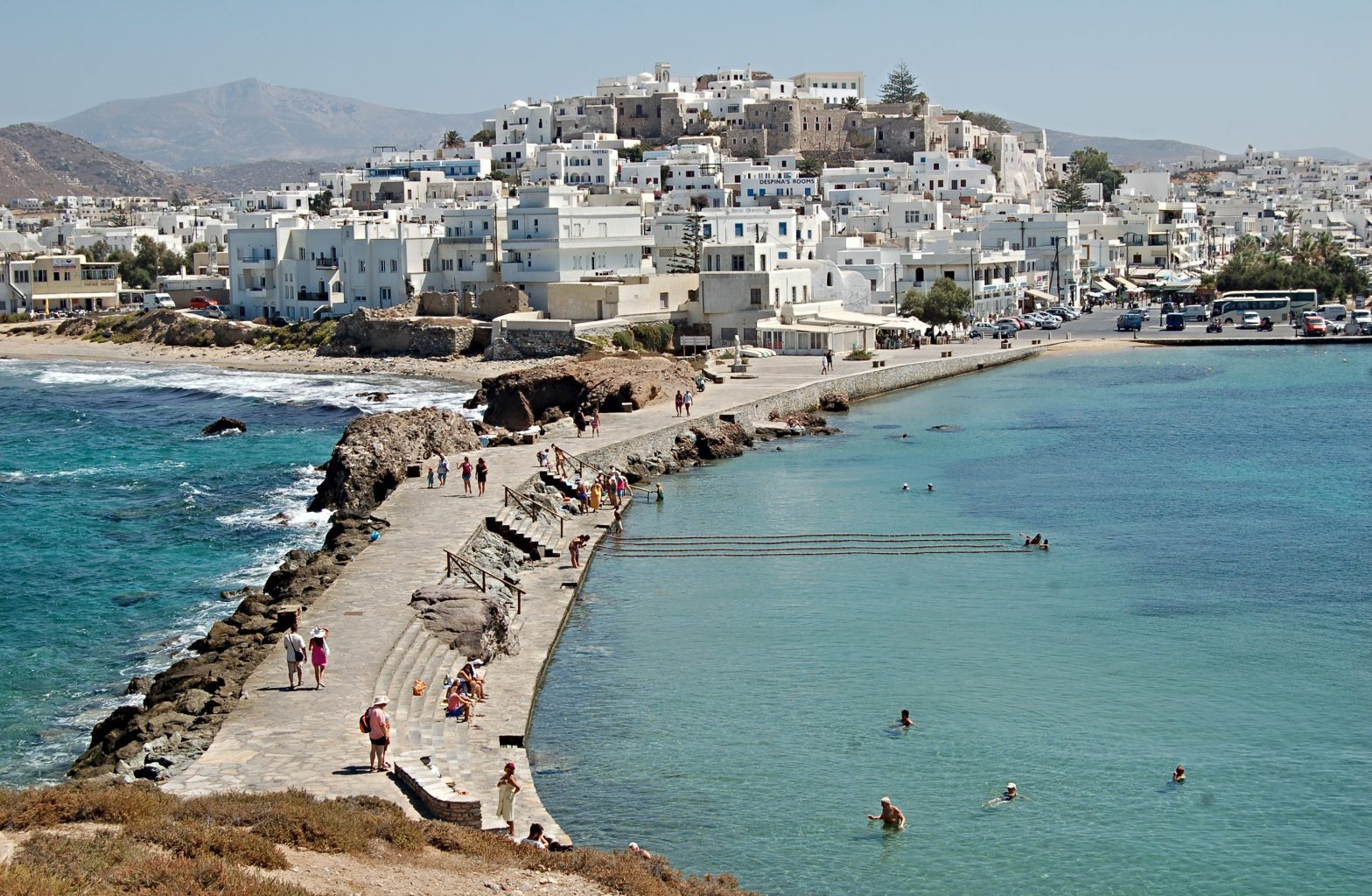 Naxos is the largest island in the Cyclades.  Covering more than 250 square miles, it is actually more than 4x larger than Mykonos.  The island that is known for its cheese, potatoes, Kitron (a citron liqeour), and beaches is slowly becoming more well known.  Here's why you should take a visit to Naxos.
What to do in Naxos:
Beaches – Bop around from beach to beach on a motorbike or bicycle.  This is the best way to take in the serene island views, but also have the opportunity to hit more than one amazing beach in a day.  Here is where you should find yourself swimming and sunbathing:
Agios Prokopios

– Looking for clear turquoise water?  Look no more. Agios Prokopios is a breathtaking beach that reels in many tourists each year.  The beach is about 3 miles away from Naxos Town and boasts light coloured thick sand, an amazing contrast to the color of the sea.

Agia Anna

–

Right after Agios Prokopios, comes Agia Anna, the breathtaking crystal clear turquoise water continues.  Only interrupted by a small fishing port, this is another beautiful beach to spend your time. The Village of Agia Anna has all the amenities you need – restaurants, cafes, bars, and nightclubs.  

Plaka

– Considered by many as the best beach on the island, this stretch of serene and endless sandy beach is a must see.  At the beginning stretch, you will find propped umbrellas and sunbeds, but as you venture farther down it remains in its untouched natural beauty.  Originally known as the nudist beach, Plaka has since peaked the interest of all types of sunbathers.

Agios Georgios

– Often referred to as Saint George, this is the closest beach to the capital.  The distance and the amenities offered on this large, rolling beach creates for a fair sized crowd.  The beach is also a favorite to windsurfers. If you are looking for an easily accessible, beautiful beach and don't mind a bit of a crowd, Agios Georgios is the place for you.  It even provides a spectacular view of Paros.

Kastraki

– No matter where you go in Naxos, you will see nothing but clear sparkling water, Kastaki beach makes no exception.  Quite the opposite of the crowds you will find at Agios Georgios, Kastraki is unspoiled. Many different bays sit along Kastraki and it's a great place to visit if you are trying to find peace and quiet.  
Portara – The iconic structure of Naxos, meaning "The Great Door", this is what you see as you approach the coast of Naxos by boat.  Dating back to 7th century BC, this is the only remnant of the temple dedicated to Apollo.
Chora Castle – The City of Chora is one of the most famous towns on Naxos.  It is has a magnificent medieval castle that is frequently visited.  The castle houses many historical monuments. Pay a visit to see what's inside.  It opens between 8:00-8:30 AM daily, depending on the time of year. Chora is also a great town filled with coffee shops, restaurants, and bars.
Cave & Mount of Zeus – The highest peak in the Cyclades, Mount Zeus (or Zas, as the Grecians call it) is a mere 3300 feet, but if this doesn't deter your interest, visiting the Cave & Mount of Zeus is a great activity for adventure seekers.  You can also make a stop at the cave, pre or post hike.
Kuoros – If you find yourself near the village of of Melanes or Apollonas, visit the statues of Kouros.  Located in both of these towns, these are marble status that lay on the ground, 20 feet in length.  The statues remain untouched since the discovery and historians believe the statues depict God Apollo or God Dionsus.
Temple of Demeter – Did archeology always fascinate you?  Visit the Temple of Demeter where archeologists believe the temple was built by those that also built the Parthenon in Athens.  

Where to eat in Naxos:
Naxos is filled with fresh ingredients for visitors to try some high quality Greek cuisine.  This is where with think you should spend your time eating while visiting the largest island of the Cyclades:
Antamoma – Quality and traditional are how you describe Antamoma.  Located in Chora Naxos with a view of Paros, the restaurant even encompasses an on-site deli.  Many of their item choices are made with pure olive oil and cheeses. You won't walk away dissatisfied.  Reservations are encouraged during high season.
Giannis – This is the perfect lunch spot after a morning hike (just make sure you arrive before 3pm before they stop serving).  Giannis is located in the central square of Halkí, Trageá with beautiful shaded outdoor seating. It is cash only and does not require reservations.   
Axiotissa – If you seek freshness and uniqueness, make a reservation at Axiotissa (required during high season).  Located in Naxos town, this is the top organic eatery.  Don't forget to try the Kitron-liqueur-flavoured cheesecake for dessert.  
Doukato – For one of the most picturesque restaurants in Naxos, visit Doukato.  Located in Old Town Naxos, on an idyllic street, this is the perfect place to take in the beauty of Naxos.  The house wine is fantastic and portions are generous. Be sure to make a reservation as the restaurant can become quite packed and is open until 1AM.  

How to get to Naxos:
From Santorini – To reach Naxos by ferry this can take between 1 ½ to 2 ½ hours, depending on the Operator.  With no surprise, the tickets are priced accordingly to ferry duration and can range from $30-$55 one way.  There are at least 3 options a day.
From Athens – To reach Naxos directly from Athens, options run similar to Paros.  By ferry, this will take about 3 ½ hours and can run between $35 and $65 one way.  If you choose to fly, the flight is a quick 40 minute flight and costs about $120 one way.
How to get around Naxos:
Bus – Naxos has a very organized and affordable bus service (a ride rarely costing more than €3).  The bus schedule can be found at every bus station and has a very frequent schedule during high season.  
Car – Naxos offers wide paved roads for travelers so it is never a bad option to rent a car.  This is also the easiest way to reach many of the beaches because this can often involve driving on extended dirt roads to reach them.  
Taxi – Taxis are waiting for those arriving in Naxos at Chora port and right outside the airport.  Rates are fixed and vary based on low and high season. These rates are subject to change at the start of every year.
Crete Island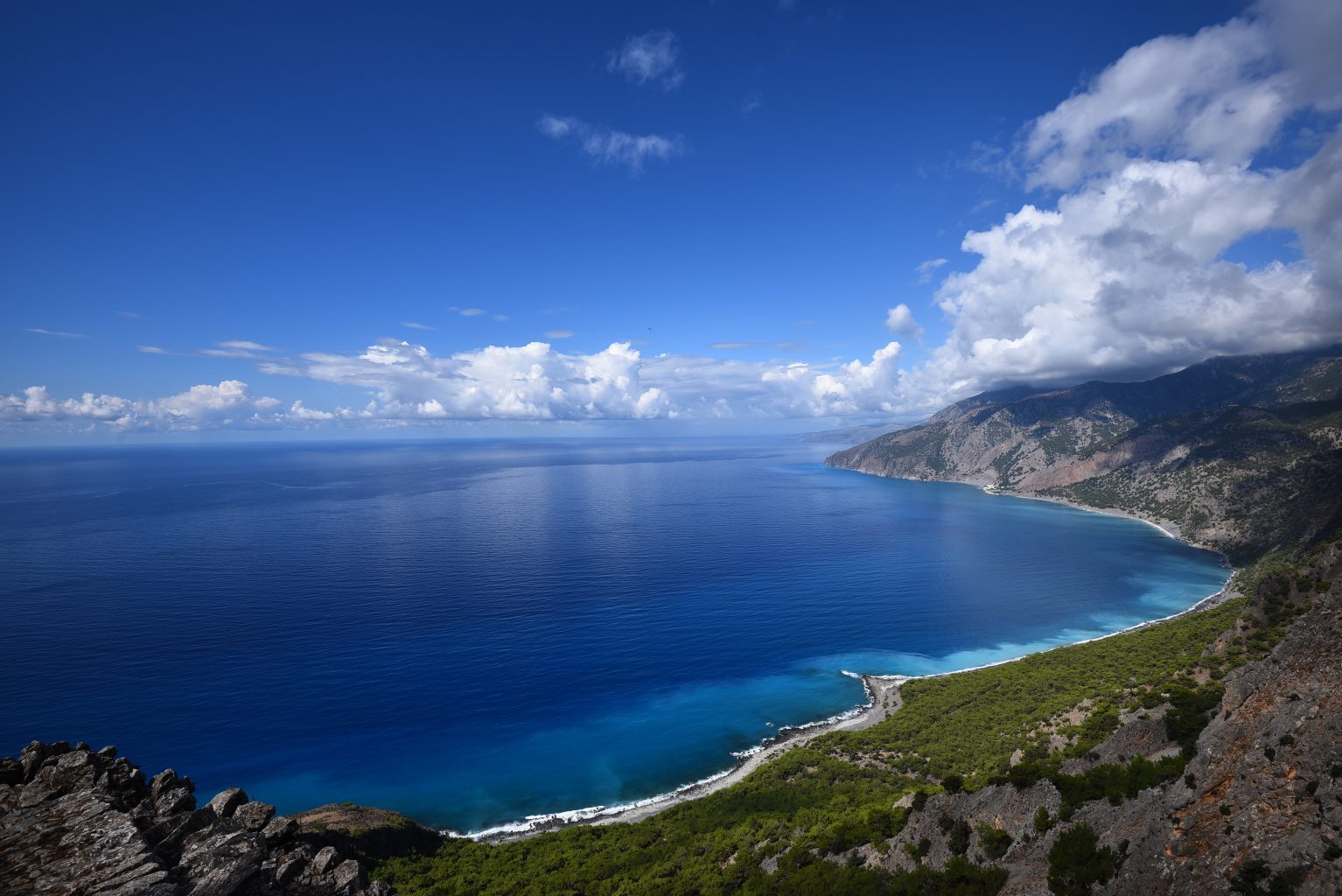 If we're talking in kilometers or miles, Crete is not the closest island to Santorini, but with high speed ferries it feels like it could be.  Crete is the largest island in Greece and with square miles, comes with plenty of things to do and see. Crete is most famously known for its ancient ruins, rugged mountains, fine sand beaches, and friendly locals.  If you are looking for an island with diversity when it comes to terrain and activities this is the place to be.
What to do in Crete:
Beaches – Beaches in Crete come in all shapes and sizes, so it's really the perfect island to vacation when you want to experience something new and different without traveling to multiple islands in Greece.  While you're visiting Crete, make sure you don't miss a day at the beach here:
Váï

– Surrounded by the largest palm tree forest in Europe, Váï is a beautiful beach to visit.  This is the most popular beach for families on the island, but is welcoming of all beach goers.  There are umbrellas, showers, water sports, and canteens all available for visitors' use.

Elafonsi

–

With crystal clear water and pink and white sand, Elafonsi is a natural oasis and one of the most popular beaches in the world.  Located in the southwest corner of Crete, you must travel down a winding road to reach this majestic beach. Don't let this deter you though because it really is a sight to be seen.  Pro tip: since being named Top 25 Beaches on TripAdvisor in 2014, you can get quite the crowd during high season. Travel to the farther ends of the beaches for a more relaxing day at the beach.

Matala –

Located at the bottom of Asterousia Mountain, Matala has hidden limestone caves that make this beach truly unique.  It is often a romantic hang out spot where many like to enjoy a drink and watch the sunset. However, if you find yourself here during the day, take a dip in the crystal clear waters.

Balos –

Want to visit more than just a beach?  Take a trip to Balos Beach & Lagoon. A site to be seen, and also boasting some of the best views of Crete.  Balos can be reached three ways: ferry from Kissamos (~$40), drive the dirt road (a small reserve fee is charged) and park a little less than 1 mile from the beach, or, if you are feeling really adventurous, you can reach Balos by foot on a 3 hour journey from Kaliviani.  
Cave of Zeus – Tucked away in Mount Ida, this is one of the many reasons why people choose to visit Crete.  Beauty, history, and ancient wonder all found inside the Cave of Zeus where many believe Zeus was born and raised.  Although reaching this cave is not the easiest trek, it will not disappoint.
Spinalonga – This is a tiny island located off the north eastern shore of Crete in the Gulf of Elounda.  Less than 0.033 square miles, it is not large, but has plenty of history to fill your day. Did you know?  Spinalonga is also referred to as the Leper Island, as this is where Lepers were quarantined from the rest of Greece until 1957.  
Rethymnon Old Town – Get lost in the narrow alleys of Old Town where the town is filled with Renaissance style Venetian architecture.  The main street, Venizelou Avenue, runs parallel to the sea, and although the streets can be confusing, they are equally as charming.  There is no shortage of restaurants in the town as well.
Palace of Knossos – The largest archeological site in Crete, the Palace of Knossos covers nearly 150,000 square feet and was said to be built by the Minoans.  For those that really love to dabble in Greek mythology pay a visit to the ancient city that is considered Europe's oldest. But make sure you get there early to beat the rolling tour buses – oh, to be discovered.  
Old Venetian Harbor – Located in Chania, Crete's second largest city, the Old Venetian Harbor is a must visit for those spending time in Crete.  Frequently photographed, the towns juxtaposition along the water and with the mix of Cretan, Ottoman, and Venetian elements, it is a magical place.  There is plenty to do and see here, but don't forget an obligatory stop at the lighthouse (the anchor of the old port).
Manousakis Winery – Skip the ouzo and head to Manousakis Winery to try their 100% organic wine.  An easy 15 minute drive from Chania, it is located in a traditional Cretan village.  There are five different tour options ranging from €8-35 per person (the latter option including a full lunch).  This is a great and local way to experience Crete.
Cretaquarium Thalassocosmos – Love a good aquarium?  Well we got one for you here.  Whether you are traveling with kids or had a little too much sun.  Visit one of Europe's largest aquariums right here in Crete, Cretaquarium Thalassocosmos.  Admission is €9 for adults during high season.  

Where to eat in Crete:
Given Crete's size alone, you can imagine there is quite a number of restaurants to choose from.  We want to help you find the ones worth venturing to. These restaurants are all worth the trip.
To Pigadi – If you find yourself hungry while roaming the old town of Rethymno, make a stop at To Pigadi.  A converted horse stable, this restaurant lacks anything but charm.  It is the perfect spot to try traditional Cretan food, too. Reservations are encouraged here.  Open daily from 12pm to 12am.
Ferryman – One of the most famous taverns in Elounda, Ferryman offers breathtaking views and terrific food.  The menu ranges from traditional Greek cuisine to gastronomy experiences. It's a fan favorite for locals and visitors alike.  A reservation is not required here as they don't even have a website to direct their patrons to.
Gramboussa – So much land to cover, not enough time.  However, if you do have time to make a stop in Kissamos, one of the least known and original parts of Crete, be sure to grab a meal at Gramboussa.  Many of their recipes date back to the 18th century.  This restaurant is filled with charm and authenticity and you will find some of the most delicious traditional recipes here.  Gramboussa is open daily from breakfast, lunch, and dinner.
Chrisostomos – Most every trip to Crete has a visit to Chania Town to see the Old Venetian Harbour.  There are countless number of restaurants to choose from here and you may feel overwhelmed.  But not to worry, be sure to grab a reservation at Chrisostomos to enjoy some of the most authentic Cretan food that Chania has to offer.   They are only open for dinner and don't forget to order a lamb dish, which can be prepared a countless number of ways.  The most famous preparation and dish is the lamb tsigariasto.

How to get to Crete:
From Santorini – We mentioned that it's very easy to get to Crete from Santorini, right?  Well the express ferries can be as quick as a 1 ½ trip, but if you are in no rush some ferries can take up to 6 hours.  You choose whatever floats your boat (literally). The ferry runs a couple times a day and normally costs around $60 one way.
From Athens – There are ferries that go from Athens to Crete, but we recommend flying as Crete is home to 3 airports.  An easy 50 minute ride (compared to a 10+ hour boat ride), normally costs between $50-$75 one way.
How to get around Crete:
Car – Crete can often feel more like a country than an island.  It is a 5 hour drive from one side of the island to the other!  For explorers like you, we recommend getting a rental car to truly see the uniqueness of the island of Crete.  Pick up a car in the larger cities or at the Heraklion and Chania airports. They cost about $25/day.
Bus – Transportation is offered between Chania, Rethymnon, Heraklion, and Agios Nikolaos.  Fares range from €2-11. Note that routes are more frequent in the north than south because the roads along the Southern coast aren't as developed.  So why the bus is definitely a viable option, you see why we think renting a car may be preferred.
Taxi – Each city in Crete is very walkable, but if you do find yourself in a rush to get to dinner you can easily grab a taxi.  Make sure you always agree on a price before hopping in a cab as many forget to turn on their meters (we're definitely not in New York City).
Mykonos Island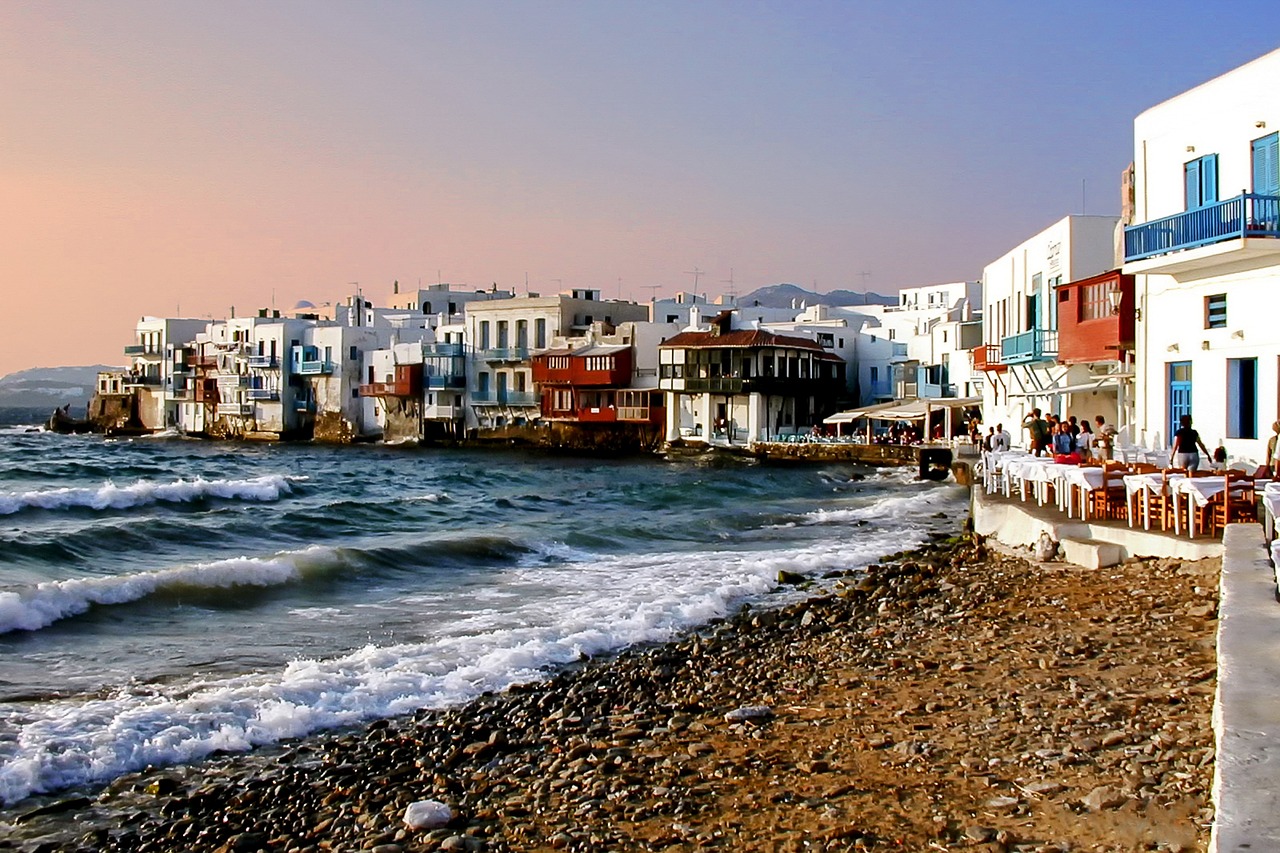 Famous for its beaches, party scene, and windmills, Mykonos is one of the most well-known islands in the Cyclades.  Unlike many of its cosmopolitan competitors, Mykonos hosts their parties directly on the beach and has been an international hotspot since the 1930s.  However, Mykonos is so much more than a party island. Known as "The Island of the Winds", a trip to Mykonos is the perfect way to balance the quiet atmosphere of Santorini.
What to do in Mykonos:
Beaches – From party vibe to tranquility, there is a beach for everyone in Mykonos.  Here is our review of the must see beaches.
Platys Gialos

– Considered to be the best beach on Mykonos, you will find the most serene turquoise water in this horseshoe bay beach.  There are plenty of watersports available to occupy your time and if you find yourself hungry, visit one of the many restaurants that line the seaside village.  It is also an easy place to catch a water taxi if you want to venture to other beaches on the island.

Paradise Beach

– Home to the Cavo Paradise nightclub, Paradise Beach takes the number one spot for party scene beaches.  This nightclub brings in the some of the biggest named DJ's in the world. During the day, there are plenty of bars that line this flat, sandy beach.  Unsurprisingly, the crowd tends to be younger. If you came to Mykonos to party, then definitely do not miss out on Paradise.

Psarou Beach

– Considered to be the trendiest beach in Mykonos, there are plenty of sunbeds and umbrellas set up for all of the beachcombers on this clean white sandy beach (but be sure to make a reservation in high season to use them!).  Not quite as easily accessible as some of the others, you have to walk down a narrow path to reach out, but this makes the beach all the more special. You can also find some beautiful yachts anchored in the bay.

Elia

– Word of mouth has quickly increased the popularity of Elia.  Located about 30 minutes by bus from Mykonos Town, Elia is the largest beach in the South of Mykonos.  For years it boasted a very relaxed atmosphere, but due to the increase in visitors the beach is a little livelier today.  However, it is still known as one of the best beaches in Mykonos. It also has a nudist section, if that's your thing.

Agios Ioannis

– If you are looking for a more secluded beach in Mykonos, be sure to spend a day at Agios Ioannis.  Although this is one of the smaller beaches, the sand is soft as ever and the water is clear. It is also home to one of our restaurant recommendations that we highlight below!

Ornos

– This is the most family friendly beach of the bunch due to its shallow water and sandy bottom.  It is also not too far from Mykonos Town. The perfect spot to spend some time in the sun without having to worry about the rowdy, younger crowd with your children.
The Windmills – Many iconic photographs of Mykonos boasts their magnificent windmills located on the west side of the island.  Although they serve as a popular tourist attraction today, it's important to understand the history of them too.  Serving as one of the earliest manufacturing units in Greece, from the 16th century to the late 19th century, they were used to grind local agricultural crops (most often wheat and barley).  The seven windmills (Lena's House) that line the port town today are the most famous, but Mykonos actually has 16 windmills in total.
Armenistis Lighthouse – Not quite as famous as the windmills, you still may recognize the Armenistis Lighthouse from some pictures of Mykonos.  Located on top of a hill and dating back to 1891, this is a fantastic place to watch the sunset or to get a panoramic views of the Aegean Sea.  Side note: If you find yourself in Mykonos before high season in April or May you will come across beautiful flowers blooming along the hill.
Mykonos Vioma Organic Farm & Vineyard – Looking to escape the crowds of the beaches and town for an afternoon?  Head to Mykonos' countryside and make a visit at Mykonos Vioma Organic Farm to taste local wine and Cycladic specialties.  You may even learn some culinary secrets of Mykonos.  The farm is open 7 days a week from 11am-5pm.
Little Venice – One of the most romantic parts of Mykonos, this neighborhood is filled with old houses lining the sea that have extended out from Alevkantra Beach.  Another magnificent spot to watch the sunset, it has even drawn the interest of many artists where they now call this small part of Mykonos their home.
Rarity Gallery – Although the weather in Greece is most always beautiful, if you are an artist yourself or looking for something to do indoors, Rarity Gallery should be a must see.  A small gallery filled with contemporary art, it is conveniently located in Mykonos Town.  They are opened daily from 10am-12am.
Matoyianni Street – This is the biggest shopping street in Mykonos Town, and also one of the most photographed.  Soho-Soho is the most popular designer store if you are looking to make a purchase. During high season, these stores stay open until around midnight giving you plenty of time to shop.

Where to eat in Mykonos:
The majority of the restaurants are located in Mykonos Town, but don't miss out on all of the other mouthwatering restaurants along the beaches.  Here is where we think you should be eating your next fresh octopus (or whatever Greek special you fancy).
Avli tou Thordori – Located on Platis Gialos beach, you will be able to see and taste the fresh flavors of Mykonos all at the same time.  Avli tou Thordori takes traditional Greek cuisines and adds a modern flare to their dishes.  Since it is one of the most popular restaurants on the island, make sure you grab a reservation because it's not a one you want to miss.
M-eating – The name of this restaurant may not sound that intriguing, but take a look at their menu and you may think otherwise.  M-eating is all about the experience – from the ambience of the restaurant, to the presentation of their food, no detail is missed.  Although it is tucked away in the town of Mykonos be sure to make a reservation as most spots in Mykonos Town can get very crowded.  This is also the perfect dinner spot for Vegans and Gluten Free eaters.
Hippie Fish – Unsurprisingly, the idea behind the restaurant's name was to take a "hippie" approach to authentic Greek and international dishes.  You come to Hippie Fish to relax, enjoy some food, and take in the views of Agios Ioannis Beach.  Much more than a restaurant, you could actually spend your whole day here – lay on the sun beds, get a massage, visit Hippie Shop, or grab a cocktail at the Hip Mixology Bar.  Hippie Fish is a lifestyle not a meal.
Kiki's Tavern – The beaches are beautiful in Mykonos, so why not try to not only visit them all, but dine at them too.  Kiki's Tavern is located on Agios Sorties Beach and is the perfect lunch spot. It is famous for being on basically every list of "Places to eat in Mykonos" and for good reason.  This restaurant has no website, no phone, and no sign and somehow flocks hundreds of hungry visitors a day. The restaurant opens around 12:30 pm, so our helpful hint is to get there at noon.

How to get to Mykonos:
From Santorini – Taking a ferry from Santorini to Mykonos is a popular route.  Ferries run 3-4x a day and take between 2-4 hours. This can cost you $40-$80 one way, depending on the service.  Even though this is a very popular route, the ferries do not normally sell out, so booking last minute is totally fine.
From Athens – The ferry from Athens to Mykonos can range from 2 ½ to 5 ½ hours.  Book accordingly to try to snag a quicker route. The ferry costs about $50 one way.  If flying is more your speed, there are plenty of carriers that offer flights. If you book far enough in advance this will run you about the same as a ferry ride and cut the travel time down to 45 minutes flat.  
How to get around Mykonos:
Mykonos is a very versatile island when it comes to transportation.  Try any of these options to see the sites and town from a different perspective.
Moped – Mopeds are the infamous mode of transportation in Mykonos.  There are several shops to rent a moped in Mykonos Town.
Bike – Or substitute a moped with a bike if you are looking for a little more exercise and a little less worry when trying to figure out the gas pedal. You can also rent these in town.
Bus – The Mykonos bus system is considered one of the best in Greece, especially considering it operates until 4 am in the summers. It is a great way to get to many of the beaches, too.
Car – Stray from car rentals in Mykonos for many reasons: roads are hard to navigate, parking is scarce and fuel is expensive.  There are plenty of other ways to get around Mykonos.
Taxi – There are car taxis and scooter taxis.  A car taxi can be helpful when first arriving to the port and trying to find your hotel with all of your luggage in tow.  Scooter taxis only travel throughout the town. Taxis all are priced at the same flat rate.