Irish beer and food adventures
February 20, 2015 | by Irina | Posted in Europe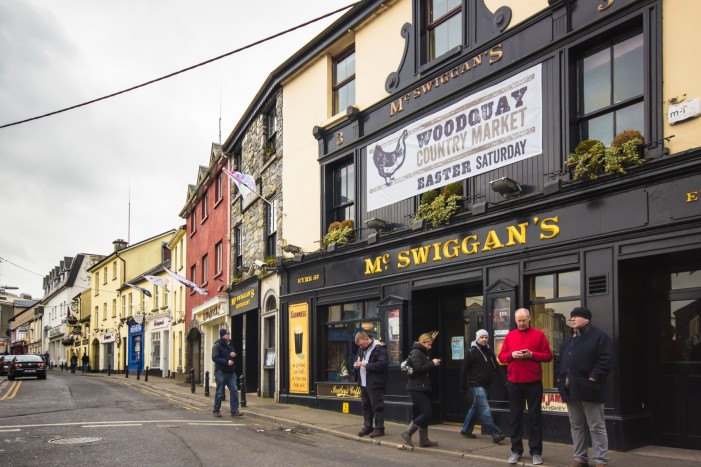 There are certain trips that are impossible to say no to- one for example, is a few (much too short) days in Dublin for a craft beer festival. Plus winter was getting much too long here in Minnesota. Not to mention I'm not the least bit Irish by blood so I thought it would be a good way to get warmed up for St. Patty's day.
I was positively blown away by the hospitality of the Irish, the feel of Dublin and, of course, drinking Guinness right at the source. My plan is to go back; especially because I really want to frolic in the countryside.
But in the meantime, here are some field notes:

Guinness rules all
Perhaps one of the world's greatest success stories of connecting a beer to a location, evidence of Guinness domination was evident even before you set foot in Ireland- my phone was filled with "Enjoy a Guinness for us!" from friends who knew of my travels. Every single restaurant, cafe, pub, anything I stepped in during my time there had the beer on tap. It was ubiquitous but not the least bit annoying. And delicious! The Guinness museum is also worth the taxi ride outside of city center- it does a great job of teaching the average Joe visitor about how beer is brewed, there's a great beer tasting and sensory experience and even a skybar on the 7th floor to enjoy a Guinness and take in the views of Dublin on the horizon. And it's here that you learn the secret of Guinness's trademark creaminess- it's because when tapped on draught it is mixed with Nitrogen. This is actually a method that a lot of craft breweries use; in fact it's quite common to see at least one beer on tap any given night a be a Nitro.
Whiskey for miles and miles
The whiskey selection in Ireland is unreal (go figure). It's actually mind boggling. I'm a whiskey girl- it's one of the only hard alcohols I can tolerate without my stomach convulsing on contact. And I take a small bit of pride in knowing my way around a whiskey selection (it is beer's close cousin, after all) but when I stepped foot in an Irish pub on one of our nights of touring the city's famous Temple Bar neighborhood I was both humbled and blown away. I didn't even know this many types of whiskey existed in the world, let alone under one roof. It was nothing short of magical. I told the bartender to surprise me, and his choice was lovely and so smooth, but I sadly don't remember the name. Buzz kill right? Anyways, my point is- if you ever end up in Ireland do your research in advance or just prepare to drink the best whiskey you've ever had.
Lox like butta
Yes, yes I know it's a land famous for fish and chips and shepherd's pies and even steak. But in case it hasn't come across in my other posts I'm a bit of a clean eater; I've been vegetarian for a few years (I only break this very very rarely) and I don't eat dairy. Deep fried foods also just don't sit well with me. So I was pleasantly surprised by the selection and quality of lox on the appetizer list at every eating establishment. Lox might be one of my favorite foods as it is, and in Ireland it's often oak aged and so soft and tender it melts in your mouth like butter.
Multi-generational pubbing
This might have been my favorite thing about Ireland- it appeared to me (and keep in mind this is non-scientific and totally anecdotal as I was only there for a few days) that the Irish don't segregate themselves into generations when they go out on a Saturday evening. It was quite common at most of the pubs I stepped foot in to see a group of teenagers dancing and drinking alongside a group of ladies and gents who were definitely old enough to be the aforementioned teenagers' parents. And next to them was a group of no-younger-than 75 year old men reuniting, reminiscing and dancing. It was such a treat to see everyone- literally everyone, under the same roof wholeheartedly and genuinely enjoying themselves.
So pour yourself a whiskey and chase it with a Guinness; you know the saying- on St. Patty's day everyone is Irish. Even a Hungarian- Polish- Ukrainian- American like me.