Best of London off the beaten path
July 24, 2016 | by Polly | Posted in Europe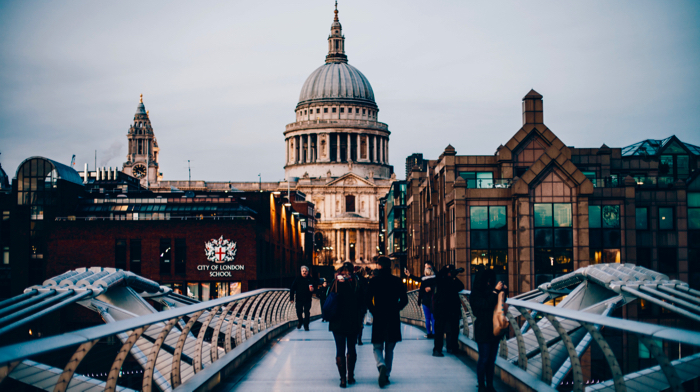 London, the world's most visited city, is a place so full of contrasts that it has a little something to offer every type of traveler. It's not surprising then that Samuel Johnson once proclaimed that "when a man is tired of London, he is tired of life". There is much to see and do here and you'll find yourself with an itinerary that cannot possibly be fulfilled in a single visit. We'd like to take this opportunity, however, and take you on a journey through London of a a slightly different kind: London off the beaten path. You won't find huge crowds of tourists in the places listed below, but we guarantee that they will leave you with unforgettable memories that will make you want to come back to London again, and soon.
London off the beaten path: parks and recreation
Hampstead Heath
Close to the bustle and hustle of London you'll find a large space so tranquil that it feels a world away. This is one of London's most treasured relics, a space left unchanged and undeveloped during the expansion of the city. The Heath is one of the biggest green spaces in the city and it features meadows, woods, ponds and recreational areas throughout. It's easy to lose yourself here, both literally and figuratively. The park covers 320 hectares (790 acres), and is home to about 180 bird species, 23 species of butterflies, grass snakes, bats and a rich array of flora. This is the perfect place to ramble and you can easily spend a full day here. Escape the city for a day and come to Hampstead Heath: go to the top of Parliament Hill, which offers expansive views across the city and is one of the most popular places in London to fly a kite, head up the hill in North Wood, or lose yourself in the West Heath.
Kenwood House
Kenwood House and Gardens is hands-down our favorite green space in London. The House itself is a former stately home on the northern boundary of Hampstead Heath. Today, Kenwood is managed by English Heritage and its breathtaking interiors and stunning art collection are free for everyone to enjoy. There is a vast array of masterpieces hanging here: from Rembrandt to Turner, Gainsborough to Vermeer – there is something to suit every taste. Around The House you'll find 50 hectares (122 acres) of glorious parkland on the edge of which lie woods and a lake. Being at Kenwood, exploring both its interior and exterior, is a real treat. You will undoubtedly agree with the opinion that Kenwood is definitely one of London's hidden gems. No other London park open to the public can offer you as much in such a lovely package. There is a restaurant on the grounds, as well as a gift shop. Entry is free. For more information, see here.
Primrose Hill
Located on the northern side of Regent's Park is Primrose Hill – an elevated meadow that offers clear, unobstructed views of central London's skyline. Bring a picnic or a couple of drinks with friends and watch the sun go down over the city – this is arguably the best view of London's skyline there is, and it's totally free.
London off the beaten path: culture and entertainment
The National Film Theatre
Not quite off the beaten path in terms of location, the National Film Theatre is one of several creative arts institutions perched on London's South Bank, nestled between the National Theatre and Queen Elizabeth Hall. In itself, however, this remains one of London's best kept secrets, usually left unbeknownst to tourist visitors. The National Film Theatre, unlike any other film theatre in the city, specializes in classic and critically-acclaimed films from the past century, both domestic and from across the globe. From "It's A Wonderful Life", screened several times daily during the Christmas Holidays, to Japanese classics only available on tape, to modern Asian horrors, to Lebanese drama, to domestic gems beyond recall – the NFT has it all and you can treat yourself to a cinematic experience like no other. The Theatre regularly runs themed festivals centered around people and communities and the issues they face, including women, refugees, and LGBTQ people. You can book tickets online, and for some performances (e.g. It's a Wonderful Life), booking in advance is strongly advised. See what's on here.
** Tip: the National Film Theatre houses London's first free Mediatheque – a library of digitized motion picture materials that is fully accessible to the public free of charge. Here you can watch ads, documentaries, and shorts courtesy of the British Film Institute's national archives. This is a perfect way to spend a rainy afternoon, even for those on a tight budget.
The Institute of Contemporary Arts
Just off Pall Mall in central London, with a Buckingham Road address, is the Institute of Contemporary Arts – a membership institute that promotes and encourages an understanding of radical art and culture. The ICA features exhibitions and cinema screenings, as well as a bookshop full of treasures for the alternatively curious. This is a fantastic place where you can take a peek into London's contemporary art scene and see the work of established and emerging artists. ICA film screenings are in the smallest, most intimate film theatre we have ever been to. You won't find huge crowds of tourists here, only locals, artists, art students and off-the-beaten-path-ers who tend to gather at the entrance prior to an exhibition opening, a performance, or a film screening. See what's on here.
Almeida Theatre
You haven't truly been to London if you haven't, at least once, gone to the theatre – and so you should, even if you wouldn't normally go at home. The theatre scene in the British capital is one of the most popular the world over, and justifiably so. World-class musicals and theatre performances have a long-standing tradition here and while some of them will cost you a pretty penny, they are absolutely worth it. For our intents and purposes, however, we would like to take you to the northern fringe of the city centre, to an area bearing the darling name Angel where you'll find Almeida Theatre. Almeida's sole purpose is to bring together the most exciting artists to take risks; to provoke, inspire and surprise the audience; to interrogate the present, dig up the past and imagine the future. Here you'll find old classics reimagined, and new pieces seeking an audience for the first time. Almeida may be small, but it has a big reputation. It's housed in a 19th century building and the stage features a curved back wall – an unusual feature that has the effect of making the audience feel extremely close to the stage and results in an acting area that is almost as large as the auditorium is small. See what's on here.
London off the beaten path: shopping
Boutique, Pimlico
This unique second-hand shop in the heart of London's south is one of the city's best and its name rings true to its nature. The Boutique, previously Crusaid, is a local charity shop with a twist where you'll find true designer gems for pennies. The stock here has previously included brand new Liberty silk scarves (donated by Liberty), Burberry and Tod's bags, couture from Balmain and Dior, and more. The shop and charity are well known in the city and occasionally receive brand new items from designer labels and on a lucky occasion they also feature items and clothing used in ads – think Vivienne Westwood black ripped splash-dye jeans that are as rare and unique as the artist herself. It's a great little place and while we can't guarantee you'll find something for yourself, if shopping (and especially if shopping on a budget), you'll love it as much as we do. For more information and directions, see here.
Pied Bull Yard
Hidden in the shadow of the grandeur of the British Museum, Pied Bull Yard feels a world away from the hustle and bustle that's just around the corner. Here you'll find an eclectic selection of enchanting shops – from an independent bookseller to a specialist camera shop, and even a rubber-stamp outlet. Pied Bull Yard is also home to Truckles of Pied Bull Yard – a modern wine bar and cafe to complete the order.
[vc_row][vc_column][vc_empty_space][vc_cta h2="" txt_align="center" style="flat" color="white" add_button="bottom" btn_title="Find out more!" btn_style="flat" btn_color="white" btn_align="center" css=".vc_custom_1488304661749{background-color: #3ba949 !important;}" btn_link="url:https%3A%2F%2Falletravel.co%2Fask-alle%2F|||" btn_custom_onclick="true"]
Save hundreds of dollars and hours of planning with our travel coaching package for only $149
[/vc_cta][/vc_column][/vc_row]